Custom painting a bagger is never easy, but this one kicks the difficulty factor up a notch. See, whenever you go to put pigment to a touring bike, it's like painting a 3-D jigsaw puzzle with giant pieces. Unless you want the paint job to suck, the graphics in one part have to match up with the other painted pieces next to it. Since most of us don't care much for ugly paint outside of a rat rod, making sure the puzzle pieces work well from the fenders to the tanks, covers, and bags is a pretty big deal. The crew at Harley-Davidson of Quantico understands how much an amazing paint scheme can really set off a bike, and so they went into this old-timey paint job armed with that knowledge.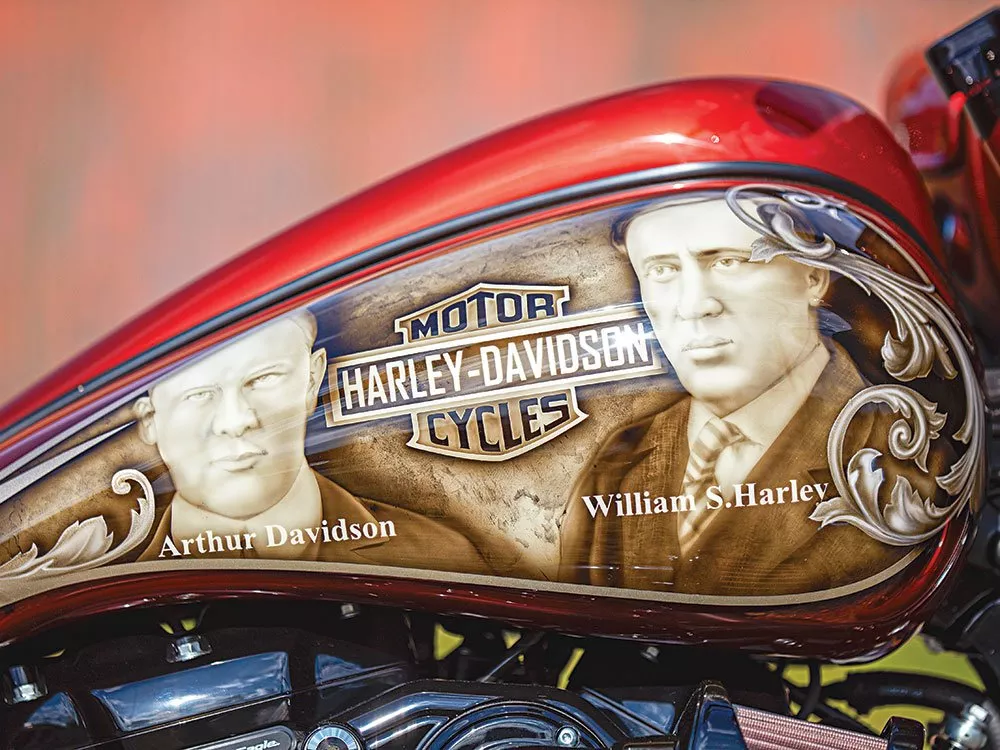 Harley-Davidson of Quantico is a franchised Harley dealership that builds around 75 custom bikes a year. With that kind of custom business coming in, they're always looking for paint ideas. So when H-D of Quantico's Ken Barner decided to build his 2017 Road Glide into a killer custom job, he contacted his go-to painter Brian Morgan and told him, "I want to raise the bar on this build."
"Give me a few days," Brian responded. "I have an idea."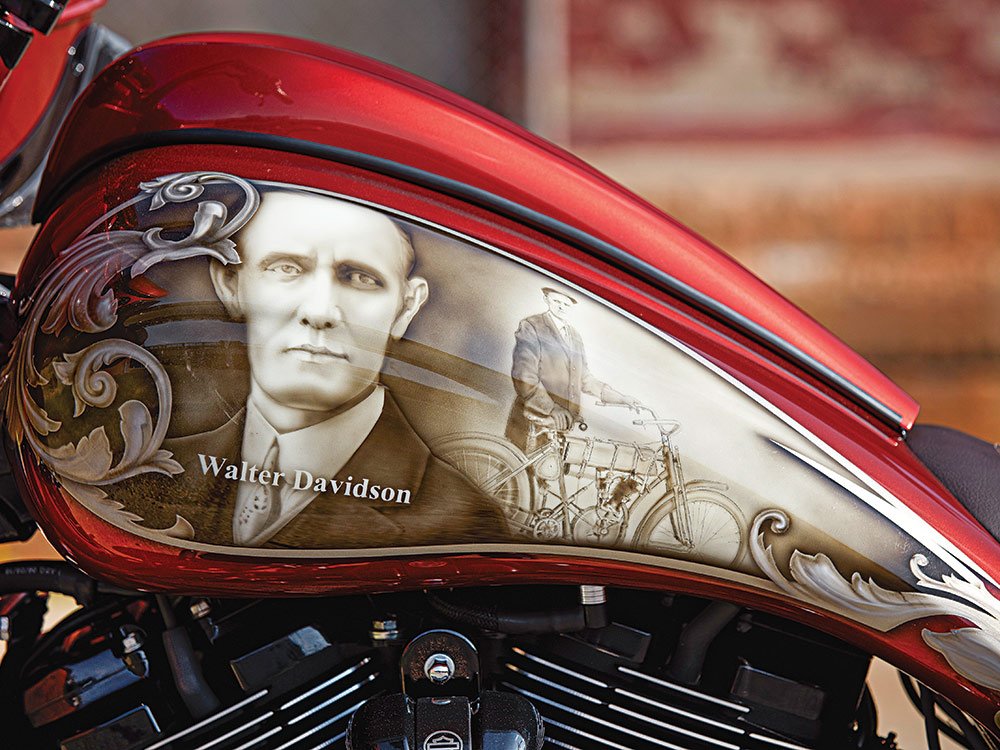 Time passed. Within a few days Brian called Ken and pitched him on the idea of "old-time historic paint job meets modern tech" Harley-Davidson motorcycle. Now by "old-time" I don't mean a 1970s or 1960s retro chopper look. Think older than that. Like, pre-motorcycle level older. Got it in your head? Good. Now you're in the ballpark of what Brian had in mind.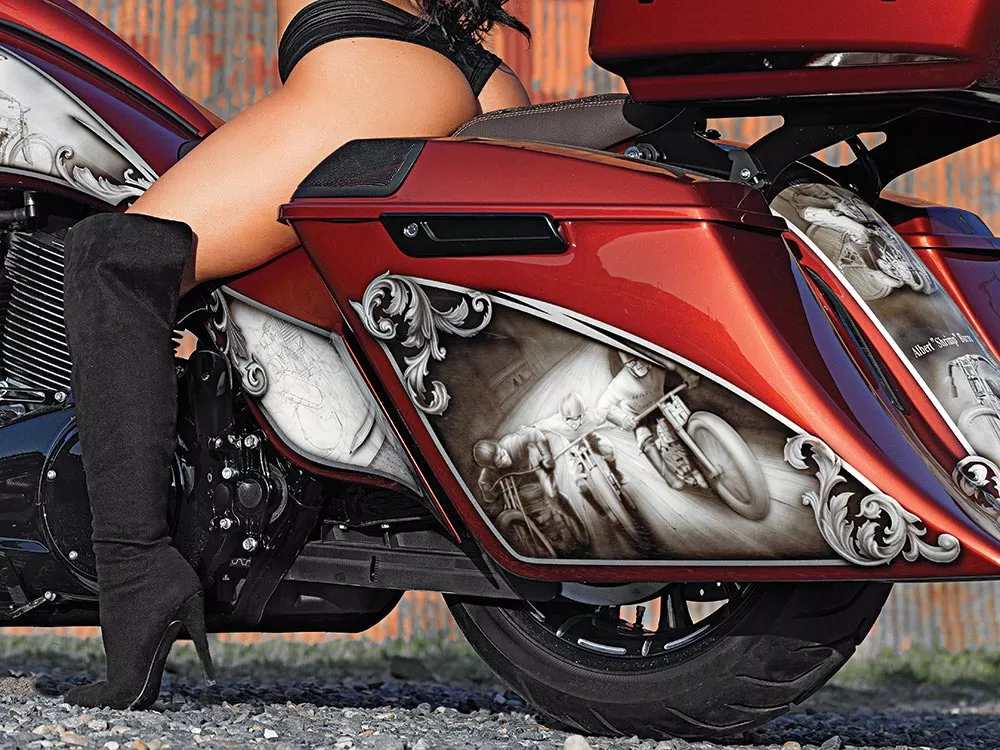 Ken and the painters threw several ideas at each other with that overall theme in mind. They wanted to cover as much of the history as they could fit on one motorcycle. The bike in question being a bagger, there was a double-edged sword at work. On the one, dressers have more bodywork to work with, giving the paint shop the most canvas on which to cram all that art. On the other, like I talked about above, all of that paintwork had to fit beautifully with the other pieces of the sheet-metal puzzle.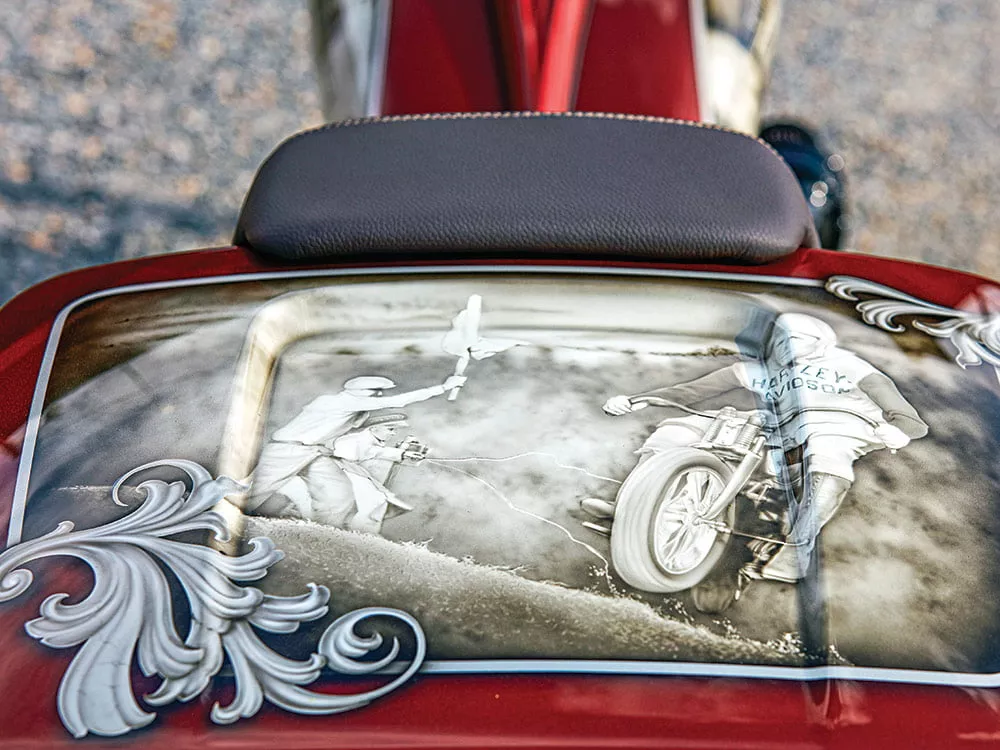 It wasn't easy and it took a long time. "There is roughly three months' work just in the airbrushing on this bike," Ken says. "Being a franchised Harley dealer we figured this bike would be perfect to display on the showroom floor. We are in a very historic area of Virginia."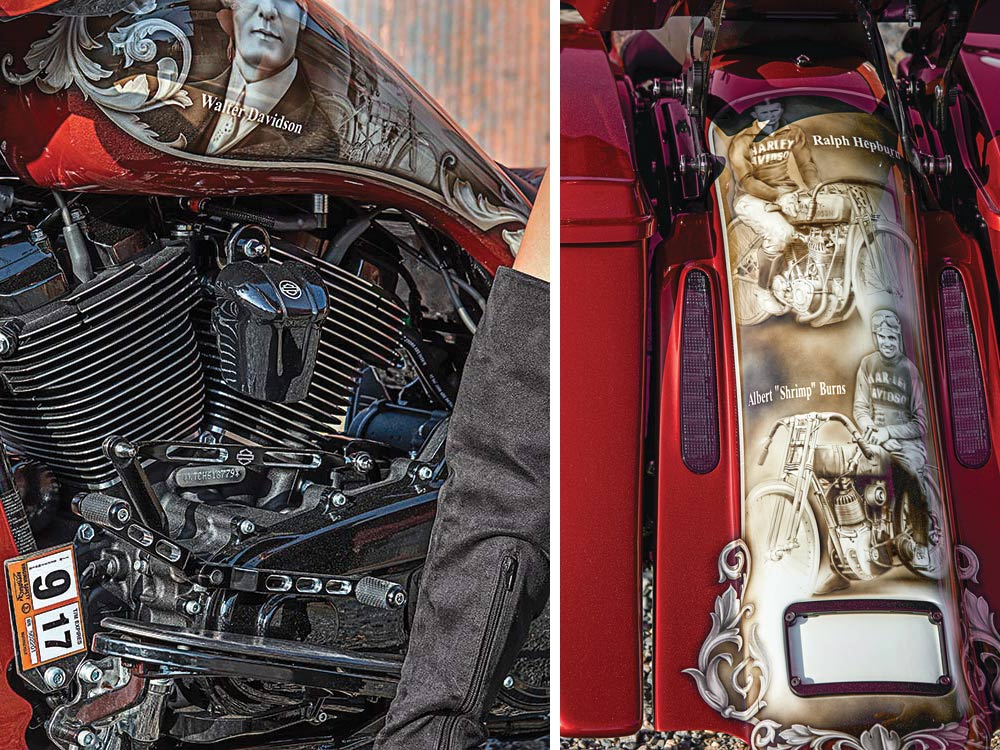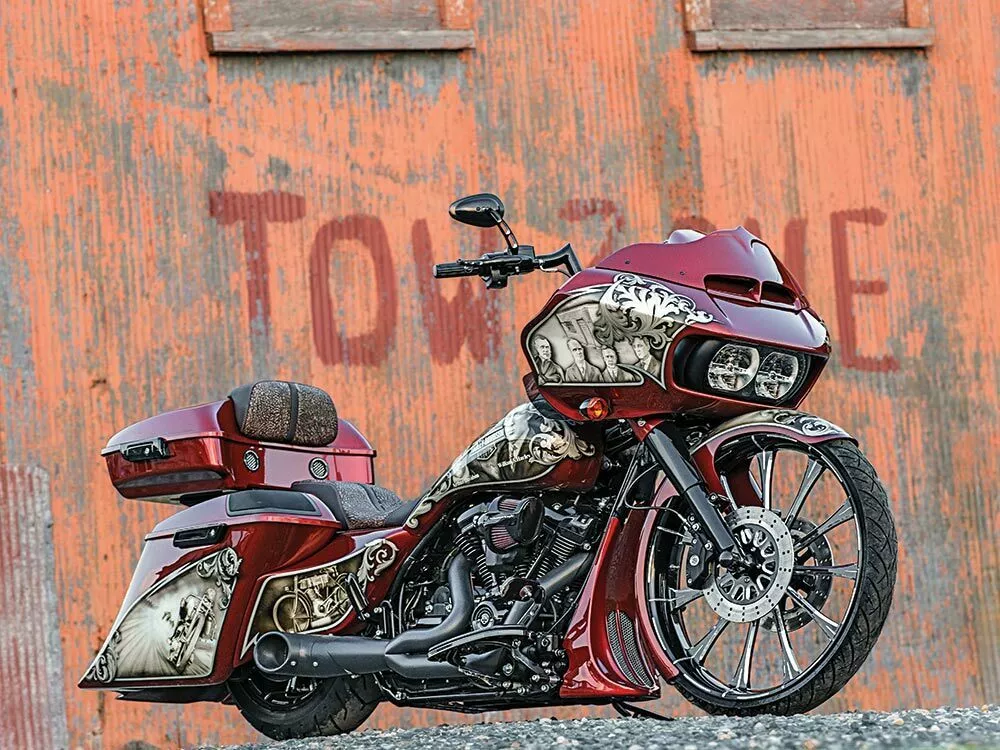 Specifications
Spec Sheet
| | |
| --- | --- |
| Bike Owner | Ken Barner |
| Shop Name | Harley-Davidson of Quantico |
| Shop Phone | (703) 221-3757 |
| Shop website | harleydavidsonofquantico.com |
| Year/Make/Model | 2017/Harley-Davidson/Road Glide Special |
| Fabrication | Harley-Davidson of Quantico |
| Assembly | Harley-Davidson of Quantico |
| Build Time | 3 months |
Engine
| | |
| --- | --- |
| Year/Manufacturer | 2017/Harley-Davidson |
| Type/Size | Twin Cam Stage 4/114 in. |
| Builder | Harley-Davidson of Quantico |
| Cases | H-D |
| Cylinders | H-D |
| Heads | H-D, CNC ported |
| Rocker Boxes | H-D |
| EFI/Carb | Screamin' Eagle 62mm throttle body |
| Air Cleaner | Screamin' Eagle heavy breather |
| Exhaust | Freedom Performance |
Transmission
| | |
| --- | --- |
| Year/Manufacturer/type | 2017/H-D/6-speed |
| Case | H-D |
| Clutch | Screamin' Eagle |
| Primary Drive | H-D |
Frame
| | |
| --- | --- |
| Year/Manufacturer | 2017/H-D with MC bagger bolt-on rake kit |
| Rake | 38° |
| Stretch | None |
Suspension
| | |
| --- | --- |
| Manufacturer Front | Dirty Air |
| Length | Stock |
| Triple Trees | MC Bagger |
| Manufacturer Rear | Dirty Air |
| Swingarm | H-D |
Wheels, Tires, and Brakes
| | |
| --- | --- |
| Manufacturer Front | RC Components |
| Height/Width | 26 x 3 in. |
| Tire/Size | Metzeler 120/55/26 |
| Caliper | H-D |
| Rotor | RC Components |
| Manufacturer Rear | RC Components |
| Height/Width | 16 x 5.5 in. |
| Tire/Size | 180/65/16 |
| Caliper | H-D |
| Rotor | RC Components |
Finish/Paint
| | |
| --- | --- |
| Color | Dakota Bronze Mica |
| Painter | Brian Morgan at BKP Art |
| Graphics | Danny Robledo at BKP Art |
Accessories
| | |
| --- | --- |
| Front Fender | RC Components |
| Rear Fender | Top Shop Black Death |
| Fender Struts | H-D |
| Gas Tank & Cap | Top Shop Money Maker |
| Oil Tank | H-D |
| Handlebars | H-D |
| Hand Controls | H-D |
| Foot Controls | H-D |
| Footpegs | H-D |
| Headlight | H-D |
| Taillight | CVO |
| License Mount | Top Shop |
| Seat | James Carter Seats |
| Saddlebags | Top Shop Black Death |
| Saddlebag Latches | Top Shop billet |
| Audio | H-D Stage 2 Boom audio with Kicker 8-in. subwoofer mounted in Tour-Pak |