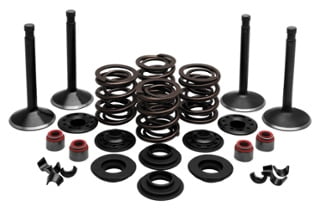 Biker's Choice is excited to introduce the addition of a new line of high-quality, made in the USA, Valve and Spring Kits to the Twin Power line of products. Twin Power is known for their high-quality parts and accessories designed for the Harley-Davidson® enthusiast.
The new line includes both replacement valve kits and complete engine kits for a wide range of Harley-Davidson® motorcycles and Buell XB9s. Each valve kit includes four stock size valves while the engine kits include four valves, a complete O.E.M.-style replacement spring kit, steel retainers, keepers and valve guide seals, where applicable. "From Knuckleheads to the latest Twin Cam models, we are committed to providing you with everything you need in one kit," says James Simonelli, Brand Manager for Twin Power. "If you need to do a complete cylinder head overhaul, we have packaged everything you need under one part number which makes it easy to order what you need."
Kits are comprised of the following components:
Black Diamond stainless steel valves are impregnated using a special German process to a depth of .002, with a surface build-up of .0002. This Black Diamond process improves wear properties, reduces friction and provides a resistance to corrosion. The valves are lightweight, strong, one-piece forgings with profiles that provide excellent flow characteristics.
Spring Kits are O.E.M.-style replacement kits that have been designed to give stock pressures and work with stock cam profiles. They are made to original O.E.M. specifications using premium modern materials, design protocols and manufacturing techniques. The valve springs are wound from super-clean chrome silicon valve spring wire that has been heat-treated and shot-peened. The retainers, keepers and bases have been designed to provide the maximum mechanical strength possible. Beehive style springs are supplied where applicable for stock replacement.
Valve Guide Seal Kits are red 100% Viton® valve stem seals that were designed to have optimum fitment, allow for maximum lift and to give maximum life. They are resistant to high temperatures, petroleum products and corrosive gases. Late Shovel kits include a stock-type K Line seal while the Knucklehead and Ironhead Sportster kits do not include seals.
Please note that a dealer must install and fit valve guides as needed.
All Twin Power Valve and Spring Kits can be ordered through your local Tucker Rocky/Biker's Choice dealer.
About Twin Power
Since 1982, Twin Power has been designing and producing quality parts and accessories for the Harley-Davidson® enthusiast. Driven by the same passion that fuels the American V-Twin scene, Twin Power is relentless in their pursuit of quality, functionality and value. They will not offer a Twin Power product to their customers unless they would be proud to sport it on one of their own rides. Visit Twin Power on Instagram.