On Saturday, July 8, at 5 p.m. PST in front of a live television audience on the History Channel at Caesars Palace in Las Vegas, decorated extreme sports competitor Travis Pastrana will drop the clutch as he attempts to soar over 52 crushed cars, two more than original action hero Evel Knievel did at Los Angeles Memorial Coliseum in 1973.
But the man best known for double backflips isn't stopping there. His Nitro Circus doesn't do anything small, so he also plans to jump 16 buses, two more than Knievel's 1975 jump at Ohio's Kings Island. Then to finish the evening, a final jump 150 feet through the iconic Caesars Palace fountain, 9 feet farther than Knievel, who fell short and suffered a crushed pelvis and femur, fractures to his hip, wrist, and both ankles, and a concussion in his 1967 attempt.
And Pastrana, 34, will attempt all three jumps in three hours on slightly modified Indian Scout FTR750s, built at Rolands Sands Design in Los Alamitos, California. I spoke with Roland Sands about his relationship with Pastrana, and the work his team is doing on Pastrana's four machines.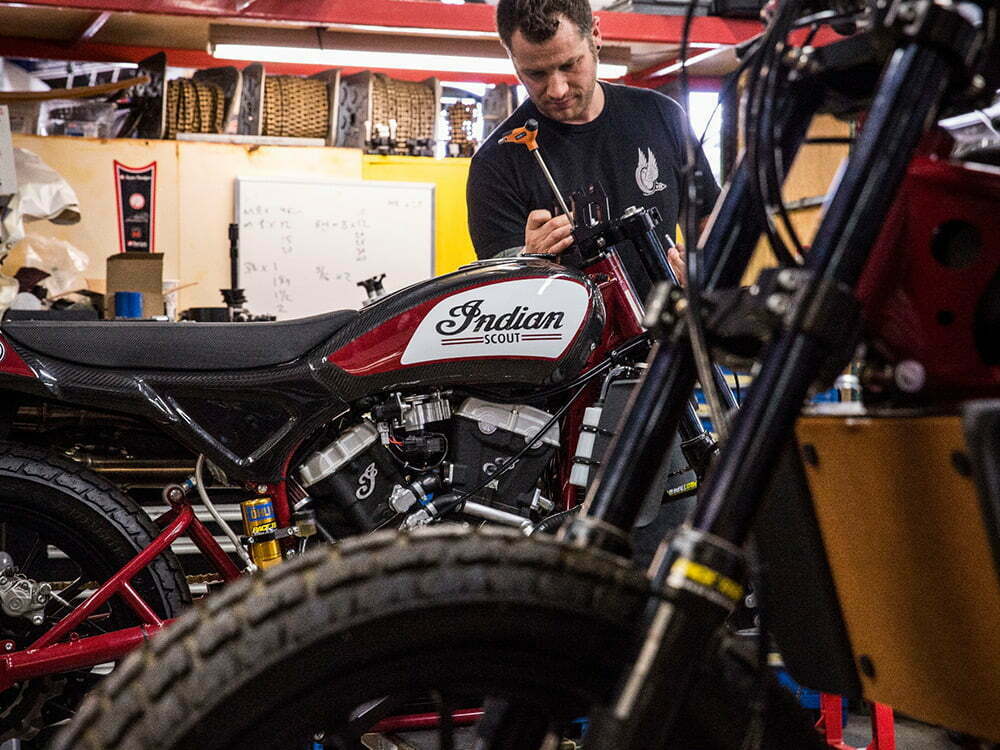 Roland, how long have you known Travis?
Close to 10 years I guess. We've done quite a few projects together and with his Nitro Circus. A three-up jump bike that ended up being shelved because it was super dangerous, like a double-sided side hack with no extra wheels. And a hopper bike with offset wheels which was frightening. I made a few appearances on Nitro myself. We also built Travis's wife Lyndsey a proper Sportster tracker a while back.
When did you first hear about this Las Vegas event, and how long did it take to coordinate getting the bikes and parts to get started?
Nitro's Dave Mateus approached me about the idea. It's something he's been cooking for a long time for Travis, and he knew the jump was about a lot more than the jump. He wanted the look to be right so he approached us about the project as a whole. We entertained a few manufacturers and decided on the Indian because the FTR was already such a good bike. We knew the mods would be minimal and the hype would be there.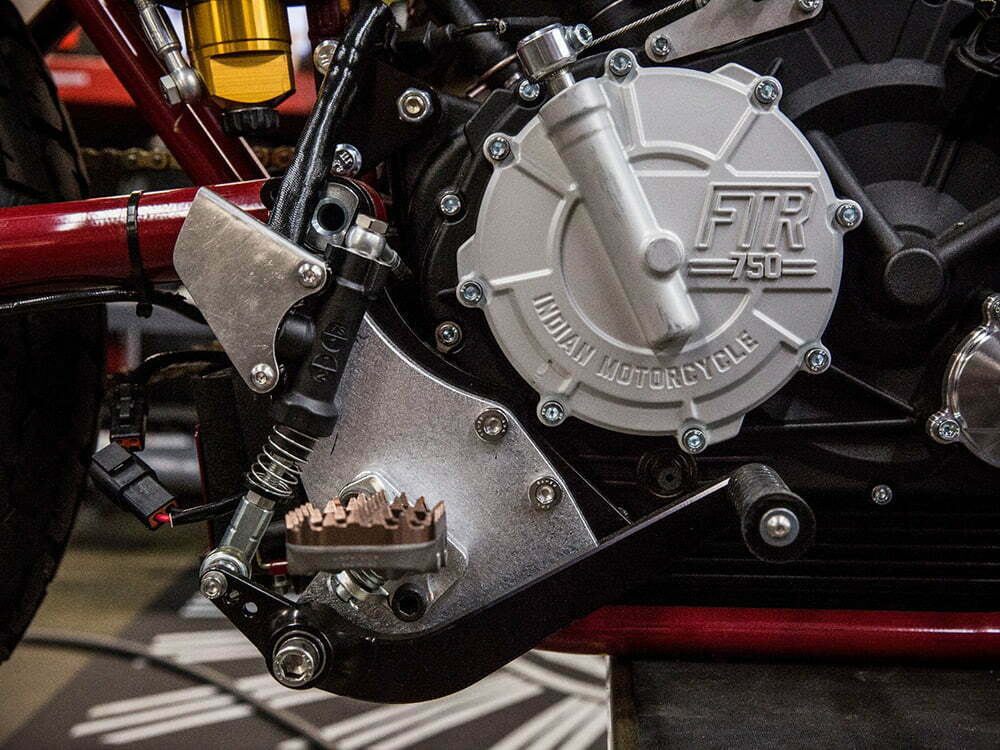 Bundling three Evel Knievel jumps in Las Vegas in one day on live TV is pretty ballsy, even for Travis Pastrana. I see four bikes getting prepped at RSD; what mods are being done to the bikes, and how different will they be set up for each jump?
The plan as of now is to have all the bikes set up very similar. But we've still got some testing to do. The number of bikes is so we have back-up plans. As you can imagine a live show and all the prep to make this project happen is expensive, and the Nitro guys are used to wild s—t happening, so they want to eliminate as many variables as possible. Bike failure, crash, etc. "The show must go on!" as they say.
Mods are not crazy. The stock bike is so good that we've mainly had to make mods to the suspension and ergos to get Travis comfortable and to keep the bike in one piece.

The bikes were originally not built for jumping so the suspension has been valved for stiffness and damping, with the standard right-side-up Öhlins forks. The rear shock has been revalved as well.

We've replaced the triple clamps with a stronger adjustable unit and created new risers to bring the bars to a comfortable position for Travis, who's a tall dude. We've also increased the thickness of the seat to be more motocross style with gripper material. Foot control position has been changed so the controls are the same; the stock FTR has offset foot controls for flat track.
We removed the front number plate for aerodynamics consistent with Evel's style. Perhaps this is why he boner aired everything? Travis is looking to duplicate Evel's style outside of the crashing part.
A new paint job by Airtrix is in the works and will be the number one aesthetic change to the bikes.
---
---
Will Travis be doing any dry runs before the cameras turn on in July?
Travis will be testing the bikes and gear. We've built a full set of Evel gear to go along with the jump, and getting him acclimated to jumping in leather on a non-motocross bike in a full-face helmet is a pretty important thing.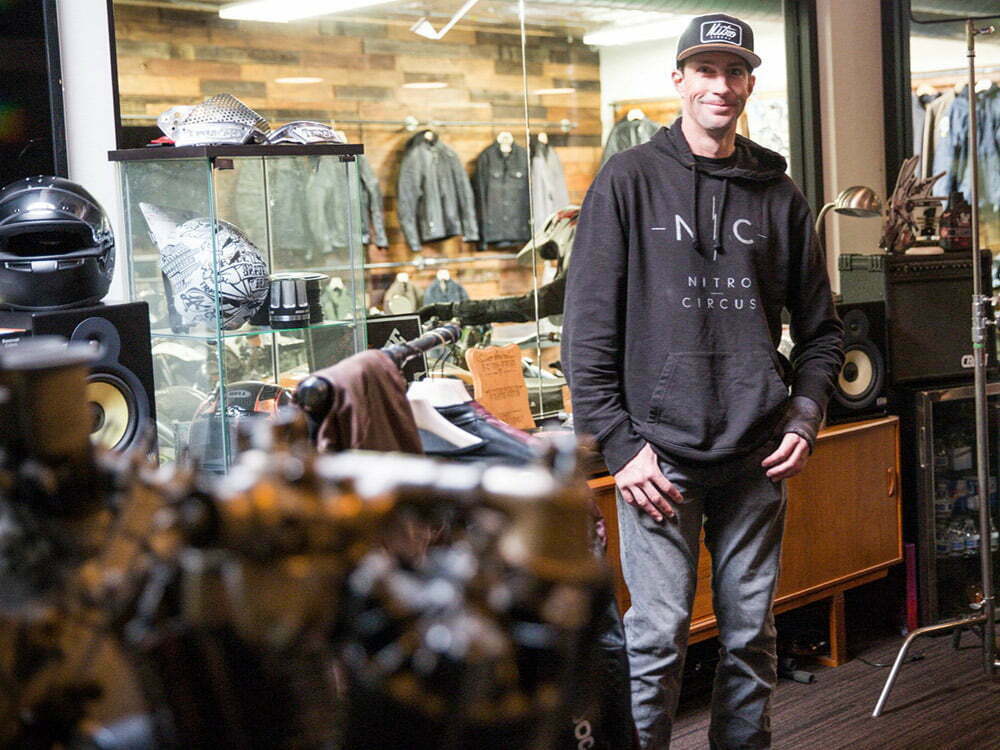 The dude is a god on a motocross bike, but tweak what he knows and even Travis can be put outside his comfort zone. He's got three jumps in three hours on unusual equipment in 100-plus-degree temps in full leathers on live TV. A little practice seems like a good thing.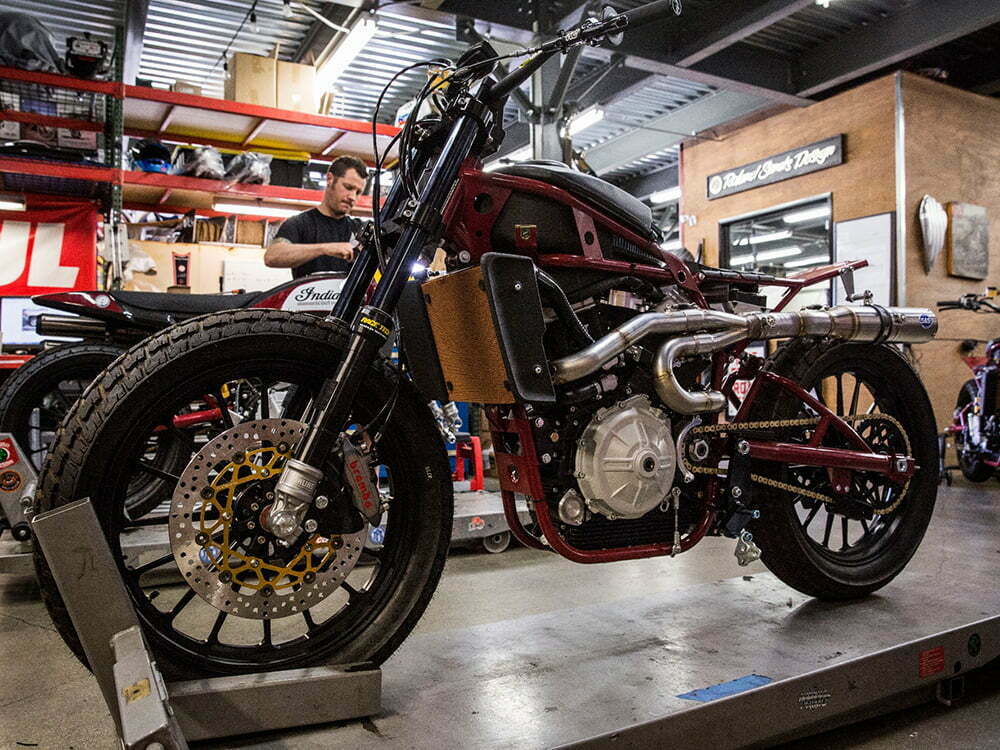 Parts/Modification List
| | |
| --- | --- |
| Donor Bike(s): | 2018 Indian Scout FTR750 |
| Wheels: | RSD Traction racing |
| Tires: | Dunlop DT3 flat-track racing |
| Suspension: | Stock Öhlins forks and shock w/ mods by Jimmy Wood at Race Tech (Front: 115mm travel—approximately 4.5 in./Rear: 118mm travel—approximately 4.6 in.) |
| Triples: | Custom jump (Howerton spec) |
| Bar Mounts: | Custom handlebar (RSD spec) |
| Foot Controls: | Custom mid-mount (RSD spec) |
| Front Brake Kit: | S&S FTR750 TT |
| Handlebar: | ProTaper (Pastrana FMX bend) |
| Footpegs: | ProTaper 2.3 Platform |
| Speedometer: | Trail Tech Stealth Striker |
| Sprocket: | Superlite Quickchange |
| Seat: | MX-style gripper (RSD spec) |
| Paint: | Airtrix |