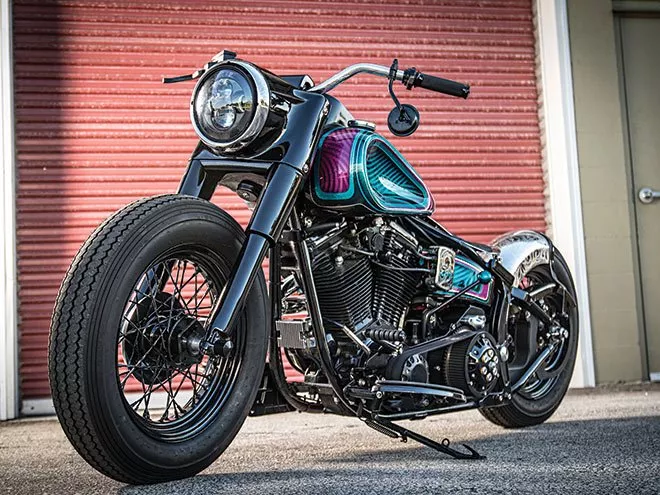 The story behind this bike is as simple as the beginnings of Taco Kustoms itself. Starting with some help from the closest people in my life, I was able to build a motorcycle that I have been envisioning for quite some time. I love building bobber-style, but being the gordo that I am, it isn't always prime sitting on these smaller-stance bikes.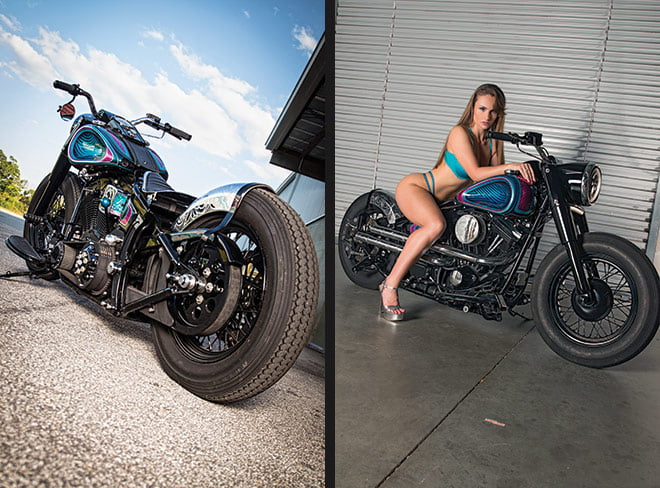 Black Betty has dished tanks from so many years of looking up to the great Indian Larry. She looks mean riding down the road or parked. Most people wouldn't be able to start this baby with her hidden start button, and I added another factor to the equation by installing a suicide shifter.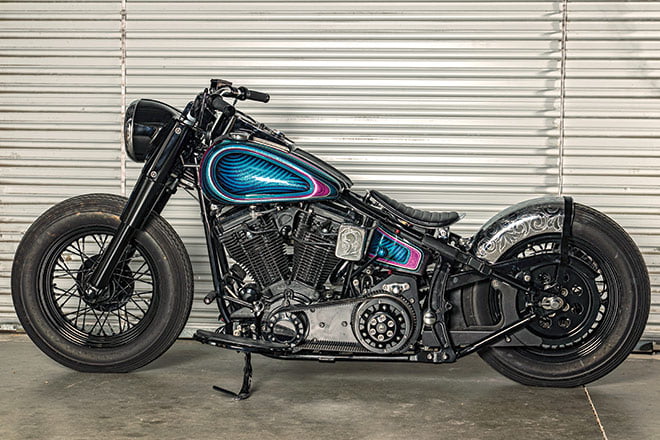 Special thanks to my team that includes: Daisy Rullan, Laken K. Hall, Tim Dahl, Mike Alonso, Anthony Conforti, George DeGraw, Chad Chambers, Big Rick, Speedmill Billy (The Mad Scientist), Mike Lanahan, Don Jones, Jose (Hialeah Plating), my mentor Rey Perez, and last but not least my son, Junior.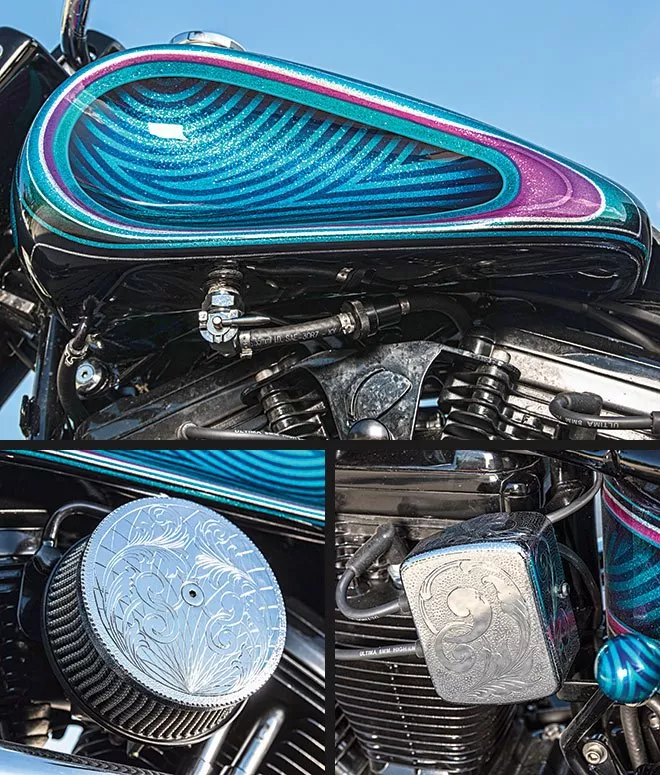 | General | |
| --- | --- |
| Owner | Taco |
| Shop | Taco Kustoms Originals |
| Shop Phone | (386) 316-6112 |
| Website | tacokustoms.com |
| Instagram | @tacokustomsoriginals |
| Year/Make/Model | 1995/Harley-Davidson/Softail Heritage |
| Fabrication | Taco |
| Build Time | 4 months after hours |
| Engine | |
| --- | --- |
| Year/Type/Size | 1995/H-D/Evo |
| Builder | Taco/George DeGraw |
| Cases | H-D |
| Cylinders | H-D |
| Heads | H-D |
| Rocker Boxes | H-D |
| Cams | H-D |
| Throttle Body | H-D |
| Air Cleaner | Hard Drive |
| Exhaust | Taco Kustoms |
| Transmission | |
| --- | --- |
| Year/Type | 1995/H-D |
| Gears | H-D |
| Clutch | H-D |
| Primary Drive | Ultima 2 in. |
| Frame | |
| --- | --- |
| Year/Type | 1995/Softail Heritage |
| Rake/Stretch | Stock |
| Suspension | |
| --- | --- |
| Front End | H-D |
| Length | -2 |
| Triple Trees | H-D |
| Swingarm | H-D |
| Rear Shocks | Hard Drive -2 |
| Wheels, Tires, and Brakes | |
| --- | --- |
| Front | |
| Builder/Size | H-D Spoke/16 in |
| Tire/Size | Shinko Classic/16 in. |
| Calipers | N/A |
| Rotors | N/A |
| Rear | |
| Builder/Size | H-D Spoke/16 in. |
| Tire/Size | Shinko Classic/16 in. |
| Caliper | Dual H-D Touring Brembo |
| Rotor | Hard Drive |
| Pulley | H-D |
| Finish/Paint | |
| --- | --- |
| Colors | Black/Teal/Magenta |
| Paint/Graphics | Chad Chamber Customs |
| Plating/Polishing | Hialeah Plating |
| Powdercoating | HotDog's Powder Coating |
| Engraving | The Homie Big Rick's Engraving |
| Accessories | |
| --- | --- |
| Rear Fender | Taco Kustoms |
| Gas Tank | Taco Kustoms Dished Fat Bobs |
| Dash | H-D |
| Gauges | H-D |
| Handlebars | TC Bros Tracker |
| Grips | Avon |
| Mirrors | Hard Drive |
| Hand Controls | GMA Master Cylinder |
| Foot Controls | Suicide Shifter |
| Floorboards | Vintage H-D |
| Headlight | H-D |
| Taillight | Prism |
| License Mount | Taco Kustoms |
| Seat | Taco Kustoms/Jacobo Upholstery, Hialeah, FL |