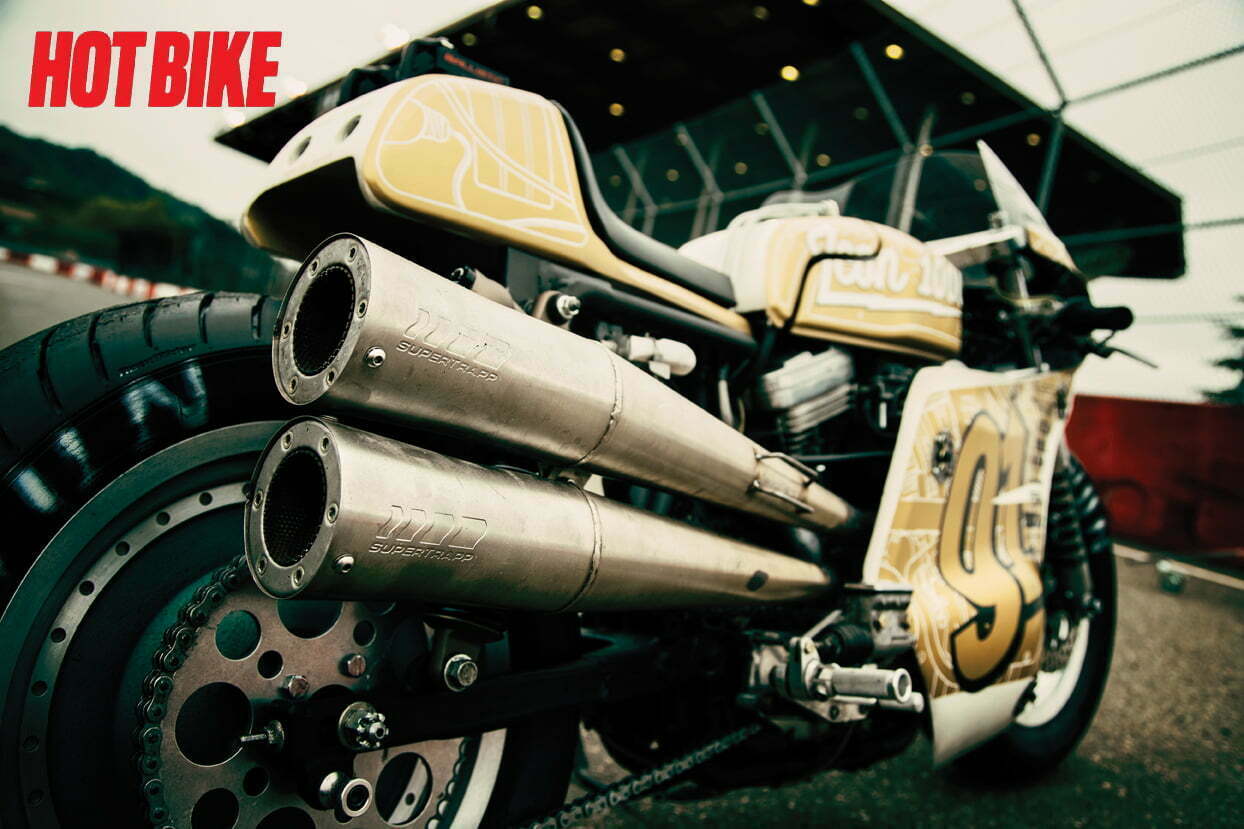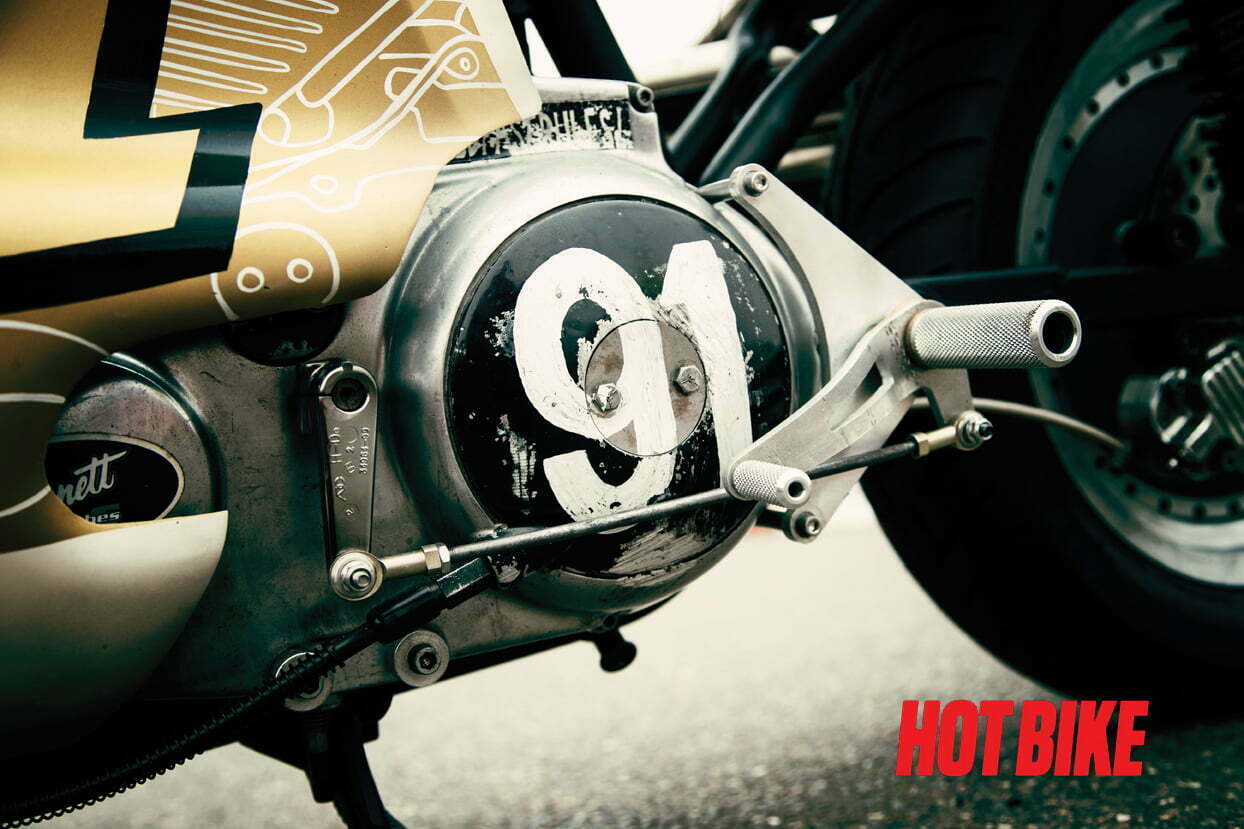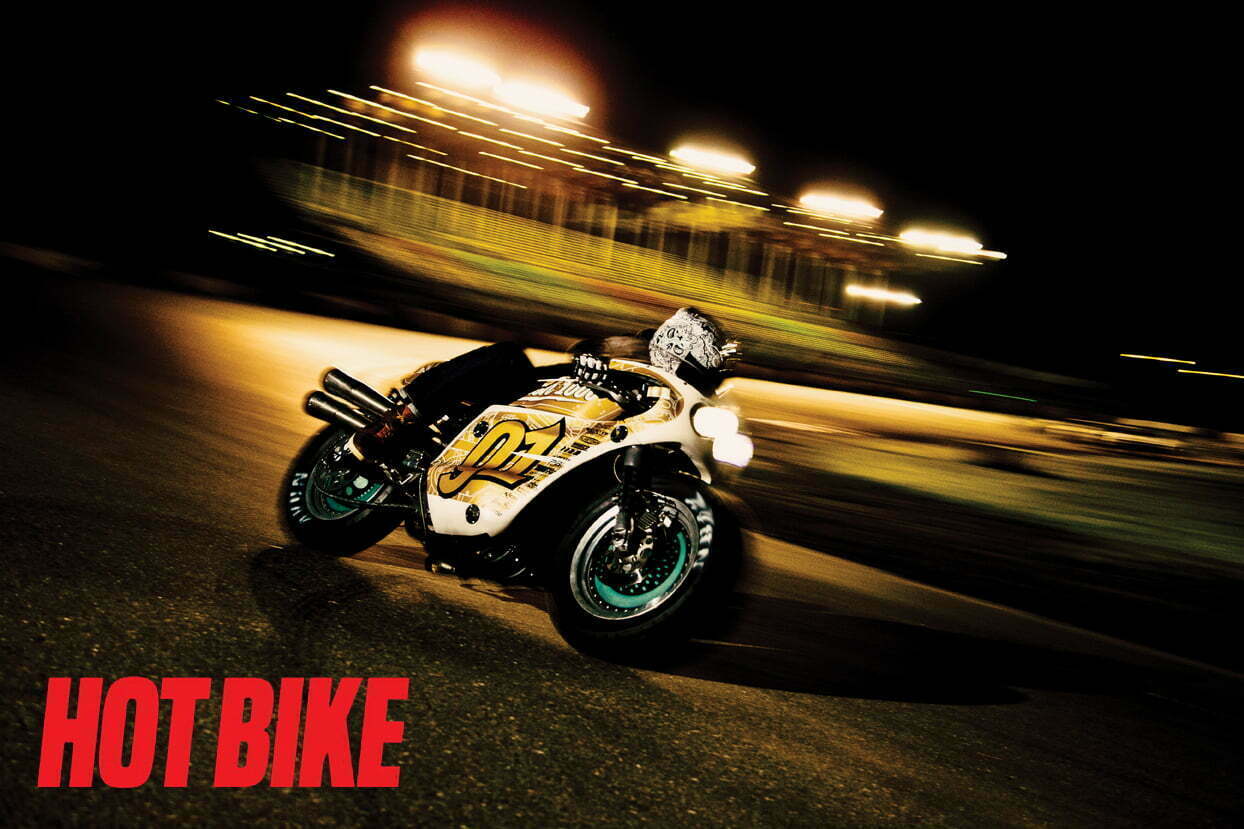 You might be unaware that the same guys who put helmets on your dome, jackets on your back, gloves on your hands, and boots on your piggies also have some of the craziest builds that can be found anywhere. Icon's bike builds follow no rules, genres, or really make any sense to the typical bike connoisseur. Any given build may have influences from V-twins, sportbikes, dirt bikes, vintage, scooters, and everything in between, and that's what I love about them. We took a moment to sit down with Joe Gustafson to see what the story was with this build, the Ironhead dubbed the Iron Lung.
What's with the naming of the bike?
JG: "Iron lung" is an old medical device that kept people alive in the 1900s. I don't ask too many questions about the names. The names usually burst out first. We just see names for two to three months with weird images from tumbler and vintage racing photos next to them.
How was the Iron Lung born?
JG: It started three years ago off a Craigslist purchase. Like a lot of Icon 1000 bikes, it started out not really with a final idea preplanned. It was just a good deal that had the potential to be cool. Before we were given bikes, a lot of them were just bought off Craigslist and sat for a significant period of time while ideas brewed. It was always going to have a fairing on it to give homage to the late-'60s/early-'70s AMA racing. This was four years ago before fairings were everywhere.
What is that front fairing and gas tank off of? It looks to be stock for that bike.
JG: The front fairing is an Airtech unit…I believe off a Dunstall. The fairing was extensively modified from that. It was cut down the middle and widened about 1-1/2 inches to fit over the front of the bike and the rear and bottom cut. The gas tank I want to say is off some '80s sportbike. The back half is oil, and the front half is fuel. It definitely has the very vintage endurance bike along with the exposed battery. The charging systems were so bad on those old bikes that they did four hot-swappings to the batteries. The rear subframe is also all custom. The shock mounting points were relocated. The triple trees are off a wide glide. The tires are Avon and the wheels are Fat Boy wheels. Because a lot of our partner companies have been so good to us, we really tried to give them more press in unique ways. So we did the lettering like old-school drag tires. We wanted big, blocky lettering. It's been really big in drift cars too to have the big, bold lettering.
The look crosses many different types of two- and four-wheel styling cues. Can you explain some of them?
JG: Some of the things that are not last minute—but definitely not planned—give the bike more flair. The Fat Boys wheels are actually painted a light blue hue because that's how old magnesium dragrace wheels were. We couldn't get magnesium wheels, but if you look at old GT-40, they have that nice light blue color. The SuperTrapp exhaust gives it a little bit of attitude. That's probably the crowd favorite of the bike. We started with a Harley Sportster application but modified it. It's all from the SuperTrapp catalog. You can buy SuperTrapps like that, but no one has seen it quite like we did. Doing things that nobody has seen is probably one of the biggest things that Icon 1000 focuses on.
Tell us more about the front end.
JG: The forks are also off a Fat Boy. They have been cut 1-1/2 or 2 inches. They have been completely cleaved off. The weld marks are behind the upper triple. We put new springs in them, but it still has zero suspension whatsoever. I was talking with David Zemla from Progressive Suspension. He was asking how the 970 shocks were performing. I explained to David that the rear suspension on the bike was the least of our problems when we had like a quarter-inch of fork travel [laughs]. So we ran it at a small circle track. The front-end chatter was terrible. All we had to do is tell our test rider Ernie Vigil to slide it out more and steer with the rear. We did ride it long enough on the street to light in on fire.
The bike was on fire? Please explain…
JG: The bike was built, but the paint was three-quarters of the way there. Kurt christens all the bikes by taking them home to make sure they're going to be okay for a photo shoot. It turns out the tank wasn't as solid as it could have been, so at a stoplight gas started dripping out. That caused a small fire. He had to ride the bike to the side of the road to put the fire out and put the kickstand down without toppling over and ruining all the fiberglass work. It's not an Icon bike until something almost catastrophic happens.
The best thing about the Iron Lung is it's one of our classic Icon builds. It wasn't built for a promotion or a photo shoot. It just came together. The fun part is taking the bike out to dealer showcases and just talking about why we built it. Sometimes Harley guys don't even know it's a Harley. You get to explain a lot more about Icon as a brand more than something they are getting from a dealership. You get to educate people about American racing and about the gear that goes with it. We wanted to separate Icon 1000 from other kinds of hipster-ish café-racer-type garments. We really wanted to drive home the point of sportbike-derived protection for your Harley. It's not just a costume.