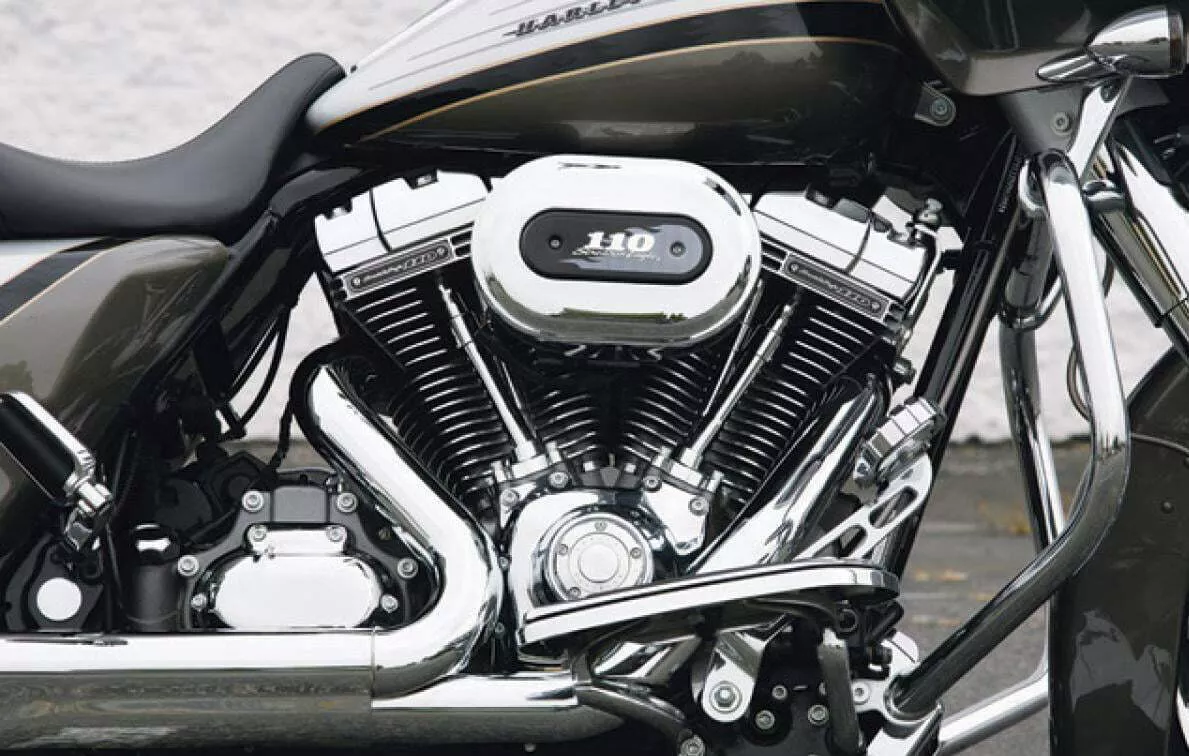 How's that saying go? "There's no replacement for displacement!" If recent Twin Cam history is any indication, Harley-Davidson sure believes that saying. Engines just kept getting bigger and bigger year after year. Introduced as an 88-incher, the TC rapidly grew into a 96, then a 103, then a 110, and now there's a Screamin' Eagle 120 waiting in the wings. Don't be surprised to see that latest—and biggest yet—Twin Cam soon enough become standard fare. The 103 has already eclipsed the 96 as the factory-installed motor in most 2016 models, and the 110, originally a CVO-only option, is now the OE engine of choice for the newest Fat Boys and Softail Slims, with more applications sure to come.
That's in the future. Right now we have the 110. "And that motor's not a bad platform to work with," the guys at Speed's Performance Plus say. The SPP pro tuners guys have been hopping up these 110s for a while now, tending to this engine since its release. And no question, the cubic inches are there making a big-bore kit purely optional. "But the problem," SPP's Jason Hanson says, "the one thing holding this motor back is its lack of compression. As delivered from the factory there's just not enough of it." There's an understatement. Peruse the spec sheet for a 2016-model 110 motor and you'll find the compression ratio listed at a paltry 9.2:1. "And it's killing these engines," Jason says. Another understatement. In their purely stock form these big-inch/low-compression factory 110s will struggle to get past much more than 95 hp, tops, and maybe 95 pound-feet of torque, both numbers rapidly falling away at anything much above 4,000 rpm. That's hardly the sort of performance you'd expect from this displacement. Speed's Performance, however, has the fix, and it's surprisingly simple.
"More compression," Jason says. "It's what these engines need and what they respond to." Swapping those low-compression factory pistons for replacements in the 10.6:1 range makes a dramatic difference. Same bore, same stroke, same displacement—just a tighter squeeze for a bigger bang. That's half the equation. Giving the 110 some compression to play with opens up the possibility of also giving it the cam timing to best go with that newfound compression, and after extensive R&D and lots of dyno and on-road testing, the SPP guys have come up with a combination of pistons and cams that'll deliver horsepower and torque more in line with what you'd expect. Like both in the 120 range. And it's still an easy-starting, cool-running everyday friendly motor. "And since we're in there swapping cams," Jason adds, "We've found it good practice to include one of our heavy-duty cam plates and a gear-drive." The benefits of a gear drive for the cams are well known, and switching to the SPP Cam Plate Kit, designed to put bushings on both ends of these late-model cams, is also money well spent. That replacement plate is a lot thicker than the factory piece, so there's no flexing. It has improved oil passages and an improved relief system to let the engine breathe. Like we said, money well spent.
Plenty of riders will opt to stop right there. For them more compression coupled with those performance cams will be plenty enough. But, as always, there's more available. Cylinder-head work coupled with a bigger throttle body and a better plenum/manifold ups the performance ante again. "But truthfully," Jason goes on to explain, "The heads on the 110 engine aren't too bad, for OE pieces. The valves are decently sized and positioned and the ports, despite some concerns on the exhaust side, are generously sized." That said, a set of professionally reworked cylinder heads, paying special attention to the exhaust ports, coupled with a new and bigger throttle body in the 58mm range will tack on even more power and torque. "And at that point, you'd be getting pretty much everything that 110 engine has to offer, and it would still be a motor not the least bit finicky of ill-mannered," Jason concludes.
Put all this together, or leave out the headwork and big throttle body, and either way it's one heck of a bang for the buck and a dramatic wake-up call for that sleeping giant, the Twin Cam 110. And it's all easy bolt-ons, the engine never coming out of the frame. Interested? Stop by and talk to the Speed's Performance team next time they're close by, or give them a call.
Source:
(605) 695-1401 – MN
(605) 695-2272 – SD
See what's going on in our Tech section.