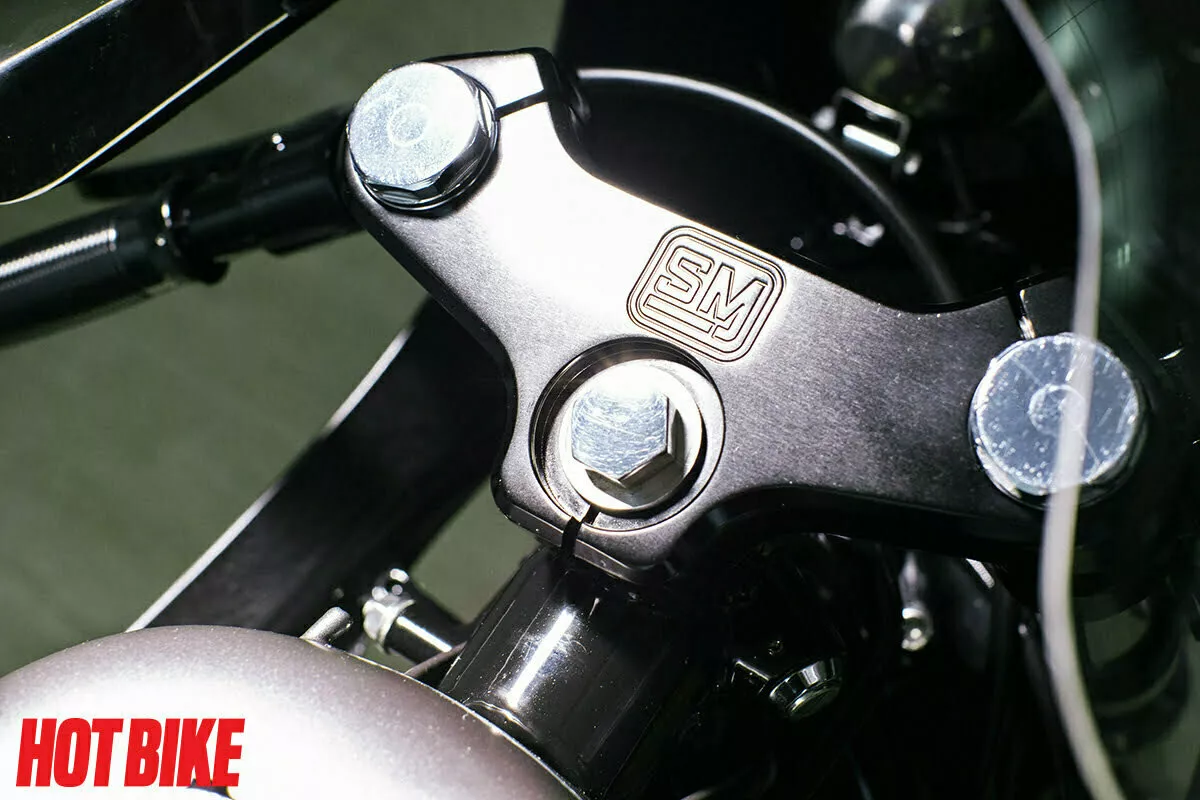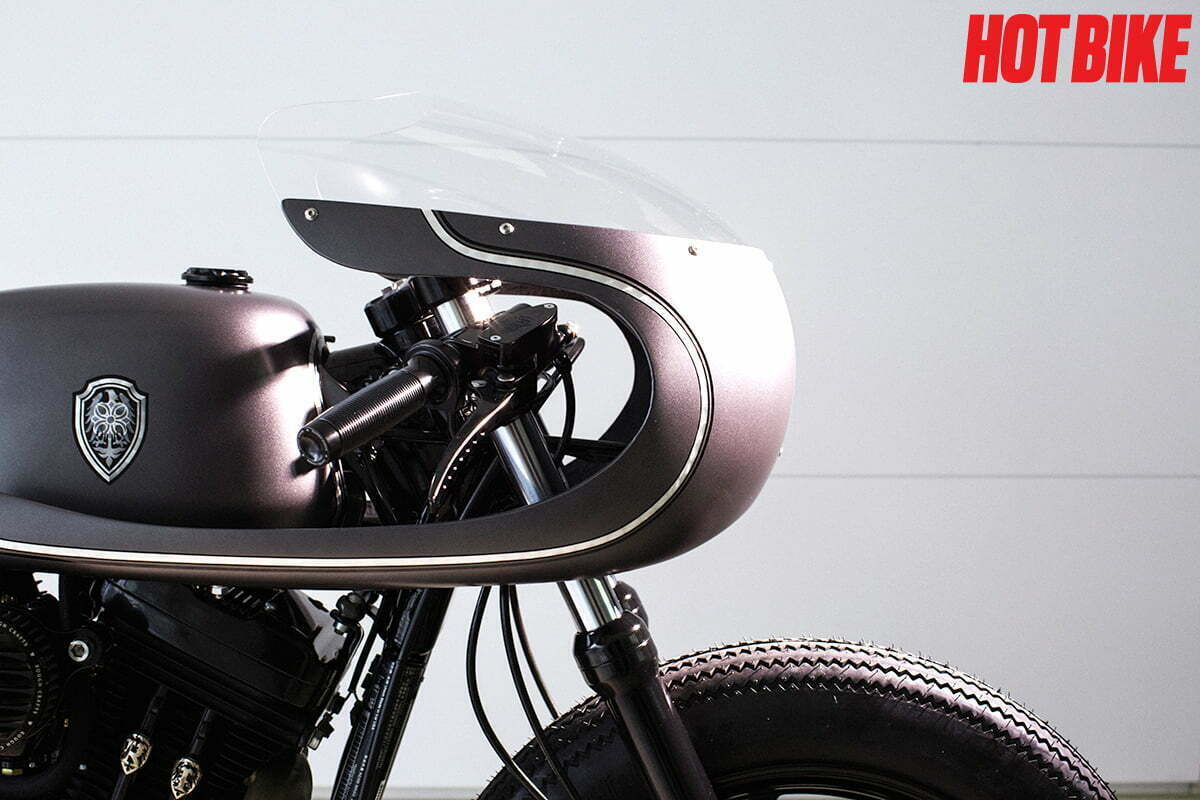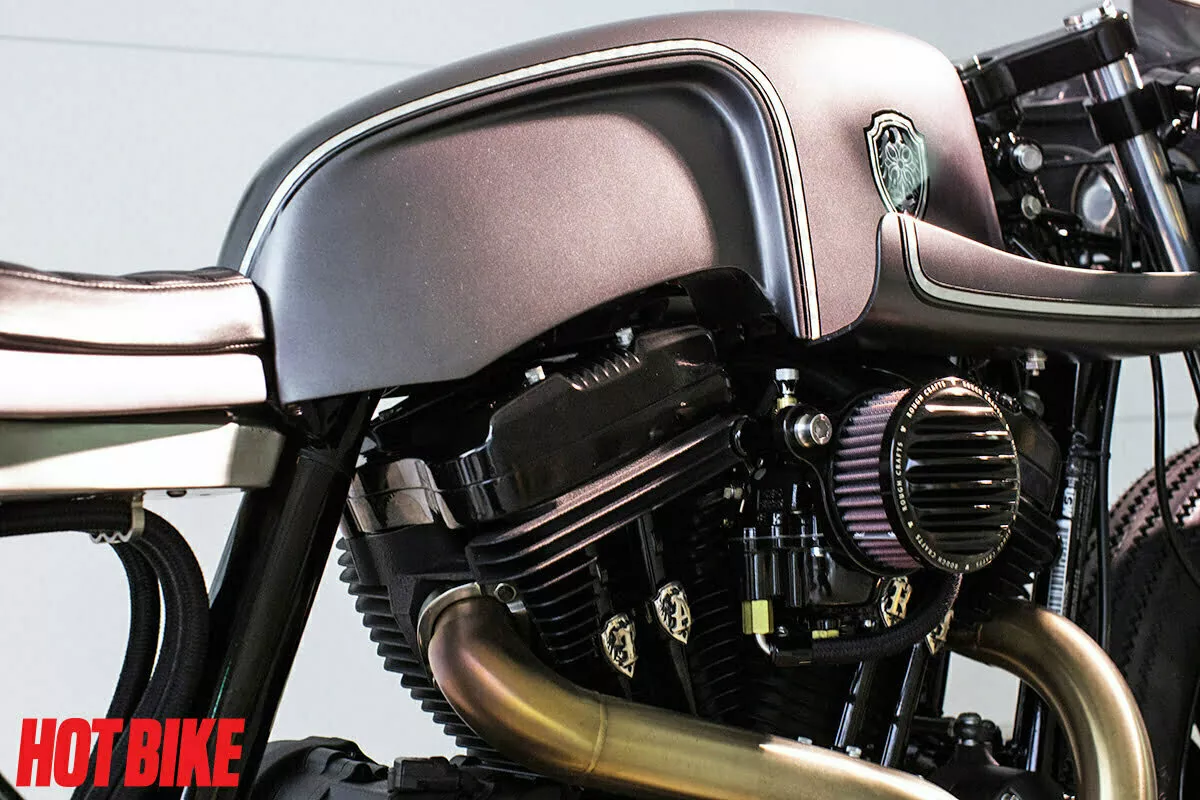 Winston Yeh of Rough Crafts was our " Builder of the Year" for 2014 and this build is another example of why. The fit and finish of Winston's bikes are nothing short of world class resulting in a machine that looks like a ultra high end production bike rather than a one-off custom. The word "artist" is often overly used to talk about motorcycles, but in this case it describes the builder perfectly. Handcrafted parts are used extensively from steel, aluminum, and carbon fiber, taking the builds to a different level of class meets function.
Here's Winston's own words about this particular build, "Slate Hammer":
The Bike was commissioned by a very good friend of mine who owns a clothing brand "TAKI", he was never really into bikes before but he likes to travel with us and has done several trips to MOONEYES and JOINTS show in Japan. Custom bikes grew on him very fast.This year his brand has a series of biker influenced goods called "The Road Leader". He can't help it anymore, he needed a bike, so naturally he came to me. He wanted a café racer, he wanted it clean and grey-ish color, that's pretty much it. I have known him for many years and the idea came together fast.
The key component is the vintage replica Dunstall GT half fairing by GFTP . It looks perfect for sizing but the vintage windscreen was too high for the slick look I was after, so I heated the screen and tilted it way lower. For the tank, it was actually a super heavily modified sportster tank. The Rough Crafts signature cut from the center perfectly created that café tank look. The wider wrap around the front cylinder head while the rear was narrowed and cut out to accommodate the rear cylinder head is one of the most interesting shapes I created for this particular bike.
Now to the matching tail section, I wanted the clean lightweight look of the empty belly space. An under-tail oil tank was made, the custom RCE lithium battery was tucked in under the gas tank, and the stainless steel belly pan was only used for ECM and fuse etc.
The Speed Merchant provided the riser-less billet triple trees.Lower legs from a 883R for the dual caliper mounts and a pair of Brembo made HD Touring calipers rounded out the front end. SAN DIEGO CUSTOMS and LYNDALL RACING BRAKES teamed up with this SPEEDLINE wheel/discs/pulley set wrapped with FIRESTONE Deluxe Champion tires.
The rear was outfitted with PROGRESSIVE SUSPENSION 15" shocks. Our very good friend BACK DROP CUSTOM LEATHER from Japan wrapped that beautiful seat for us. SPARK provided us the tail pipe and we made a full stainless header to fit it. Rearsets were custom made by us. The custom full silver push rod collars was again made by our talented friend from 2 Abnormal Sides , and of course, the paint was handled by none other than AIR RUNNER CUSTOM PAINT STUDIO.
Bike Name: Slate Hammer
Builder: Winston Yeh
City/state: Taipei, Taiwan
Company Info: Rough Crafts
E-mail: [email protected]
Website: www.roughcrafts.com www.facebook.com/ROUGHCRAFTS
Year / Model: 2012 Sportster 48
Engine Make / Size: HD/1200
Frame Make / Type: HD/stock with slight modification
Front End Make / Type: The Speed Merchant triple trees
Rear Shocks: Porgressive Suspension 15″
Rake: stock
Stretch: none
Trail: stock
Swingarm: stock
Transmission/Drives/Clutch: Rough Crafts Clutch Cover
Exhausts: Rough Crafts/SPARK
Wheels F: SAN DIEGO CUSTOMS SPEEDLINE Wheel / 18 x 3.50″
Wheels R: SAN DIEGO CUSTOMS SPEEDLINE Wheel / 18 x 4.25″
Tires F: Firestone Deluxe Champion 18 x 4.00″
Tires R: Firestone Deluxe Champion 18 x 4.50″
Brakes F: dual HD touring caliper / Lyndall Racing Brake composite rotors
Brakes R: stock caliper / Lyndall Racing Brake composite rotors
Painter: Air Runner Custom Paint
Chroming / Plating: Anodizing
Assembly: CT-Garage
Controls:
Foot controls: Rough Crafts custom made rearsets
Handlebars: Rough Crafts custom made clip ons
Handlebar controls: Performance Machine/Rough Crafts
Headlight: Rough Crafts Grill Type headlight
Turnsignals/Taillight: Rough Crafts Grill Type
Seat/Tail Section: Rough Crafts/BACK DROP CUSTOM LEATHERS
Gas caps: Rough Crafts
Grips: Rough Crafts
RockerArm Cover: stock
Intake: Rough Crafts Fin Air Filter
Additional Info:
Push Rod Collars by 2 Abnormal Sides
S&S Super-E carb
Undertail custom oil tank
RCE custom lithium battery under gas tank
vintage replica Dunstall GT half fairing by GFTP