How do you transform Indian's recently released factory street tracker, the FTR 1200, into a track-ready dirt-spewing racebike? You turn to the king of road bikes on the flat track, the super hooligan himself, Roland Sands.
Inspired by the FTR750, which has dominated the American Flat Track Twins class since its release, the FTR 1200 was developed for the street, yet it evokes a certain emotional response all race enthusiasts can identify with. Finally a legitimate production street tracker is well within grasp for consumers. It hits the nail on the proverbial head in terms of styling, and the specs say it has the performance to back it up. And the $12,999 to $14,999 price point is very attainable for consumers.
A proper chassis with steel trellis frame, quality suspension, stylish 19-inch front and 18-inch rear wheels, and DOT dirt-track-style tires all come equipped on the factory FTR 1200. Out of the gate, the bike has the chops to snatch the checkered flag come run-what-you-brung speedway weekend. But it has so much more potential.
No stranger to podiums, Roland Sands Design wanted more out of the stock Indian Scouts it had previously converted into hooligan racers. RSD morphed the Indian Scout platform to unparalleled levels in creating race-ready motorcycles, but things change. Time begets improvements. And now that the FTR 1200 is out, RSD is moving forward in sync.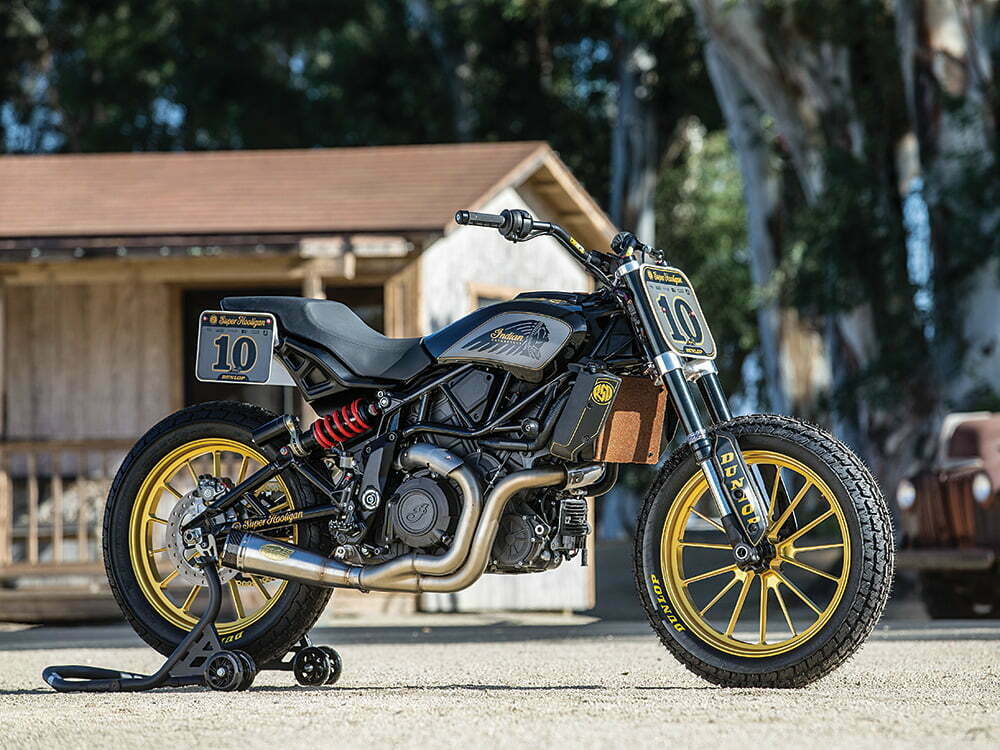 "This bike has definitely been a long time coming. No matter what, it's a fast street bike. So we are taking a fast street bike and turning it into a flat tracker. It's definitely a different thought process than taking a Sportster or a Scout and turning it into a flat-track bike though," says Roland Sands.
Because the FTR 1200 is already faster than the Scout, the RSD team had to adjust its approach to make just the right tweaks to handle the added ponies (120 hp stock, to be exact), and maybe even "de-tune" the bike to perform more adequately around the oval tracks.
This is a cool bike. Seeing the transformation the last couple of weeks that we made into a Hooligan bike really kind of—yeah, it was a street tracker to begin with, but to turn it into a real dirt-track bike was a task. But I think the bike accepts it really well. I mean, it's a ripper. It just does all the stuff you want a motorcycle to do. It's the first American motorcycle to cross over to that performance platform in a really well-engineered bike. It's a neat thing," Roland says.

So where do you start? How do you begin the conversion process from legal street bike to full-on dirt-track racer?
"The one thing that we started out with for sure was doing the offset triple clamps, and doing the adjustable triple so we could modify it a little bit. But that just gives us a lot more steering. More lock-to-lock means that if you do get the thing out of shape, it isn't going to hit the lock. It'd spit you over the top, which is really important with this bike," Roland says.
Roland Sands Design project manager Cameron Brewer explains how much more involved the street-to-dirt-tracker transformation process was.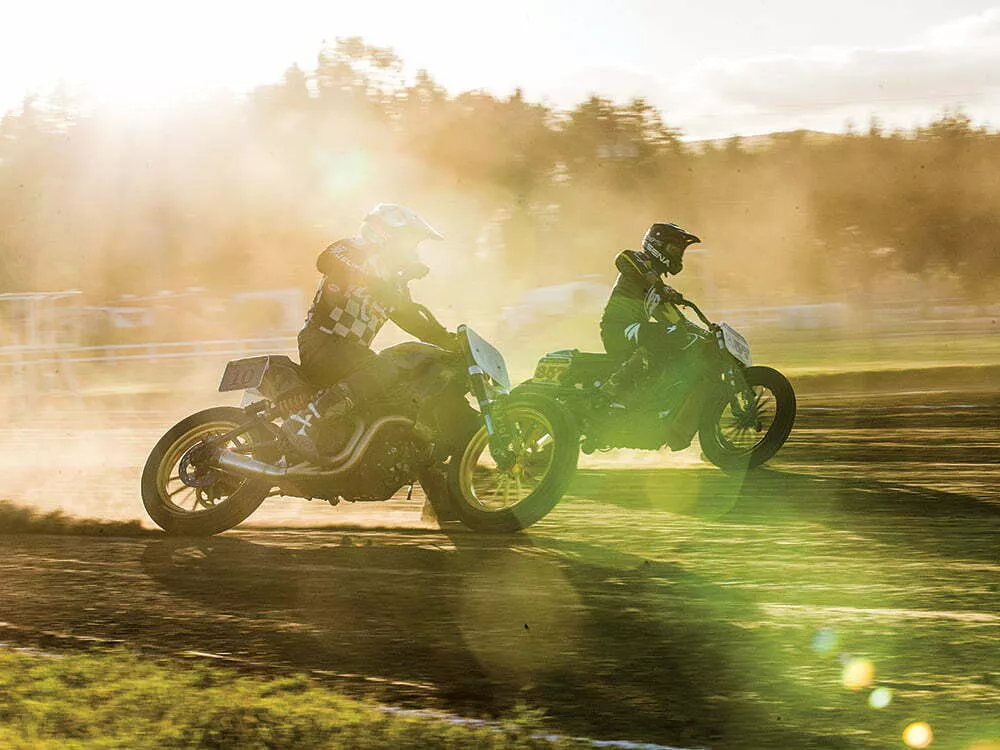 "Well, it's a whole different platform, right? Similar engine package, but at the same time, completely different. It's got new cases; it's got dual throttle body. It's got a bunch of stuff they pulled from racing on the FTR750 and the Pikes Peak bike we built. We run individual throttle bodies and dual intake runners. A lot of the stuff helps deliver real smooth power off the front and back cylinders. You can adjust them individually that way too, which helps with tuning, and with real smooth power delivery, which is kind of key," Cameron says. "The FTR 1200 is basically a completely new bike. It might have the same crankshaft, but it's got new cylinders, new heads, new cases. They took a bunch of weight out of the motor compared to the Scout, which was good. It's got a trellis steel frame now, which should add some more flex to it, which is good. You want the chassis to flex throughout the corner instead of being super rigid, where the Scouts have cast-aluminum frames, which are just very rigid frames. So then you're relying on just your suspension and your tire pressure to kind of get the thing hooked up, where this thing will kind of bend underneath you coming out of the corner. Same with the swingarm. It's got a side-mounted monoshock a lot like their FTR750 racebike. And it's all steel, so it's opened up more to flex," Cameron says.
One of RSD's priorities was weight reduction, as well as an overall balanced feel. According to our calculations, RSD shaved 53 pounds off the factory bike with an overall running weight of 456.

"We relocated the battery from behind the front tire to in front of the rear tire, so behind the chassis, we moved that stuff to open up that area up front and try and get some extra balance into the bike. When we moved that, we needed to keep the regulator, rectifier, starters, and all that stuff up front, so we made a new panel out there with all that stuff," Cameron says.
RSD also removed the oil cooler. "It kind of seems maybe like something backward for racing, but the oil cooler is really made for getting a long life out of your motor," Cameron says. But for the average consumer who's looking for a flawless 50,000-plus, you'll probably want to leave that part alone. For doing short stints, he says, it's just fine. "Our races are between two and four minutes. We come out, there's plenty of cooling in the radiator to keep the motor oil cool enough, but if you're on a long ride across the desert and it's 125 degrees and you're out there for eight hours, yeah, you probably want to keep the oil cooler on," Cameron says, laughing.
So how do you build your own RSD Indian FTR 1200? The good news is that RSD and Indian are collaborating on a [complete line of accessories](Indian's FTR 1200 Accessories Packages Debut At EICMA), available directly from Indian dealerships in 2019. While specifics are still being sorted out, you can most likely expect brake pedals, shift levers, engine cover packages, crash sliders, bar ends, grips, ignition cover plugs, and all kinds of other billet accessories. Look for a new set of RSD/Indian collab wheels in factory FTR 1200 sizes (19-by-3-inch front, 18-by-4.25-inch rear) too. Seeing how many wheels RSD has developed over the years, Cameron is especially excited about these. "They're probably the raddest wheel that we've ever built. Everyone's super excited about them, and we've designed a lot of wheels. So all of us are stoked on them," Cameron says.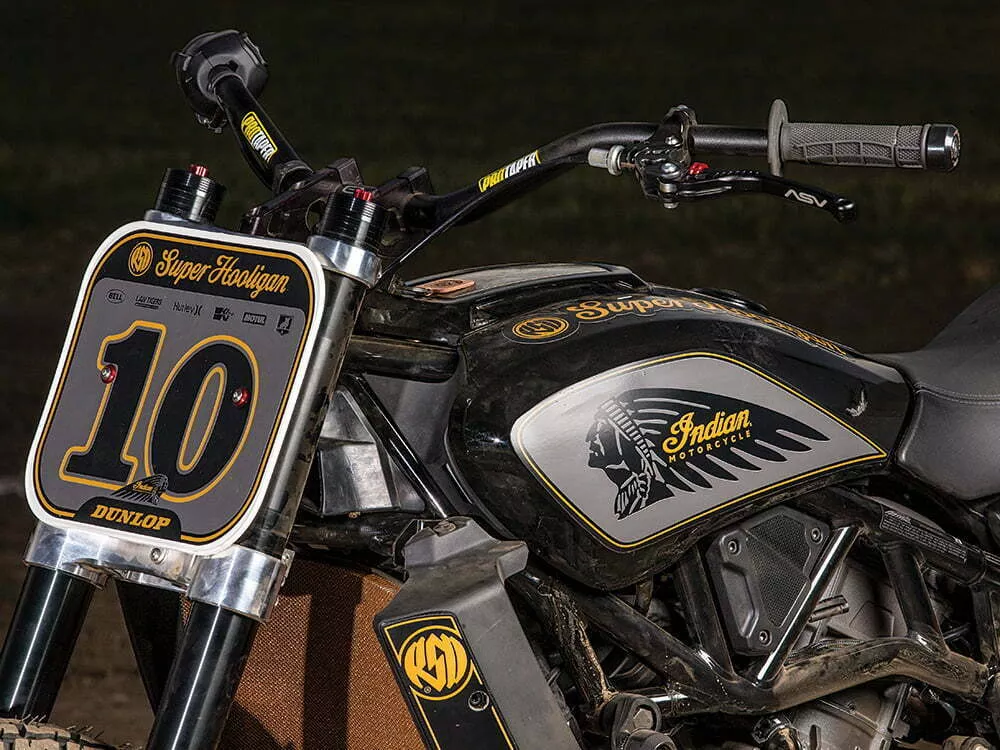 Getting into the genesis from the Super Hooligan Scouts to FTR 1200 hooligan racers, Cameron is excited about the FTR 1200 and is an overall fan of street trackers in general. Who wouldn't be? They're badass! Cameron sees the FTR 1200 as the perfect platform for folks who have always dug the look of dirt-track bikes but are yearning for something street legal.
---
Related Video:
---
"This [bike] is making a lot of dreams come true for a lot of people because the FTR750 isn't street legal, they're $50,000, they're sold out, and they're all on the race track," Cameron says. "I mean, street trackers are the raddest bikes to ride. Your bars are upright, top-mounted right in front of you, your feet are right underneath you, they're not hung out forward. You have ultimate control of the motorcycle with a street tracker type of setup."
Trackers (dirt or street) have long been a part of the Hot Bike fabric. There's something so inherently cool about motorcycles that go against the grain of conventional wisdom. It will be interesting to see the crop of FTR 1200 customs that starts popping up when the motorcycles hit dealership floors in 2019. Hopefully RSD's latest brainchild gets you pumped to build your own. Keep us posted.
Specifications
| | |
| --- | --- |
| General | |
| Owner | Roland Sands Design (RSD) |
| Shop | RSD |
| Year/Make/Model | 2019/Indian Motorcycle/FTR 1200 |
| Fabrication | RSD |
| Build Time | One month |
| Engine | |
| Year/Type/Size | 2019/Indian/73ci (1,203cc) |
| Builder | Indian |
| Exhaust | RSD custom stainless-steel Slant slip-on muffler |
| Intake | K&N air filter |
| Transmission | |
| Year/manufacturer/Type | 2019/six-speed |
| Clutch | Gear drive wet clutch |
| Final Drive | Bike Master 525 chain O-ring with clip master link |
| Frame | |
| Year/Type | 2019/FTR 1200 |
| Rake/trail | 26.3 degrees/3.5 inches |
| Wheelbase | 61.6 inches |
| Suspension | |
| Manufacturer Front | FTR 1200 Sachs/GP Suspension adjustable rebound, damping, preload cartridge kit |
| Triple Trees | RSD custom adjustable offset |
| Manufacturer Rear | Penske piggyback shock with dirt-track valving |
| Wheels, Tires, and Brakes | |
| Manufacturer Front | RSD/Indian tracker wheel |
| Wheel height-width | 19×3 inches |
| Tire height-width | Dunlop DT3 flat-track race tire (F5 compound) 130/80-19 |
| Manufacturer Rear | RSD/Indian tracker wheel |
| Wheel height-width | 19×3 inches |
| Tire height-width | Dunlop DT3 flat-track race tire (R5 compound) 140/80-19 |
| Caliper | Brembo |
| Rotor | Brembo |
| Finish/Paint | |
| Colors | Factory black, with RSD race decals |
| Painter | Indian |
| graphics | RSD |
| Accessories | |
| Front Fender | N/A |
| Rear Fender | Stock |
| Gauges | N/A |
| Gas Tank/Cap | Stock |
| Dash | Stock |
| Oil Tank | Stock |
| Handlebars | Pro Taper dirt bend bars/FTR750 pullback risers |
| Hand controls/grips | ASV clutch lever/Pro Taper grips |
| Foot controls | RSD/Indian footpegs, shift lever, brake pedal |
| Headlight | N/A |
| Taillight | N/A |
| Turn Signals | N/A |
| License Mount | N/A |
| Seat | Stock |
| Battery | Antigravity Lithium Small Case 12-cell |