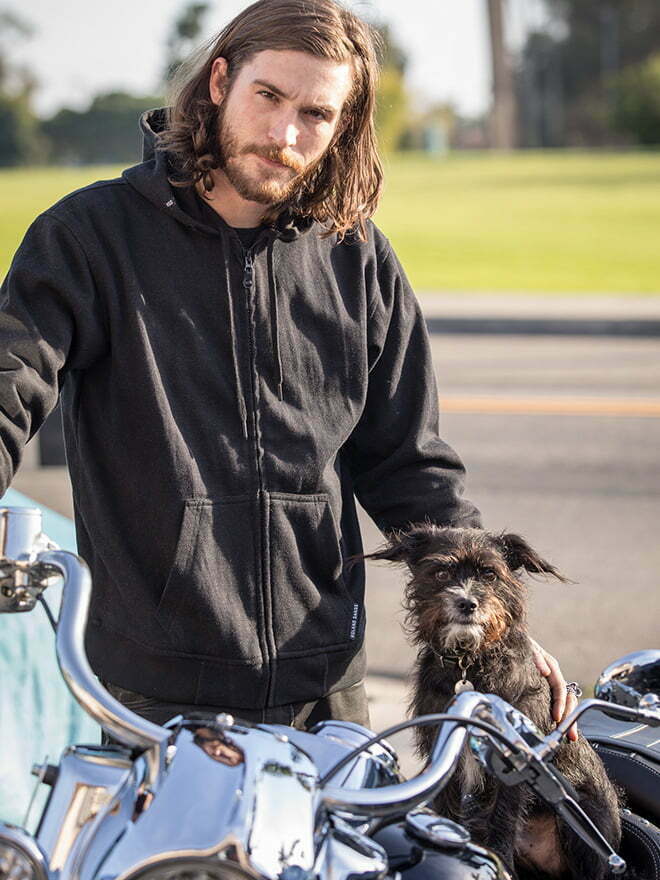 I imagine the guys from Roland Sands Design sitting in a room wearing hoodies while they design top-shelf motorcycle jackets—it was bound to click eventually. The Vincent Hoody takes every feature you could possibly cram into a lightweight motorcycle jacket and disguises them nicely in a "plain" black hoodie. Now your favorite sweatshirt will not only protect you in a slide, it will function better as well.
Drawstrings for the hood exit from the inside so they don't flap around in the wind and hit your helmet. Inside the left-hand pocket is a section for your phone with a zipper closure, so there's virtually no risk of it flying out while on the road. The outer shell is a mix of Kevlar and Coolmax fabric to protect and keep you cool, and the Cordura Nyco liner throughout the sleeves, body, and hood adds a second layer of abrasion protection. There are pockets for impact armor in the sleeves, elbows, and back, but they aren't included.
The fit is classic and relaxed, and the only visible branding on the jacket is a small "RSD" on the hood and "Roland Sands" on the bottom pocket. Yellow Kevlar gives the outer shell a slightly off-black color, which I actually really like, and the Cordura liner is surprisingly comfortable considering the added safety benefits.
When I first got this piece it immediately replaced the sweatshirt that I carried around as a thermal layer in my saddlebag, and it's perfect for replacing a bulky jacket on warm days or shorter rides. I wear it just like I did my old hoodie, but now with much more confidence.
At $250, it's a good step up from the reliable cotton staple, but patented fabrics like Cordura and Kevlar ain't cheap and your basic sweatshirt can't hold a candle to this one. Fit is slightly larger than normal; I usually wear between a large and XL, and the large fits me perfectly here.