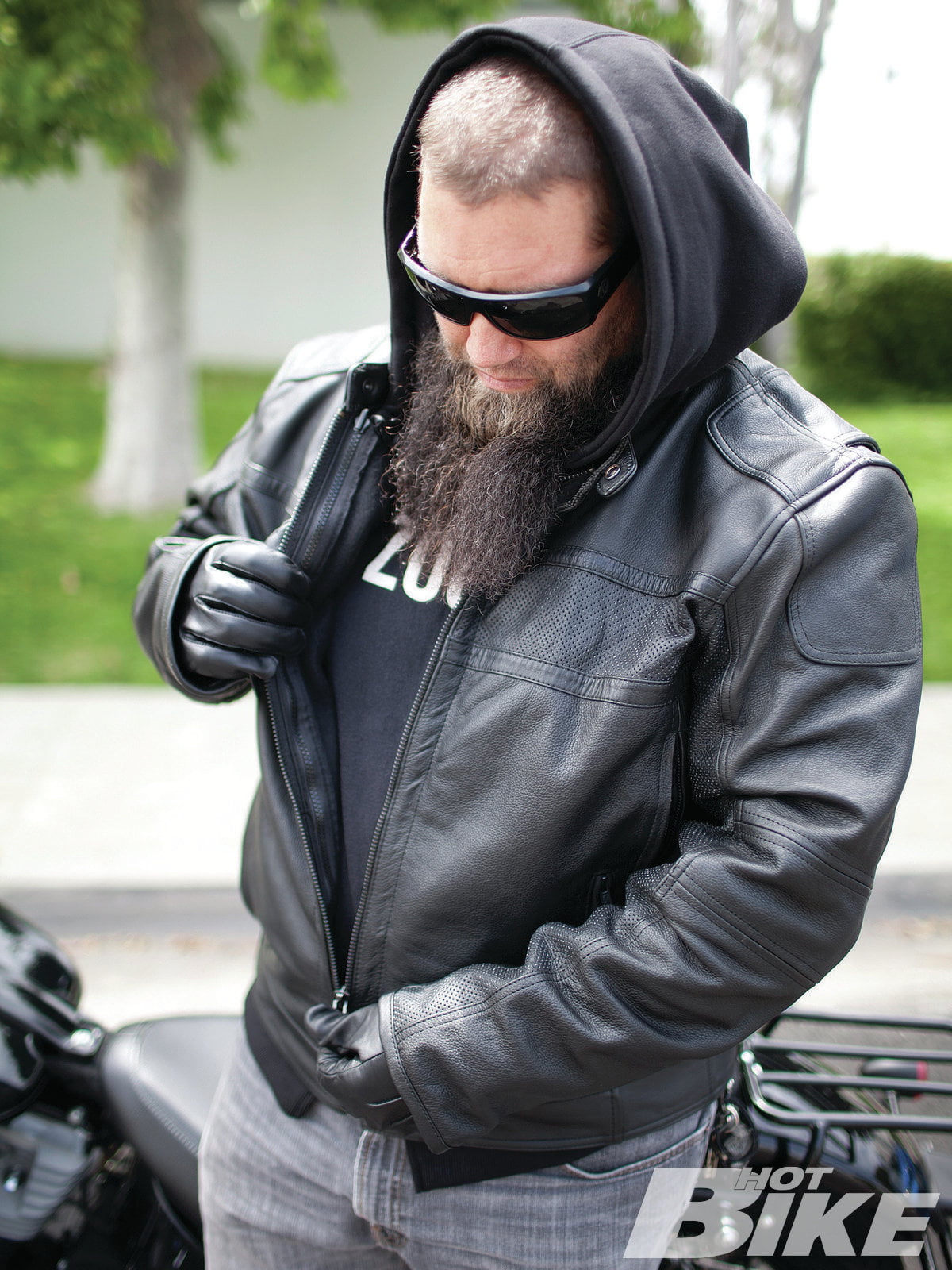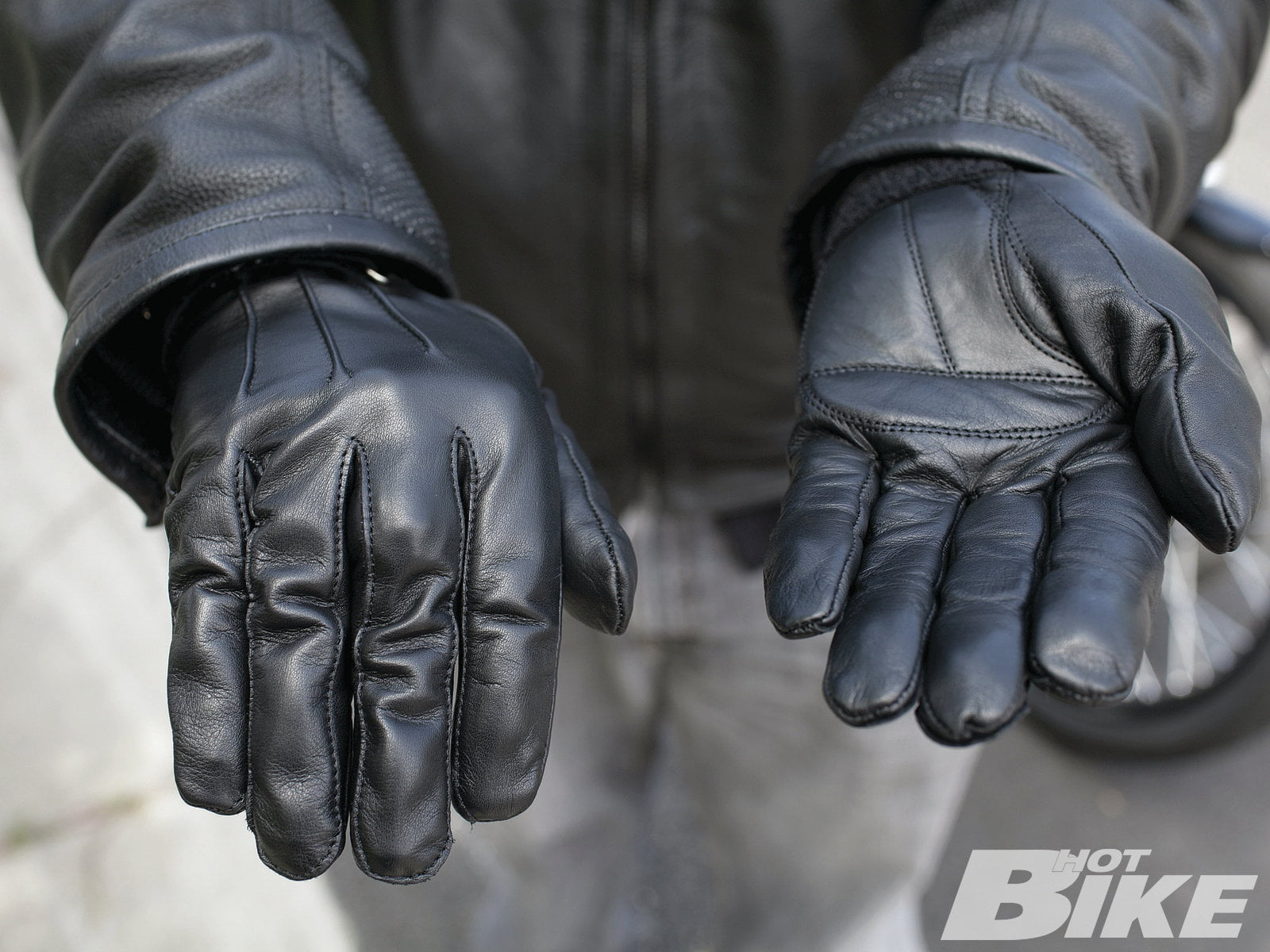 Living/riding in Southern California, I've found that I can typically get away with one relatively mid-lightweight jacket all year long. In the "winter" if things get a little too chilly—high 30s, low 40s, (laughable for most of you I know)—I simply add another long-sleeve layer underneath. Recently while looking for a new jacket I came across the Cavalier Hooded Leather Jacket from River Road (starting at $299.95) and with its removable zip-out hooded sweatshirt, it looked like something that would be right up my alley.
Comprised of premium leather, when I initially put the jacket on I was pleased with how comfortable and flexible it was. Many times when you get a brand-new leather jacket they can take quite a while to break in and not feel so stiff. The hooded sweatshirt fit within the jacket very nicely and didn't make me feel constricted. Actually the sweatshirt can be zipped into the inside of the jacket and has little snaps to help keep it in place at the wrists, armpits, and waist. This is a nice feature because it made it very easy to slip in and out of the jacket/sweatshirt. The snap down, mandarin collar provided a secure fit as well as a different look/style as opposed to the collars found on traditional-style motorcycle jackets, which I really liked. Storage is very important for any motorcycle jacket and the Cavalier has plenty with two front zippered pockets, and three pockets on the inside, one zippered and two Velcro.
Riding around in the Cavalier I noticed it's definitely geared more towards warm/hot-weather riding. With the sweatshirt taken out, the combination of the jacket's perforated chest, back, and underarm sections combined with the four zippered vents (two front, two rear), provide plenty of airflow which is definitely handy in the SoCal summer months. Even though you're wearing a leather jacket there is so much venting it does a good job of letting air pass through. However, when the temps begin to dip, the perforated sections that were your savior in the heat can become your enemy against blocking out wind. In cooler weather, say below 50 degrees or so, the addition of the sweatshirt does help keep your core warm but as you bomb down the road, the wind just passes right through the perforated chest and arm area and then through the sweatshirt. The sweatshirt does come in very handy once at your destination though, as you can simply take the jacket off and keep the sweatshirt on if you need to stay warm. The zippered front and rear vents do make a noticeable difference in monitoring your core temperature. The problem is, while it's easy to open/unzip the front vents with one hand while riding, it can be difficult to close them with one hand. As for the back vents, well, unless you're some kind of double-jointed sideshow act, the only way you are going to actuate the zippers is to remove the jacket or get your passenger to do it for you.
Luckily we typically don't get much rain, nor too many frosty mornings here in Southern California, so I'll definitely be able to get a lot of use out of the Cavalier the majority of the year out here.
As of late, I've also been using the Laredo Gloves ($29.95) and have been pretty happy with them. The gloves are made from genuine naked cowhide and are very flexible and soft. They have a gel-pad built into the palm, which I've found helps reduce vibration and fatigue while providing a comfortable grasp around the grips. The gloves feature a straightforward and basic design (not flashy), are well made, and fit well. If I had one complaint I guess it would be that the Velcro strap cinches over the top of the glove rather than under. My old pair of gloves Velcro'd under the wrist and it just felt more natural to me. Not really a deal breaker.
Cavalier Hooded Leather Jacket
Pros
Good venting
Removable sweatshirt
Comfortable/flexible
Plenty of storage
Cons
Perforated venting can be too much for really cold weather
Plastic snaps holding sweat-shirt in place can pop out
Front/rear zippered vents can be difficult to operate
Laredo Gloves
Pros
Goof fit • Solid construction
Gel pad really helps
Cons
Velcro strap cinches over top rather than under
River Road Motorcycle Gear
(866) 212-2389 | riverroadgear.com