Harley-Davidson invited me to ride all eight of the new Softail replacements in and around the Lake Arrowhead area of Southern California. The ride was two days and 300 miles through the famed Angeles Crest Highway, into the twisties and switchbacks of Crestline and Big Bear high above Los Angeles.
My immediate first impression is that the 2018 chassis handles heaps better than the old Softail platform. Of course this is not a very high mark to achieve since the old design of the Softail was never intended to be packed with performance. It was made to look like a custom hardtail. Everyone wants to know how it handles and if it truly is better than the Dyna and/or the FXR or if it's just a big load of Harley hogwash.
I am not going to mince words here. Yes, the new lean-framed Softails (not the Breakout or Fatboy with the wide-tire frame) rode better than any stock model Dyna I have ridden. Does it handle better than any stock FXR I have ridden? Yes, it does. With that said, let's move on to the million-dollar question. Do any of these new bikes in their stock configuration handle better than a properly upgraded (at much expense) Dyna or FXR with piggyback rear shocks, aluminum swingarm, and an inverted front end?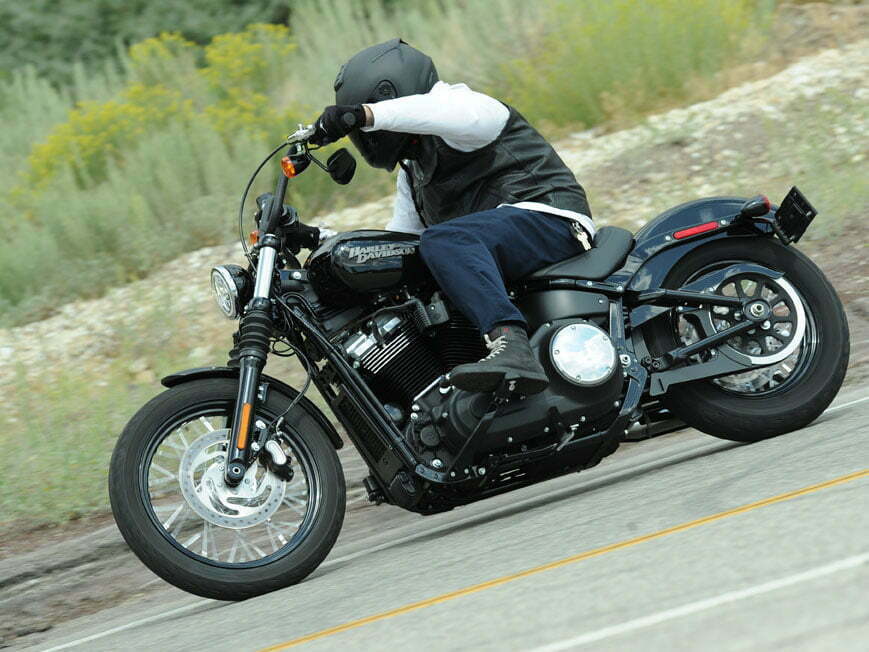 And rightly so. It's a totally upgraded platform with H-D spending millions of dollars in real-deal R&D to make it as such.
Sorry to you diehard Dyna and FXR people if I am hurting your feelings with these findings, but that's the truth from me, plain and simple. And the numbers don't lie. The new bike is 91 percent stiffer than the 2017 Dyna frame and has a 20 percent reduction in weight. The lean angle has also been drastically increased over both the past Softail and Dyna, making floorboard and peg scraping for most riders a thing of the past.
And then there is the engine. This is a different story altogether. The Milwaukee-Eight 107ci and 114ci engines are indeed a pair of powerful motors that have characteristics far different from the Twin Cam or Evolution motors of the past. The powerband is more positive throughout the whole rpm range than ever before. For 2018 the engine is solid mounted in the frame with a pair of compensators. This combination provides a very positive feel with just enough of that "Harley vibration," which really makes the bike feel as all of its parts are in unison when riding it. You know, like a modern bike should.
Once H-D made the new Softail both faster and better handling, it had to make the brakes work better than ever before. And it did. Most models' calipers look as if they are the same as years past, but don't let the looks deceive you. These redesigned stoppers pack more power and modulation than ever before. Most models also come with floating rotors, which further improve braking power over the former Softail models by a long shot.
All the other ancillary parts that the MoCo bolted to the new Softail chassis to make them different from one another is really here nor there for us at Hot Bike. This is due to the fact that we tend to rip most of the stock parts off and replace them with custom or aftermarket componentry anyway.
But (and here it comes) when comparing a stock 2018 bike to a custom-built model of the past with older technology like we at Hot Bike build and ride every day, there are many other ergonomic factors that need to be taken into consideration. Factors such as bars, seat, clutch, brakes, and a whole other pile of parts to fine-tune a bike to the rider's weight, stature, personal riding style, and most of all taste. For our readers, fans, and followers these upgrades have to be done to even the latest model no matter what the folks at H-D might have you think.
And then there is styling. This is why people ride and build Harleys over and above anything else. From what I have been hearing from most holdouts is that they think the look of a dual-shocked frame with a bulky swingarm is quintessential Harley-Davidson. And I can still agree with that to some degree. Yes, that style layout looks great posted up on the block or rolling down the highway, but that two-shock design is pretty damn antiquated. And in the new bike sales game time waits for no one; H-D for sure doesn't want to ever be left behind in the dust with old technology when new and young customers are the lion's share of its business. And that is simply why these new machines are the way they are. Like them or not.
Some will never get over the fact that H-D halted production of their beloved Dyna and rolled some of the Dyna's standout models into a damn Softail.
---
---
Trust me as any FXR owner can tell you both eBay and Craigslist will always be full of the discontinued Dyna for as long as we all shall live.
The real story here is, do you keep your current bike, buy and upgrade an older model, or buy a new stock Softail and just ride it? That is entirely your choice as I am just providing you with my findings when it comes to the amazing handling and power of these new Softail bikes. No matter what you decide I do urge you to throw a leg over one of these new Softails and see for yourself how they ride in comparison to your own bike.