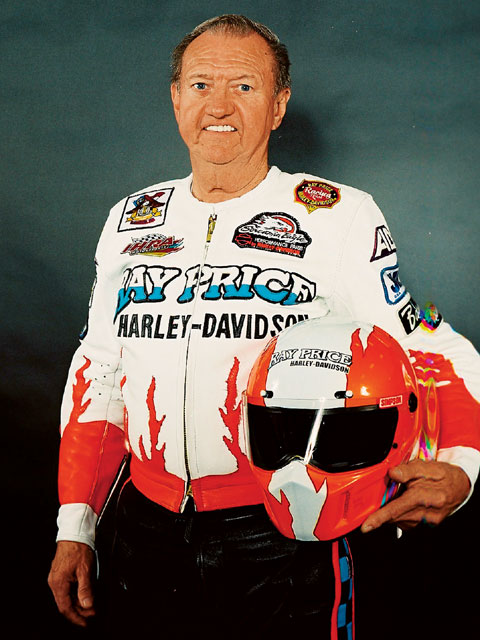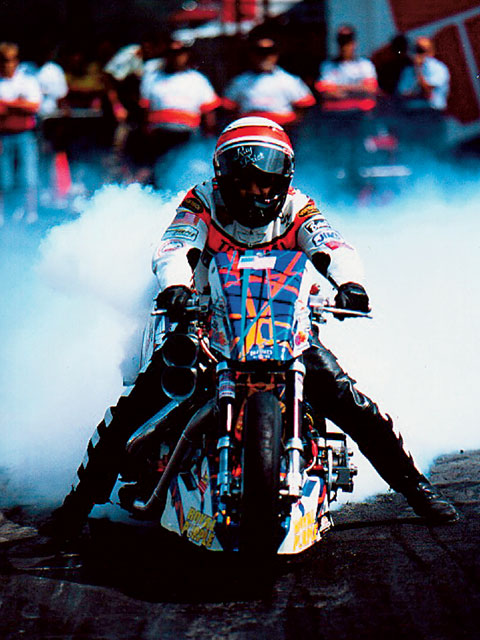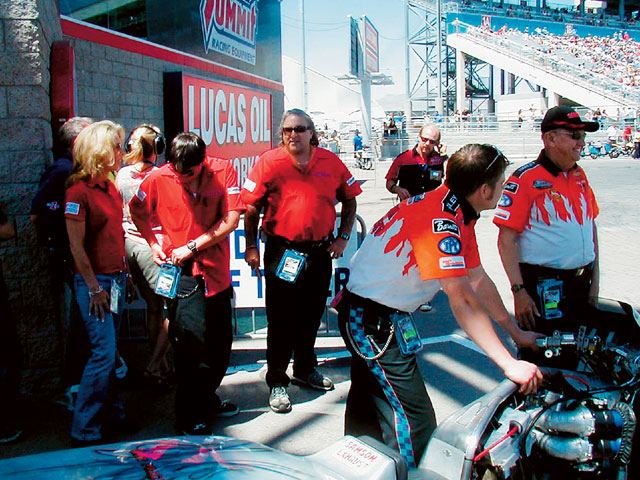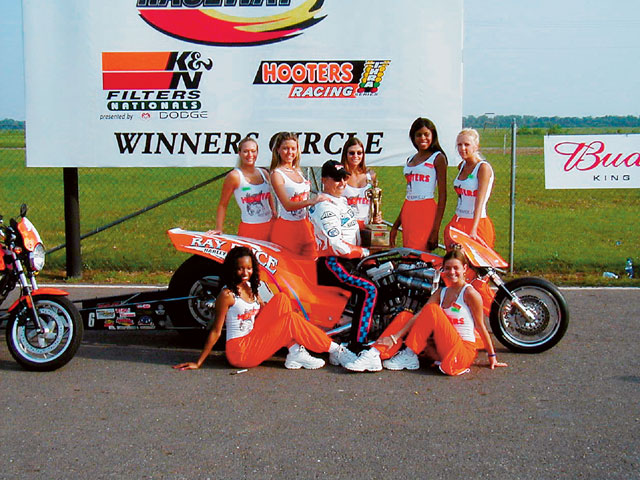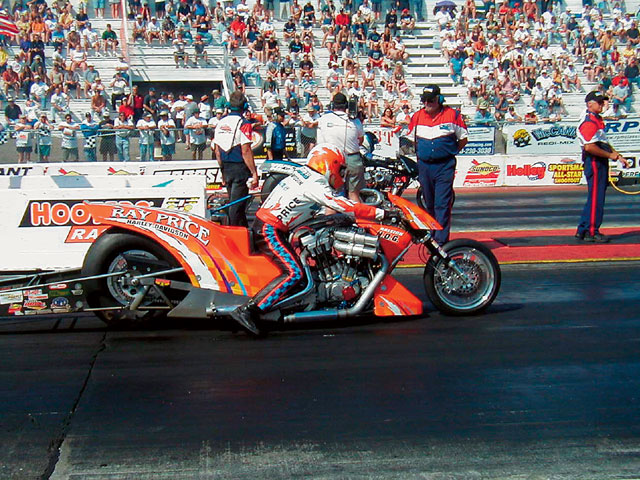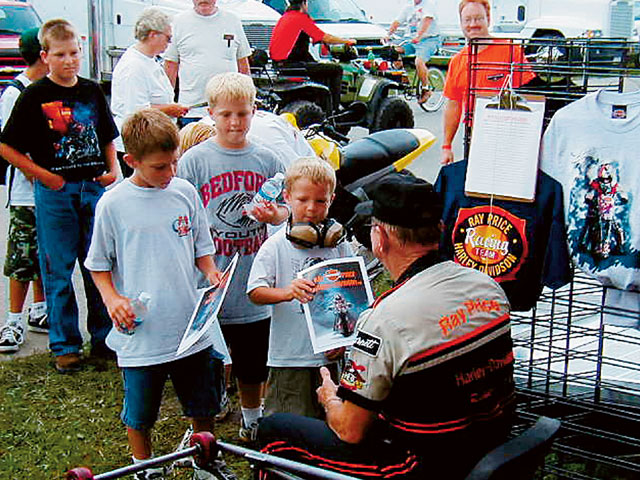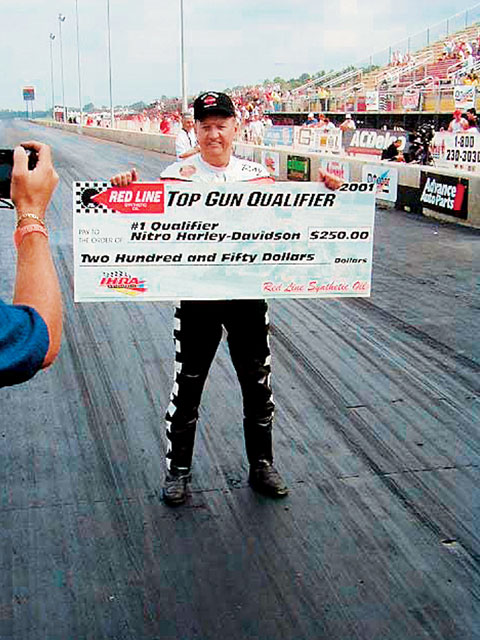 Ray Price unspools his life in a voice and manner that call little attention to what he's accomplished. The voice is friendly; his stories are matter-of-fact, quiet, and humble; and his memory of the events and minutiae of his career is encyclopedic, as well as just plain fun to listen to.
At the tender age of 68 he's already been inducted into both the Sturgis Motorcycle Hall of Fame and the Harley-Davidson Hall of Fame. (Ironically, he was inducted into the Harley Hall the same day as Willie G.) He has 37 years of drag-racing experience, including the AHDRA nitro-fuel record of 6.36 seconds at 224.21mph. He holds a number of U.S. patents, was one of the creators of the wheelie bar, and developed the omnipresent two-speed racing transmission. He's the "father of the Funny Bike." And he was the only drag racer chosen to perform at the Motor Company's 100th-anniversary event. He also owns one of the country's largest H-D dealerships, Ray Price Harley-Davidson in Raleigh, NC, which is laid out like a dragstrip-complete with black burnout tracks on the floor, signed by the racers who put them there.
HB: What a long, strange trip it's been, wouldn't you say?RP: Well, yeah [laughing], I guess it is. I started racing professionally on August 30, 1967. I was the bright-eyed kid, didn't know where I was. OK, I was 30 years old-I wasn't that much of a kid. I was just new to the sport. I got runner-up in that event-and they protested my bike. They said they knew I was illegal because a lot of the other guys were supposed to be running faster than me, and they had larger motors. I ran through, I think, five eliminations and qualified for the Super Eliminator title, where all the classes would run against each other: the A-modifieds, B-modifieds, [and so on]. My bike's a C-modified, and it turns out I was having to spot them time because my bike's so much faster. So the track protested me and the bike. They tore down the bike three times, and following the third time they said, "Sorry, guys. There's nothing wrong with this motor. It's perfectly legal. So you're just gonna have to accept the fact that this is a fast-runnin' motorcycle.
HB: What bike was it?RP: That was a '66 Harley Sportster running in the C-modified class.
HB: You built the motor?RP: I built the motor, set up the chassis, and changed things around to make the motorcycle handle better and be able to sit on better. Changed the gears to give it a longer low gear so I had more time to get my feet on the pegs to be able to shift. Changed the footpegs. Changed the shift pattern-even changed the handlebars around. We replaced the shocks and rear struts. It was my street bike, but I modified it quite a bit, and then it wasn't comfortable to ride on the street anymore! So I turned it into strictly a drag racer.
HB: So how and where did all this begin? Why bikes?RP: Well, I was a little kid, maybe eight or nine years old. A friend of mine, his uncle had a bike that year, a Harley-Davidson. I saw that thing, and it was about the prettiest thing I'd ever seen in my life. And that dream always stuck. Unfortunately, we were raised on a farm and didn't have a whole lot of money. So I never had the opportunity to get one. Then I went into the Air Force, got married, and knew some guys there who had bikes, and I just tried it.
I got out of the Air Force, got a job, worked for a few years, and got to where I could buy a bike. I think 1963 was the first time I bought one. Just started riding on the street. My wife's two older brothers had bikes, and we would ride together. Then one thing turned into another, and we started kind of competing against one another on the road. The excitement just started [growing] more, so I started modifying my bike so I could outrun them. Finally I decided, well, the best thing to do was to go to the dragstrip, get off the highway, get off the roads.
So I motored over to the [local] dragstrips. Just went and had fun. We'd take the whole family, have an outing, have a picnic. Sometimes there'd be other motorcycles there, sometimes I'd wind up running by myself, learning and getting better, making the bike quicker. At that time I was doing bike work in the basement of my house, modifying different bikes and stuff, doing repair and high-performance work, and I was pretty successful at it. My stuff ran better than most everybody else's.
Things kind of progressed. Eventually, a friend of mind had a drag bike that I was doing some work on, and he had gone to some of the national events. He kept telling me, "If you go to a National event-I've seen those guys running in the class you're running in-and you can outrun everybody who's there because your bike is just faster."
So he talked me into going to Atco, NJ, for the National up there. That's when they protested me. And the guy who was the director of the association (M.A.M.A., the Mid-Atlantic Motorcycle Association) came over after the [protest] deal, and he shook my hand, and he said, "You've got an impressive motorcycle there." We got to be friends after that. I ran a couple years there, set some records, broke some of my own records.
Then he came to me and said [he wanted] someone to build a motorcycle that looks like a street bike, runs on nitro, and puts on a good show to run exhibition races, and he said, "We could get you a lot of races for show." So I built one, an 80-cubic-inch one, and put nitro in it.
HB: When was that?RP: That was 1969, but '70 was the year I ran it the most. I did a lot of work to it-I made fake shocks to go on the rear section of the frame. I took pieces of 3-inch-diameter aluminum tubing, put it in the lathe, and made grooves in it that simulated springs. Then I polished the whole thing and painted the whole inside black. And from a little bit of a distance, it looked just like a shock.
I built a fuel tank to go on the top, and then I hollowed out a fiberglass shell tank that covered over the gas tank and it lifted up like the body of a Funny Car. It got a lot of attention. The first few times we ran it-back then we had a pretty small rear tire, a 4-inch or a 5-incher. I could smoke the tire from one end to the other, just leave a black mark all the way down the track. Put on one heck of a show. Then they decided to turn it into a class called the Funny Bike class. And when they did, they took my bike and measured it, took all of the information from [it], and used the information to write the rules for that particular class. So I became what they called "the Father of the Funny Bike."
HB: Yours was the first nitro-burning Harley, then?RP: Well, no, the first nitro Funny Bike. Then I started running it in [class] competition. And when I put a little bigger rear tire on it, the bike would carry the front wheel all the way to the finish line. It became very, very popular. I won a lot of races with it. The fans really loved it, and it turned out to be a very successful setup. I ran it for a number of years, up until 1994.
I'd bought a Harley-Davidson dealership, and needed to spend time [there] to operate it, so I took a couple years off. I would build bikes for the different riders [I sponsored]. And then I started my own program again with someone else riding the bike, but that didn't work out as well as I wanted it to. So I started track riding again myself and rode all the way up through May 2003, when I rode off the end of the track at Las Vegas Speedway. It ran 218 mph in 6.48 seconds on that particular pass and ran off the end of the track. For some reason I couldn't get it stopped. It threw me down and tore the nerves loose in my shoulder, and my whole arm went numb. Since then, I haven't been riding anymore. [At that point] I was leading in the points, almost 200 points ahead.
Just to make sure I don't miss something that's very, very important-the early part of this year, Kenny Price of Samson Exhaust Systems and I got together, and Kenny graciously agreed to sponsor my drag bike in Top Fuel. And so that's been really, really good. We're really proud to have Samson Exhaust as a sponsor. They've been really good to us, and we're hoping that we can do a lot for them. We signed a long-term contract that we hope will be very successful in the future.
The rider is Tommy Grimes. He's about 36 years old, very aggressive, very alert, very respectful. He's come a long way since we brought him on in the middle of the season. You put somebody on a 900hp monster that's capable of running 6.3 seconds at 225-226 mph, and it's kind of difficult for them to really be able to handle the bike properly. It's kind of like we threw him in the middle of a bike that's been 36 years in development, and he's 36 years old-we started running nitro the year he was born!
HB: You have two patents, we understand. And you created the wheelie bar. Is that one of your patents?RP: I wasn't the first guy; I was one of the first guys. We had conversations for a few months about how we needed something to hold the frontend down. As we tried to go quicker, the acceleration got to the point where the frontend just wouldn't stay down. If you could spin the tire just right, and you could bring the clutch in just right, and you could make the pass with the front tire just 4 or 6 inches off the ground about halfway down the track, and then you could set the front wheel down, it was a successful run. The problem was that you weren't consistent. If the conditions were right, you could make a good run. And then the next run you had to shut the thing off because it was trying to wheelie over backward. We had some pretty scary moments where it would get up pretty high. A couple of guys wrecked like that. So we came up with something to hold the frontend down. And so there were three or four of us who came up with ideas. One guy used leaf springs like from cars. I built one out of tubing, and it was much lighter and did the job. Wheelie bars of that time-we made them about 3 or 4 feet long, for fear that if we made them too long, they'd act like a wheel out there and make the bike mishandle. Well, soon we realized that the longer we made them, the better they worked.
So I was one of the first guys to make it work successfully, [but] I don't claim to be the inventor. I claim to be the guy who developed it and got it working the best.
HB: What about this patented racing transmission? We understand you have several patents.RP: Yeah, I do. The transmission, I have a patent on it. I have copyright papers on the specific design. It's a two-speed setup where it stays in mesh all the time. It's more like an automotive automatic transmission. I built a number of units like that, and then afterward some other people started building them. You know, when you have patents, a guy has to only change a few things, and then your patent's not valid. But mine has probably been one of the most successful ones.
HB: So you have engineering patents, you've drag-raced for more than 30 years. You're in two Halls of Fame. You have one of the country's largest Harley-Davidson dealerships. And [last October] the city of Raleigh honored you with a motorcycle rally with your name on it. Tell us about that.RP: Well, I've been in the Raleigh area ever since I've been in business-since August 1973. We have a lot of charity rides, special events [in the dealership], and a lot of things that help the unfortunate-sometimes two or thee times a month, and most everything is for charity. We have the only Harley Owners Group that auctions a motorcycle every year, and the proceeds go to the different charities. It's a great honor. It's really special for us for that they're doing that in my name.
HB: It's been an extreme pleasure talking with you. Is there anything else you want to add?RP: To leave it, I really want to include as much as I can about Samson. They really have done a lot for me, and they're real excited-Nick Trumbo and his wife, and Kenny Price, the owner, his daughter, Rachel. All of those people-I've done business with them, and they're such nice people. The support they've given us says something special to me.