Indian Motorcycle's The Wrench: Scout Bobber Build-Off competition is currently underway and the three finalists have devoted every ounce of free time holed up in their shops plotting and planning, cutting and fabbing a stock Indian Scout Bobber into something truly unique where one man will stand triumphant at the end of the custom build-off competition. The champion receives a hefty $10,000 cash prize as well as bragging rights of being the overall winner of the The Wrench: Scout Bobber Build-Off.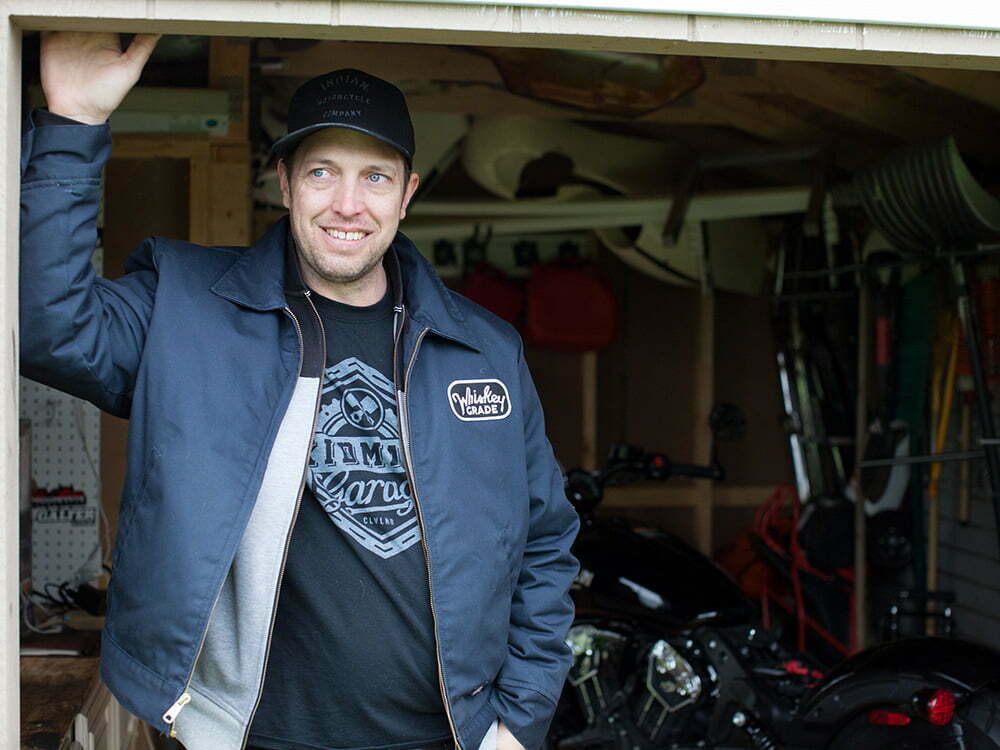 Each of the three finalists have received their new 2018 Scout Bobber motorcycles and a build allowance of $10,000, and the three men have already started ripping apart the stock bikes to create something truly unique. We checked in with Alfredo Juarez a couple weeks back, and he's definitely bringing his A game to the competition. This week, we got a chance to chat with one of the other three finalists, PJ Grakauskas, to get his thoughts on being selected in the build-off competition. Hailing from Cleveland, Ohio, PJ works as a safety inspector for the Occupational Safety and Health Administration (OSHA), inspecting jobsites to ensure they meet the highest safety standard.
The three custom Scout Bobbers will be unveiled on August 5 at the Legendary Buffalo Chip during the Sturgis Motorcycle Rally. The public unveil will trigger a second fan voting process, which will determine the grand prize winner. The winner will be announced two weeks later and will receive a $10,000 grand prize along with a feature spread in Hot Bike magazine.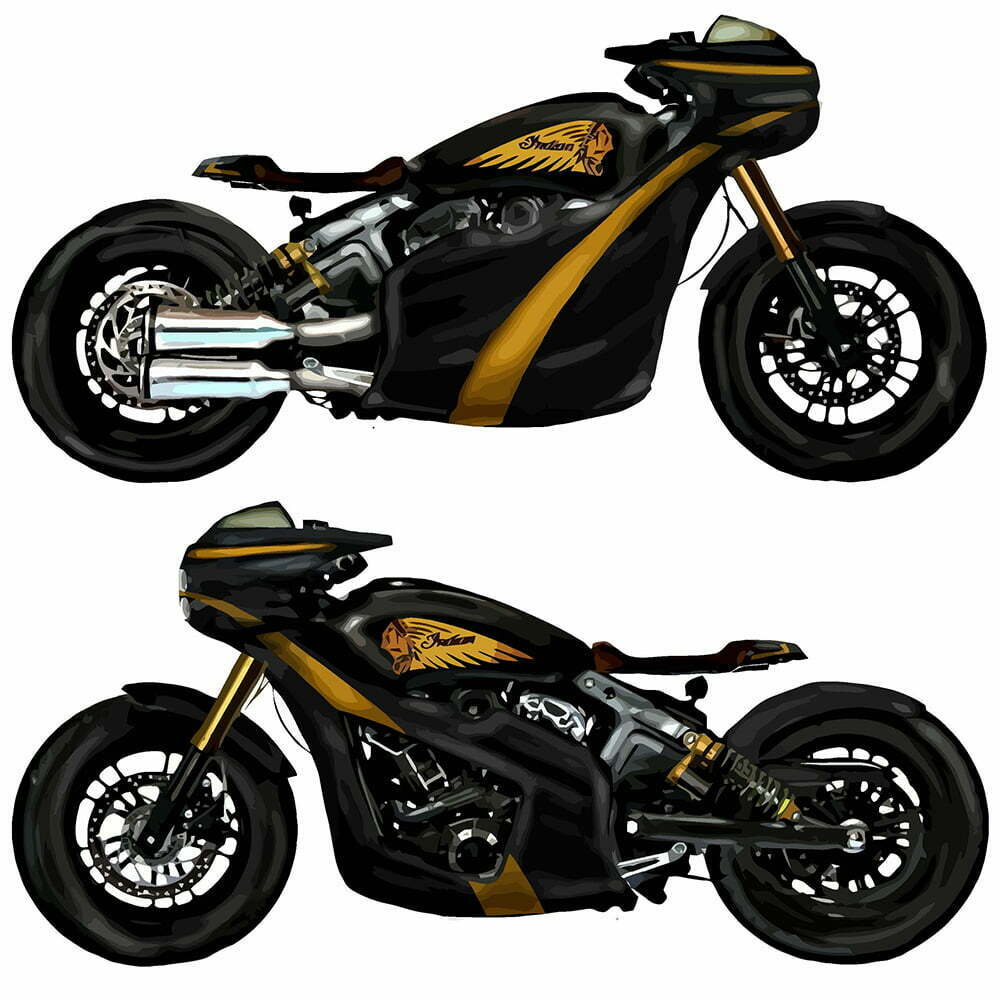 Talk about being a finalist for The Wrench.
I'm pretty excited to be selected for this. I feel like I am representing so many like-minded "little guy" garage builders. The amount of support I have gotten from friends is unreal. I am used to working on vintage bikes from an era of when I was still in diapers. To be given the opportunity to start with a brand-new bike and reimagine it is something I don't think I would have ever been able to do without this competition. The most stressful part of this competition is going to be juggling all my commitments. I have a family and a career which I care deeply about. Being able to showcase builders like myself is quite humbling.
When did you start tinkering with motorcycles?
I was taught at an early age the basics of motorcycles. My dad taught me maintenance on the MX bikes. It wasn't a choice; if I wanted to race, I had to maintain the bike. Other kids had responsibilities like taking the dog out, I had to bleed brakes and clean air filters.
What was your first bike?
A 1974 Suzuki TM75. I remember it like it was yesterday. The kicker was broke so myself and my brothers could only bump-start it. Lucky for us the driveway was on an incline. The neighbors weren't too fond of it and the bikes that came later.
Any builders you admire, respect, or try to emulate?
Funny, because one of the other builders is someone I admire—Christian.
Other than that there are list of many. The boys from Auto Fabrica, Kevin of Loaded Gun, Tony of Analog Motorcycles, Mark Atkinson, Roland Sands (god, that RD!!!), Richard Pollock, Heiwa Motorcycle, and the wizard Maxwell Hazan. I have quite a diverse like and style. I really admire the original guys, the ones who raced on the weekends on their daily riders. The guys who made their bikes from what they had and could afford.
What bike(s) do you currently own?
Well, a 2018 Indian Scout Bobber. Current ride is my café SR500, also have the recently built 1975 Can-Am roadracer; aside from that there is a Virago project, a Suzuki Savage bobber project, a flats-style time-trial racer KX85, a CB750 slammed into a YZ490 hill climber thingamabob, a bunch of Penton MX bikes, and a Penton 400 I am turning into a vintage roadracer. There are more, but if you are printing this, then the Mrs. would know of them.
Explain the similarities between your nine-to-five and how it applies to customizing motorcycles?
The stress is similar. The multi-tasking and paying attention to the details. I kind of love the stress and craziness that is my job. My job takes me to many manufacturing facilities. I have seen how just about everything is made, from plastic pots for the garden to full stainless steel trailers. I learn a lot out in the field and learn new tricks that I can apply to bike building.
Talk about how you started building bikes as a hobby.
After leaving the Air Force, I took a long hiatus from the motorcycle world. Started a family, went back to college, and started my career. After things settled and all was good… I wanted to spend more time with my dad in the barn. I started helping him work on and build the vintage MX bikes. Then I wanted to get creative with many of the extra parts we had. There is enough in the barn to build just about anything. I started playing with ideas, next thing I know I am knee-deep in vintage-bike-building-itis. There is no cure.
Ever thought of doing it for a living?
Sure. I have dreamed. But I love my career and making a difference in workers' lives. I love the lifestyle myself and my wife are able to provide our two boys. I have picked the brain of many builders who do it for a living. At this point in my life, from what they tell me, it isn't for me. Dealing with customers, paying bills, paying vendors, marketing, rent, overhead, startup capital. At this point doing it for a living isn't in the cards. I can live with it being…a very expensive hobby. Who knows, one day it could happen. I would be lying to myself and others if I said it is what I want to do full time. Don't get me wrong, I love it so much. I just don't want to depend on it. The motorcycle industry evolves more than Madonna did.
What are your thoughts on the Indian Scout Bobber?
It is one helluva machine. The power is pretty smooth. I'm not used to the forward controls and body position. It took me a while getting used to. Seems the front suspension is pretty soft and the center of gravity of the bike is awkward at first. I put my foot down twice on the first test ride. I come from a motocross background, so I could see why it felt that way to me. The power delivery is so smooth and I couldn't find a dead spot from idle to WFO. That alone is a nice change of pace from the vintage bikes I am used to. Once I got into the bike more it is super comfortable and I enjoyed flying past other riders with ease.
What's your plan of attack for your Scout Bobber build?
The hardest and most time-consuming part is going to be the full fairing. A lot of it depends on exhaust and foot control placement. I have a lot of items I need to move back or down and out of the way. The plan is to have the bike set up in a manner where everything is done with the exception of the fairing and radiator scoop. I plan on adding horsepower through the intake and exhaust setup along with some mapping. The bike is getting set up with inverted forks and I hope to raise the rear a bit to give it a more aggressive stance. The plan is in my head with notes just floating around.
How are you going to spend the $10,000 build allowance?
Performance. Motor, brakes, suspension are getting the most of the loot. I can make the bike look totally different and very old-school racer like, but if it's going to look the part… Well, it has to go fast!
What will you do with the $10,000 cash prize if you win?
Spend it on my family. They are my world and I wouldn't spend it on anything or anyone else. Maybe another nice vacation with them. (Maybe a bigger shed.)