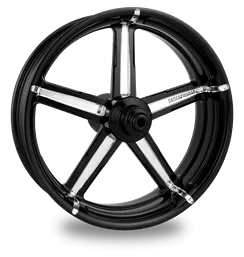 The Formula is the latest wheel to hit the Performance Machine Image Series Forged Collection portfolio. Its design creates the perfect formula of contemporary simplicity and race inspired lightweight tapered and pocketed 5-spoke design. The Formula carries engineering details that will be appreciated for decades to come, resulting in everlasting style.
Available in Chrome, Contrast Cut and Contrast Cut Platinum finishes with retail prices starting at $1249.95 for H-D Applications.
For more information on the Formula and other premium Performance Machine products, visit www.performancemachine.com.