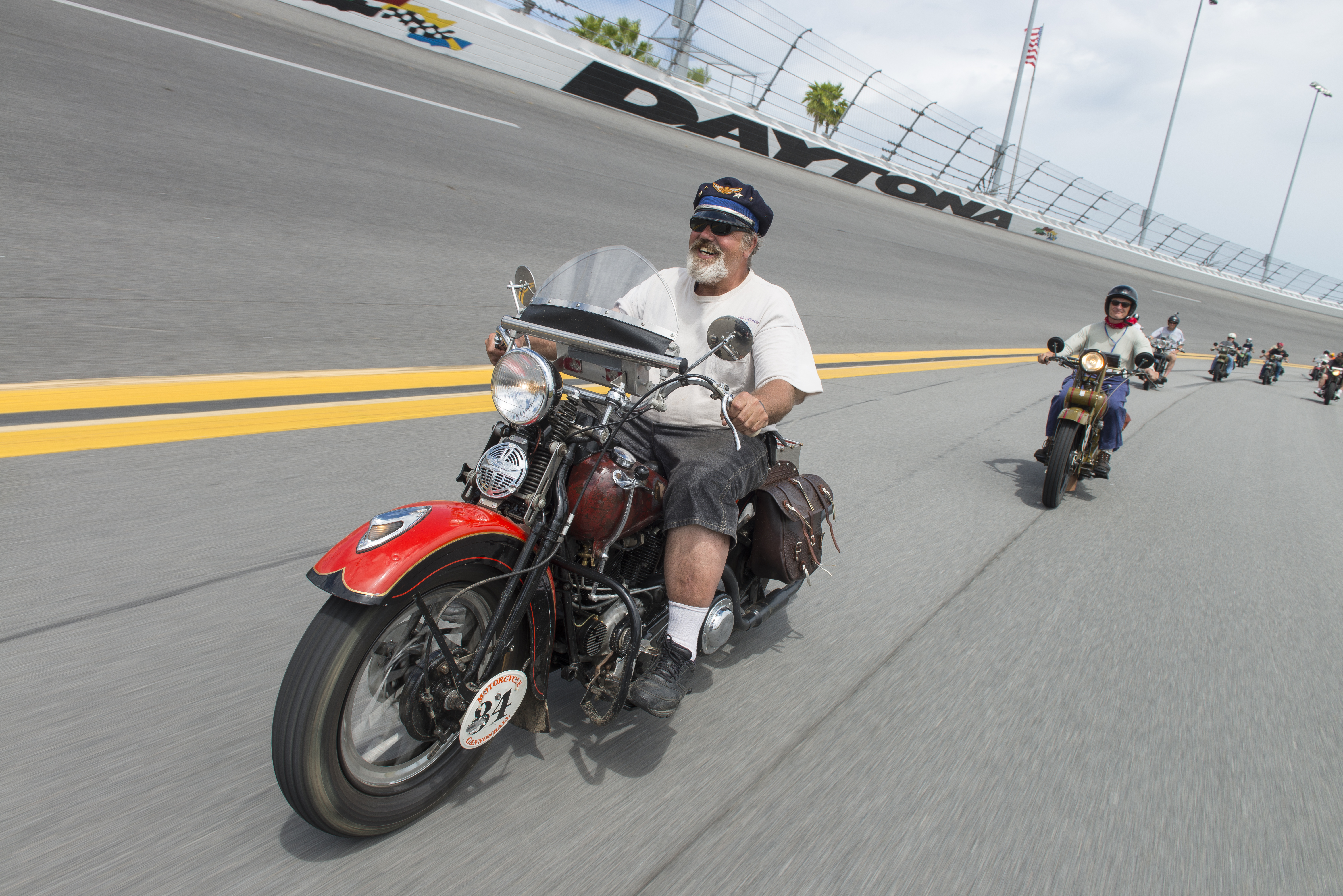 Put 100 riders in the saddles of 77- to 100-year-old museum-quality motorcycles next to the Atlantic Ocean with 3,938 miles of turn-by-turn instructions to the Pacific Ocean, and you have just the right ingredients for an epic adventure. That is precisely what happened this past September as the Motorcycle Cannonball Cross Country Endurance Run set off from the sands of Daytona Beach, Florida, to Tacoma, Washington.
This third installment of the Motorcycle Cannonball followed the most basic criteria of the 2010 and 2012 Cannonballs: riding museum-quality antique bikes from coast to coast in 17 days and splitting the bikes into three classes based on engine displacement, but that is where the similarities ended.
For the first time ever, this Cannonball started on a beach as the waves of the Atlantic Ocean kissed the bikes' tires while everyone was being positioned for a monumental panorama photo I took to commemorate the start. Could there be a more appropriate place than the sands of historic Daytona Beach, a place where so much motorcycle history was made? Setting up 98 bikes and 105 riders took quite some time, but as soon as the shot was taken, the flag came down and the bikes struggled through what had now become torn-up, soft and deep sand to get to the nearby pavement and their first navigation 100 yards ahead.
"Turn right out of the alleyway" was the instruction, and that is exactly how they continued for 3,938 miles. On mostly two-lane roads, you were told to go 14.23 miles and turn right at a red sign, pass eight traffic lights, and make a left. Or how about go 37.63 miles and take a right? No street names, no names of towns—just lefts and rights all day long, day after day, to test your stamina and concentration!
We continued in this manner through the Southeast United States riding from Florida into Georgia, Tennessee, and Kentucky, as we passed farms with cotton exploding from their pods, tobacco drying in smoky roadside barns and two major rivers, the Cumberland and Tennessee. We grazed the Midwest briefly as we crossed the Ohio River into Illinois and then crossed the Mississippi a couple of hours later out to Cape Girardeau, Missouri. Heading west through Missouri, we transitioned into the seemingly endless Great Plains that continued through Kansas and half of Colorado, staying flat as can be right up until we hit the Rocky Mountains in Golden, Colorado. From there, we rose quickly to 11,990 feet above sea level to cross the Continental Divide at Loveland Pass and then the 11,319-foot Fremont Pass that took us into a sponsored lunch in Leadville, Colorado, the highest town in the USA. A third climb that same day took us over the 10,424-foot Tennessee pass. We were lucky, as just a week earlier, it snowed at the bottom of the mountains so there could have easily been a foot of snow at these elevations, but thankfully the weather warmed and we had a gorgeous sunny day with dry roads the whole way. By the time we joined the Colorado River on the other side of the Rockies, we were truly in the beautiful Wild West. This powerful river has cut spectacular rock formations, particularly through Glenwood Canyon and on into eastern Utah. We continued west through the salt-scapes of western Utah and made another stop at a significant place in motorcycle history, the Bonneville Salt Flats, where I set up a second dramatic panorama photo of all the riders. From the salt, we rode onto the barren lunar-like landscape of Nevada and turned north to Idaho where we came across more rivers and mostly greener surroundings. At this point, it was just the Cascade mountain range between the finish, and us, which we crossed on the last day. We had passed through 12 states by the time we came down to sea level for the finish at the impressive LeMay Museum with its backdrop of Puget Sound and the Pacific Ocean.
This might sound like an easy route, but in addition to the sheer distance traveled on extremely old bikes, there were the challenges of Mother Nature and the roads themselves. We went between 95 degrees Fahrenheit (35 degrees Celsius) temperatures in Florida with its extreme humidity to 27 degrees Fahrenheit (-2.77 degrees Celsius) with the windchill in the mountains of Idaho. It was difficult to be prepared, as you never really knew where you were going other than the one day they warned us about Loveland Pass, so on one day in particular, the temperature changed almost 50 degrees (from -2.77 degrees to 23.9 degrees Celsius) in just four hours. We were so cold when we got to our first gas stop that everyone put their hands right into a food warmer filled with hot breakfast sandwiches! Heavy rains were also encountered, one of which was so bad that we woke to rain falling sideways, support vehicles stuck in water to their hubcaps, and flood warnings from the government. On that one occasion, for safety's sake, run officials encouraged riders to trailer their bikes (without penalty) to the lunch stop.
What a way to see the USA: on two wheels taking the back roads through every sort of little town you can imagine. I especially envied the riders who came from Japan, South Africa, France, Italy, Spain, Poland, England, Ireland, Germany, and Canada, as I can't imagine a better way for a foreigner to see the USA without the glossy Hollywood makeover portrayed on TV. As an international event, the Cannonball seems to be growing with riders from 11 countries represented this year and even more countries when you count the mechanics and support.
Most people think of the Motorcycle Cannonball as a race, and, yes, with number plates clearly mounted on both sides of each bike and me already writing about points and standings, there certainly is a competitive spirit to it, but as the name implies, this is an "endurance run." As such, you are awarded points for every mile you ride with the goal of getting a perfect score of 3,938 points (miles) after crossing the finish in Tacoma. If you broke down on the course and had to get picked up by an official chase vehicle (truck or motorcycle carrying a sidecar rig) atm for example, mile 127 on a 250-mile day, you were just awarded 127 points for that day. Points were also deducted for various penalties, such as if your support crew helped repair your bike during the day (or if they just handed you a tool), coming in past the 45-minute predetermined window you had to cross the finish line, having a co-rider sharing a bike (automatic 100 point penalty), or having a bike that was somehow not compliant with the rules. It was clear from past Cannonballs that the only chance you had of winning would be to cross the finish with a perfect score on a lower-displacement Class 1 bike because quite a few bikes would likely finish with perfect scores in which case the tie-breaker system was enacted. This system favors Class 1 (under 700cc) bikes over the bigger bikes then looks to the year of the bike favoring the older bikes, and lastly, it went to the age of the rider with the older rider winning over younger riders.
Riders were interested in checking the standings nightly, but for many, this didn't mean a thing because they were on this run for the adventure, the fun, and the personal challenge. Teams with co-riders knew before they left Daytona, their 100-point penalty had them out of the running, as did showing up on one of the 51 Class 3 (over 1,000cc) bikes. One of the best examples of being there for the personal challenge was Shinya Kimura's Team 80 that signed up for their third Cannonball with the same Class 2 1915 Indian twin-cylinder single-speed bike, the second oldest on the run. Shinya, who is considered one of the best and most famous custom-bike builders in the world, shared riding duties with his close friend Yoshimasa Niimi, who came from Japan just to ride the bike on alternate days and work closely with Shinya to keep the bike running as he had done on the first two Cannonballs. This meant taking the engine out of the bike on three occasions, including splitting the cases apart for major repairs on their third go. Keep in mind, Shinya and Yoshimasa, along with Shinya's wife Ayu, had just an old American van packed with parts as a support vehicle and the hard pavement of hotel parking lots for a shop, which isn't much when you consider many teams had big trailers fitted with complete machine shops and the large "Wolf Pack" Henderson team actually had a full "semi" for their shop and supplies. Somehow, Shinya and Yoshimasa would be at the start in their big woolen sweaters, oilcloth jackets, high leather lace-up boots and jodhpurs (clothing that could have been worn by the bike's original owner 100 years before) and the bike was ready and running. They did experience one unfortunate breakdown that couldn't be repaired on the side of the road, which caused them to miss some miles, so Shinya has already decided he will be back for MCR-IV in 2016, as he is determined that his 1914 gets ridden every mile across this big country. What an attitude. What an approach. And it was for this that Team 80 was presented a special "Spirit of the Cannonball" award in Tacoma.
How amazing to consider the value of the Cannonball bikes—some of which are worth close to $100,000. Any one of the bikes could reside in a museum, but it was part of MCR founder Lonnie Isam's original intention to get these quality bikes out on the roads where they belong and to let people see them in context rather than on a pedestal. Of course, this begs the question, "Will anyone really want to sign up their rare and valuable motorcycles for the abuse of nearly 4,000 tough road miles and all the costs involved to get these bikes across the country?" As happened in 2010 and 2012, this was not a problem. Lonnie stopped taking entries after filling up in less than a week!
Among the Knuckleheads were two very refreshing entries that I fondly referred to as "The Chopper Dudes": Sean Duggan and Bill Buckingham. In sharp contrast to all of the other antiques on the run, these close friends from Southern California both ran "Invader"-style mag wheels, pullback handlebars, rigid frames, and long Springer front ends and both kept their bikes under wraps, not posting any photos as all the other riders had done prior to arriving in Daytona Beach. There were certainly some raised eyebrows when they first appeared, but these two guys couldn't help but bring a smile to your face as they popped up over a rise in the road and sped on by as if they were just racing down to the local bar! To give an idea of the quality of these bikes, Bill's Knuckle that was hand-built for him by Kouske, who won Best of Show and a trip to Tokyo at Born-Free 6 this past June. That is as good as saying it is one of the best choppers in the USA! And "The Chopper Dudes" each rode every single mile of the entire run!
In the end, the Motorcycle Cannonball was every bit the epic adventure it appeared to be as we rode off the sands of Daytona. Trials and tribulations took their toll, yet 72 very satisfied and exhausted riders crossed the finish line in Tacoma where hundreds greeted their arrival. The first-place trophy was bestowed on Hans Coertse that same evening at the awards banquet, as his 1924 Indian Scout was the oldest class I bike to run every. Almost all of the 105 riders who set out were at the banquet with their families, crew, and support staff, and it was quite a celebration. But while it might seem like they were celebrating the finish, it was truly a celebration of the journey!
See more photos at lichterphoto.com.
Like what you see? You'll find more vintage motorcycles in our Bikes section.