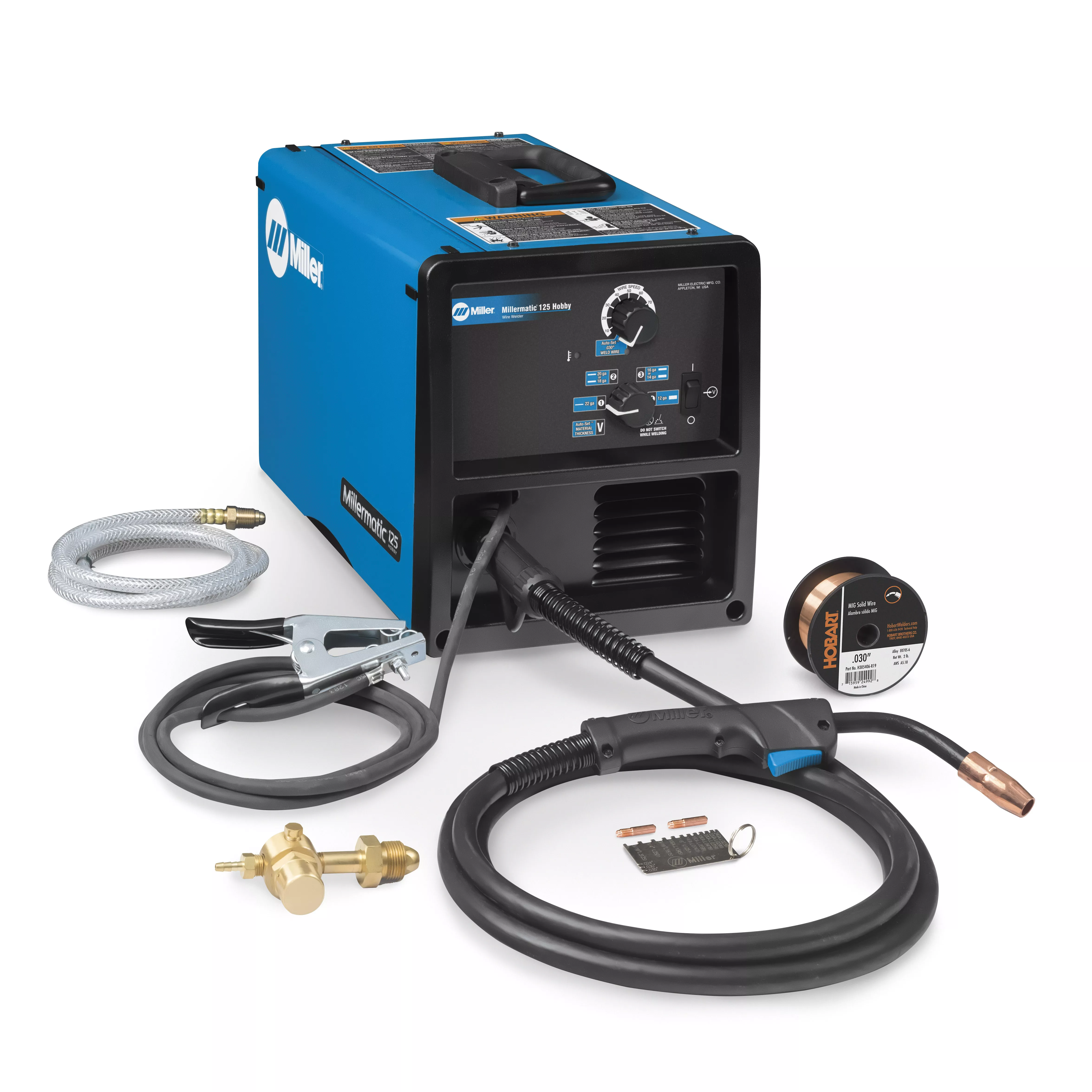 Built for farm, home and light fabrication applications, the new Millermatic125 Hobby from Miller Electric Mfg. Co. is an easy-to-use, beginner welder.
The MIG and flux-cored-capable Millermatic 125 Hobby works off standard 115 V household power. It MIG welds 24 gauge to 1/8-inch material and welds 18 gauge to 3/16-inch material with flux-cored wire in a single pass. The machine's simple two-knob design allows for easy setup and use.
Auto-Set delivers speed, convenience and confidence through pre-set controls, automatically providing the right settings to weld mild steel. It's available for welding 22-gauge through 12-gauge mild steel, and works with 0.03 solid wire and C25 shielding gas (75 percent argon, 25 percent CO2).
When welding outside of the Auto-Set capabilities, tapped voltage control allows the flexibility to manually set the machine's parameters. The parameter chart on the inside of the access door is an easy-to-use guide for determining voltage and wire feed speed settings.
"This new model is an economical, easy-to-use option perfect for entry-level welders, while still providing the quality and reliability that users expect from Miller," said Emily Mueller, product manager for Miller Electric Mfg. Co.
This versatile unit comes MIG-ready out of the box and includes a fixed-flow mixed gas regulator and gas hose. It also includes an 8 foot MIG gun that uses standard Miller® consumables. A factory-installed gas solenoid makes it easy to switch between MIG welding and flux-cored wire.
Weighing less than 50 pounds, it can be easily moved around the home or garage for projects.
Ease-of-use is enhanced further through other innovative features.
A cast-aluminum drive system with calibrated tension knob creates consistent wire feeding and easy setup. The Quick Select™ drive roll also makes setup quick and easy by offering three grooves — two for different sizes of solid wire and a third for flux-cored wire.
The Millermatic 125 Hobby is priced at $549 Miller Suggested Price (MSP). To learn more or to check out a full list of product features and benefits, customers can visit their local welding distributor or MillerWelds.com.
About Miller
Miller Electric Mfg. Co., headquartered in Appleton, Wis., is a leading worldwide manufacturer of Miller brand arc welding products and is a wholly owned subsidiary of Illinois Tool Works Inc. (NYSE: ITW).
For more information, visit Miller's website at www.MillerWelds.com, call 1-800-4-A-Miller (800-426-4553), e-mail [email protected], fax 877-327-8132, or write to Miller Electric Mfg. Co., P.O. Box 100, Lithonia, GA 30058.