Step 1: Following up from last month after learning to pattern off an existing fuel tank, we now look at creating a buck to shape an original tank design. For this exercise I'll create a buck from 3/8-inch plywood of a fuel tank for some early iron.
Step 2:  First, using a piece of poster board I'll sketch out the side profile of the tank to fit the frame.

Step 3:  Once I'm happy with it I cut it out and take another look at the profile.
Step 4:  Using the side profile template I get the overall length to sketch out the top profile.

Step: 5 With the side and top profiles decided upon, I lay out the centerline of both profiles.
Step 6: I split the centerlines so the two profiles can intersect one another.

Step 7: With the two profiles taped together I mock them up on the frame to check the size and profile of the tank one last time before going to the plywood.
Step 8: Now I trace out the patterns onto the plywood and also sketch opposing slots in the profiles so they can intersect one another the same way the poster-board patterns did.

Step 9:  I cut the plywood with whatever tools are available, like a jigsaw, band saw, scroll saw, etc. You can see here the top and side profiles are cut from plywood with opposing slots to allow the two parts to intersect one another.
Step 10:  With the two profiles assembled we can get a very good idea what space the fuel tank will occupy, but we'll need more structure in the buck to aid in making patterns.

Step 11:  Every buck is different, but the intention is the same when it comes to adding ribs or segments to the buck. Here I chose four locations to add profile ribs, which aid in creating the overall shape of the tank.
Step 12:  After determining the layout I also add cutouts to the top profile to allow the additional profiles to interlock with the buck.

Step 13: Once again I use poster board to make patterns for the additional profile ribs.
Step 14: The patterns are traced out onto more plywood and cut out.

Step 15:  I then lay out the opposing notches and cut them out as well.
Step 16: Using wood glue and brad nails I assemble the side/top profiles along with the additional profile ribs and have a look at the buck on the frame before it is fully assembled.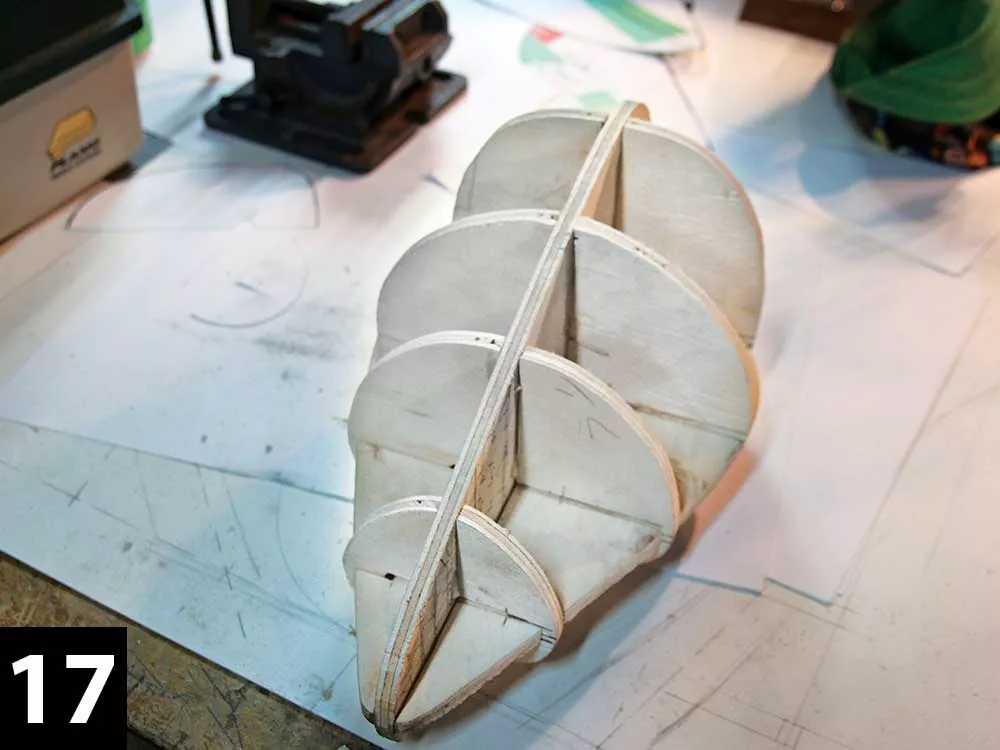 Step 17: Seen here is the fully assembled buck.
At this stage the buck is only roughed in. In the next issue we will do some sanding to smooth out all of the transitions and add filler to all of the voids in the buck to create a complete solid form from which we can make patterns in similar fashion like we did in the last issue. If you have questions or requests for this column feel free to email me at [email protected]