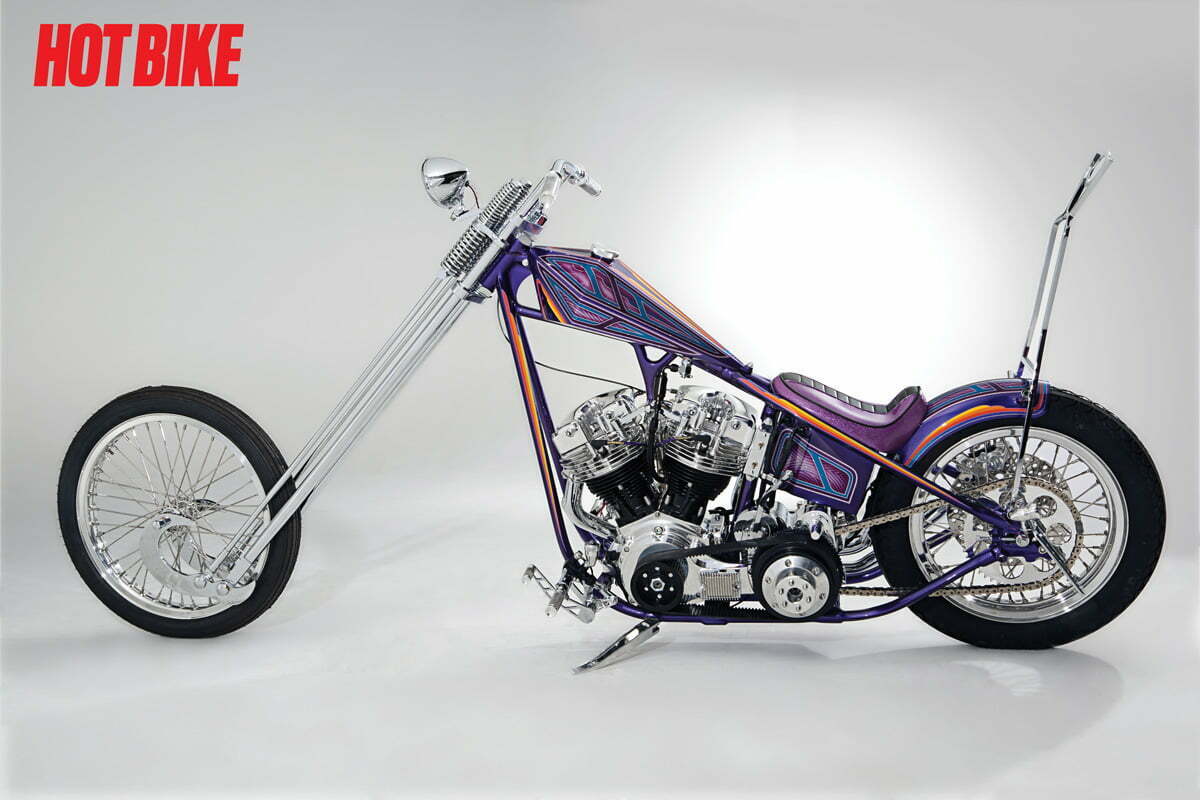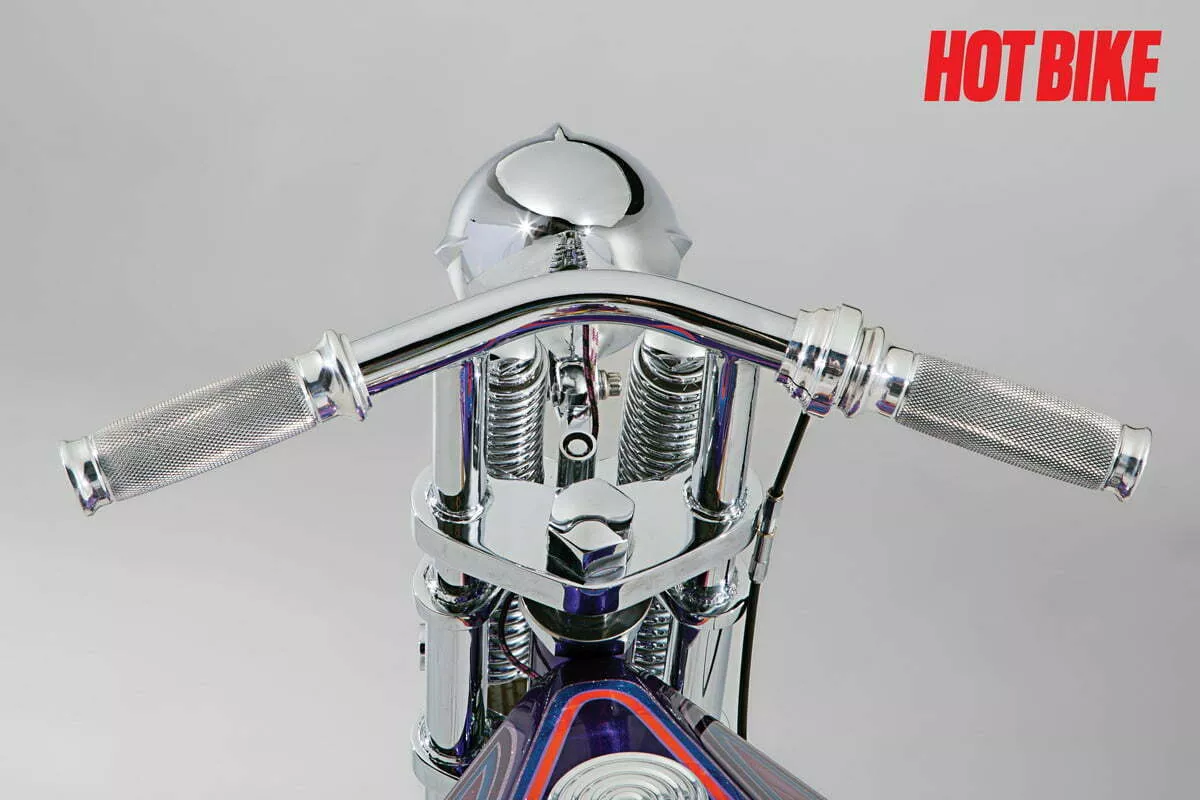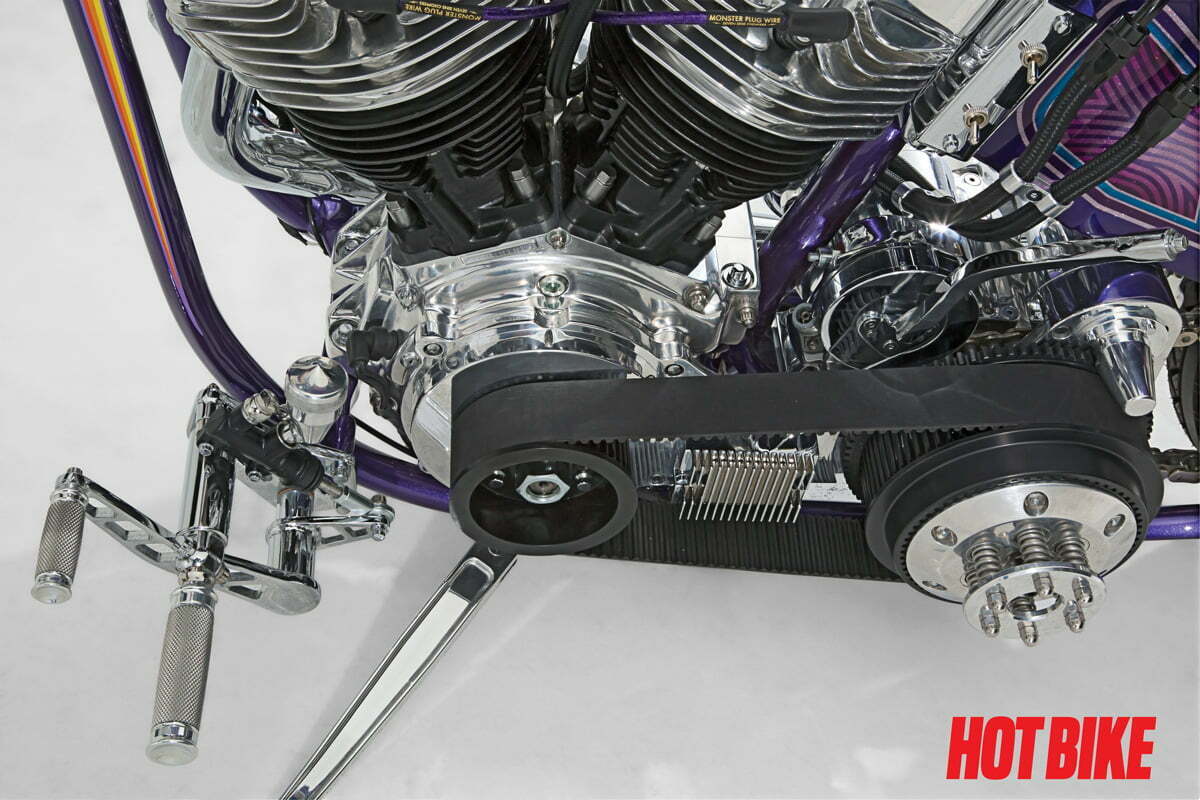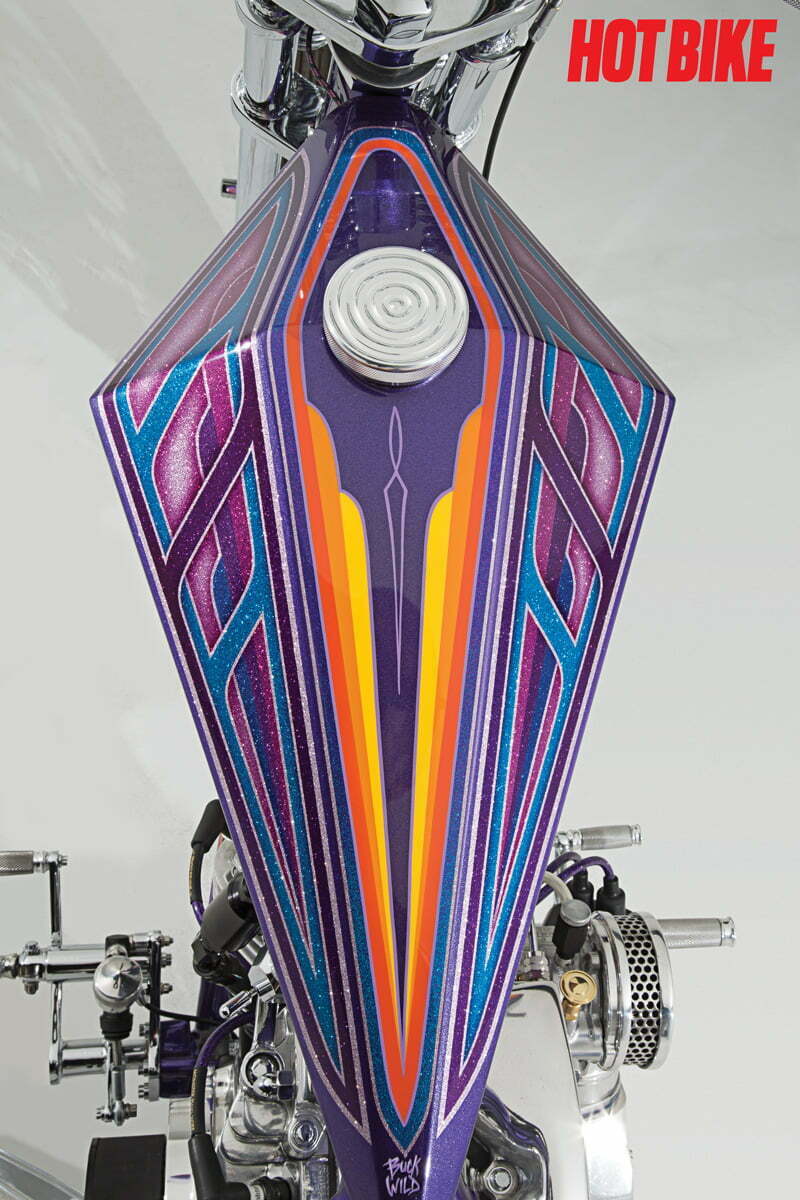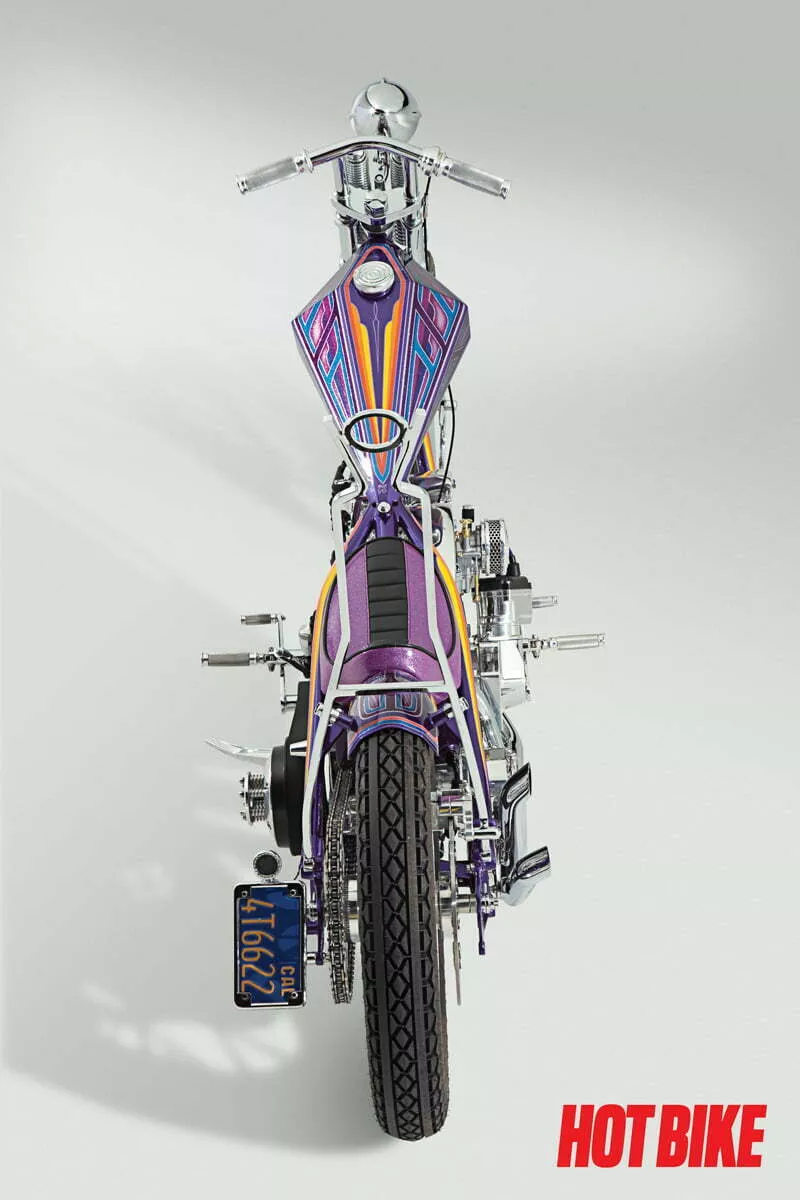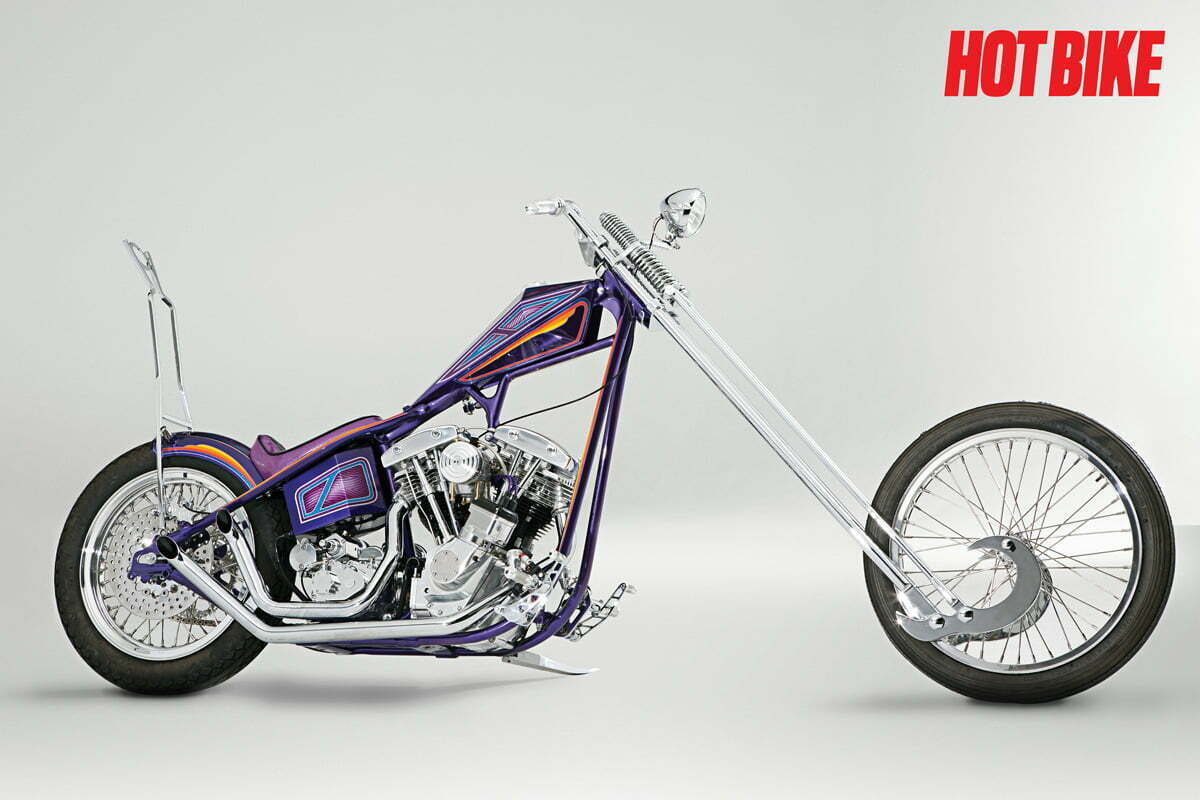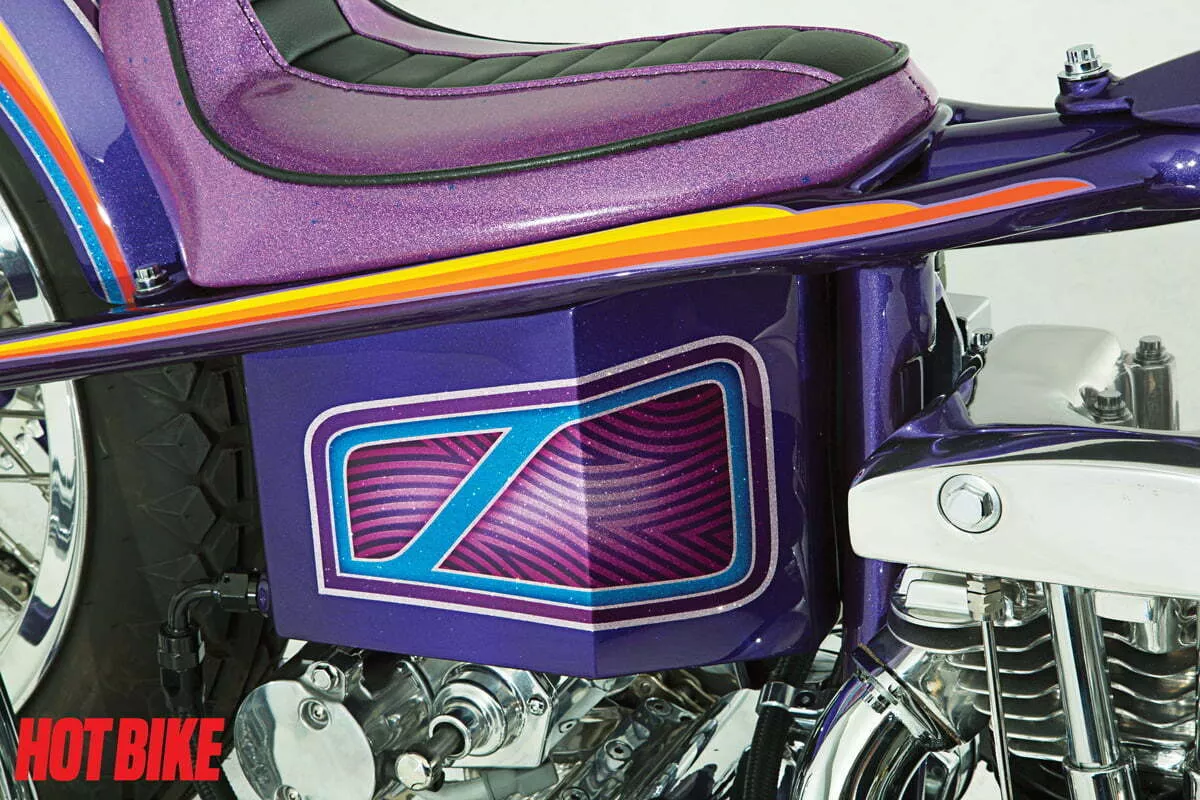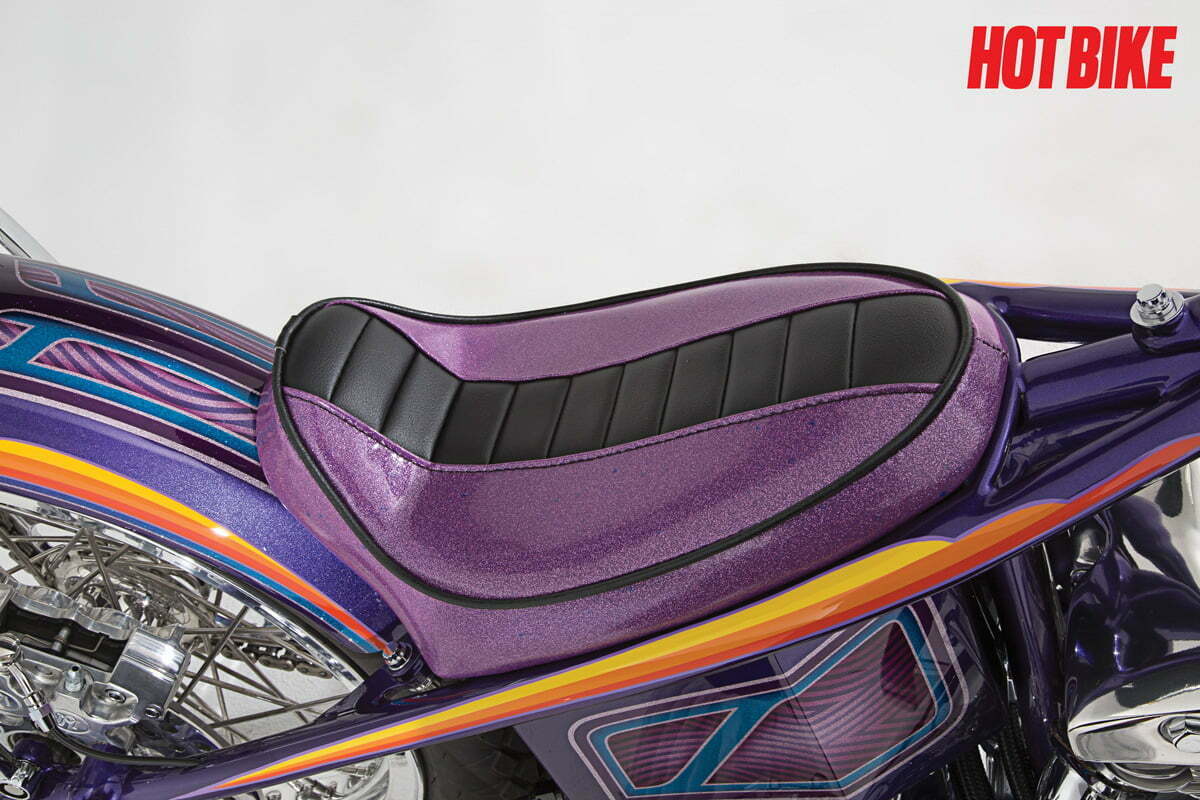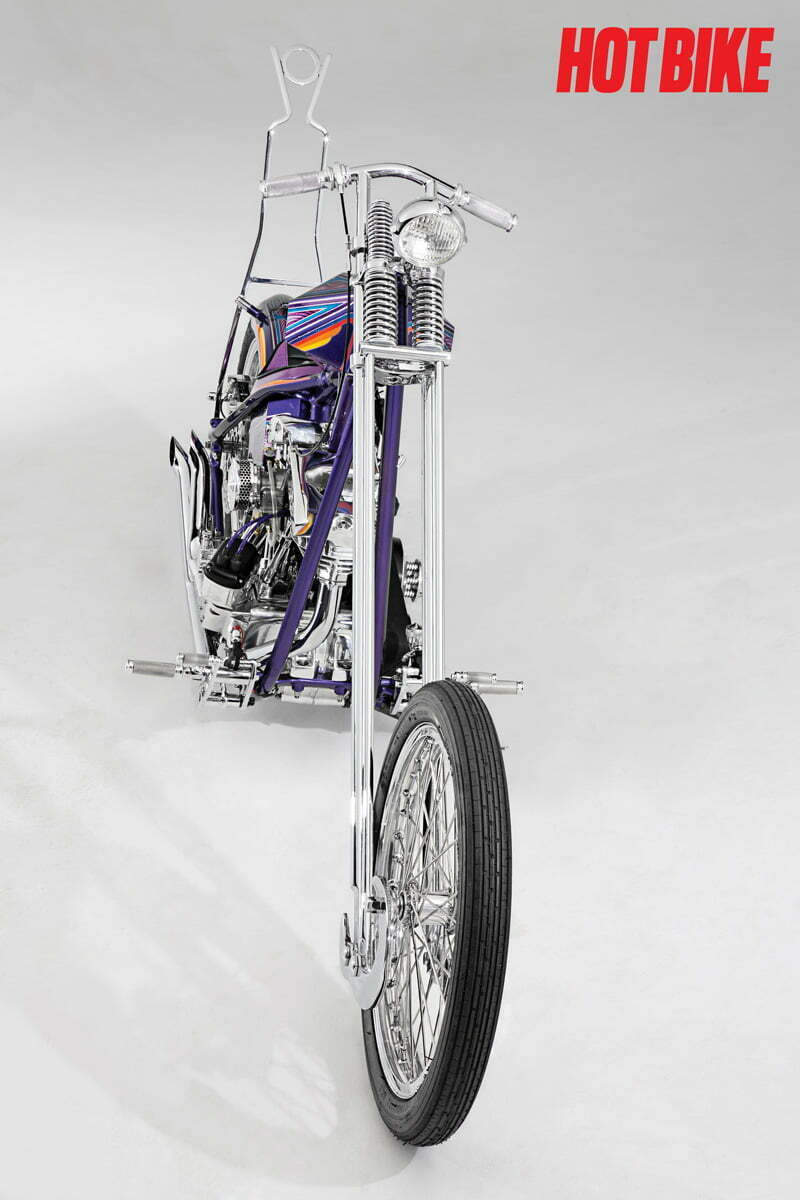 HB: How did this bike get started?
TR: The bike started off as a customer's bike. It was Rob Aston's, the singer for Transplants. He ended up losing interest in it. I ended up buying it, and it sat idle for years—not the complete bike but the front end and frame.
HB: How did it become your Born-Free bike?
TR: When I got the call from Mike Davis of Born-Free, I knew that was the bike I wanted to do for it. I changed the whole thing up. At first I thought the bike was cursed or something. It went through four painters that just couldn't get it right. I finally went to the fifth painter, Buck Wild, and he killed it on that paint job. I come from a lowrider paint job. Back in the day there was a real famous painter called Crazy Art. He used to lay tapelines like you couldn't image. He was a fine artist and painter. When I told Buck about Crazy Art, he said he used to ride BMX with his son. It was like the universe put it all together. Looking back I think the reason the other paint jobs failed was not because the other painters were bad, but it was headed in the direction of Buck. That bike just flows like no other.
HB: What makes this paint so right?
TR: A lot of guys have been showing off what they call traditional paint jobs. Yeah, they might be traditional in one sense, but in the lowrider sense it's hard to master it because you don't see that much. A lot of painters don't understand that. Buck does. There's only so much area you can do on a bike, so to nail it you have to be very particular of how you do it because you only have so much area to work with. Buck got it. He knew about it and he did it. To me it was a blessing to have him paint that bike.
HB: What about the rest of the bike? Is that a real Sugar Bear front end?
TR: I got the Sugar Bear front end from Sugar Bear himself. Him and I are good friends. I asked him if there had ever been a long Sugar Bear front end at the Born-Free Show, and he said no. I said, "It's about to happen."
HB: What type of build were you going for?
TR: It's a South Bay-style bike. That's a style that not too many people know about. It's not a high cradle like the kids are building now. It's got that real long front end. No rabbit ears with drag-style bars. When I built that bike I told Sugar Bear that's what I wanted to build.
HB: Did anyone get what you were going for?
TR: No one really asked about it. They didn't understand it. How are they going to understand something that they really haven't talked to a guy who lived it? Bear and I lived it. I watched that style evolve in the '70s.
HB: Why do you think that is?
TR: Everyone seemed to like it I guess. Some didn't understand the paint. With social media, it's not that hard to figure out styles. Back in the day you had to experience it to understand it. Today you just Google it and something will come up. Before you had to go to a shop or garage and sit and talk to the guy. Now that doesn't exist anymore. The attention span and the passion behind it don't exit. This is more of a social-media generation. They forgot the stories, respect, and passion behind it. I don't mean that in a bad way. I just think they are more into the fad thing, instead of actually taking part in the people that are creating it. If you would actually sit and talk to Bear, he would engage in a conversation with you. I think a lot of people of the social-media generation could learn a lot and understand more than doing a search on Google if they would just talk to those that do it. They walk up and say, "I really like your bike," and then walk away. That's the generation we are dealing with. I don't think it's their fault. It's social media's fault because everything is so readily available.
HB: So what's the future of your bike building?
TR: I said from the beginning this is it. I'll never do a show again. Not in a bad way. I can't evolve into today's builder. I can't grow a beard, I like to shower, I like to wear flip-flops and board shorts, I like to train a lot of jiu-jitsu, I love my family, I don't drink, and I don't smoke weed. The days of me acting a fool put me in prison. I'm not going to try that anymore. I'm going to leave it up to this generation to make their mark. I think I've done and said enough in the custom-culture world. There's a time and place when everyone has to bow out gracefully. I think it's my time. I've accepted it. I've been doing this for 25-plus years. I'll never stop doing it. I just have to stop doing it to make a living at it more.
| Specifications | |
| --- | --- |
| General | |
| Owner | Trevelen Rabanal |
| Shop | SuperCo |
| Website | supercolosangeles.com |
| Year/Make/Model | Southbay Rigid Chopper |
| Fabrication | SuperCo |
| Build Time | 4 months |
| Engine | |
| Year/Type/Size | S&S/Cone Shovelhead/103 in. |
| Builder | SuperCo |
| Cases | S&S |
| Cylinders | S&S| |
| Heads | S&S |
| Rocker Boxes | S&S |
| Cams | S&S |
| Carburetor | S&S| |
| Air Cleaner | Bench Mark |
| Exhaust | SuperCo |
| Transmission | |
| Year/Type | Harley-Davidson |
| Gears | 4-speed |
| Clutch | Tech Cycle |
| Primary Drive | Tech Cycle| |
| Frame | |
| Year/Type | Rigid | |
| Rake/Stretch | 42º/4 up, 2 out |
| Suspension | |
| Front end | Sugar Bear| |
| Length | 26-in. over |
| Wheels, Tires, and Brakes | |
| Front | |
| Builder/Size | Akron/21 in. |
| Tire/Size | Avon/21 in. |
| Rear | |
| Builder/Size | Akron/18 in.| |
| Tire/Size | Avon/18 in. |
| Caliper | Performance Machine |
| Rotor | Performance Machine |
| Finish/Paint | |
| Manufacturer | Matrix |
| Colors | A lot |
| Paint/Graphics | Buck Wild |
| Plating/Polishing | Supreme Plating |
| Accessories | |
| Gas Tank | Prism |
| Handlebars | SuperCo| |
| Grips | Alloy Art |
| Foot Controls | Spitfire |
| Headlight | Swap meet |
| Taillight | Ken's Factory |
| License Mount | Boosted Brad |
| Seat | JP Custom Seats |
| | |