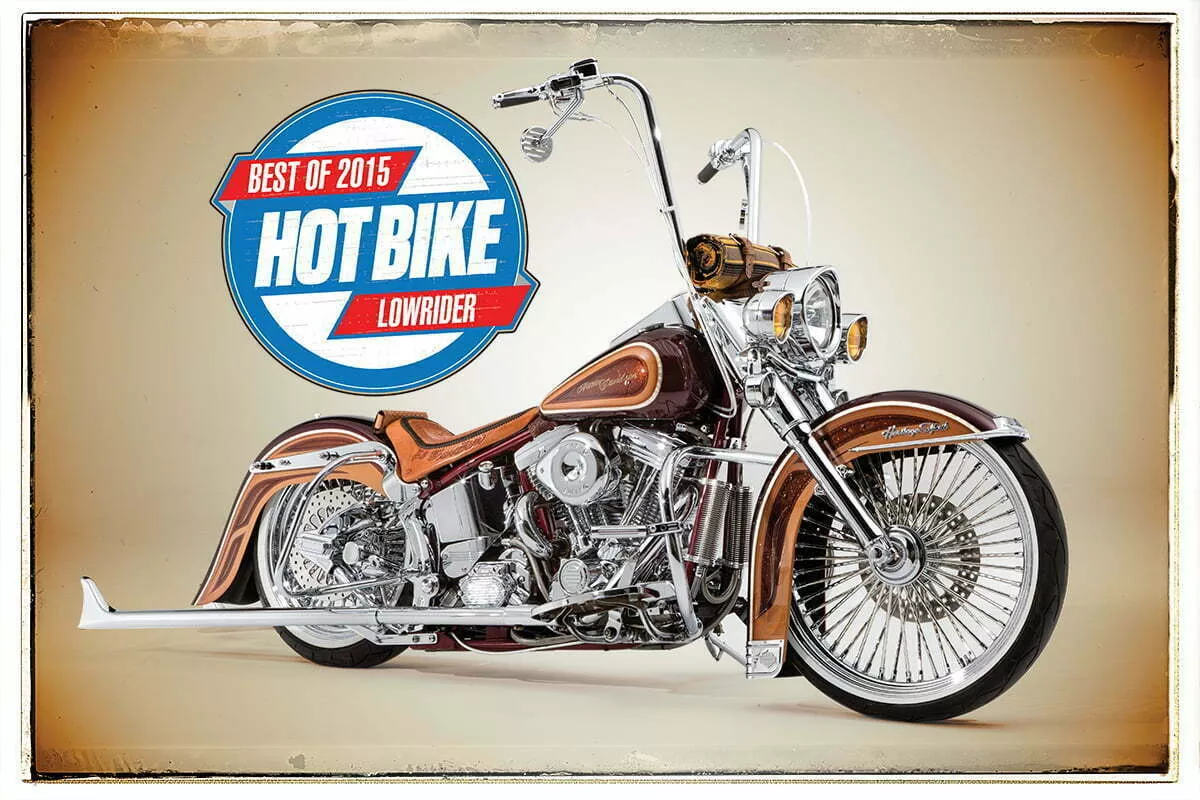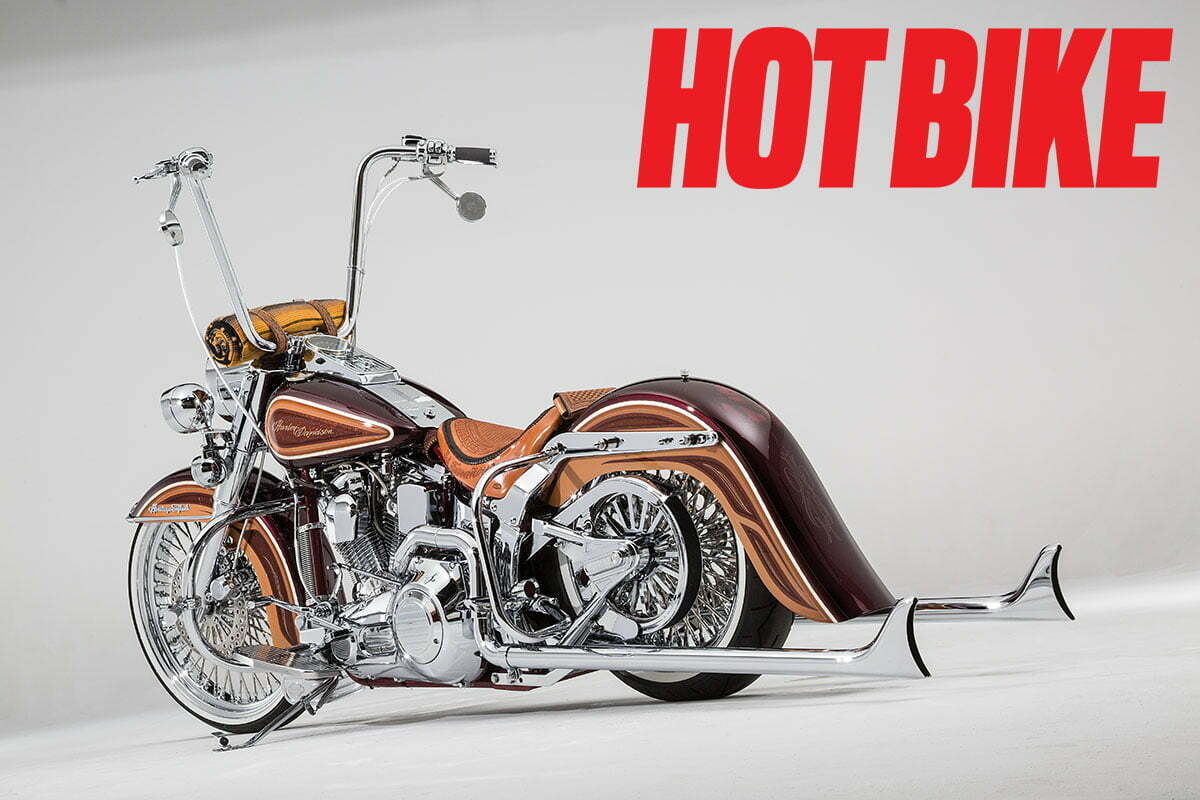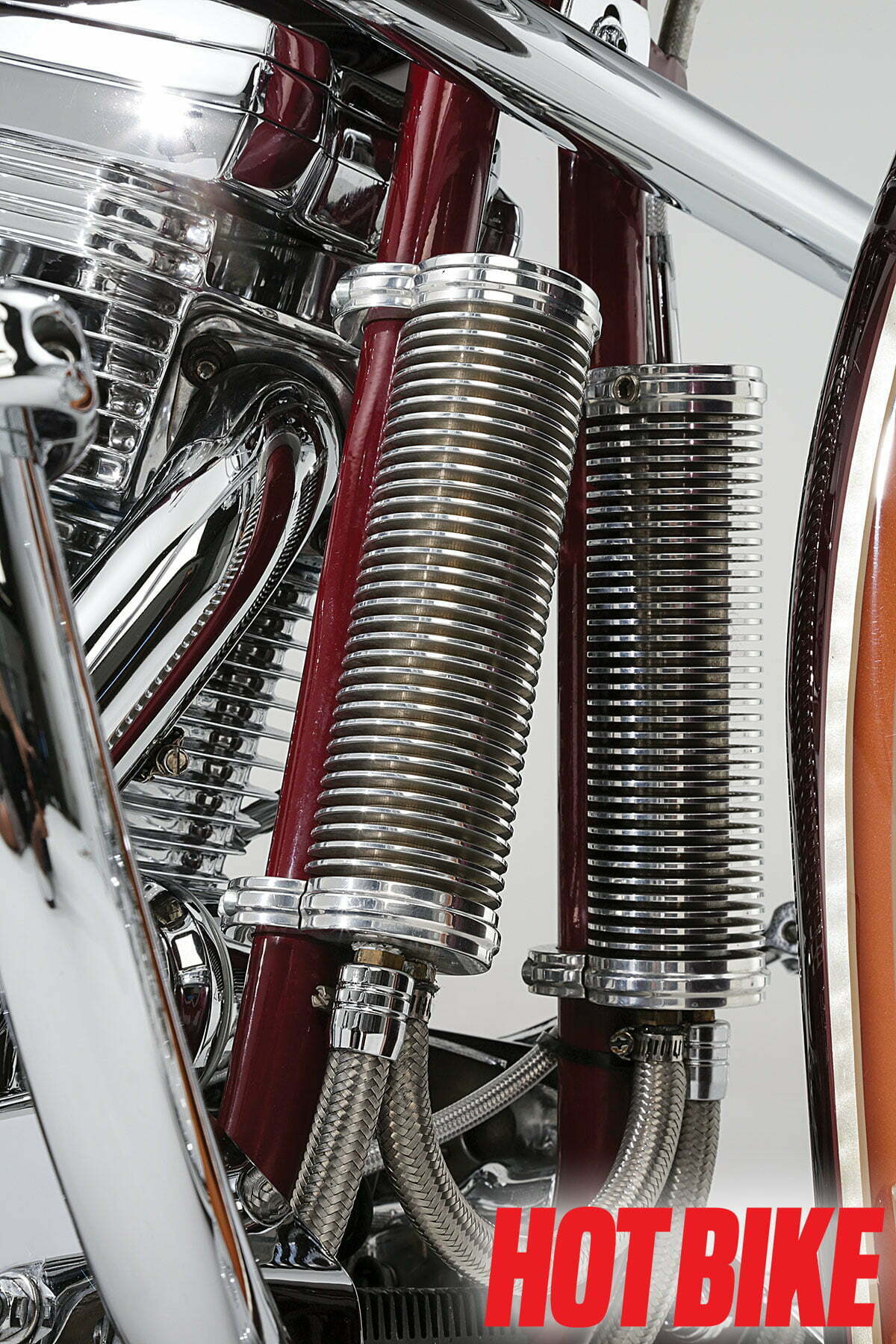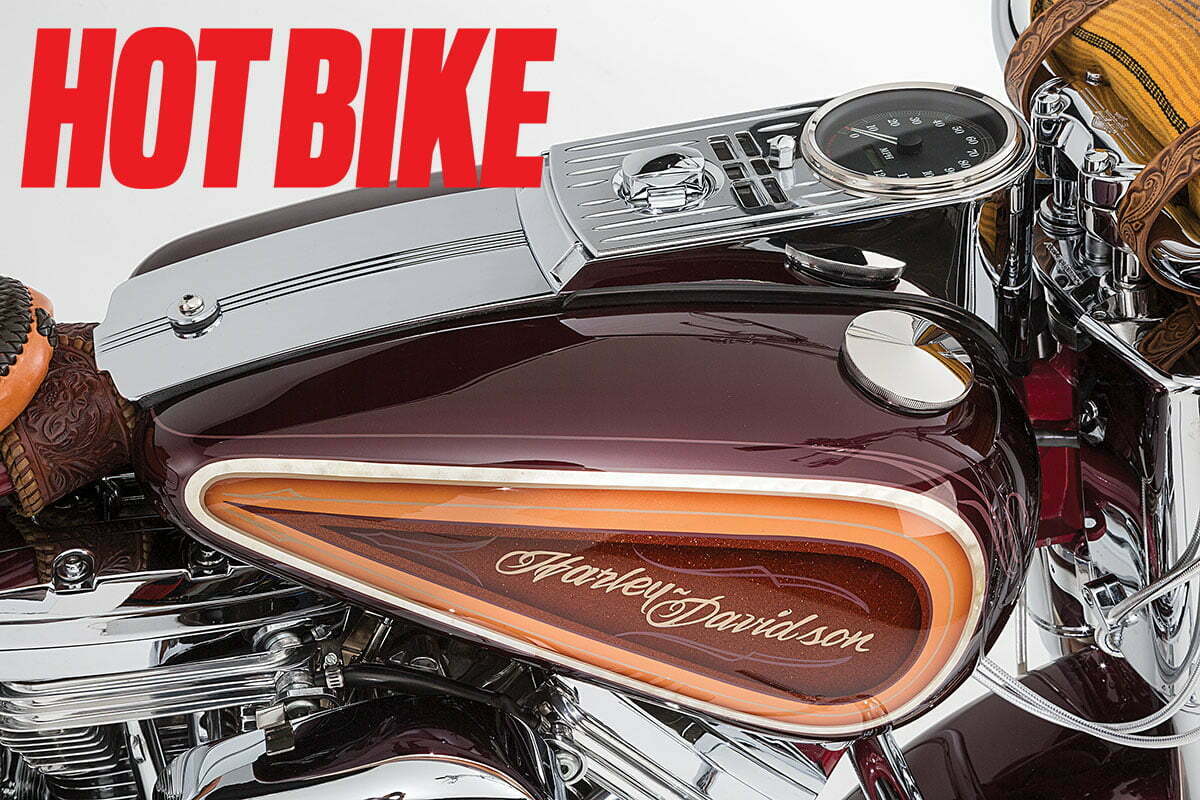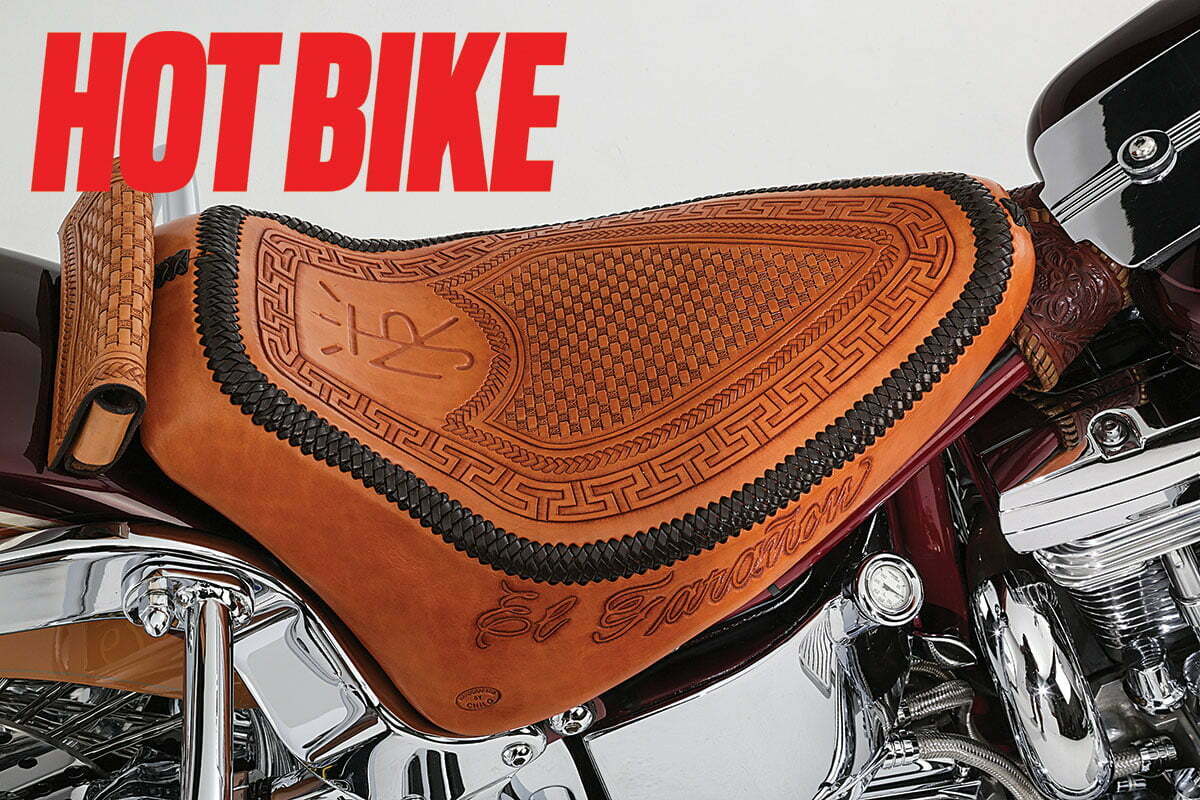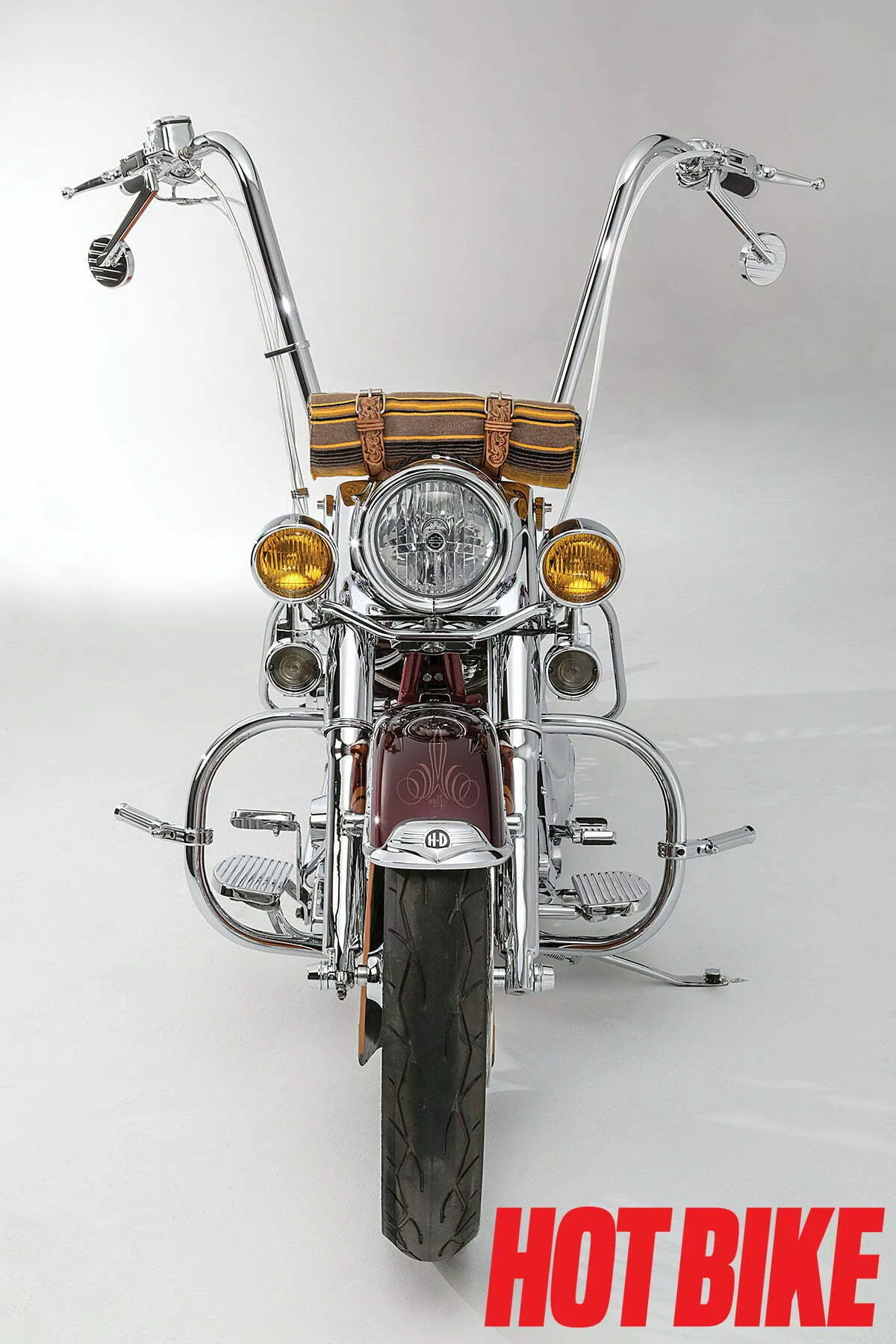 The bike all started after some young kid hit me from behind. At the time my brother Marrick from Hurly Hogs introduced me to Chevy Time from Malditos Motos and Edgar from Maxima Imagen. What started out as a simple repair grew to what it is today after I was pulled in and saw all the work these two guys pumped out. I was hooked. From what should have been a simple fix came the creation of El Garañón De Hierro. Since I own horses, I thought this would be my Iron Stallion.
To kick things off, we extended the front and rear fenders, added new 23 x 3.5 front and 18 x 4.25 rear diamond-cut spokes wheels and raked the front with triple trees. This led me to change the handlebars to 18 by 1-1/4-inch Factory 47 bangers. We lowered the front by 2 inches with a Progressive Lowering Kit and added a set of JD's Shotgun dual air ride for the rear. We re-polished the motor barrels to bring out the shine of the S&S motor, added chrome crashbars, 42-inch fishtails, and a chrome swingarm.
From there, I gave the painter Edgar from Maxima Imagen my ideas and he ran with it. We tried to keep the stock look, but that didn't last long.
<div class="st-block quote text-
Notice: Undefined index: st_text_align in C:laragonwwwhotbike-importblocksquote.php on line 1
">
We tried to keep the stock look, but that didn't last long.
The paint is a Burgundy Candy with a two-tone to match my seat. He also went with some patterns, tan color insets, and silver leafing. If you look closely there is also some ghost lettering on the front and rear fenders and a mural on the rear.
Meanwhile, all this was going on, Chilo, a saddle maker from Torres Leather, was working on the seat, which has my branding iron. My brand has my initials (NJR), and the three points stand for each of my daughters and "Jr" for my son. The seat is made out of saddle leather with braiding at the edge of the seat and a basket weave with tooled boarder.
Thanks to all the carnalitos who made this happen, including Marrick from Hurley Hogs, Chevy Time from Malditos Motos, and Edgar Rodriguez from Maxima Imagen for the photos.
| Specifications | |
| --- | --- |
| General | |
| Owner | Noel Resendiz, Hurley Hogs |
| Shop | Malditos Motos/Maxima Imagen |
| Shop Phone | (626) 806-8145 |
| Year/Make/Model | 1998/Harley-Davidson/Heritage Softail |
| Build Time | 6 months |
| Engine | |
| Year/Type/Size | S&S/Evo/98 in. |
| Builder | S&S |
| Cases | S&S |
| Cylinders | S&S| |
| Heads | S&S |
| Rocker Boxes | S&S |
| Cams | S&S |
| Carburetor | S&S| |
| Air Cleaner | S&S |
| EFI Controller | S&S |
| Exhaust | Sampson |
| Transmission | | |
| Year/Type | 1998/H-D |
| Clutch | H-D |
| Primary Drive | H-D| |
| Frame | |
| Year/Type | 1998/H-D| |
| Rake/Stretch | Stock |
| Suspension | | |
| Front end | Progressive |
| Length | 2 in. lower |
| Triple Trees | H-D |
| Swingarm | H-D |
| Rear Shocks | Shotgun |
| Wheels, Tires, and Brakes | |
| Front | |
| Builder/Size | DNA Mammoth/23 in. |
| Tire/Size | VeeRubber/23 x 3.5 in. |
| Calipers | H-D |
| Rotors | Ride Wright |
| Rear | |
| Builder/Size | DNA Mammoth/18 in. |
| Tire/Size | VeeRubber/18 x 150mm |
| Caliper | H-D |
| Rotor | H-D |
| Pulley | 1-1/2-in. 72-tooth |
| Finish/Paint | |
| Manufacturer | Candy |
| Colors | Brandywine |
| Paint/Graphics | Maxima Imagen| |
| Plating/Polishing | Eddie Malditos Motos |
| Accessories | |
| Front Fender | Extended |
| Rear Fender | Extended |
| Gas Tank | H-D |
| Dash | H-D |
| Gauges | H-D |
| Handlebars | Factory 47 18 x 1-1/4-in.| |
| Grips | Custom |
| Mirrors | Custom |
| Hand Controls | H-D| |
| Foot Controls | H-D |
| Floorboards | Custom |
| Headlight | Ghost Paint |
| Taillight | Custom |
| Turn Signals | Custom |
| License Mount | Custom |
| Seat | Torres Leather |
| | |