For the last five years, some of the most skilled bike builders in the country have gravitated to Austin for a Texas-style shindig called the Handbuilt Motorcycle Show. The team at Revival Cycles throws a mean moto-gathering, from the kickstart party at the South Congress Hotel Thursday night to the wrap-up bash at Revival's shop in East Austin on Sunday. In between the parties, approximately 30,000 "motonerds" (as Revival likes to call them) filtered through the cavernous Austin American-Statesman building over a three-day period to check out 150 incredible custom motorcycles.
There was definitely no shortage of ingenuity at the 2018 show, from a turbo-powered digger to Bryan Stalcup's "transformer" bike, whose hydraulic-driven back wheel extends almost a foot at the push of a button. Exemplary Shovelheads included Brian Buttera's stainless steel hardtail and Kyle Shorey's high-barred beauty powered by an '84 Shovel. Aki Sakamoto's Flathead "Temptation" chopper stretched almost a Texas mile. Eastern Fabrication's Lock Baker brought his 1978 Pan-Shovel called "Steel Butterfly" and a wicked scoot named "Red Asphalt," the first chopper outfitted with a Motus Motorcycles V-4 Baby Block.
That said, we tracked down and talked shop with a handful of builders at the show and got them to break down their builds for us.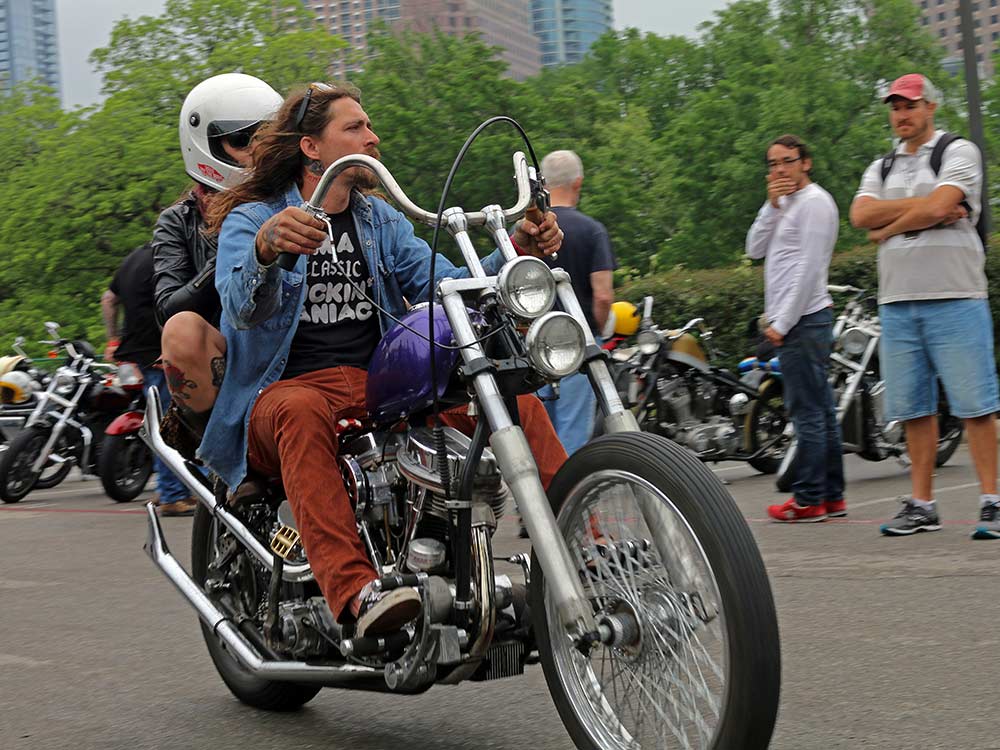 Jeremy Cupp, LC Fabrications
Harley 883 Sportster Carbon
"This bike started as an '01 Sportster. I kept the stock front loop of the Sportster frame, but everything else is handmade. I did a billet monoshock swingarm. I used actual rising rate linkage versus the old-style monoshock that everybody seems to be doing these days.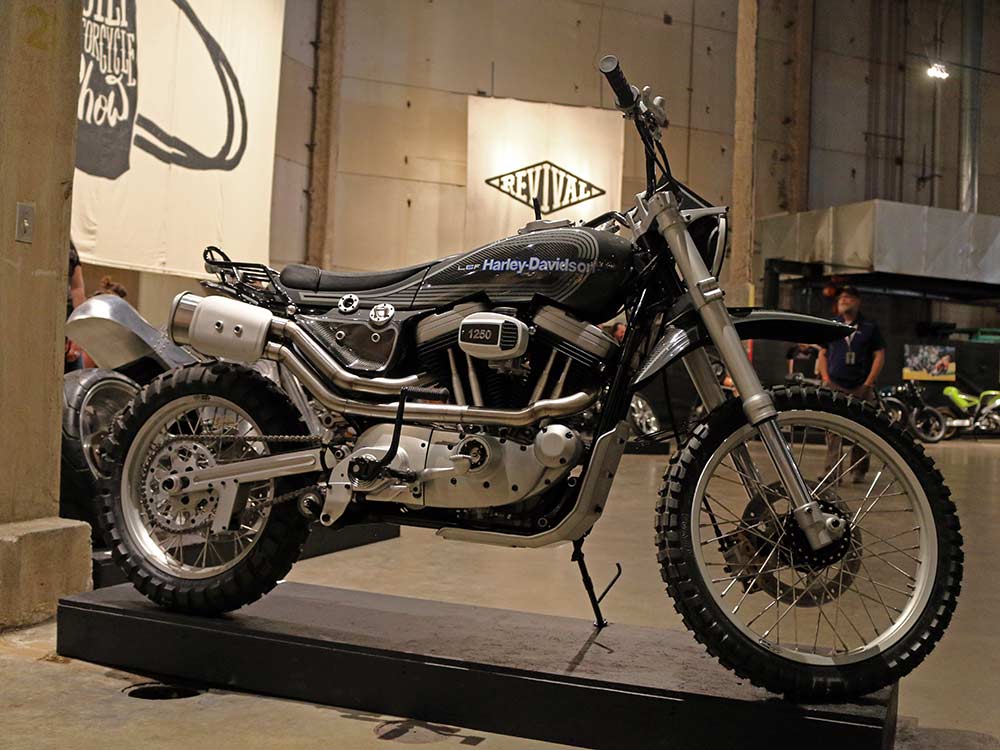 Somehow I got into carbon. I saw a bike and thought it was beautiful and realized I have no idea how to do carbon, so I learned how to do that while making this one. The tank, seat pan, fenders, covers are carbon fiber. It was an 883 originally… It's got the S&S 1250 cylinders, Buell Thunderbolt heads, and a Buell flywheel. I cut the starter off it and used Led Sled's kicker setup. So then, since I cut the starter, I made my own primary which incorporates the hydraulic clutch.
The fork tubes were from an '01 YZ250. I made the trees and everything so it's got the correct geometry. The hubs are stock and I re-laced the Buchanan wheels, an 18-inch rear and a 21-inch front."
Craig Rodsmith, Rodsmith Motorcycles
Harley Shovel/Ducati
"What I brought is my Harley-Ducati. It's a Ducati chassis basically and…my old Shovelhead motor, a '74 1200. I took that engine out of my FL because I didn't want to cut up the frame. So I took the motor out and I had another Shovelhead frame, an older one, so I took the center out of it to support the motor and trans and grafted the front of the Ducati and the rear of the Ducati suspension on there. So the center is kind of old school and the ends are a little bit more modern.
"Then I put a supercharger on it, a small AMR500 racing supercharger with an SU carb. Kineo spoked wheels, they're tubeless and kind of unique, ISR levers, Hayes brakes, Rizoma controls. It's a whole bunch of old and new. I did all the bodywork. I'm known for my polished, hand-formed aluminum. I made the gas tank and the seat—behind the seat is actually the oil tank and with Harley's dry sump I made it all like a monocoque oil, gas tank, seat. At first I made the covers for the fork but I wasn't sure about them, but I think they worked out. The tricky part is, they've got to just miss the fairing as you turn. I think they tie it together nicely though. I'm going to put a little belly pan and chin spoiler on it too, but I was down to the wire trying to get it finished to bring to the show. The fork is a Showa inverted off a 1098 Ducati. There's also a single-sided swingarm off the 1098."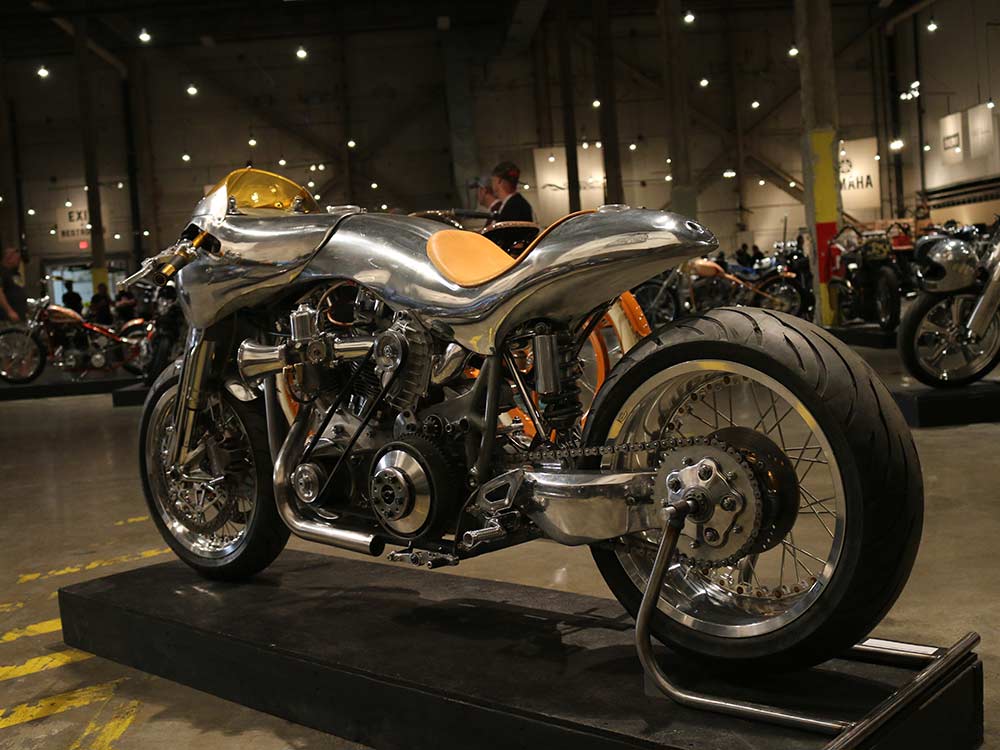 Lock Baker, Eastern Fabrications
"Red Asphalt"
"The engine was provided by Motus Motorcycles. This is one of their crate motors. They call it the 'Baby Block.' It's 100 cubic inches, four-cylinder, four throttle bodies, fuel injected, computer controlled, six-speed, 185 horsepower, and I think 110 pound-feet of torque starting at 1,500 rpm. It's an absolute monster.
"All my bikes are choppers to some extent, whether they're old or new. This is like the most high-tech chopper I could build, I think. The actual computer…[is] maybe a little bigger than an iPhone. It doesn't interfere with anything but the engine; it's an engine management computer. In other words, it doesn't have ABS, it doesn't have angle sensors, wheelie control, traction control, any of that. I had some help from them (Motus) to make it communicate with toggle switches and buttons instead of a screen. I went with buttons and toggles because I don't want an iPhone, I want a motorcycle.
"It's my first injected bike, my first computer bike. I'm so used to procedural starting and chokes and retarding timing and all that. This one, it's like you literally just turn everything on, and it has a warm-up sequence it does automatically. It even has a safeguard that prevents overheating. It won't just shut off if it gets too hot, it will just lower your redline to allow it to self-cool, and when it cools it gives it back. So like, if you're stuck in traffic and the thing is just broiling, don't sweat it, it just handles it for you.
"The front end is what comes on the Motus. I did the trees with my friend Ryan Boyd who also helped me do these spacers here and the dropouts. Those were the CNC'd parts. The fork legs, the front brakes are stock Motus. Motus tranny. Everything else is made.
"The frame is entirely scratch-built. It's all chrome-moly. It's not made for a passenger so it didn't need to be quite as heavy-duty in the back. It's got sort of the Vincent-style twin shocks. I'm always looking for the lines.
"One thing that was a little bit of a challenge, since it's a load-bearing motor, there's no chassis underneath it. The frame ends here and here and is mounted to the block. So the headers became the mounts for the foot controls. There's a crossover tube [that]…goes all the way to the other header bank and that's what gives the footpegs their strength. It's all linked together.
"It's got BST carbon wheels, that's a 19-inch in the front. The rear is a 17-incher with a 180. The radiator started as a quad radiator and then I put different mounts on it and added the little overflow tank into it. It's got an electric fan that's actually controlled by a separate computer, a stand-alone thing. It'll click on based on temperature.
"I got it running two days before I put it in the van to come here. It sounds like a Top Fuel Harley. You feel like you're in the staging lane—da-da-dum, da-da-dum, da-da-dum."
Randy Rothlisberger, Klock Werks
"Boondoggle"
Hot Bike fans might recognize Randy's bike because Rothlisberger rode it on the Hot Bike Tour. While the welder and fabricator has helped out on several projects at Klock Werks, Rothlisberger scrambled up this V-twin to give it a bit more prowess when the road ends. It's got a Buell XB9 engine with stock internals. He converted it to a standard ignition and fabricated his own intake system so he could use a converted carb off a Kawasaki KX450F. It has an early Evo Sportster-style frame made by Paughco. For the front he used a 49mm Suzuki RM125 fork with fully adjustable cartridges. The back sees Hagon shocks with custom valves and spring rates along with a modified, later-model Sportster swingarm.
Yuichi Yoshizawa and Yoshikazu Ueda, Custom Works Zon
"Zonkern"
We ran into Custom Works Zon a few years back at Sturgis and have been fans ever since. In fact, we just featured their splendid Knucklehead dragbike with the center-hub steering here at Hot Bike. While the beautiful handbuilt aluminum bodywork takes center stage on this racy little number, beneath the flames lies a Buell S1 Lightning engine with a Keihin FCR downdraft carb. The five-speed transmission is likewise from Buell, mounted in a tubular-steel trellis frame. Suspension duties are handled by a springer fork and monoshock rear. Accentuating its sexy bodywork is pinstriping by Mr. G and engraving by 4 Dimensions Studio.