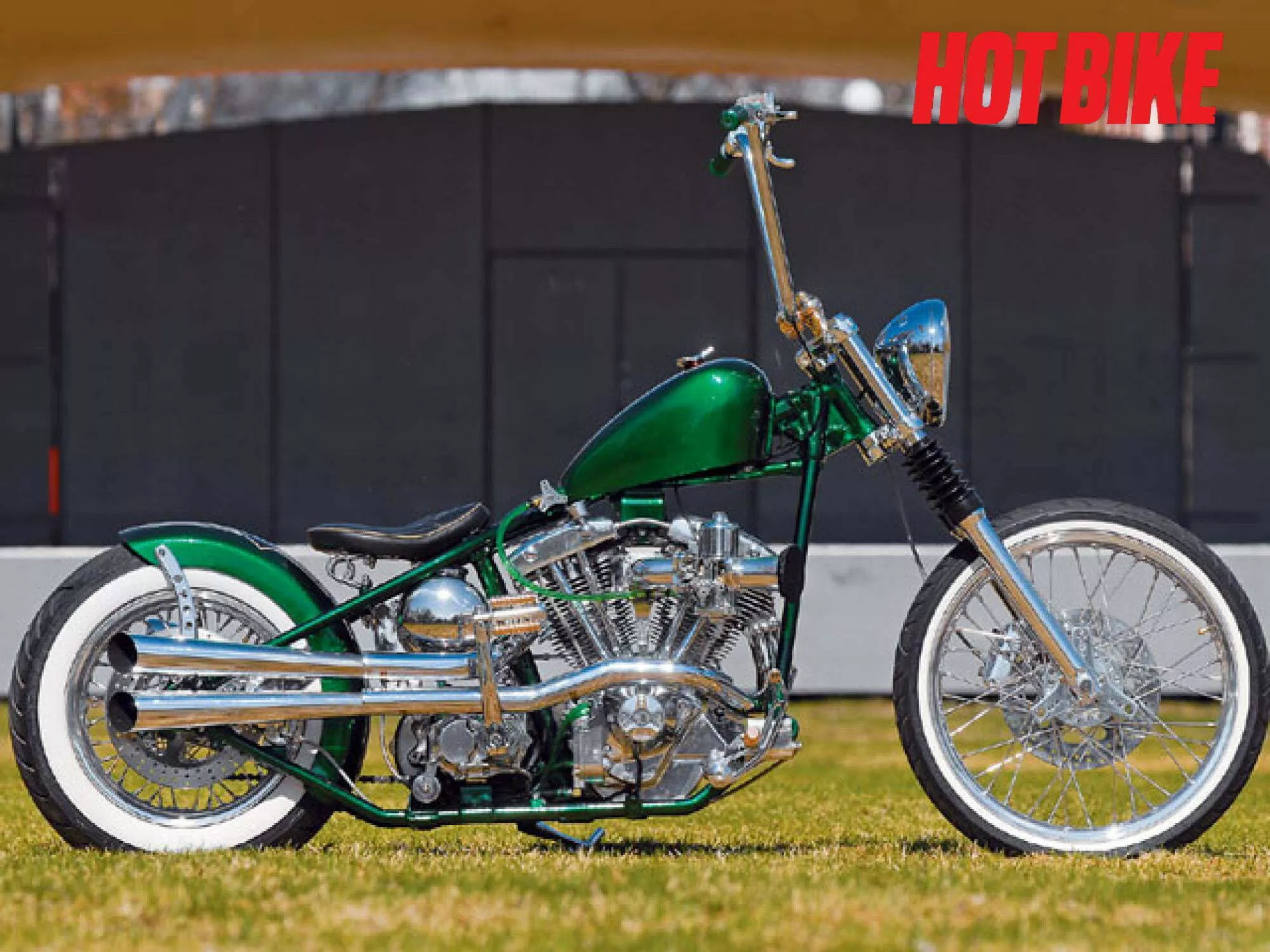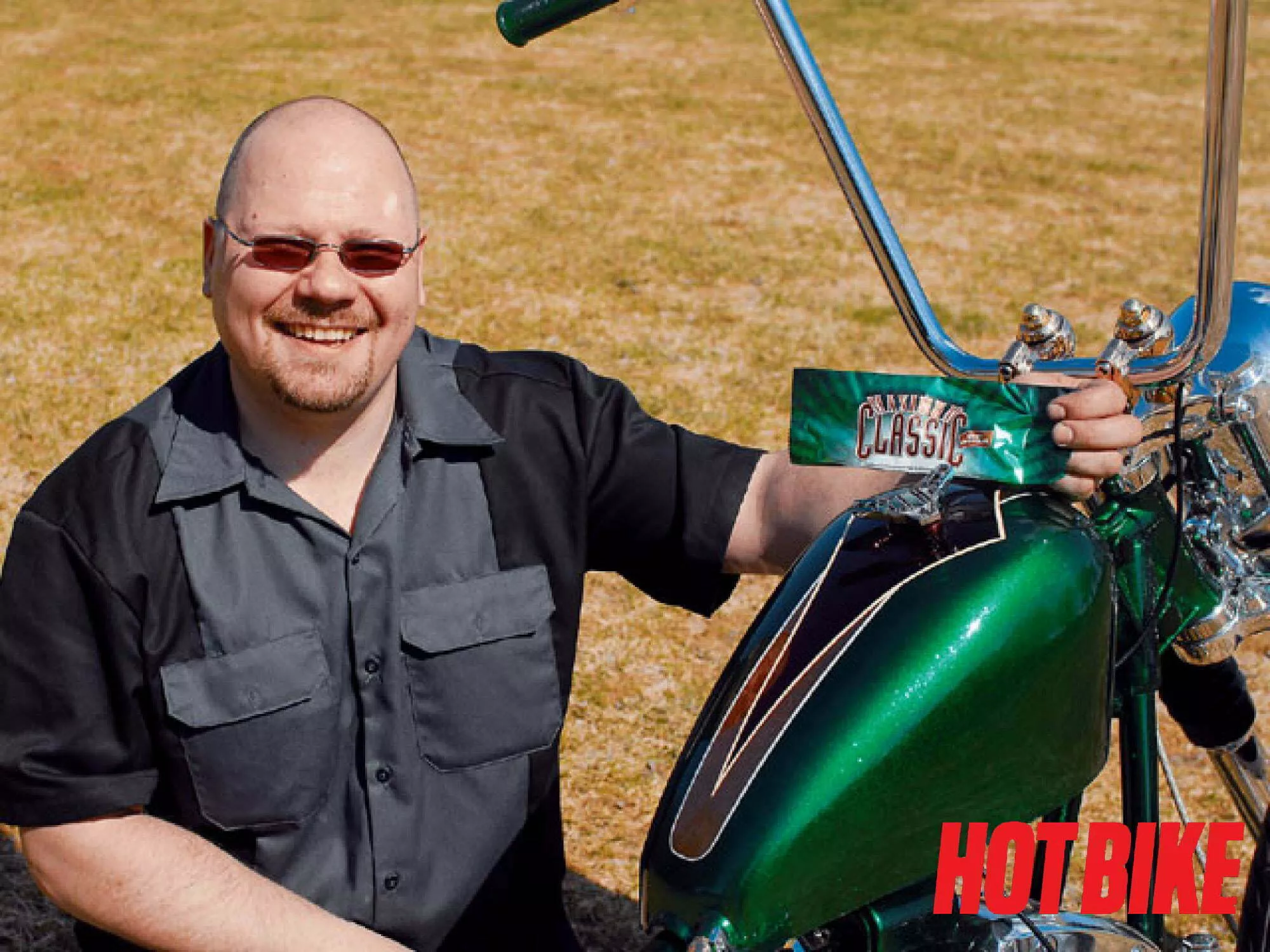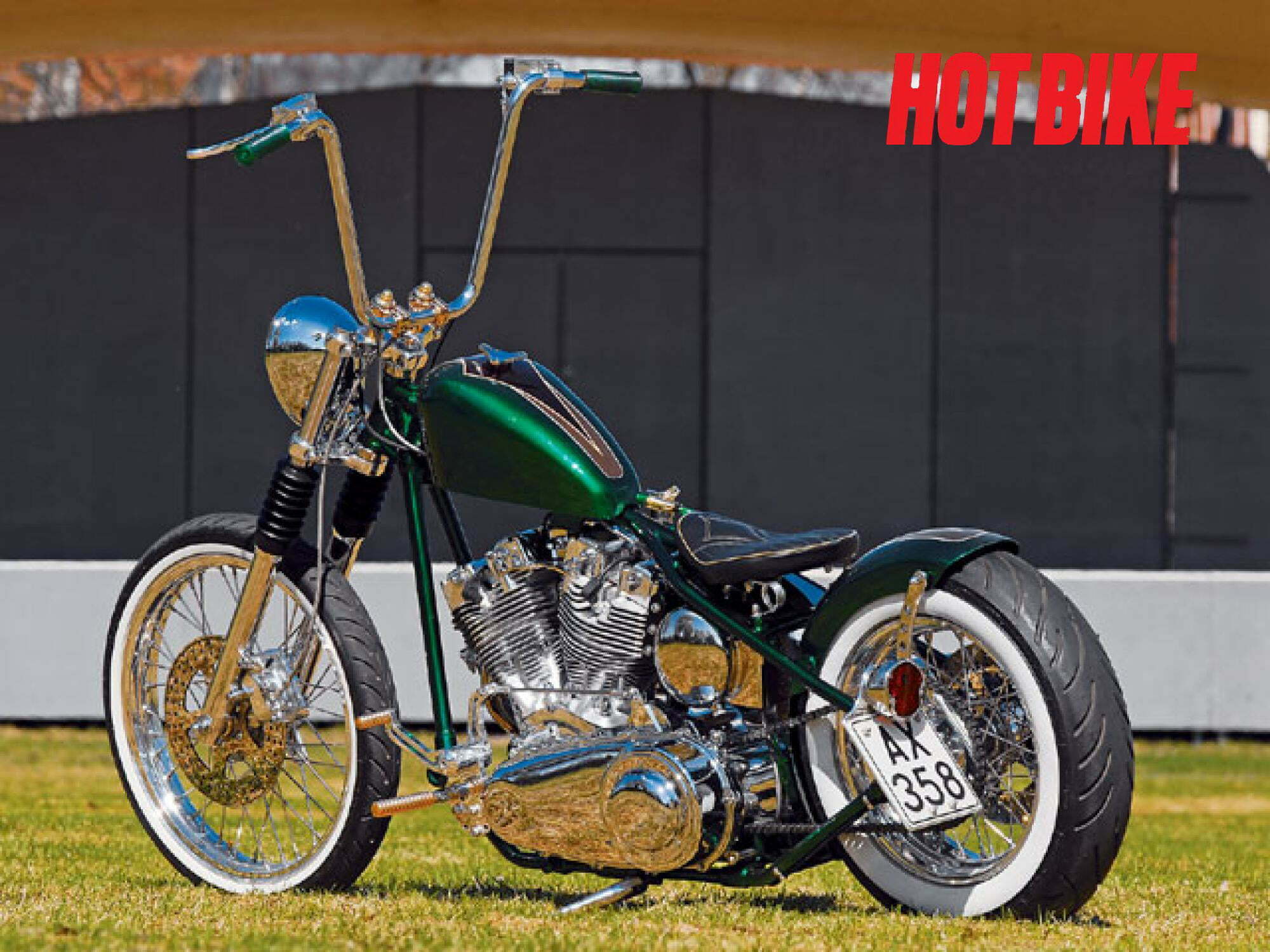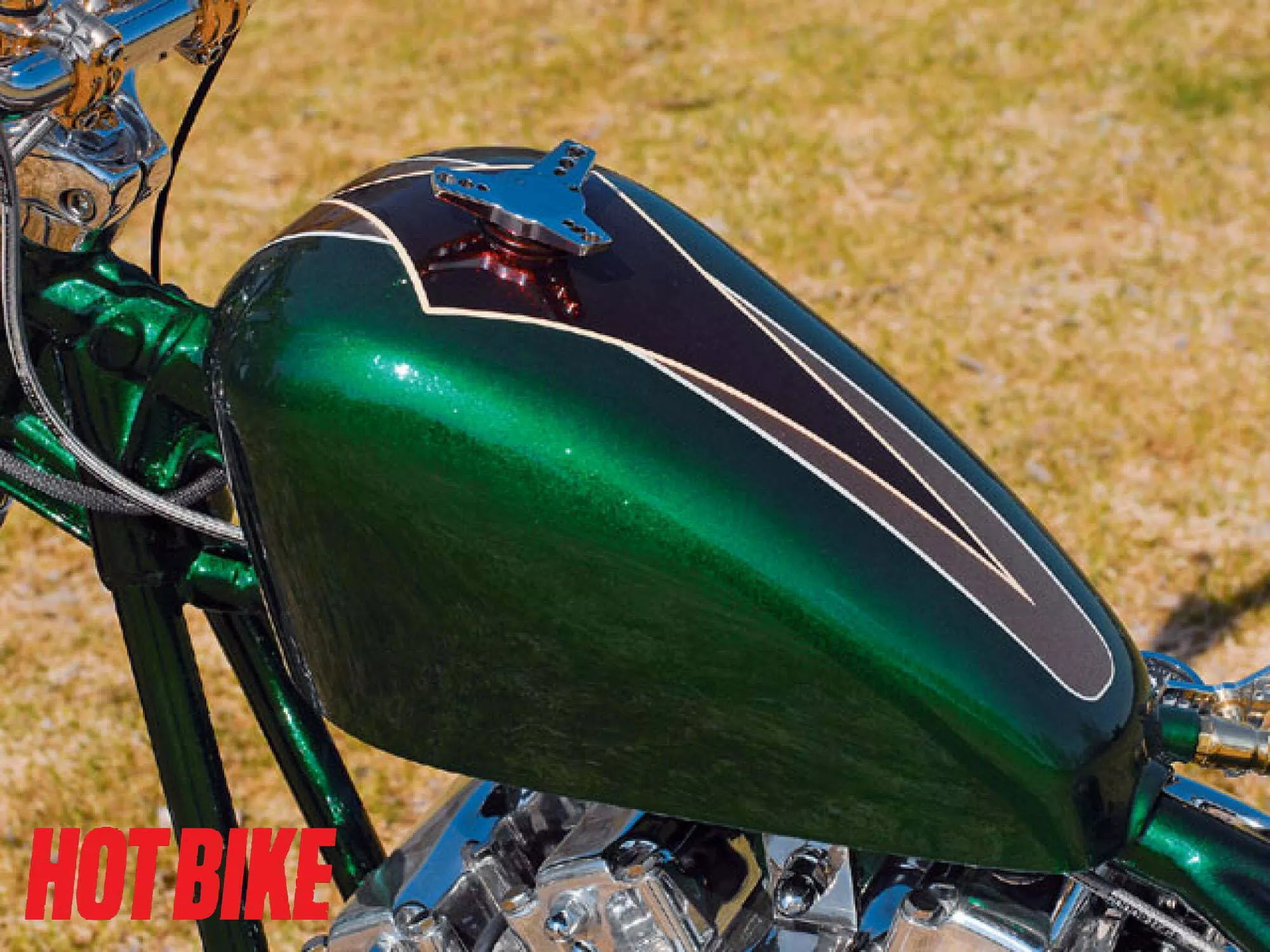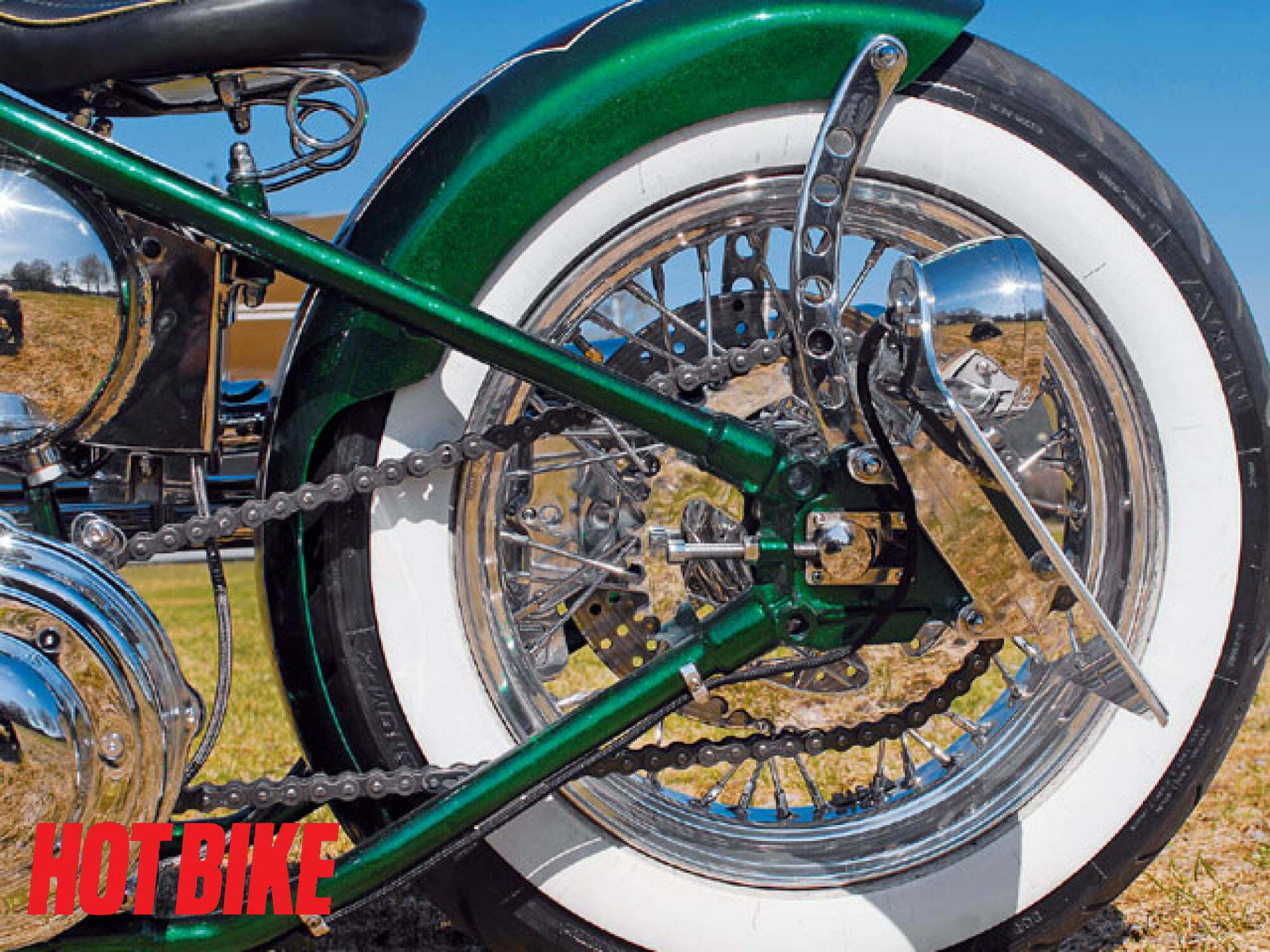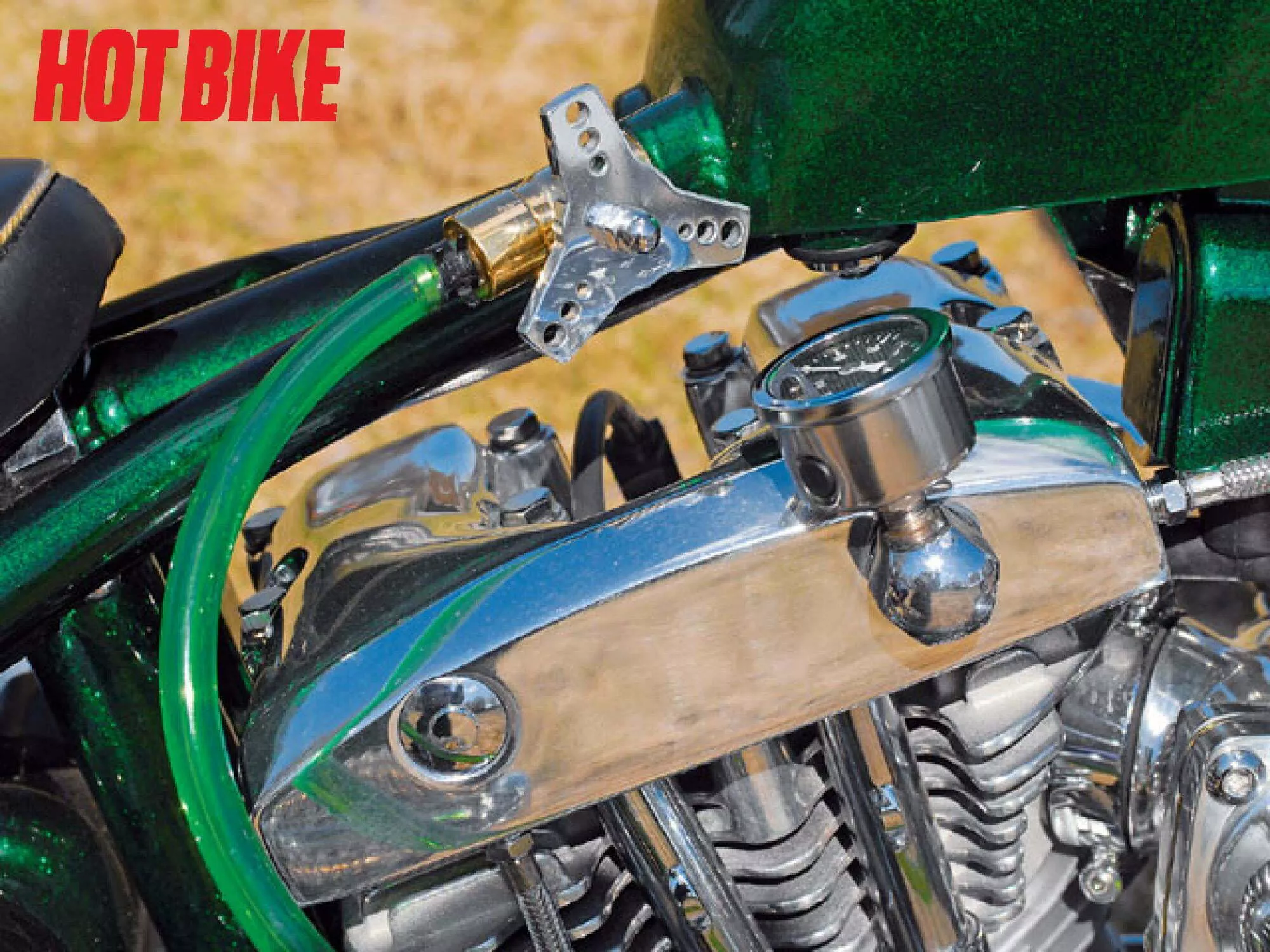 Inspiration for new bike projects comes in many different forms. Take, for example, when Mika Kysti from Finland wanted to cool off with something chocolate/vanilla-flavored from the ice cream kiosk. The ice cream came in a flashy wrapper in green metallic and deep brown, augmented by golden pinstriping.
This wrapper was perfect for a paintjob. All Mika needed to do was to build a bike to fit the color scheme.In the strange Finnish language, every name is more than just a name-everything really means something. If you'd translate the family names of the Finns into English, there would be people like Mr. Tall Mountain, Mrs. Strawberry Field, Miss Cold Lake or simply Mr. Bear. It's sort of like the Native Americans. (One of my old drinking buddies was actually a Mr. Small Grassy Island, plus I once stole a girl from a Mr. Second Floor Living Room!) It's the same thing with the cities as well.
We arrived in Hmeenlinna, which translates into something like "the country's castle." Sure enough, right outside the beautiful old city with 19th-century wooden houses and narrow cobblestone streets is a magnificent castle. That's where we arranged our meeting with Mika, who told us some more facts about Hmeenlinna. "Like most Finnish cities," he said, "we have a lot of bike clubs." Mika added, "But it's usually not bikes only. There are plenty of "mixed" clubs where a lot of the members are into hot rods, muscle cars, and '50s lead sleds. My own club is called the Keinukallion Talli MC after the area where the clubhouse is. In English it would translate as Swing Hill MC."
Like most Finnish young hooligans (Mika is only 40), he's not that picky when it comes to cars versus bikes. As long as it's American, it doesn't matter whether it's made in Milwaukee or Detroit. Mika is the former owner of machinery like a '65 Buick Skylark and a '56 Chevy Bel Air Sport Coupe. It's no greaser junk either. It's been restored to mint condition by the owner himself. But the latest project was a very souped-up V-twin that he used more for strip than street, doing 11.5 seconds on the quarter mile.
"Big motors are insanely expensive," Mika said. "This bike is a stock 74-incher. I can't afford more than one bike, which means I want to be able to use it for the street."
The whole idea for the paintjob and the bike itself may have come from an ice cream wrapper (more specifically a Maximum Classic from the Valio factory), but a lot of the styling comes from the recently deceased Indian Larry. He's been on TV in Finland like in the rest of the civilized world, but not enough to satisfy the members of Swing Hill MC. The club has ordered Indian Larry DVDs on the Internet for inspiration during all those long, dark Nordic winter evenings. "My bronze footpegs and risers are meant as one of those typical Indian Larry touches," Mika said. "He was one hell of a cool dude. I have more or less tried to keep the whole bike in the typical Indian Larry style."
One of Mika's peculiarities is his deep-rooted aversion to chrome. You won't see much of it on his bikes. Polished aluminum and stainless steel are the order of the day. "I don't like the aging process of the chrome," Mika said. "It's really a quite delicate material. I'd rather keep the metal naked and polished, which means I have to do a hell of a lot of polishing to make it look fresh. But it's fine with me. I don't find it boring or tedious like some of my club buddies.
The Finnish bike-building laws are more strict than you may believe after seeing some of the wild machines that have been created in "the land of a thousand lakes." But the Modified Motorcycle Association of Finland (MMAF) is fighting like crazy to have some of the antiquated laws changed. The good news is that the politicians are listening, and they have more or less promised to pass some very chopper-friendly legislation as soon as possible. Mika keeps a keen eye on what's going on and already has some serious plans for his next project. He has decided that it will hit the streets in the spring of 2008. "Only one winter won't be enough to put together the machine I have in mind," Mika said. "Plus, in a couple of years, I'm convinced Finland will have a whole new bike-building legislation. OK, now I have built a short bobber-type Harley and I'm totally happy with how it turned out. But my next bike will be long.
See more features we like here.