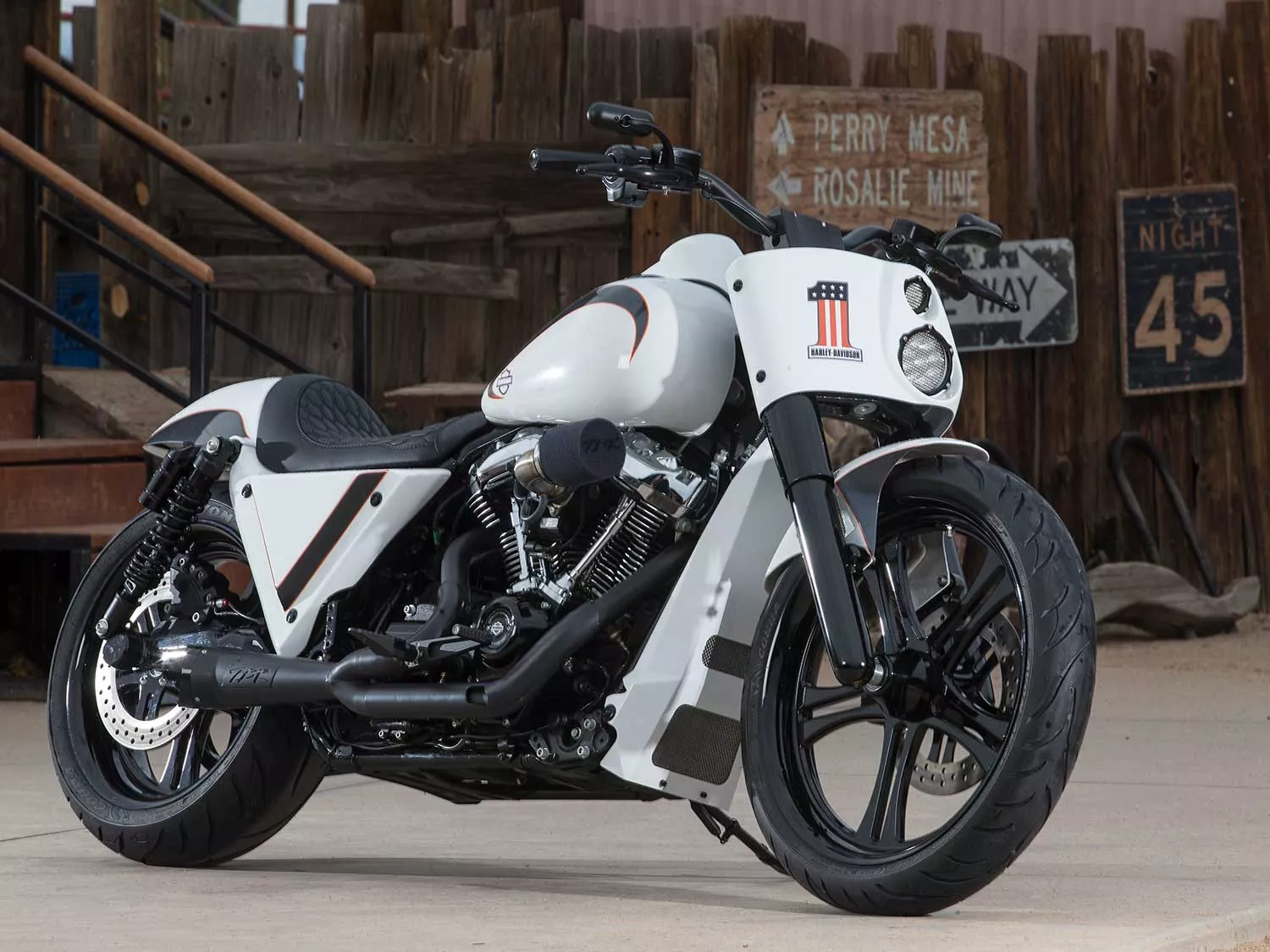 "Well, I am an old AMA roadracer who still loves a twisty road! And when I saw the Epic Moto Co. designs Chris Eder has out, I brought it to the attention of a client who was wanting to build a totally different type of custom build." This is how Matt Frick and Fullmoon Customs started what would become his 2018 Geico Hot Bike Tour entry. It rolled fat as a 2017 Road King but since it left the showroom it has trimmed down from 882 pounds to a fighting weight of 660 pounds. That's because while you can take the racer off the track, you can't take the track out of the racer. Once you've got the high-performance bug, it doesn't go away. Just as you'd expect, the upgraded handling is exactly what pulls Matt to it most: "It really brings me back to my old roadracing days!"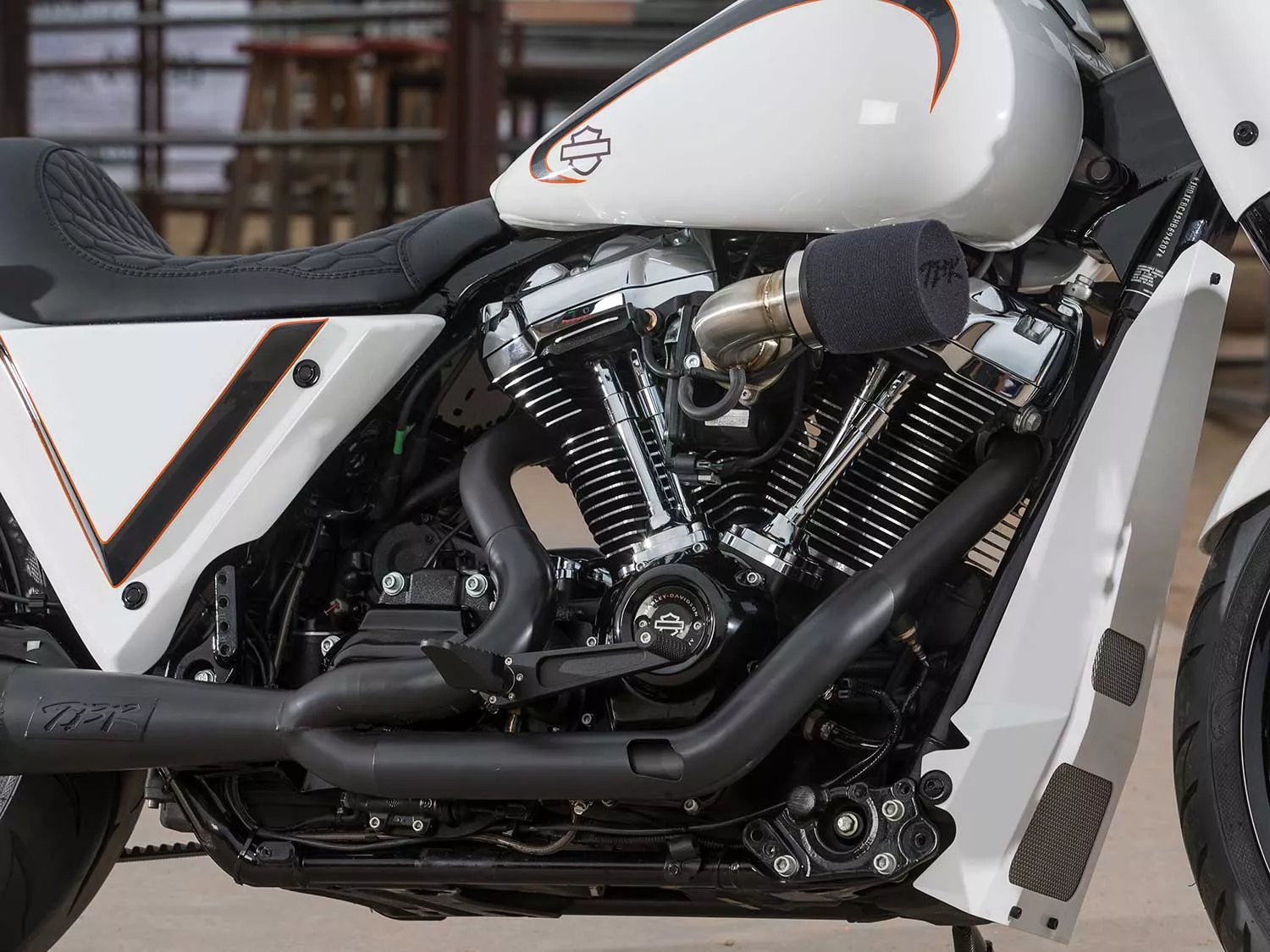 What's the coolest aspect of the motorcycle and why?
The fact that you take a stock Road King and strip it down and reduce its weight from 882 pounds down to 660 pounds. It really changes the overall performance of the bike and really makes it come alive!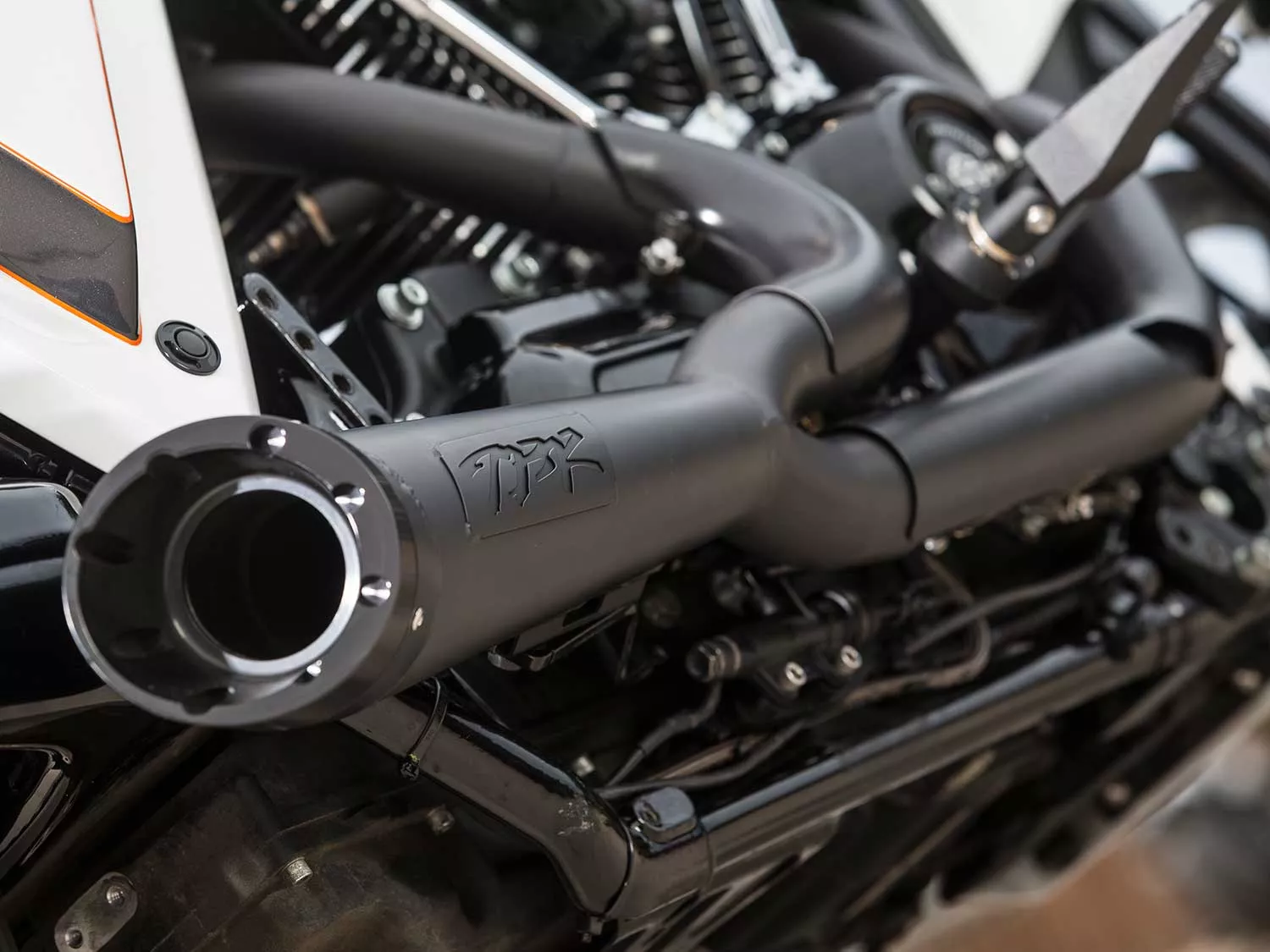 Is there anything you'd do different on this bike if you did it again?
I would change the nacelle to a more classic café-style racer look to give it a true old-school racing feeling.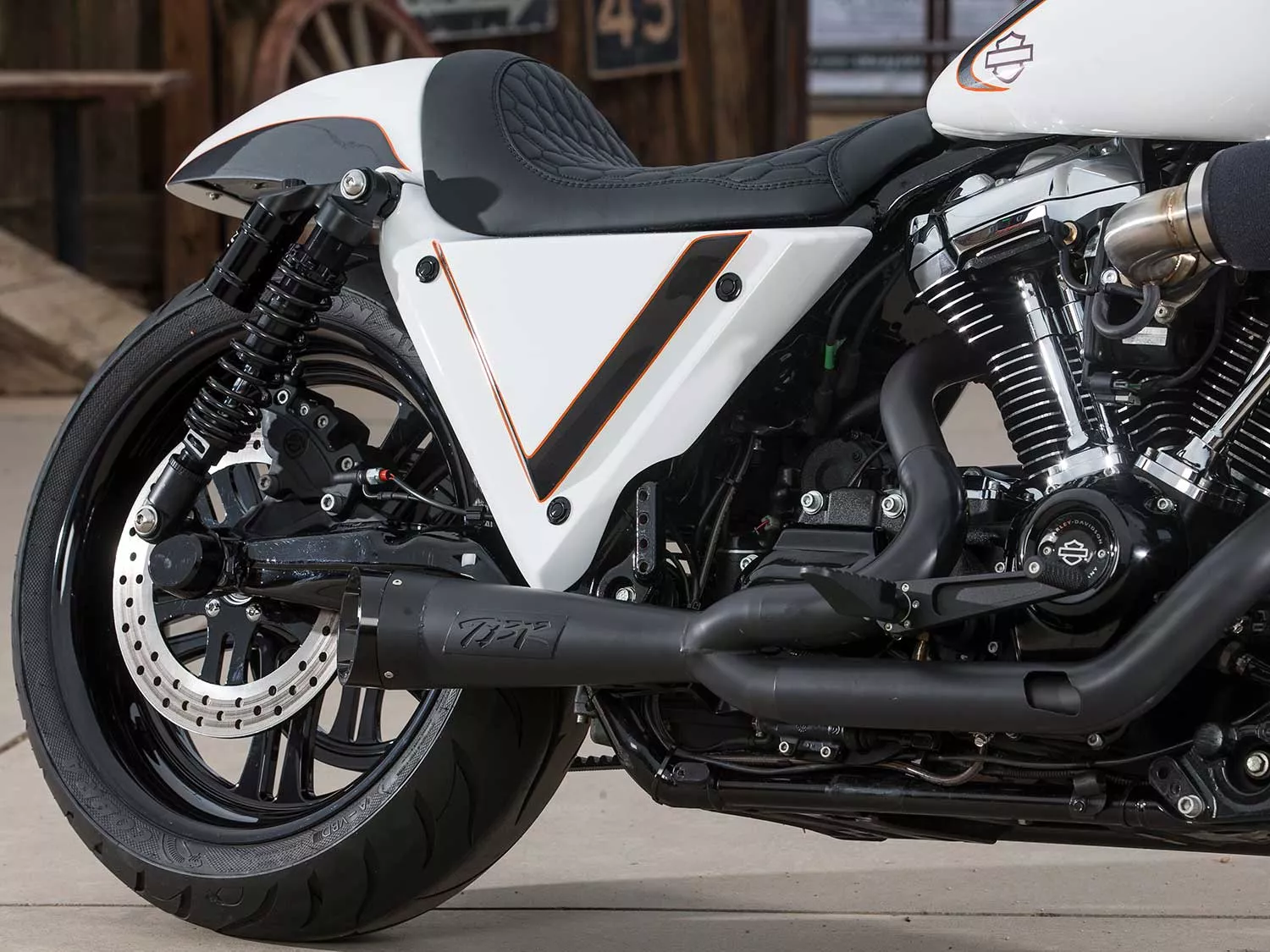 How did you first come to be involved with Hot Bike magazine and the tour?
Well, honestly, I had been talking to Epic Moto Co. founder and owner Chris Eder and I saw that he was an invited builder and asked him what he was taking out for the tour, and he said he wasn't sure. So I offered to ship this build out so he could ride it on the tour. Chris answered, "Why don't you just come out to the tour and ride too." I was totally caught off guard by that, and once I checked it all out, I told him I would be glad to drive out and bring the bike out for him to ride on the tour. Well, once I got out there, Chris had something come up that was out of his control and he couldn't make it. So I became the guy with the bike I built, that took his place. Totally unexpected, but honored to be a part of the 2018 Geico Hot Bike Tour.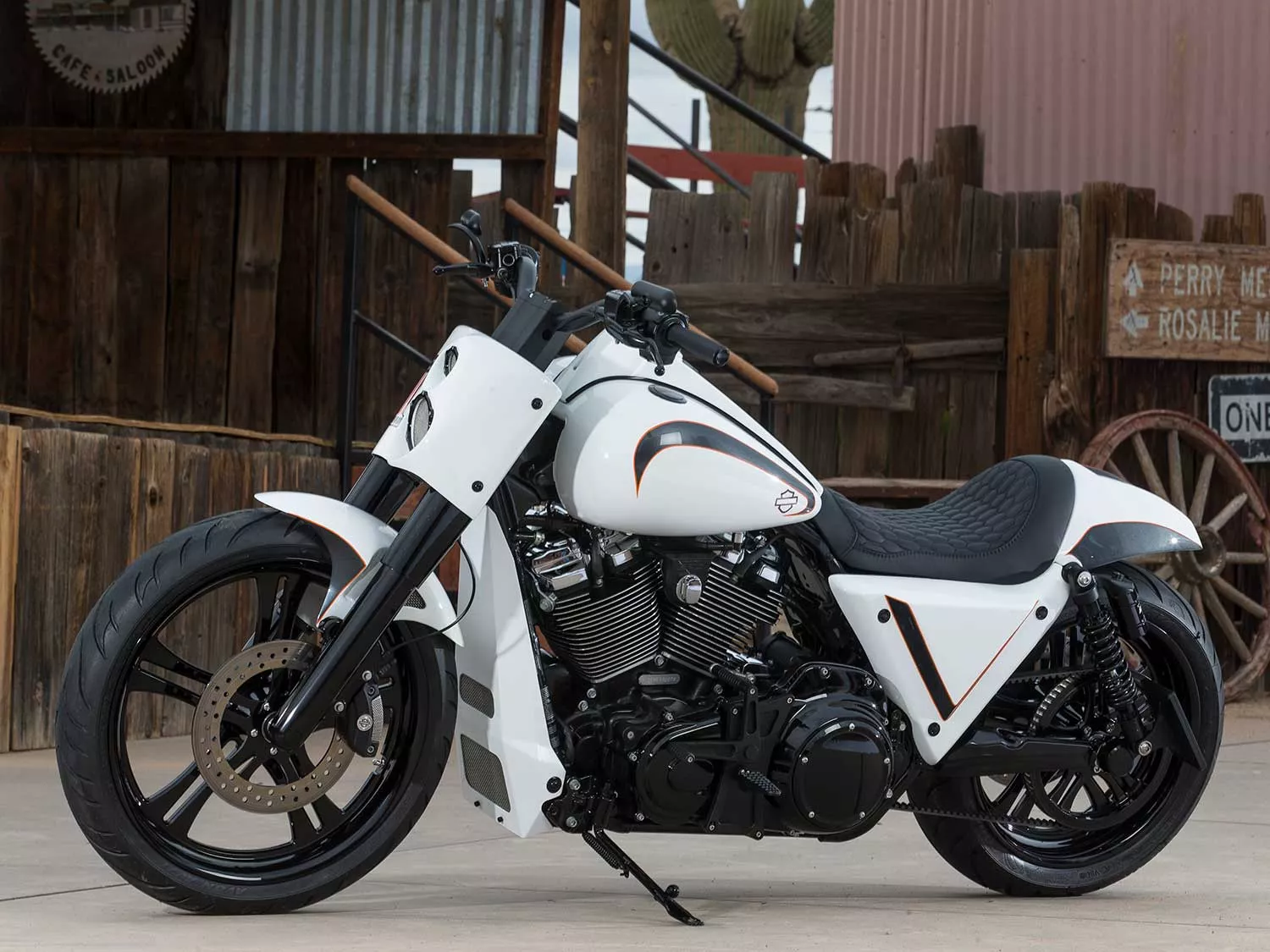 How did you get started in riding motorcycles?
Well, growing up I used to love riding three- and four-wheelers and dirt bikes. Once I turned 18, I bought my first streetbike and I was hooked. Then after getting hit by a car two months after getting my first streetbike, I realized how much I enjoyed it, I decide to keep riding, but I decided to try out roadracing and had a pretty amazing time doing it. As my kids started getting older, I retired and started riding and building custom Harley-Davidson motorcycles in my garage. Thus the reason why I am now 45 and still ride!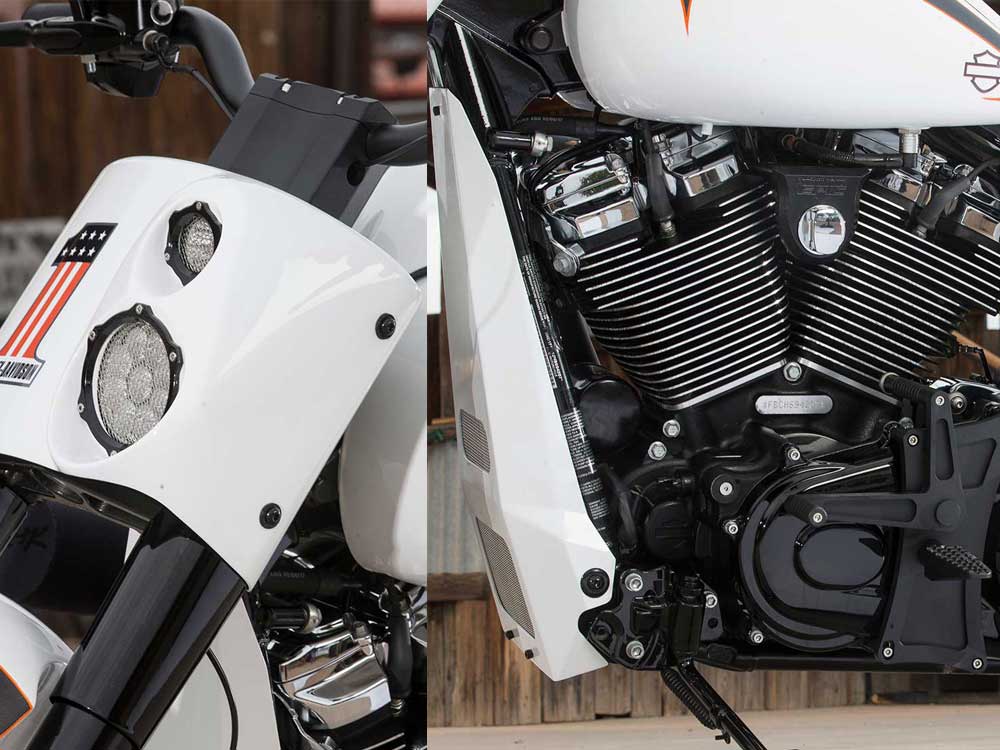 Spec Sheet
| | |
| --- | --- |
| General | |
| Owner | Michael Secoy |
| Shop | Fullmoon Customs LLC |
| Shop Phone | (740) 819-3433 |
| Website | [email protected] |
| Year/Make/Model | 2017/Harley-Davidson/Road King |
| Build Time | 28 days |
| Engine | |
| Year/Type/Size | 2017/H-D/Milwaukee-Eight 107ci |
| Builder | Matt Frick |
| Cases | H-D |
| Cylinders | H-D |
| Heads | H-D |
| Rocker Boxes | H-D |
| Cams | H-D |
| Throttle Body | H-D |
| Exhaust | Two Brothers Racing 2-into-1 |
| Air Cleaner | Two Brothers Racing Moto intake |
| Transmission | |
| Year/Type | 2017/H-D |
| Gears | 6-speed |
| Clutch | H-D |
| Primary Drive | H-D |
| Frame | |
| Year/Type | 2017/H-D |
| Rake/Stretch | Stock / N/A |
| Suspension | |
| Front End | H-D |
| Length Stock | Stock |
| Triple Trees | H-D |
| Swingarm | H-D |
| Shocks | Epic Moto Co. |
| Wheels, Tires, and Brakes | |
| Front | |
| Builder/Size | SMT Machining Fullmoon Customs Exclusive/21-in. |
| Tire/Size | 120/70-21 |
| Calipers | H-D |
| Rotors | SMT Machining Fullmoon Customs Exclusive |
| Rear | |
| Builder/Size | SMT Machining Fullmoon Customs Exclusive/18-in. |
| Tire/Size | 180/55-18 |
| Caliper | H-D |
| Rotor | SMT Machining Fullmoon Customs Exclusive |
| Pulley | SMT Machining Fullmoon Customs Exclusive |
| Finish/Paint | |
| Colors | R & M Paint (Designer White, Graphite Grey, and one shot of stripping orange) |
| Paint/Graphics | Mark Burkett & Frank Moore |
| Plating/Polishing | N/A |
| Powdercoating | Powder Keg Powder Coating & Central Ohio Powdercoating |
| Accessories | |
| Front Fender | Front Fender |
| Rear Fender | Epic Moto Co. |
| Gas Tank | H-D |
| Dash | Epic Moto Co. |
| Gauges | H-D |
| Handlebars | Epic Moto Co. |
| Grips | Arlen Ness |
| Mirrors | Arlen Ness |
| Hand Controls | H-D |
| Foot Controls | Epic Moto Co. |
| Headlight | Epic Moto Co. |
| Taillight | Custom Dynamics |
| Turn Signals | Custom Dynamics |
| License Mount | Epic Moto Co. |
| Seat | Hix Designs |