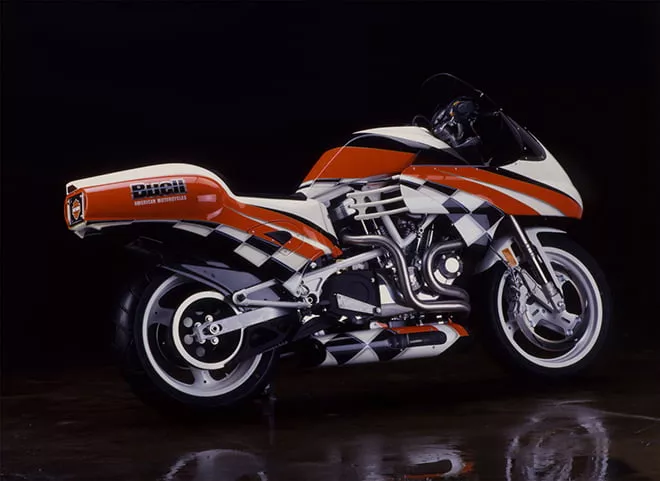 This article was originally published in the April-May 1998 issue of Cycle World's Big Twin magazine.
Beauty, as they say, is in the eye of the beholder. And if the person doing the beholding happens to be a mechanical engineer, beauty may well be found in the way the object works rather than in the way it looks.
To a large extent, that describes Erik Buell and the H-D Sportster-powered motorcycles he builds under his name. Buell the motorcycle-company owner (in partnership with The Motor Company) is an engineer's engineer, a man who dreams and designs things that work wonderfully first, and are wonderfully stylish second. As a result, Buell motorcycles tend to have a certain look that many gearheads find appealing but that often falls a bit short in the eyes of those who value form over function.
Bob Dron set out to change all that with a visually striking machine he calls the Dron Mk. I Buell concept bike.
A couple of years ago, Dron—owner of Oakland Harley-Davidson and the Bob Dron Design Center, both in Oakland, California—discussed some of his styling ideas with Erik Buell. Buell was impressed, enough so to send Dron a new S1 Lightning as a testbed, and to give him a free hand to come up with something new and fresh.
With that mission in mind, Dron drew upon the talents of Steve Moal, owner of Moal's Automotive Body and Dron's partner in a few other motorcycle and hot-rod projects. Their first criterion was that the base motorcycle had to remain untouched: no frame cutting, no raking, no chopping, and for God's sake, no lowering. And because this was to be solely an exercise in styling, the engine was left stock.
---
---
"This was a very difficult job in terms of styling," says the effusive Moal, "because how do you create a sportbike without making it look like a Japanese motorcycle and still put a little different twist on it? All those oriental bikes have been done beautifully, by the way, but we tried not to be overly influenced by them. We also wanted our Buell to look aggressive because it truly is an aggressive motorcycle."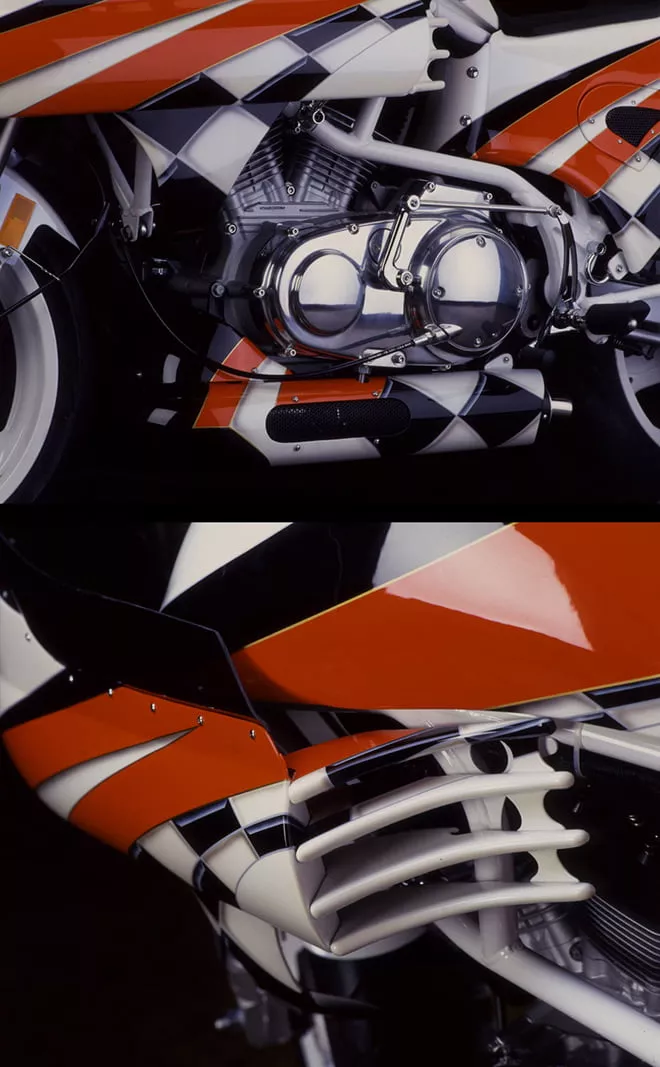 If a few long-time roadrace fans see something vaguely familiar in the Mk. I's styling, blame it on Irishman Jimmy Kilroy, Moal's chief fabricator. Kilroy has a soft spot in his heart for the dustbin-type full fairings used on some British roadrace bikes of the post-war era, and that influence is apparent on the Mk. I. Look closely, especially where the windshield meets metal, and you'll see some of those classic Anglo-Saxon lines at work. The wind­shield itself is a three-piece design intended to break up the frontal area and prevent a massive appearance.
Throughout the entire process of creating the bodywork, there never were any sketches of what the end result should look like; Moal and Kilroy just started bending aluminum around the bike, adding onto what they had created just an hour or two before. "Once you start building this stuff," says Moal, "the next thing to be done is obvious."
What became more and more obvious to the design team was that they needed to give the blocky Buell a longer, sleeker profile. "The Buell has sort of a dirtbike look," says Moal, "and it looks like it has a much higher center of gravity than it actually does. Be­sides that, it's a short motorcycle. So, we tried to bring all of that into some sort of visual balance and give it a pleasing look. That was a tough job, probably tougher than with any bike we've done before."
One of the more dramatic aspects of the bodywork is the Ferrari Testarossa-like fin treatment amidships. Although the fins look entirely cosmetic, they're actually a means by which to anchor the fairing to the bike while providing a more aerodynamic look.
---
---
Moal is equally proud of the tiny gills up front, behind the wheel. They're not just flat pieces; they're teardrop-shaped in their cross-section, much like a shark fin, and they exist to fill the gap between the wheel and the motor. "When we finished the front of the body, the thing was looking kind of straight and sawed off on the bottom," says Moal, "so we put those little fish gills in there. I think they look really cool. But to appreciate them, you've almost got to feel them."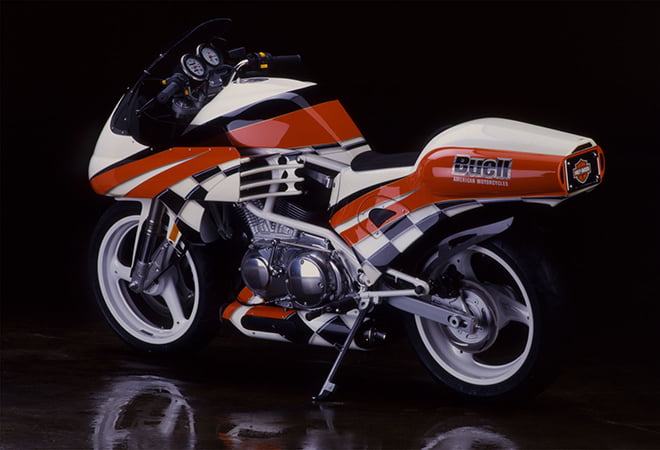 When fabricating the individual pieces for this bike, Moal and Kilroy maintained an almost fanatical reverence for continuity of line. That's why the front fender aligns with the fairing, which accentuates the gas tank, which flows down into the center cowling and rear fender. But the one design element that pulls everything together is the brilliant graphic treatment created and applied by master painter Steve Faraone. As you scrutinize the almost perfect alignment of the stripes and checkers, do so with the knowledge that Faraone never saw all the pieces assembled on the bike before he painted them. He merely laid them on the floor, eyeballed the alignment and started spraying.
Moal was blown away by Faraone's work. "I think the paint job is a knockout. When we first saw at it, we all said, 'Man, this guy did us some favors. He made our work look really good.' Faraone took our design to a higher level."
After the work was completed, the result was shown to the Buell people, who, for some inexplicable reason, had lost all interest in the project. So, Dron removed the Mk. I bodywork from the borrowed S1 and shipped the stock bike back to Buell. He then mounted those pieces on an S1 White Lightning from his inventory and put it on display at his dealership.
So, then, will Bob Dron ever make Mk. I kits available? Perhaps, if there's enough demand for them. But for now, this styling exercise remains a concept that exists merely to raise the ante of the customizing art.