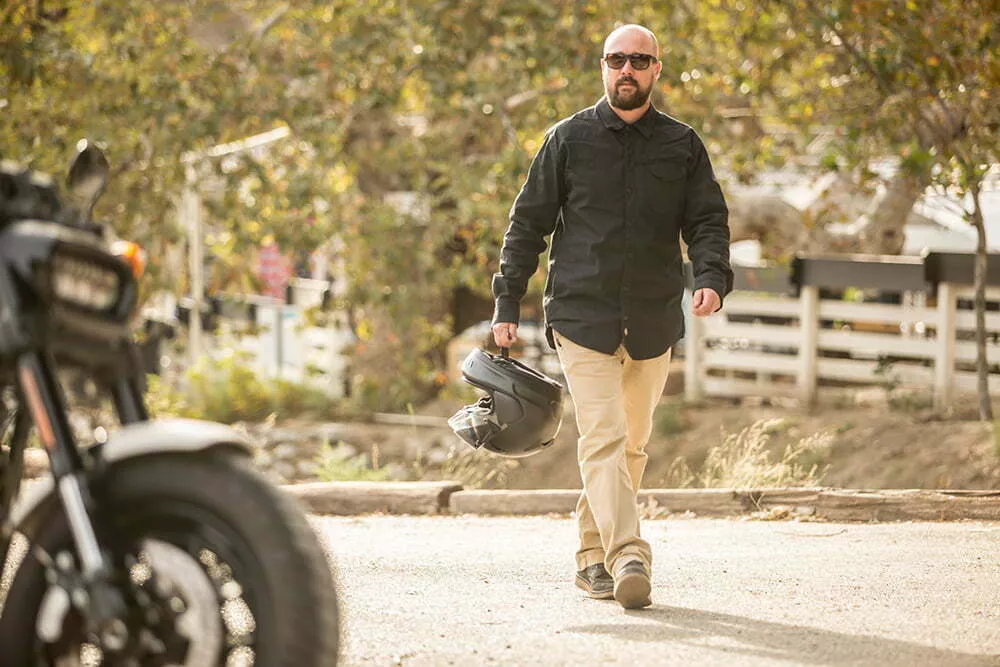 When I was teenager, I lived in my Dickies. They were pretty much the only pants I rocked. I dug the style, my mom dug the price—one of the few things we agreed on back then. Dickies material was comfortable after being properly broken in, and pliable enough to pop tre flips on my skateboard.
I wore them so much they reeked. But they were mine. They were a part of me. I know that sounds unspeakably lame, but they were trustworthy. I knew what I was gonna get, and it took the guesswork out of figuring out what the hell I was going to wear. Pretty much every other skater in my neighborhood rocked Dickies too.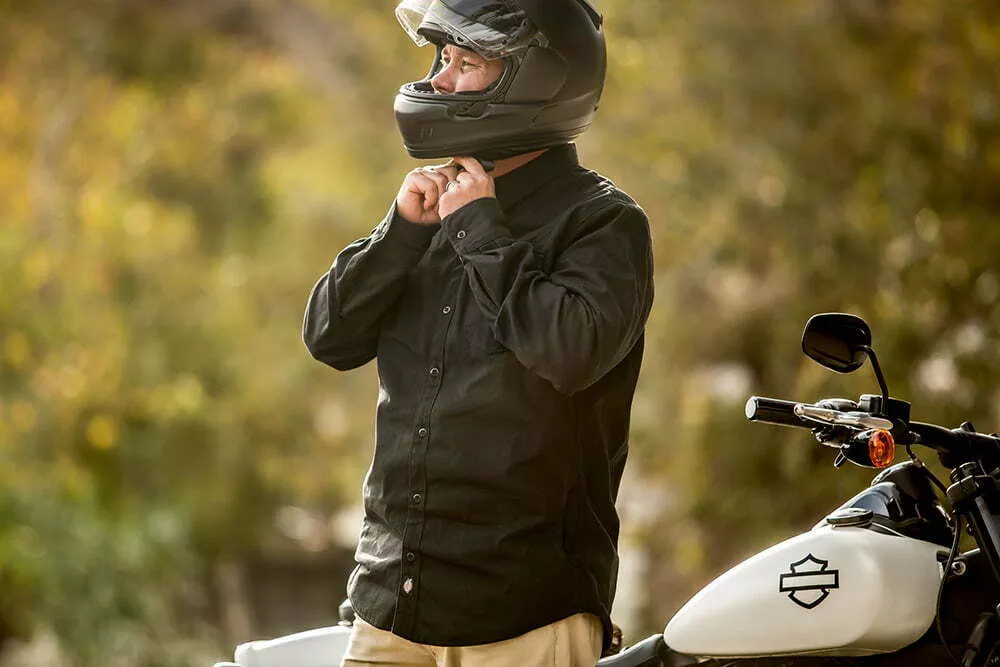 As I got older, I didn't wear Dickies as much. I'm not sure why. Trends changed, I changed, but like an old motorcycle, they were a part of my story. The fabric that had been such a part of my, uh, fabric, well that door temporarily closed. (Can you close a fabric door? Does that make sense?). Until the new Dickies Moto Work Wear Collection dropped this November. It's as if my younger self has come full circle with my current self.
There's something to be said about a brand that's been doing its thing for almost 100 years. Dickies has manufactured legit work wear since 1922, which if you think about it, American infrastructure was built with Dickies around the waists and over the shoulders of our hard-working men and women. To honor the Americana heritage of "exploring the open road," Dickies debuted its first Moto Work Wear Collection.
---
Related: Harley-Davidson's New Amazon Storefront
---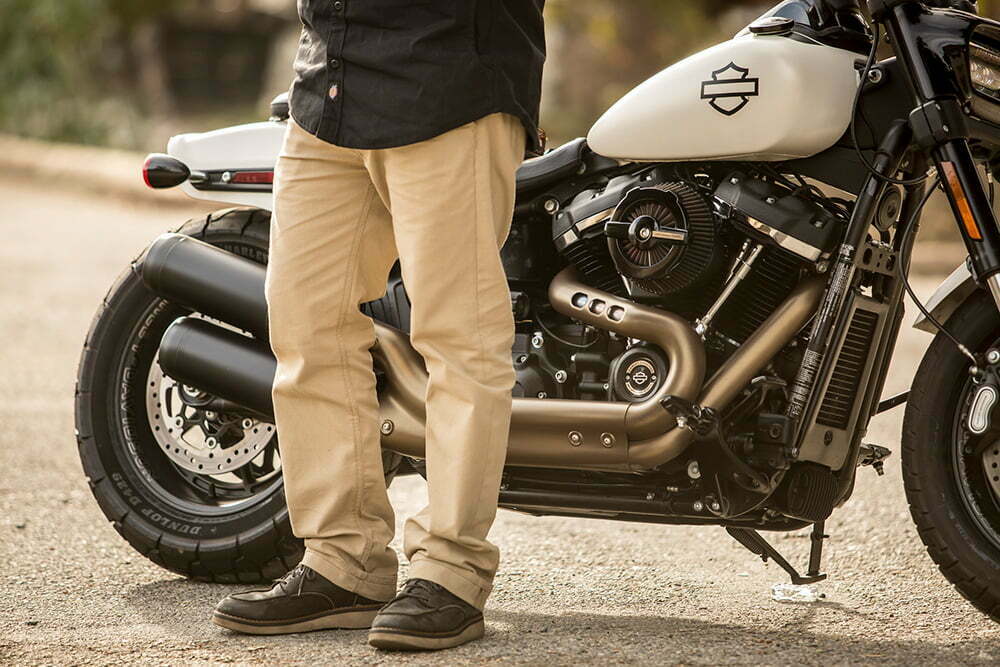 The Dickies Moto line introduces a proprietary fabric technology called Iron Cloth, which utilizes an abrasion-resistant technology while preserving the aesthetics of a common textile. Basically, Iron Cloth embodies three things: strength, mobility, and comfort. It'll protect your bits and pieces better than the traditional Dickies twill. Think of the Moto lineup as more of an in-between choice from the expensive Kevlar-lined selvedge denim and traditional Levi's 501s or comparable everyday jeans. Dickies Moto Work Wear lives in the middle. And that's a good place to be for most consumers who don't want to commit to $300 pants but are still looking for more protection than that of a pair of jeans. This unique fabric provides additional protection and features a high cotton-content percentage so it retains the moisture-wicking properties of cotton, but no treatments to enhance moisture repelling have been added. I haven't worn the stuff in rain yet. But I don't really care too much about that. That's what rain gear is for. And SoCal doesn't get too much rain.
All in all, the Dickies Moto line pants ($79) are stiff from the get-go. If I were to eat pavement, I feel I'd fair better than in a pair of jeans. The Moto pants are also stylish enough to grab a bite with friends even when I'm not riding. They are tapered (or "contoured" as Dickies puts it) just a tad more than traditional Dickies, but nothing too skinny. After all, I like being able to move around and these work well. The only gripe is that the side pockets aren't cut very deep. When I was grasshoppered on a bike, a few items fell out of the pockets onto the ground (luckily not while riding). Other than that, they're great.
---
Related: Icon 1000 MH1000 Riding Jeans Review
---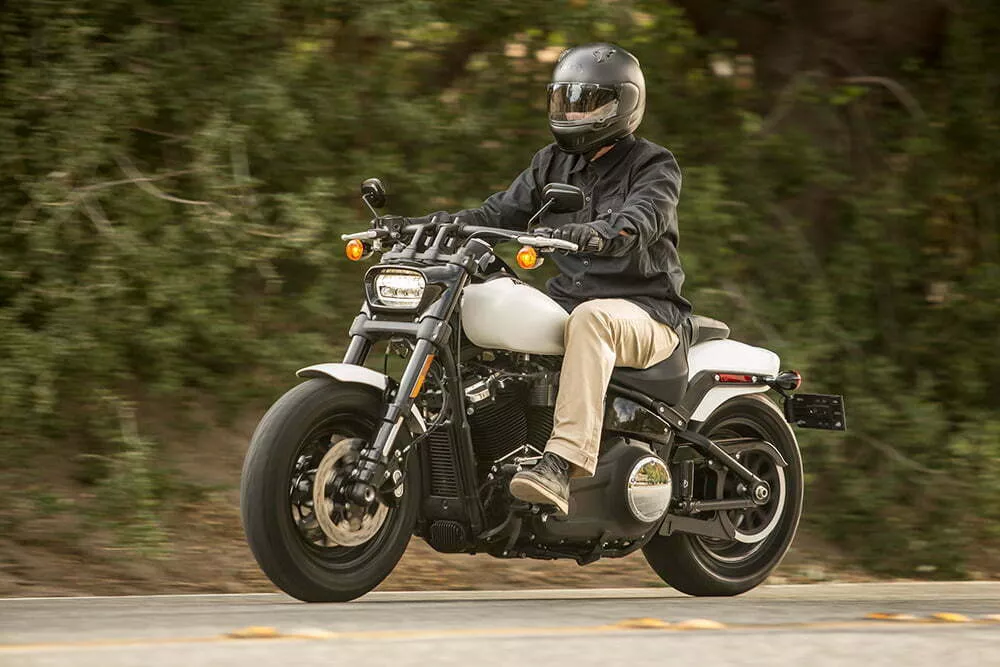 The Dickies riding shirt ($89) is also cut to a tailored fit very well. Made from the same Iron Cloth material, it has a button-up look, which I dug, and the tapered bottom fit nicely when I'm on the bike. However, the collar button is pretty tricky to get fastened. Maybe it's the stiff material, which Dickies claims will soften within two weeks of wear, but if you're trying to button it with gloves on… Forget about it. The shirt also comes with pockets at the waist. Total win here since they don't look like pockets. They've been engineered to work with the clean and simplistic look of the shirt. And they're functional—haven't lost any items during a ride yet!
All in all, I'm stoked on the new Dickies Moto Work Wear. It feels good to be clad in Dickies garb once again. My pimply-faced self from yesteryear would be proud of my current, uncool old-dad self too.