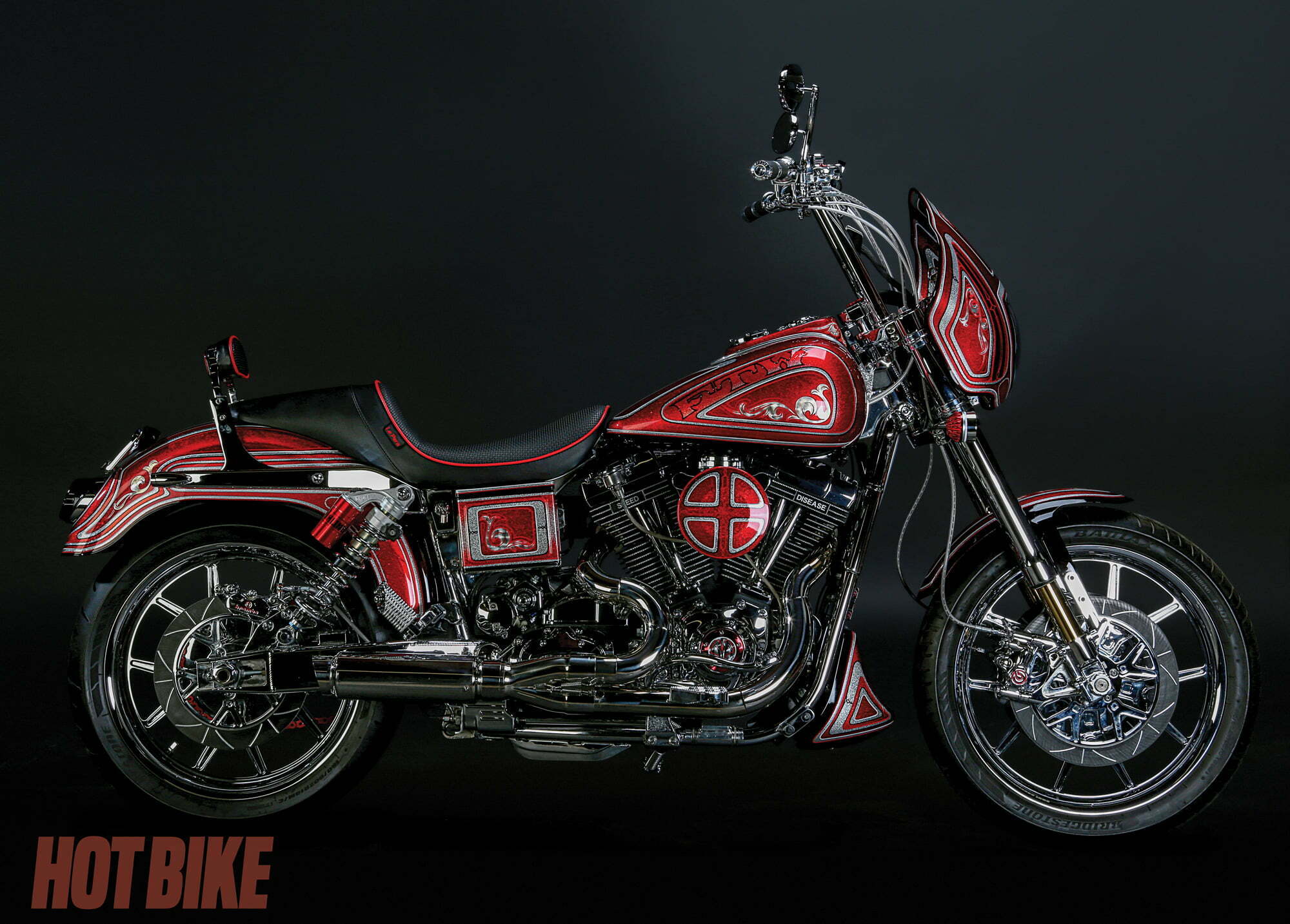 Nothing says success like excess. What happens when a build is taken to the nth degree? What happens when the budget and time are removed as factors and the throttle is turned all the way up? That's essentially what happened with Johnny Klein's 2003 Harley-Davidson Dyna called "El Chromeo." Believe it or not, you've seen this bike in the pages of Hot Bike before. But Johnny isn't able to settle as second best, and as the scene has grown and the bikes have gotten more and crazier, there was no way he was going to fade off into the pages of Hot Bike history. Shortly after the shoot, the bike was taken down to its core and started from scratch, this time with no expense spared. Here's the result.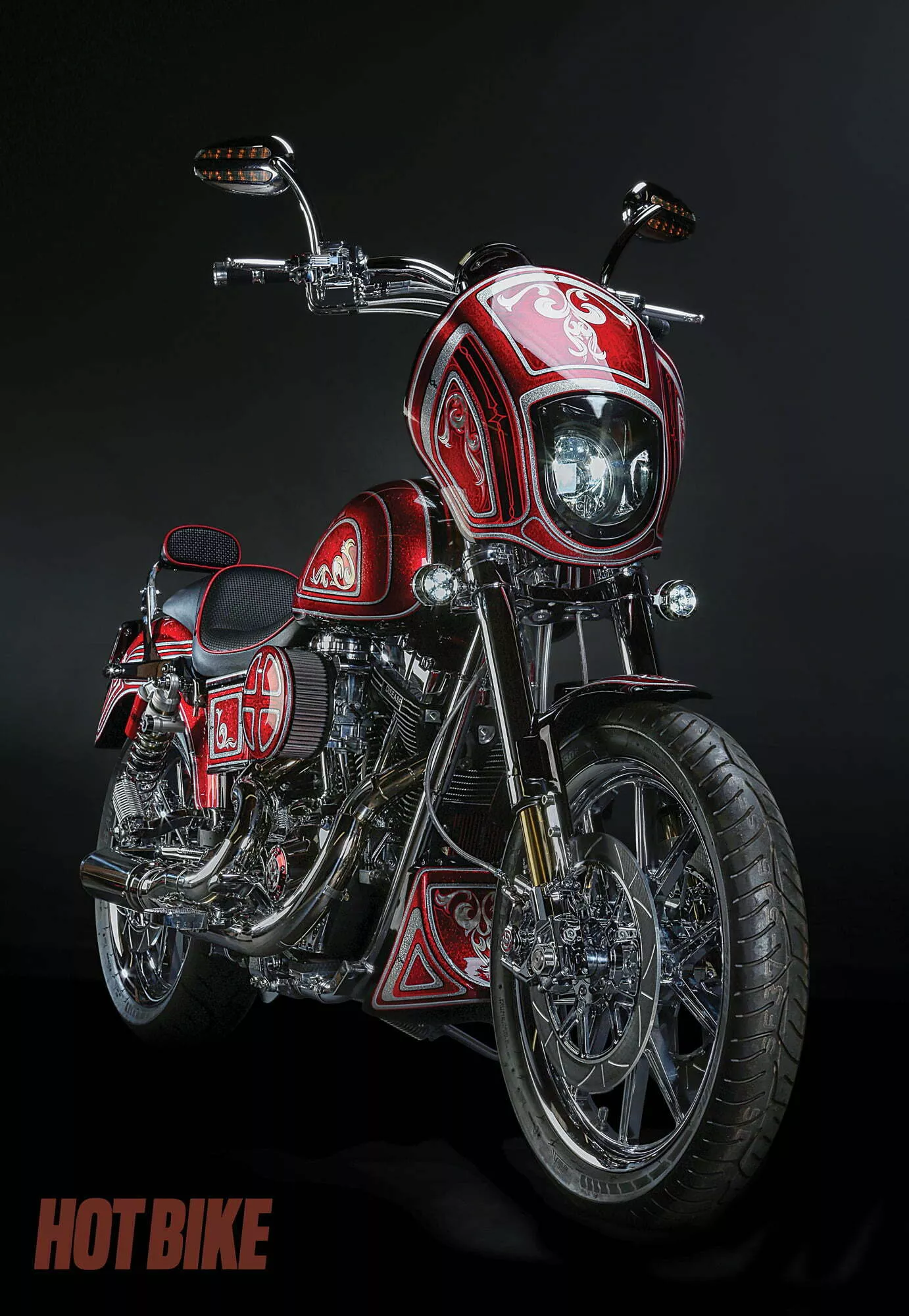 Hot Bike: What was the goal of this build?
San Diego Customs: I think the goal of this build was to take as long as we could then just a little bit longer to finish building a shiny bike with every possible performance upgrade that we could think of and spend as much money as we could.
Johnny Klein: After my last build that was also a Hot Bike feature in the November 2013 issue, I quickly felt it was not good enough. It was lacking in all areas as far as I was concerned, and I wanted more! I called a few people I knew and shopped around my motor, tranny, and a few other parts. Before I knew it I had sold every part except for my frame and wiring harness. With a blank canvas and a huge chunk of cash, I started what was to be a very long build process with Chip Kastelnik. This time we had a goal of putting together what I thought is the nicest-looking Dyna ever! Looks, performance, and—although so many things have been done before—I wanted originality. I don't like cookie-cutter bikes. I like most of my parts to be special order or fabrication only.
HB: Why so much chrome?
SDC: It's about Johnny's want of bling-bling and doing it so it all looks good and ties together when it's done.
JK: Chrome is my favorite color, at least when it comes to motorcycles. Women love it too, and nine times out of 10 if we are out and about and a girl wants a ride, she's going to pick the shiny red one with all the chrome.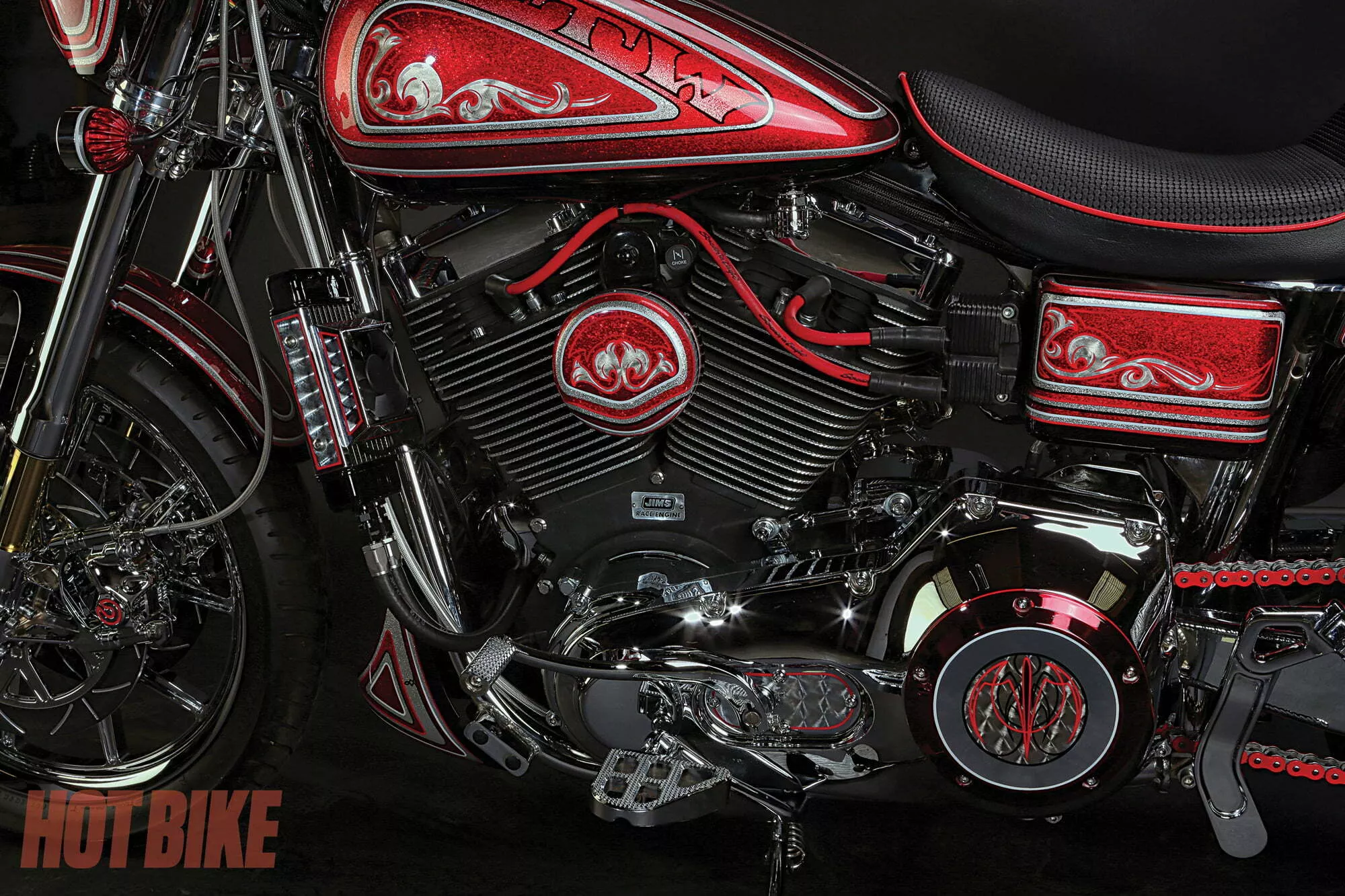 HB: Is it all about show with no go or what's done to the motor?
SDC: It's an all-go-and-who-cares-about-the-show kind of deal. It has a JIMS 135-inch with Dave Mackie trimmings, SDC/HPI high flow, 58mm CV Woods carb, and a custom SPF exhaust system. This thing hauls balls. The Hot Dog paint job adds about 10 horsepower too. When he gets to the show, the bike is clean, always.
JK: With a 135-inch JIMS Racing engine you can bet there is a lot of go. Especially this one. Dave Mackie Engineering has ported and polished the heads. T-Man racing has custom made me a manifold that allowed us to bolt up a polished Woods Performance Super King Carb that sucks air through a Horsepower Inc. air intake. All of that air is pushed out of a custom polished Burns Stainless stepped up header 2-into-1 exhaust that was fabricated by SPFabrication.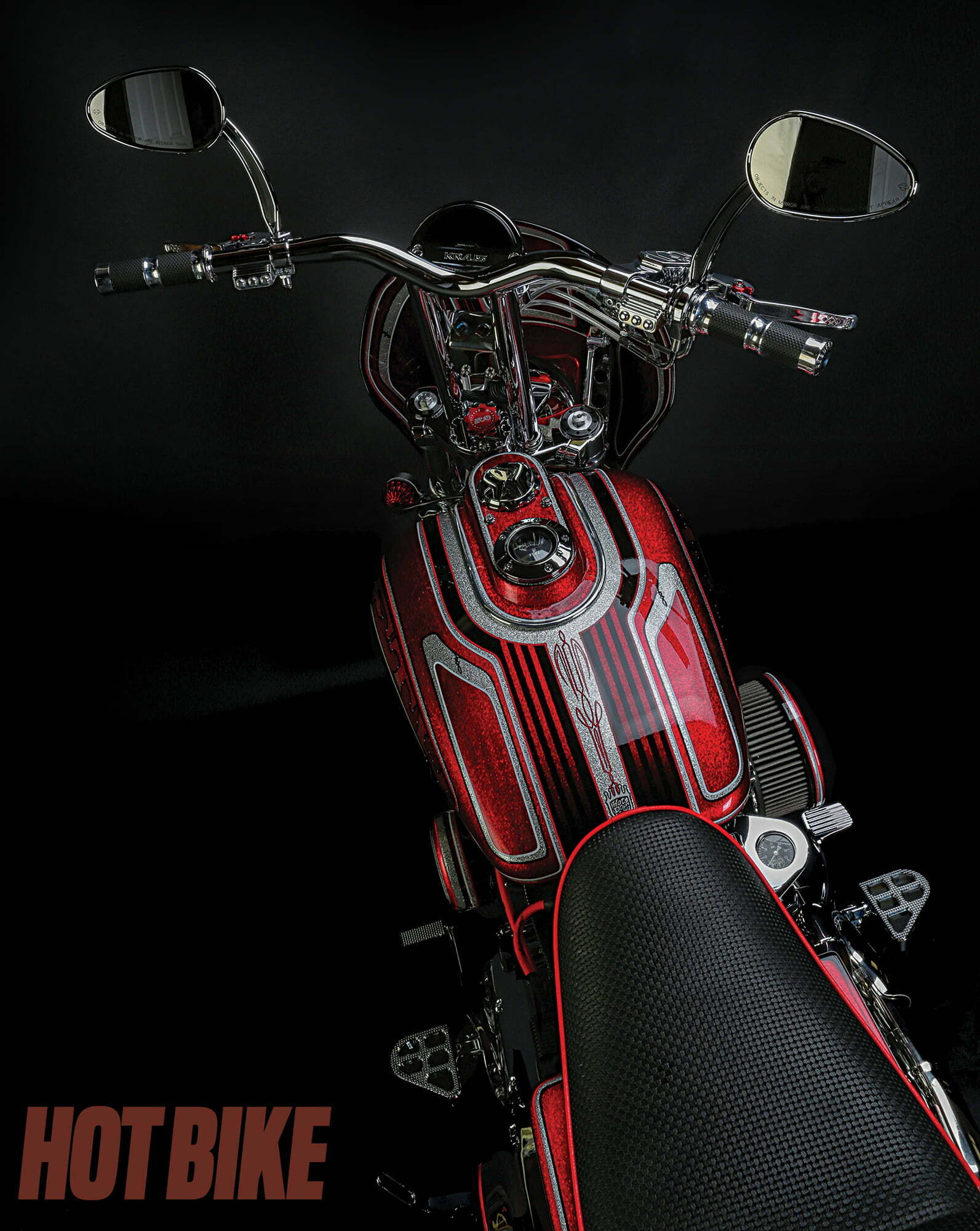 HB: What about the suspension?
SDC: The front end is a set up by SDC/Kraus/GPR/Öhlins and Brembo. It was quite a task to get all these components to interact properly together, and it took a lot of teamwork and communication between all of us to get it set up the way it needed to be, as it was all custom and never done before. Then it was chromed, which added a whole other level of problems and things to get done.
JK: Stock suspension sucks! I hate it! Stock from the factory, these bikes are not meant to go as fast as we push them, and they really don't handle all that well. They are not meant to be purpose-built bikes, but we make them that way. The best way to do that is to buy the best suspension, and for me, only Öhlins would do for such an extensive build. El Chromeo has an Öhlins inverted front end with Öhlins reservoir rear shocks. Also, Öhlins doesn't offer any of my suspension in chrome. I had to jump through hoops, risk ruining a very expense brand-new set of Öhlins front forks, and wait a long time in order to make this happen. In the end, I am super happy with the outcome, and I have yet to see another.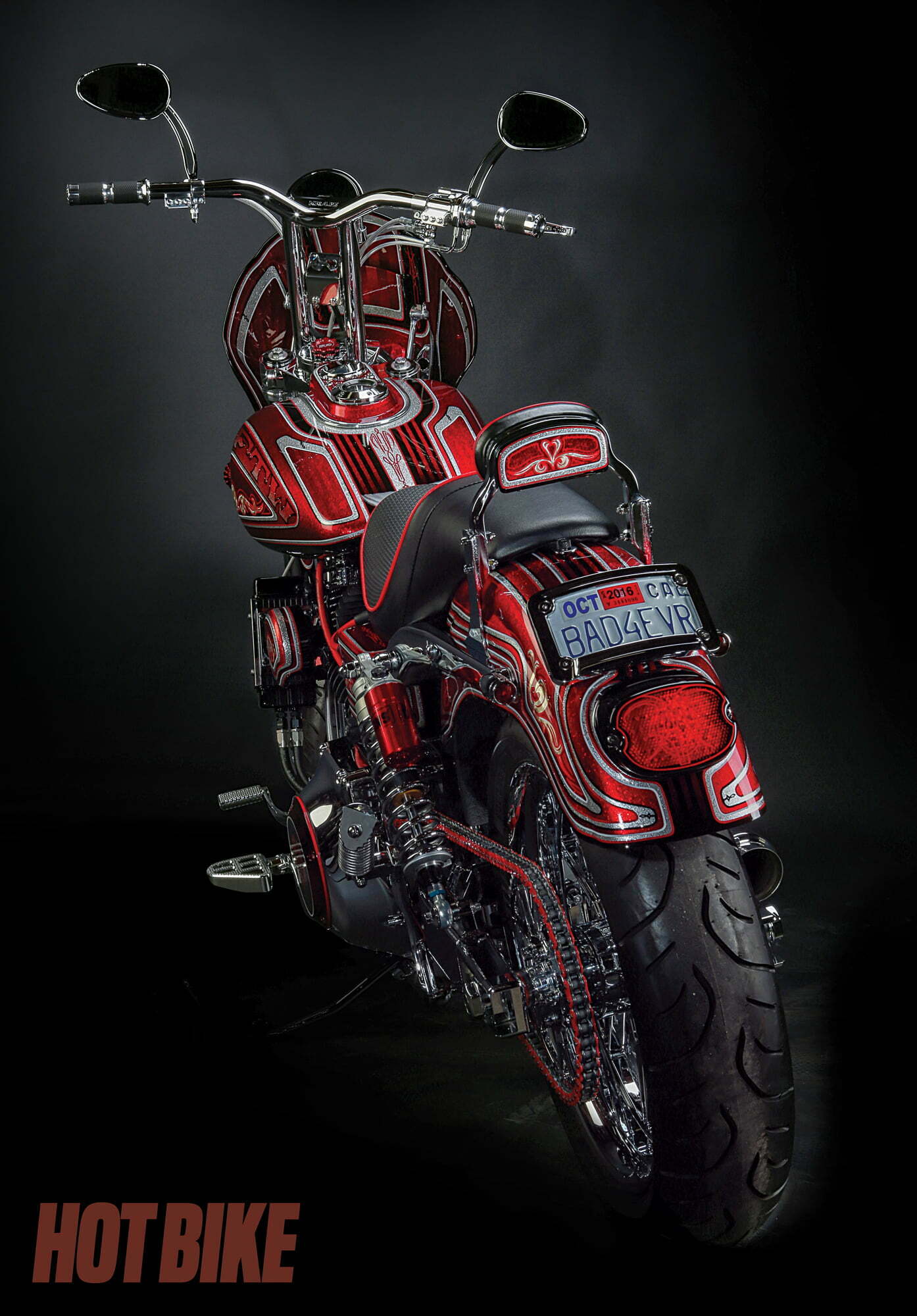 HB: Was anything left untouched?
SDC: Nope. We managed to touch, change, modify, replace, remove, plate, polish, chrome, and upgrade every piece on the bike. Although it was never in an accident or down, we had the frame straightened prior to chroming.
JK: Absolutely not. Although the frame was never crashed, I brought my frame to Doctor John's Motorcycle Frame Straightening in Anaheim, California. Stock Dyna frames—or any H-D frames—are put together within specs. A frame with the engine and strut mounts holes being slightly off can align your rear wheel and swingarm to be slightly off. I knew I was going to spend a lot of money chroming my frame. I wanted it to be a perfectly straight frame that was not only going to look amazing but also go fast without any issues even at stupid-high speeds. Literally every part has been improved some way or another or at least replaced.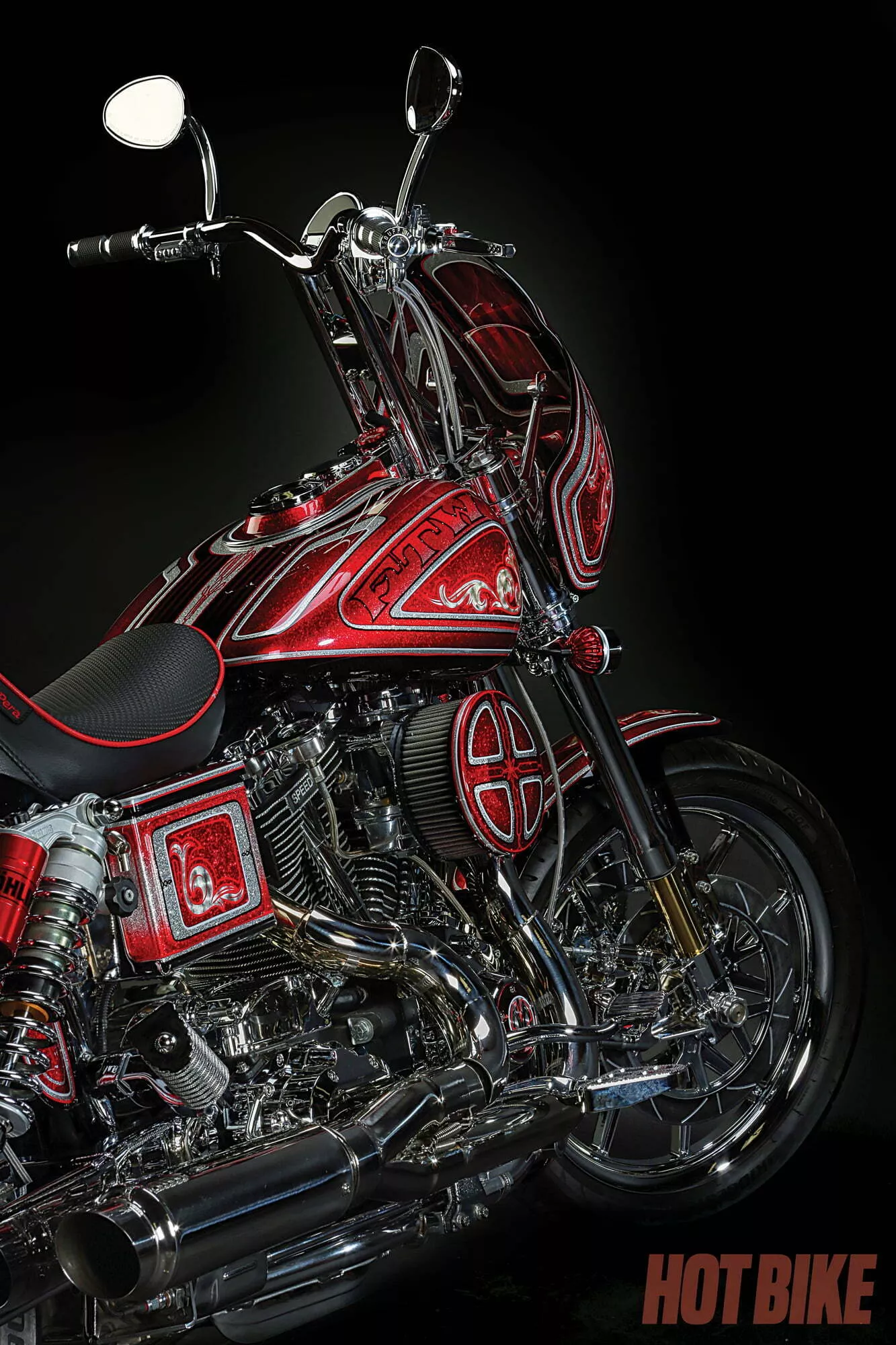 HB: Any special thank-yous?
SDC: No one can do these things by themselves, and we appreciate all the support from our team: Hot Bike magazine, Kraus Motor Co, JIMS USA, HorsePower Inc., Hot Dog, Scotty Grow, Steve SPF, Ted, Tatro, Tony Leitner, Loren Black, Will 81, Tara Para, Monte, Dave Mackie, Dave Trac, and the entire internet.
JK: I would like to thank everybody who helped this bike come to fruition. So many of you helped me but a special thanks to: Chip Kastelnik, Mikey, Fuzzy, Tony Leitner, Pete "Hot Dog" Finlan, Satya Kraus, Steve Hansen, Jesse Henderson, Ted Nelson, Samshow Spenser, Paul Kittrell, GPR Stabilizer, Sport Chrome, Will Schiavone, Keenan Tatro, and last but not least, I'd like to thank the members of The Dyna Page on Facebook for helping inspire me to do these amazing builds with San Diego Customs.
| Specifications | |
| --- | --- |
| General | |
| Owner | Johnny Klein |
| Shop | San Diego Customs |
| Shop Phone | (619) 234-6666 |
| Website | sandiegocustoms.com| |
| Year/Make/Model | 2003/Harley-Davidson/FXDX| |
| Fabrication | SPFabrication/1love |
| Build Time | An eternity and a day |
| Engine | |
| Type/Size | JIMS/135 in. | |
| Builder | JIMS USA |
| Cases | JIMS USA |
| Cylinders | JIMS USA| |
| Heads | JIMS USA (Dave Mackie modified) |
| Rocker Boxes | JIMS |
| Cams | JIMS |
| Cam Plate/Oil Pump | JIMS |
| Pistons | JIMS |
| Rods | JIMS |
| Flywheel | JIMS/Greg Thiessen |
| Lifters | JIMS |
| Manifold | H-D Screamin' Eagle (Woods modified)| |
| Air Cleaner | SDC/HPI 58mm CV with internal velocity stack| |
| Ignition | TwinTec |
| Exhaust | SPFabrication custom spec 2-into-1 |
| Transmission | JIMS FAT5 |
| Clutch | Evolution Stage V |
| Primary Drive | Tsubaki| |
| Frame | |
| Year/Type | 2003/H-D FXDX |
| Rake/Stretch | 28º |
| Suspension | |
| Front End | Öhlins |
| Triple Trees | Kraus |
| Swingarm | Trac Dynamics| |
| Rear Shocks | Öhlins piggyback |
| Wheels, Tires, and Brakes | |
| Front | |
| Builder/Size | SDC/Speedline v1| |
| Tire/Size | 18/150| |
| Calipers | Brembo monoblock dual |
| Rotors | LRB |
| Rear | |
| Builder/Size | SDC/Speedline v1 |
| Tire/Size | 19/110 |
| Caliper | Brembo |
| Rotor | LRB |
| Pulley | SDC Speedline v1 49T |
| Finish/Paint | |
| Colors | Multiple |
| Paint/Graphics | Pete "Hot Dog" Finlan| |
| Plating/Polishing | Alex the Polisher/Sport Chrome/West Coast Plating| |
| Accessories | |
| Stabilizer | GPR custom setup |
| Front Fender | Kraus |
| Rear Fender | H-D |
| Gas Tank | H-D |
| Dash | Modified H-D |
| Gauges | MotoGadget Pro w/ Kraus mount| |
| Handlebars | West Coast T Bars Slingshots (custom) |
| Grips | Rebuffini |
| Mirrors | H-D w/ integrated LED turn signals |
| Hand Controls | Rebuffini semi radial brake/three-button switches |
| Foot Controls | H-D Lowrider | |
| Headlight | H-D Daymaker |
| Taillight | Kuryakyn Panacea (modified) |
| Turn Signals | SDC/Clearwater (modified) |
| License Mount | Kuryakyn laydown |
| Seat | Le Pera Daytona Sport (custom fit) w/ piping/gel |
| Oil pan | H-D |
| Chain | RK |
| Starter | Terry Components |
| Oil cooler | Jagg |
| | |
---
Get the all the latest issue of Hot Bike magazine! Subscribe directly from us.