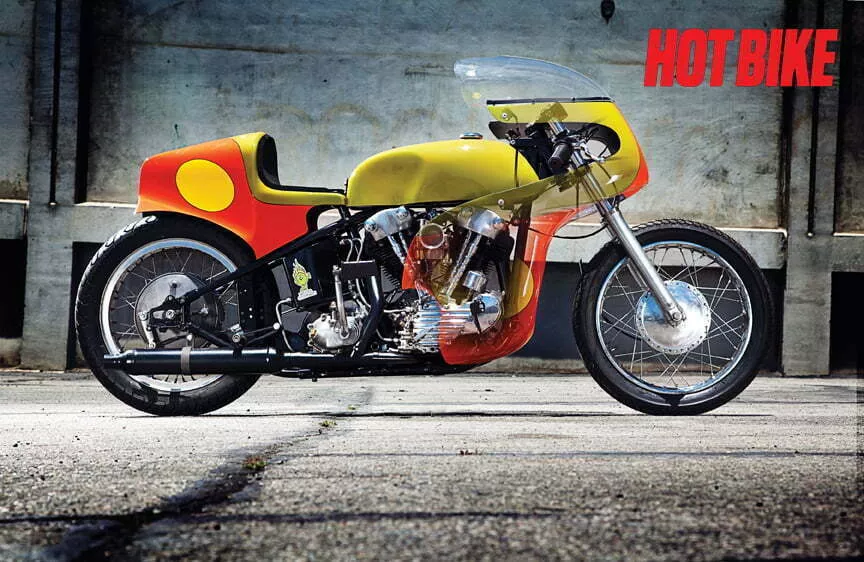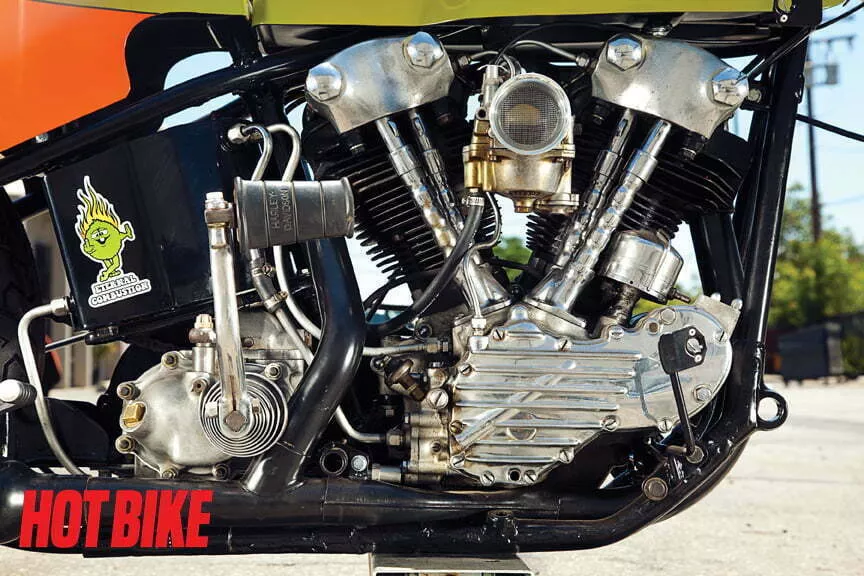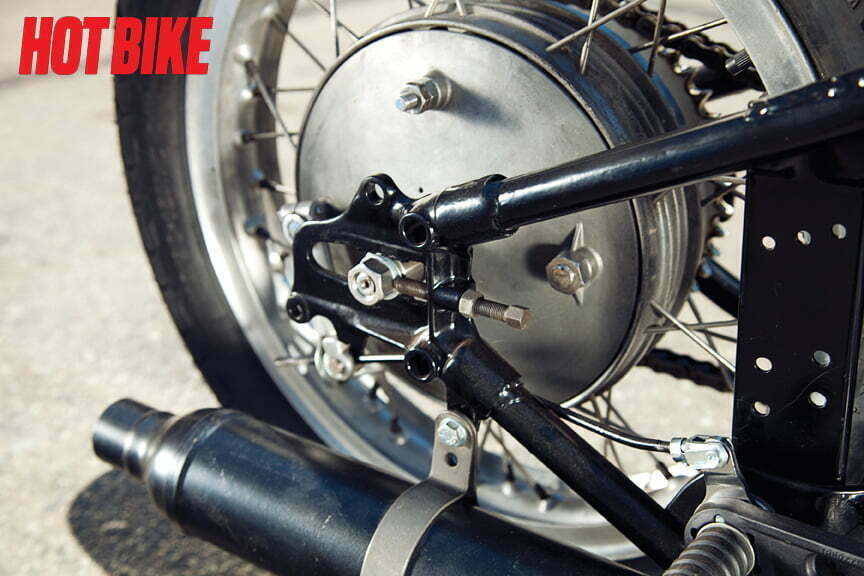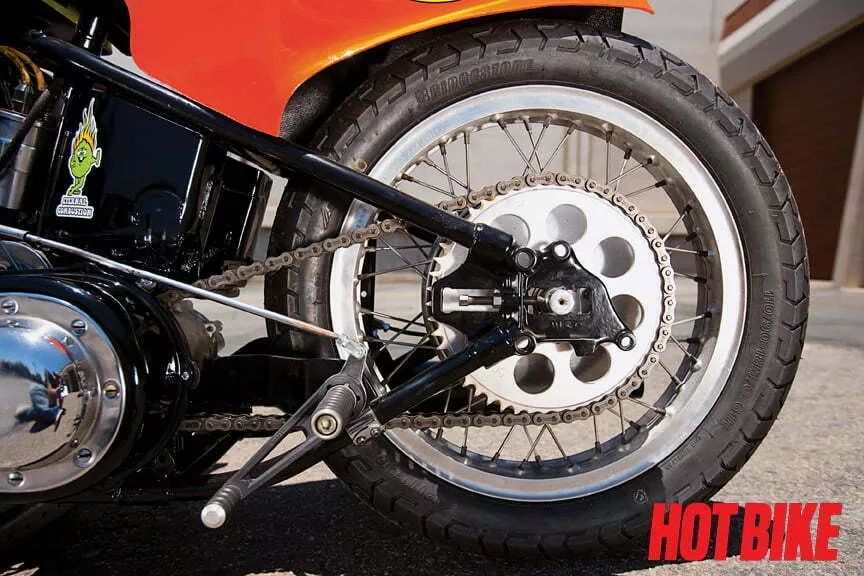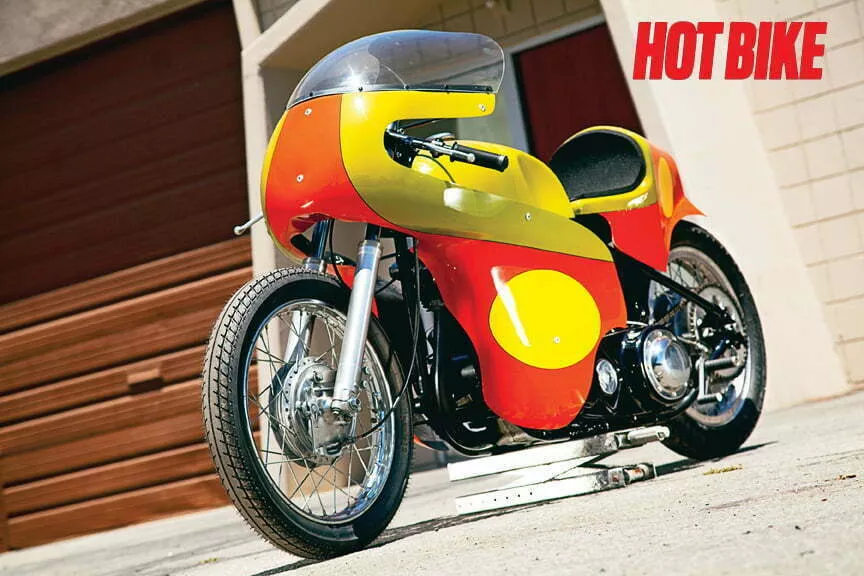 This was supposed to be a chopper. Really. I'm not kidding. I already had the whole thing laid out on paper and approved by the local committees, Internet chopper police, and everything. Then I had a Panhead that took its place, and I decided to let my hair down a bit (yes, I actually had hair when I started this thing) and really go crazy making a knucklehead racer. Sitting at a Denny's restaurant one night all by my lonesome, I began scribbling in my trusty notepad and came up with this bike. I got real excited and shot some pics of my idea off to buddies, who promptly told me to seek help. Rico over at Hi-Bond Modified burst my bubble even further by telling me that some dudes over in Japan (Sin Takizawa) already made some Knucks and put fairings on them and actually race around a track in real leather suits. I don't even have a leather suit, so you can imagine how bummed I was. I simply said to myself that everything's been done before, but that didn't stop those two tiger tamers in Vegas, and it sure isn't going to stop me. Never mind how the tiger thing wound up because I was destined to make this happen or die trying.
I immediately got to work finding the king of fiberglass—AirTech in Vista, California—and those boys did me right by scaling a 40-foot-high mound of old molds to find just the right starting point for my bike. I hated fiberglass then, and I hate it even more now, but at least I was able to massage the stuff enough to get what I wanted out of it. Everything on this bike was a I-know-this-isn't-the-right-part-but-it's-what-needs-to-be-on-this-bike-so-make-it-work kinda thing. Honda front drum mounted to H-D Narrow Glide legs. Oh, yeah, the legs were supposed to be on another bike, so they were already shaved, but a custom brake stay I fabbed rescued both parts from the garbage bin. I realized as I was putting the drivetrain in that I had sold the trans to a buddy and never replaced it, so that was fun trying to find an old-style four-speed in short order. Then there's the fact that I wanted a big, meaty drum on the rear and found the exact one only to realize that, yeah, Moto Guzzis are shaft driven. I spent lots of late nights studying the best way to make all that work and get it switched over to sprocket rather than just find another drum. My pal Juan "Wompy" Munoz from Still Kicking listened to my insane ranting and stared at my "technical" drawings long enough to work his machining magic. The next thing I knew it was on the bike and working, so all's well that ends well.
I set out with the thought I wasn't going to cut or weld anything on the original 1947 frame, and that's a tall order for sure when you're trying to get bodywork on a bike that is supposed to be secure and go fast. I think I stood for three days figuring out how to mount all the fairing stuff with no frame alterations. Again, it all came out pretty damn good, and it stays put at just shy of the speed of light. After that, we started getting weird shit happening. Or it could have been all of the Sailor Jerry rum.
Last but not least is the loud paint job. I wanted something that looked sort of throwback racer style but not the usual color combos. I threw some stuff together in Photoshop and gave it to my painter via the high-tech color-correct method of MMS text, and somehow, he pulled the colors off perfectly. He was even nice enough to get the completed fairings to me the night before I had to leave for the salt! Spent the last few hours before Bonneville tightening everything up and realizing my pit stand wouldn't work with the exhaust setup, so it was either going to lie on its side during Speedweek, or I would just deal with the scissor jack. With all the comments we got, I'm assuming nobody really noticed the jack at all.