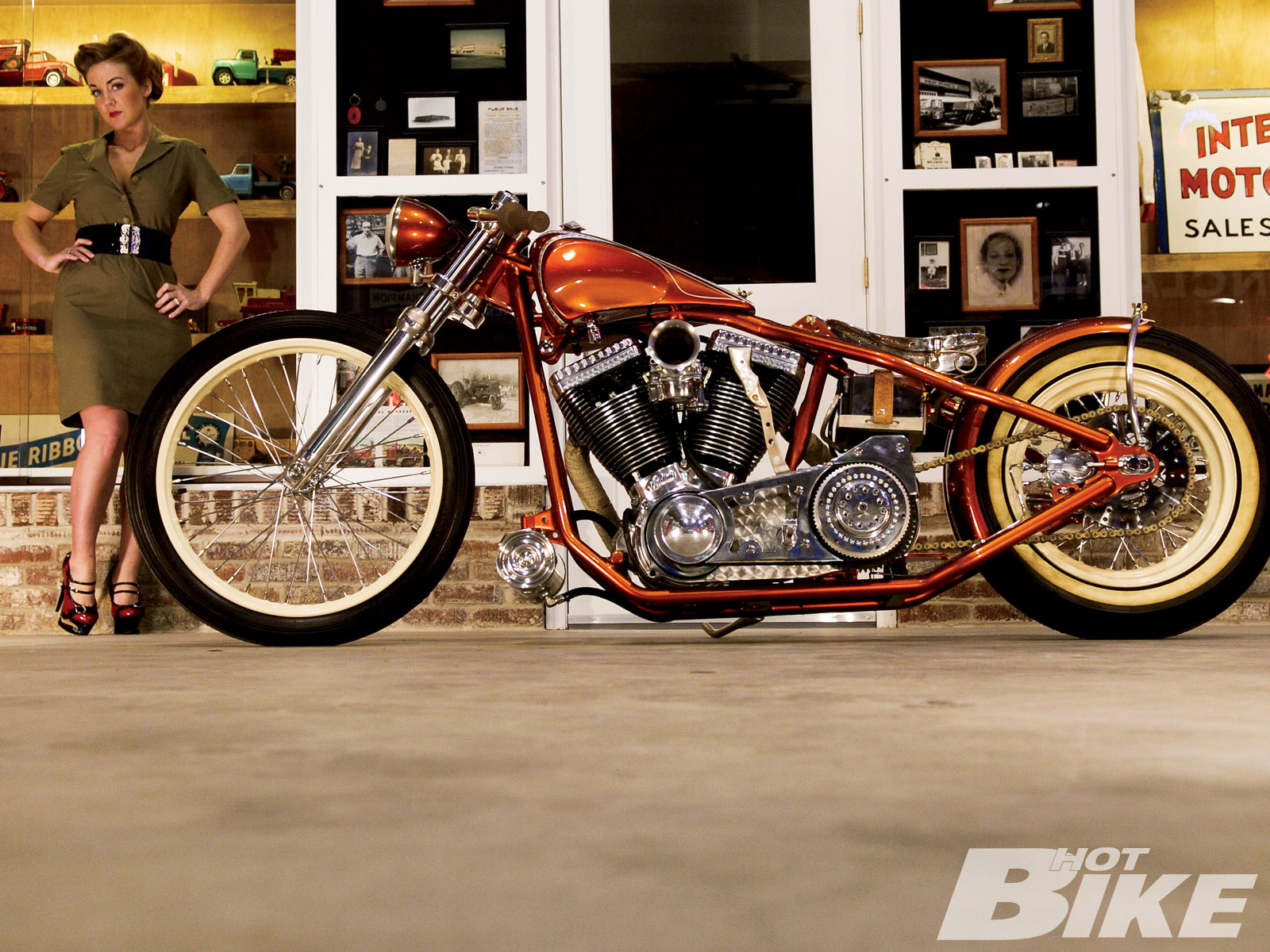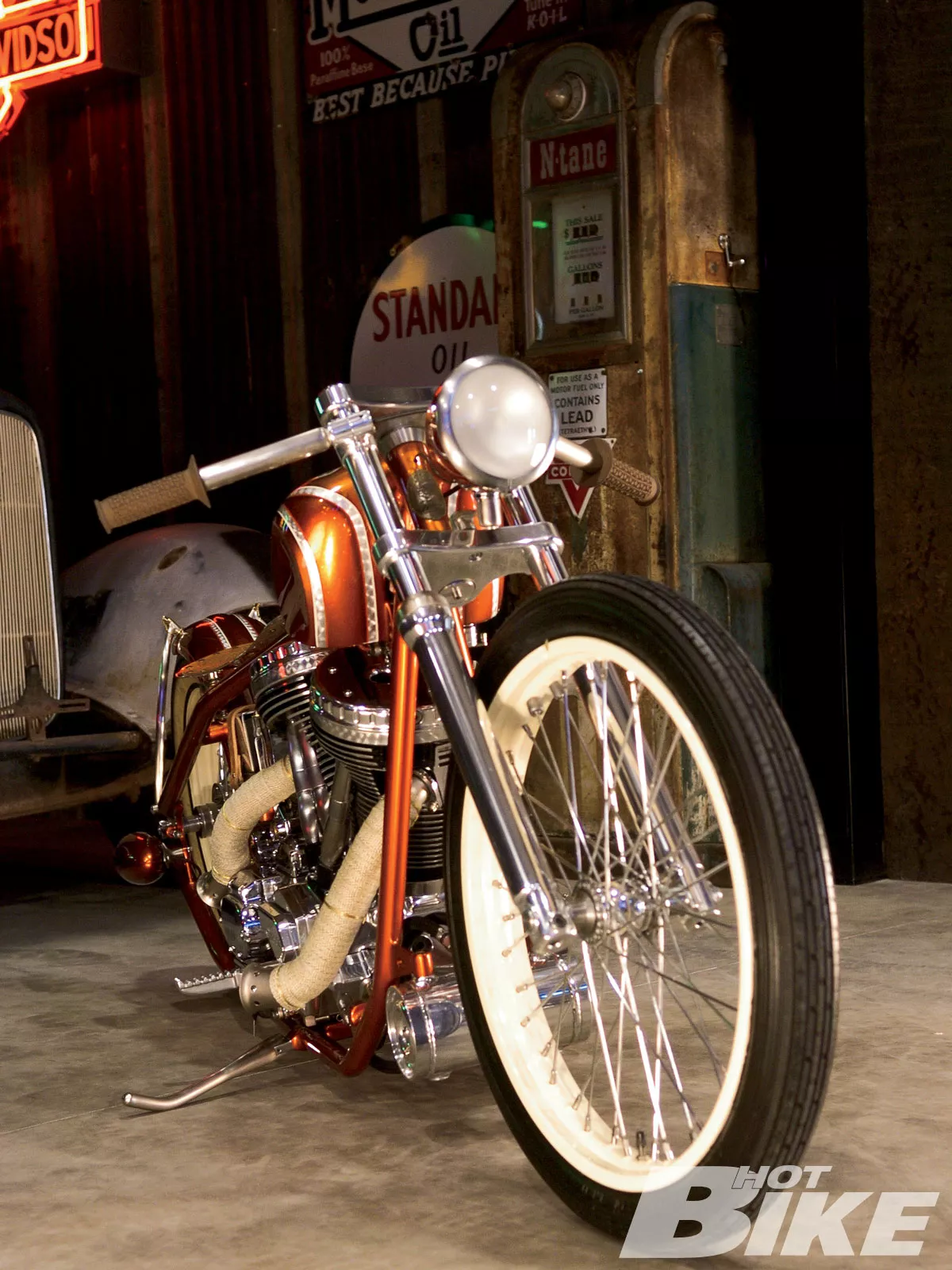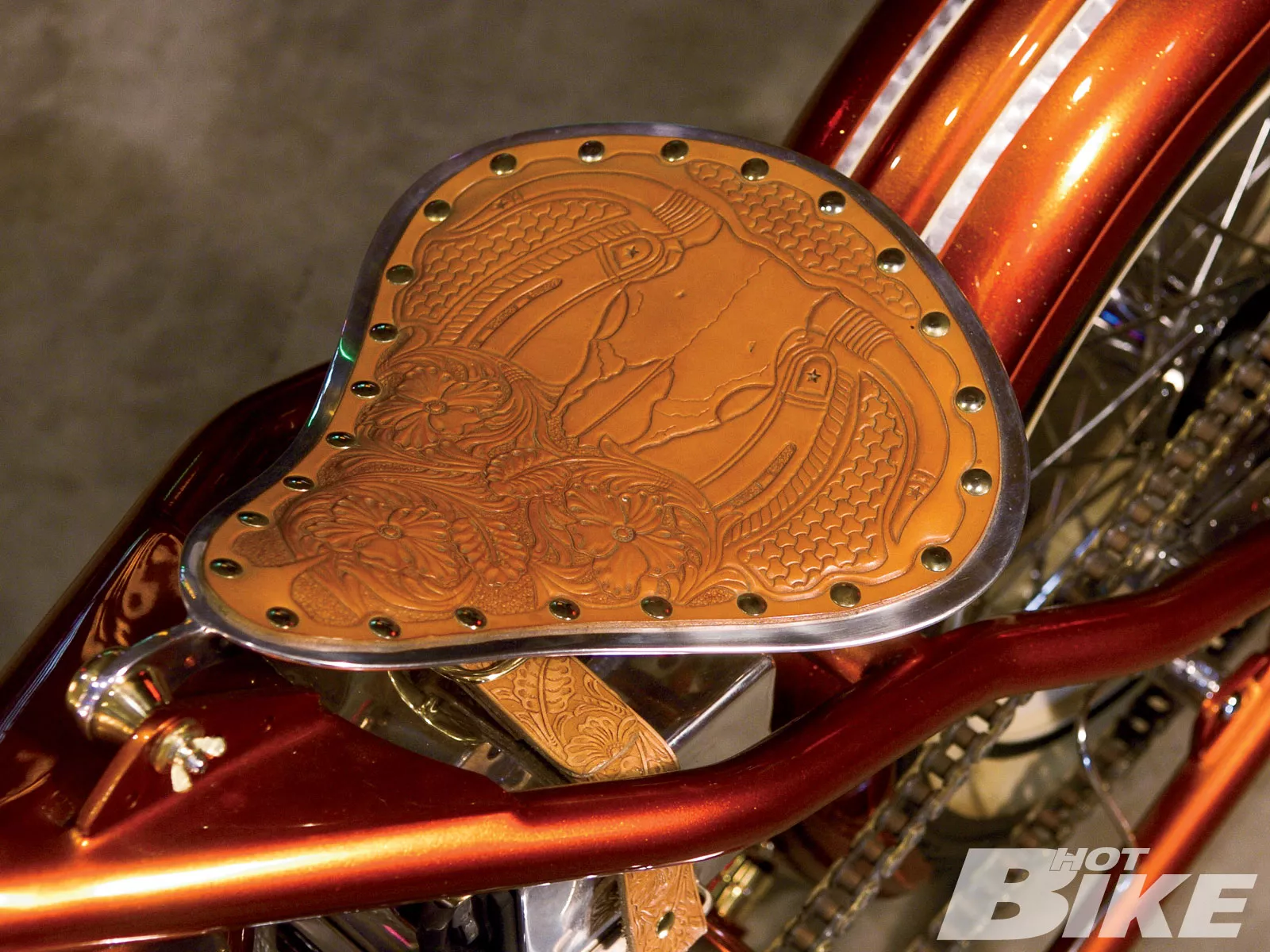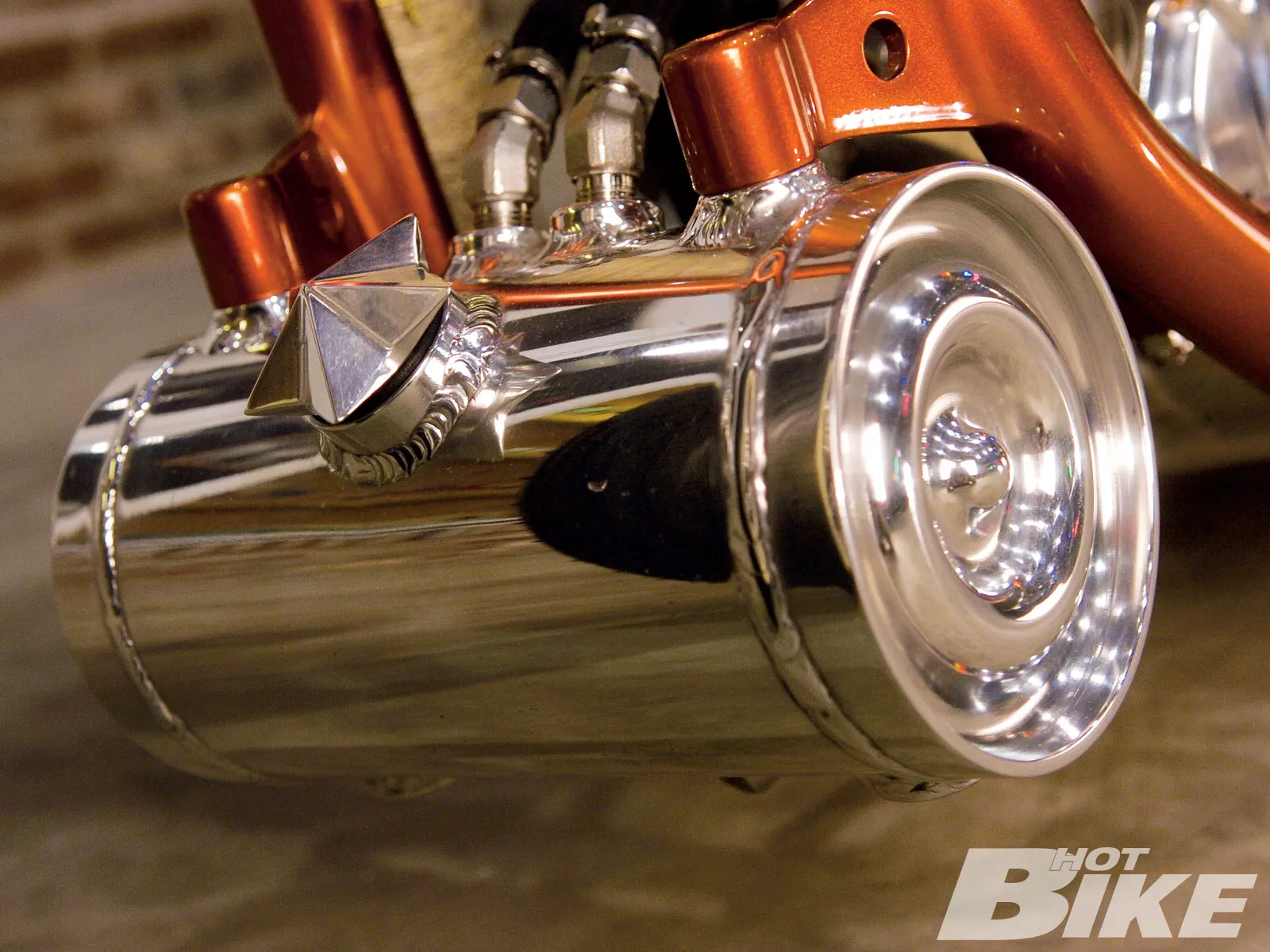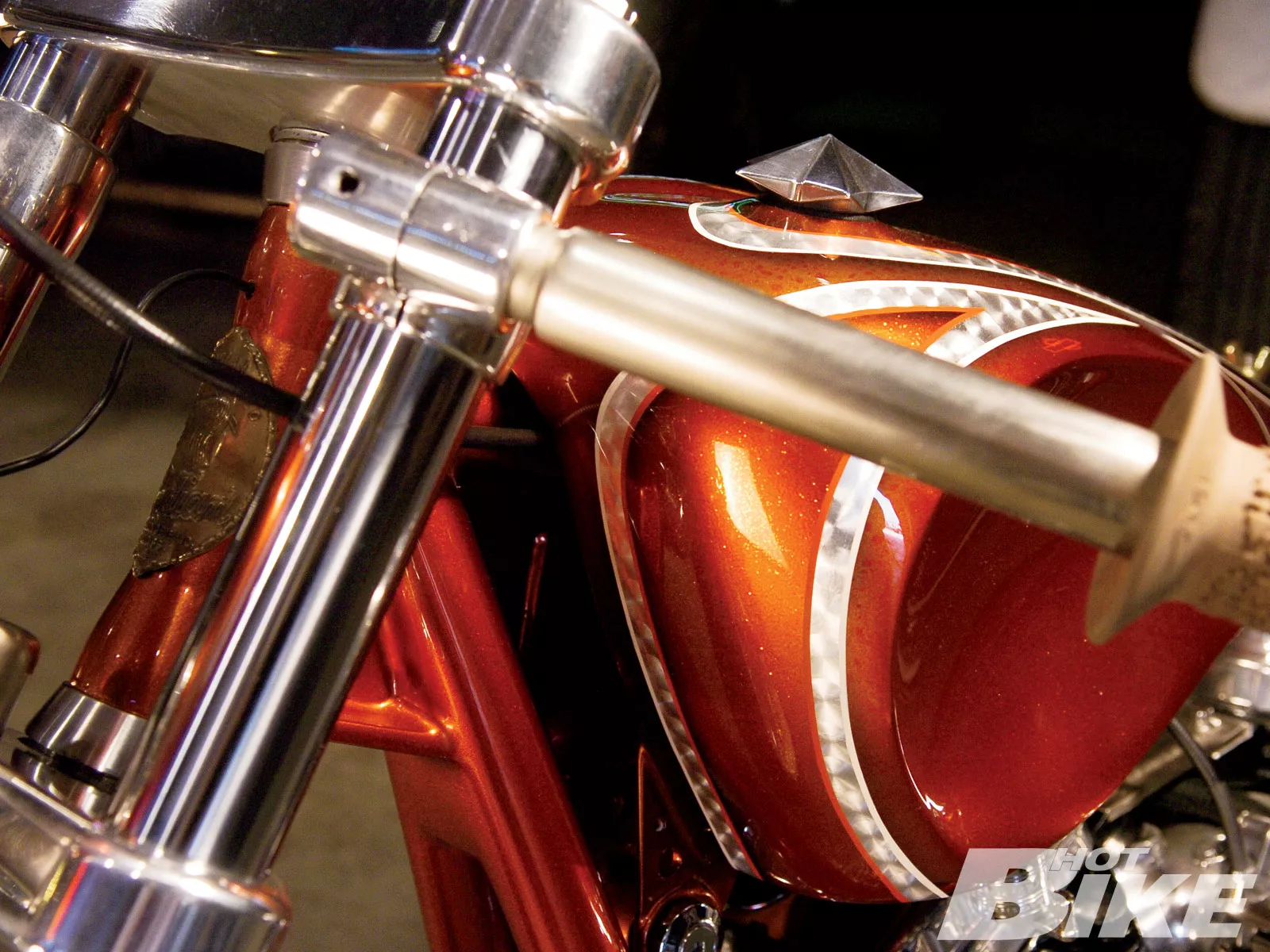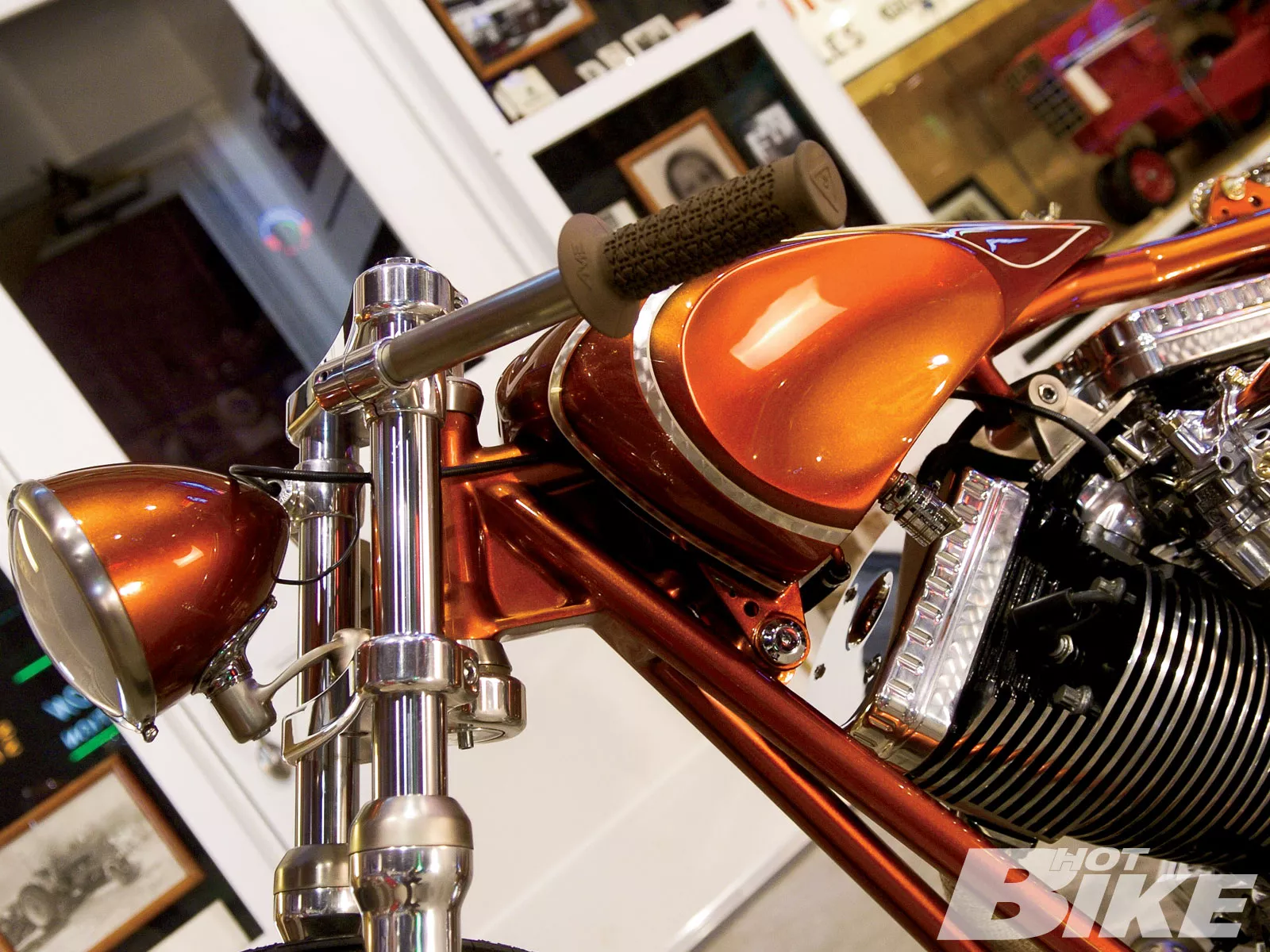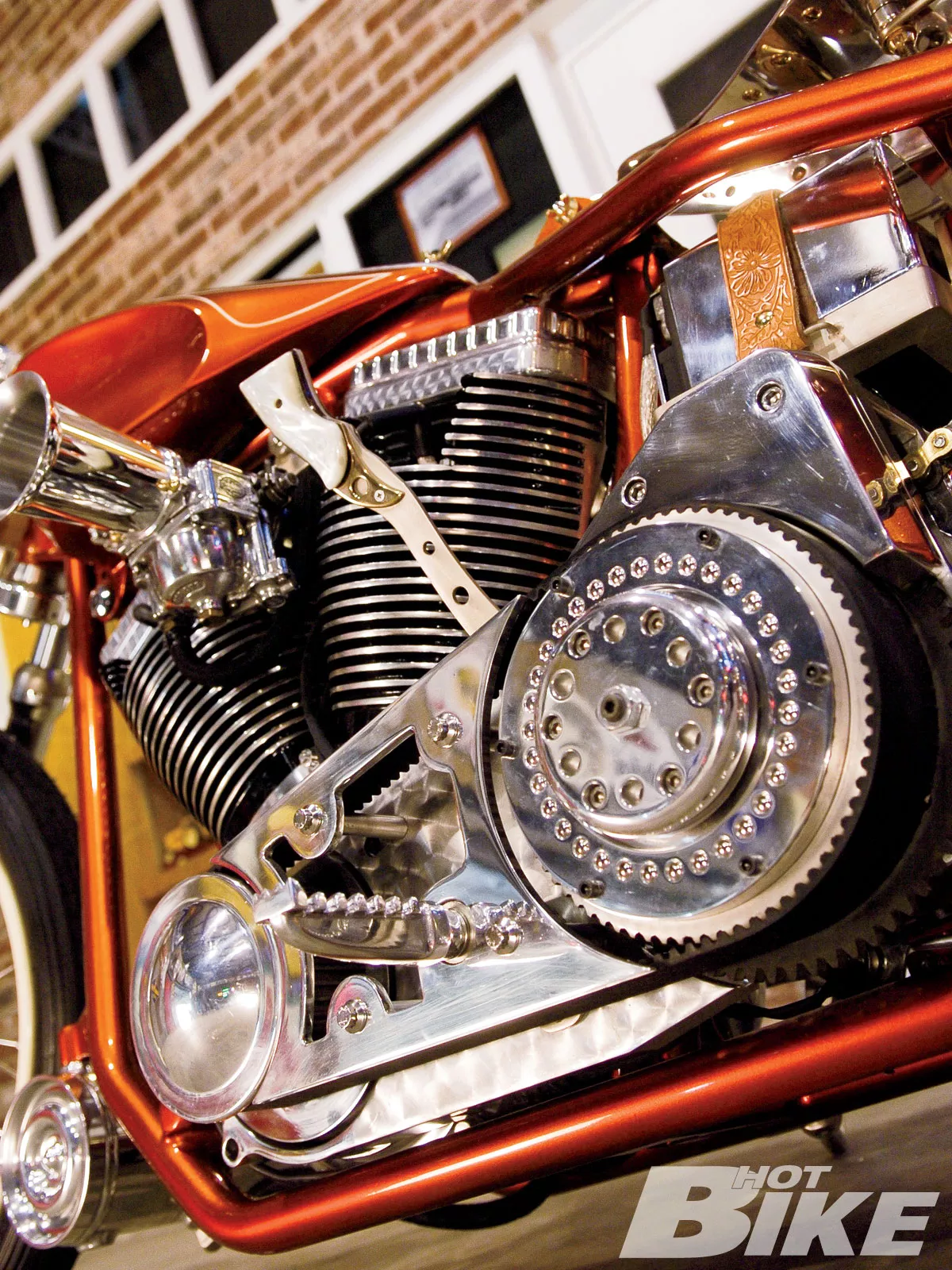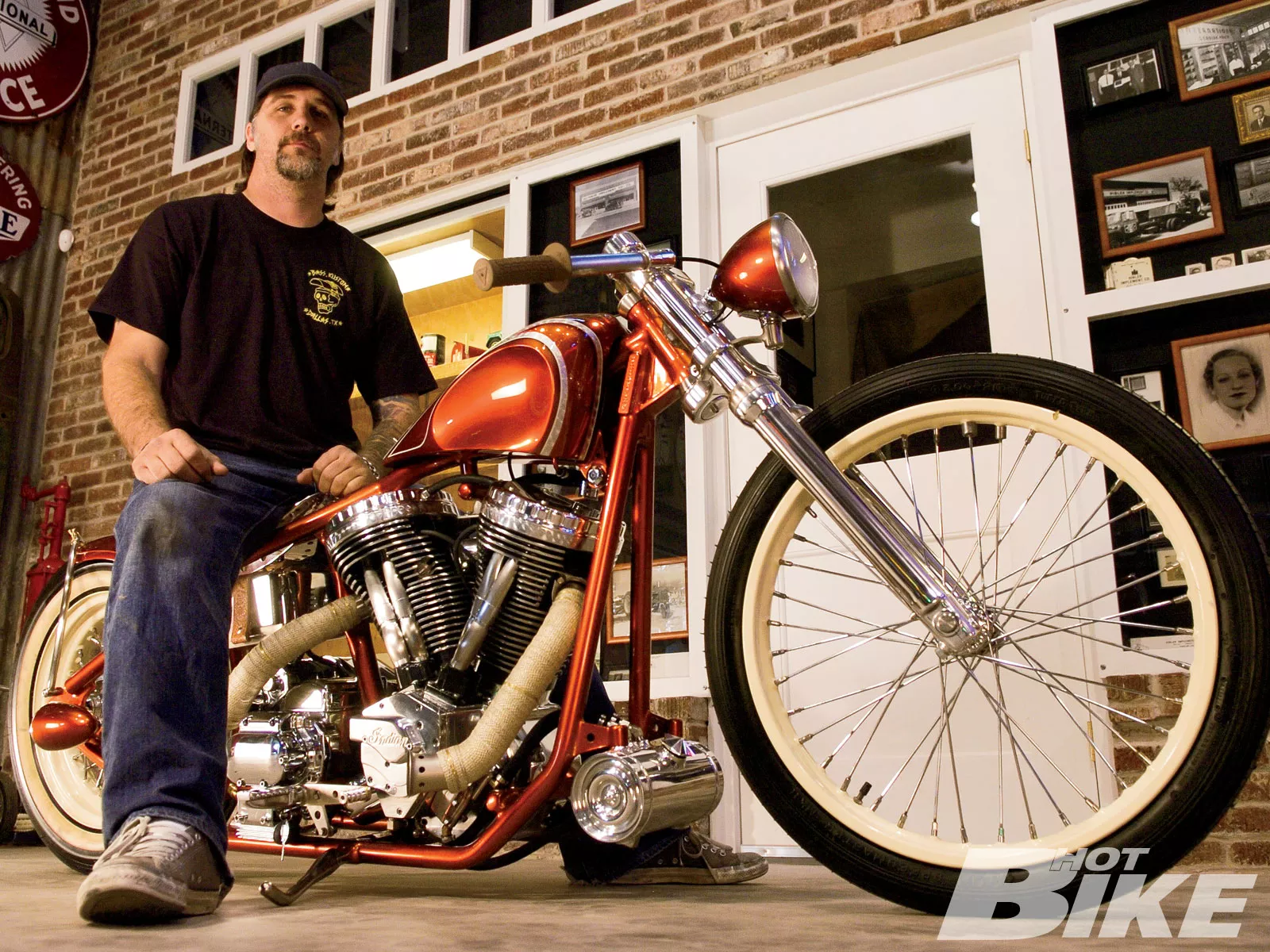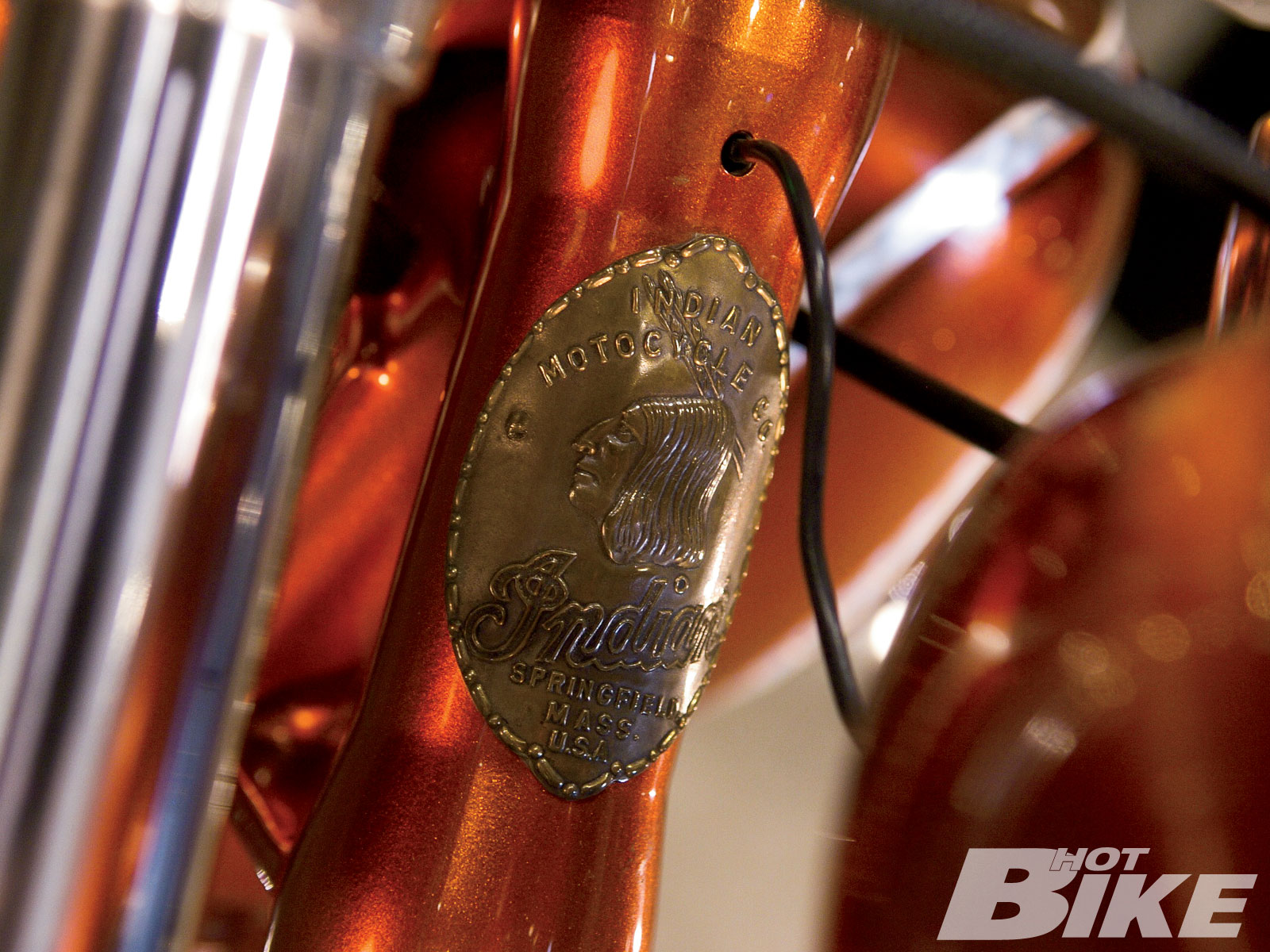 John Stromberg is from Amarillo, Texas, and has slowly become a household name when it comes to top-notch paintjobs. He has painted for the rich and famous from Indy Driver Rick Mears to comedian Carlos Mencia to country music singer Alan Jackson, to name a few.
As if painting for the likes of these famous people wasn't enough, John was also featured on Discovery Channel's Biker Build-Off "Covington vs. Vesely" in 2005, where he helped Covington Cycle City win with his custom green paint. John was also named Easy Riders 2005 Painter of the Year.
It all started from simple origins. "I used to ride BMX stuff and was always into cars in high school. I bought a motorcycle and fixed it up. I ended up getting a job at a body shop that painted tons of motorcycles, so it just snowballed from there," explains John.
His career started at Soncy Road Body Shop where he resided for seven years as a painter learning all that he could. John then painted at Covington Cycle City for almost 14 years. "I finally opened my own shop, Lucky's Seven Customs, here in Amarillo, Texas. It's been officially open for about two years now," states John. The business is actually sort of a side job, since the other 40 hours of his week are spent painting helicopters at Bell Helicopters Amarillo military assembly center.
Even though he has painted for the rich and famous, John is still a down-to-earth, small-town guy that offers some amazing paint masterpieces. A little-known fact is the amount of SEMA cars John has painted over the years. They are often displayed in booths promoting other products but still sport his paint. Ever heard of the infamous Rick Dore Kustoms? Well, John's paint can be seen gracing quite a few of his creations.
With most of his time invested in painting for others, John rarely has time to build a bike of his own. Case in point: this custom Indian-powered hardtail that took more than five years to finish. "I wanted to build something I could ride, but I never have time for my own stuff," explains John. "I just finished this bike in March of 2010, using parts I had in the shop, traded stuff, or using things I could build myself."
Except for the seat, as John recalls later. "It's funny because it is tooled like western tooling, and you'd think since I'm in Texas I could find someone here to do it. But I had to send it off to Xian leather in New York to get it done. And actually, I did have to pay for that!" John states to this day it's his favorite feature of the bike; but we think he is just being modest.
John's bike contains an array of new and old. It is supported by a Kraftech frame with 38 degrees of rake and powered by an '01 Indian Power Plus 100 engine that is shifted by a RevTech six-speed. Conversely, it is garnished with '60s dirt bike footpegs, a '50s spotlight for a headlight, and a '30s Ford taillight.
The Covington one-off triple trees will be noticed by the expert eye. A crowd favorite is the custom, authentic Colt mother-of-pearl pistol-grip shifter. The bike is finished off with customized Tomaselli handlebars and '80s BMX grips.
The bike's future is somewhat in the fog as John offered it to his son who, astonishingly, didn't show any interest. John's shovelhead is first on his "When I have time to ride it" list. This bike will probably end up at a few West Texas events, then be offered for sale. Get in line though; rumor has it John already has a few offers on the table.
So what's next? Currently, the list of work at Lucky's Seven shop includes two baggers, a jet boat, several club bikes, and a 2010 Camaro. John concludes, "My shop is usually full."
| | |
| --- | --- |
| SPECIFICATIONS | |
| BIKE OWNER | John Stromberg II |
| SHOP NAME | Lucky's Seven Customs |
| SHOP PHONE | (806) 336-5432 |
| YEAR/MAKE/MODEL | '10/Custom/Rigid |
| FABRICATION | Owner |
| ASSEMBLY | Owner |
| BUILD TIME | Five Years |
| | |
| --- | --- |
| ENGINE | |
| YEAR/MANUFACTURER | '01/Indian |
| TYPE/SIZE | Power Plus/100ci |
| BUILDER | Rick Preble |
| CASES | Indian |
| CYLINDERS | Indian |
| HEADS | Indian |
| ROCKER BOXES | Indian |
| CARB | S&S; |
| AIR CLEANER | S&S; |
| EXHAUST | Owner |
| | |
| --- | --- |
| TRANSMISSION | |
| MANUFACTURER/TYPE | RevTech/Six-speed |
| CASE | RevTech |
| CLUTCH | Grandeur |
| PRIMARY DRIVE | Open Belt |
| | |
| --- | --- |
| FRAME | |
| MANUFACTURER | Kraftech |
| RAKE | 38 degrees |
| STRETCH | none |
| | |
| --- | --- |
| SUSPENSION | |
| MANUFACTURER FRONT | H-D |
| LENGTH | 2 inches under |
| TRIPLE TREES | Covington Cycle City |
| MANUFACTURER REAR | None |
| | |
| --- | --- |
| WHEELS, TIRES, AND BRAKES | |
| MANUFACTURER FRONT/TYPE | Spool spoke |
| SIZE-HEIGHT/WIDTH | 21×2 |
| TIRE/SIZE | Avon/21×2.00 |
| CALIPER | None |
| ROTOR | None |
| MANUFACTURER REAR/TYPE | H-D/Spoke |
| SIZE-HEIGHT/WIDTH | 16×3 |
| TIRE/SIZE | Cheng Shin/16×3.00 |
| CALIPER | Exile |
| ROTOR | Exile |
| | |
| --- | --- |
| FINISH/PAINT | |
| COLOR | Copper |
| PAINTER | Lucky's Seven Customs |
| GRAPHICS | Lucky's Seven Customs |
| | |
| --- | --- |
| ACCESSORIES | |
| FRONT FENDER | Chica/owner |
| REAR FENDER | Owner |
| FENDER STRUTS | Owner |
| GAS TANK & CAP | Cole Foster/Owner |
| OIL TANK | Dink Thompson |
| HANDLEBARS | Tomaselli/Owner |
| HAND CONTROLS | Owner |
| FOOT CONTROLS | Owner |
| FOOTPEGS | '60s dirt bike |
| HEADLIGHT | '50s spotlight/owner |
| TAILLIGHT | '30s Ford |
| SEAT | Owner/Xian Leather |