Four years ago I went to catch some speedway racing and a few beers at Costa Mesa Speedway in Southern California. It just so happened to be "Harley Night" as well. I had been to Harley Night a few times before, and it consisted of a group of dudes on Softails with apehangers crashing into each other and the track walls. It was side show entertainment at its finest. This night was about to be different though. It would end up being the catalyst for a whole movement in the V-twin world.
I was two beers deep when the Harleys came out for their segment of the night. My jaw dropped when I saw one bike in particular come out. It looked like it was ready to kick some ass. It was outfitted with full-on flat-track racing wheels, tires, and some other go-fast purpose-made parts. This bike was a nod to the AMA 883 Sportster Series of the 1990s sans the professional rider behind the bars. Fast-forward to the present day and both Harley-Davidson and Indian Motorcycle have direct factory involvement in Hooligan racing with official teams and sponsoring of events. I myself caught the Hooligan bug that night and soon after acquired a Sporty on the cheap and started racing.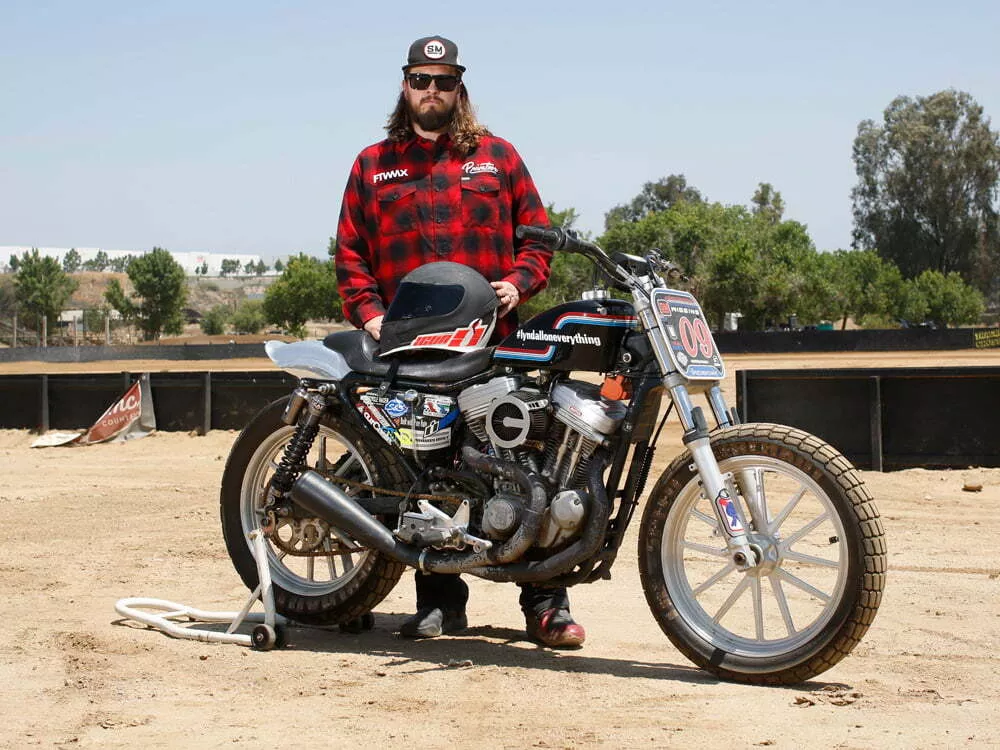 Here's what Chris Wiggins had to say about his Hooligan Sportster:
A friend of mine in my native home of Indiana owns a junkyard and came into possession of an impounded Harley-Davidson Sportster. When no one came to pick it up, he acquired the title and held on to it for me. My original idea was to buy it from him, clean it up, and upgrade a few inexpensive parts on it. Of course I rode it. Then I raced it. Then I crashed it. So I was keeping it now. I let Hunter Klee borrow the bike for an upcoming Harley Night at Costa Mesa Speedway since I would be out of town and couldn't race myself. Hunter transformed it a bit by throwing on longer rear shocks, 7/8-inch controls, and converted my old 19-inch Dyna front wheel to go on the rear so the bike could use real flat-track tires. It was all ready to dominate Harley Night. On its first outing it burned up the coil. That probably had something to do with his working on the bike nonstop for 48 hours preceding the race.

After that night, I got the bike properly registered and rode it on the street a bit, and then took it out to Perris Raceway for some practice. A little while later I took it to El Mirage dry lake bed in the Southern California high desert for a photo shoot with the Speed Merchant and slid it around some fancy bikes for some fancy cameras.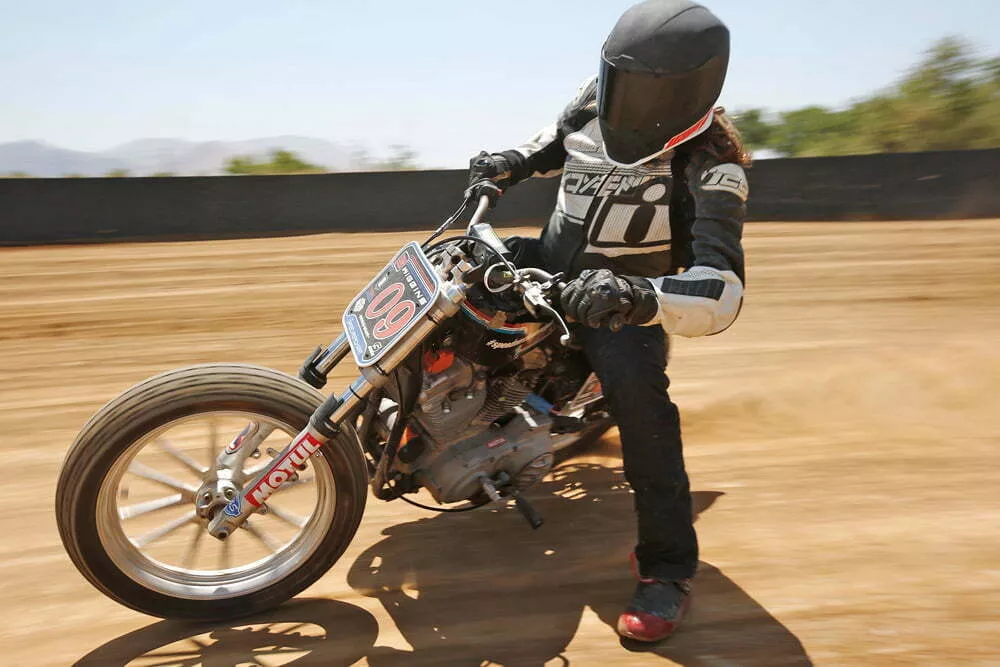 Come the first Harley Night of 2014 more street trackers showed up to race. The Guardado brothers of Suicide Machine Co started racing and having a blast. Soon after Mark Atkins of Rusty Butcher fame started racing with us, and that is when the Hooligan thing really started to take off.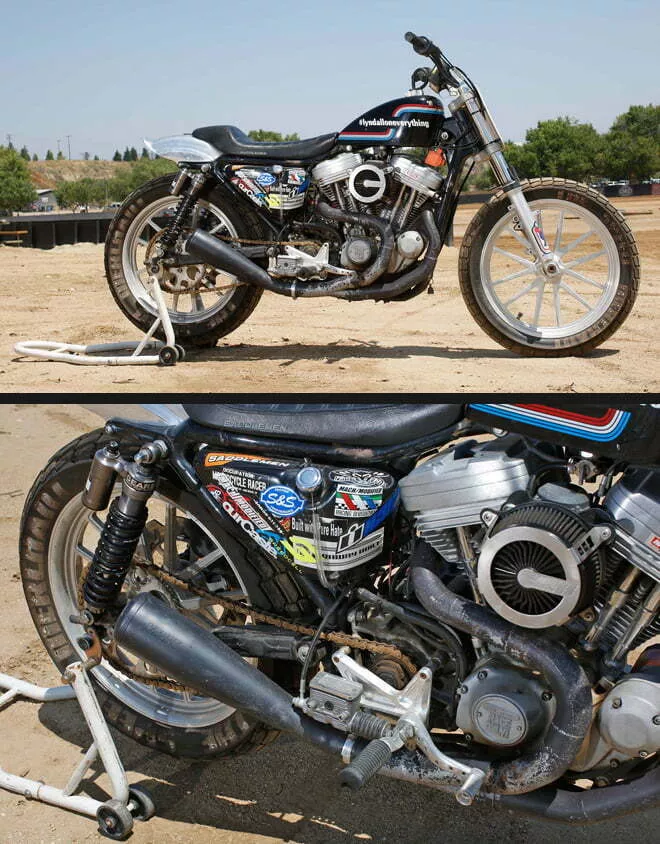 Hooligan bikes and racing is fun because it should not be. It's like drinking alcohol before you are 21, or making out with the older girl when you are a teenager. You know it is wrong but that is why you want to do it. The bikes are heavy and the tracks are small. It's just not right. None of us know what we are doing. Hooligan racing is the punk rock racing of the motorcycle world. The rules are loose and vague, the riders don't fit in with the regular racing scene, and the bikes are home-brewed concoctions.
When this whole thing started and I called tracks for us to ride and race at, they really didn't like us. It's a bit different now.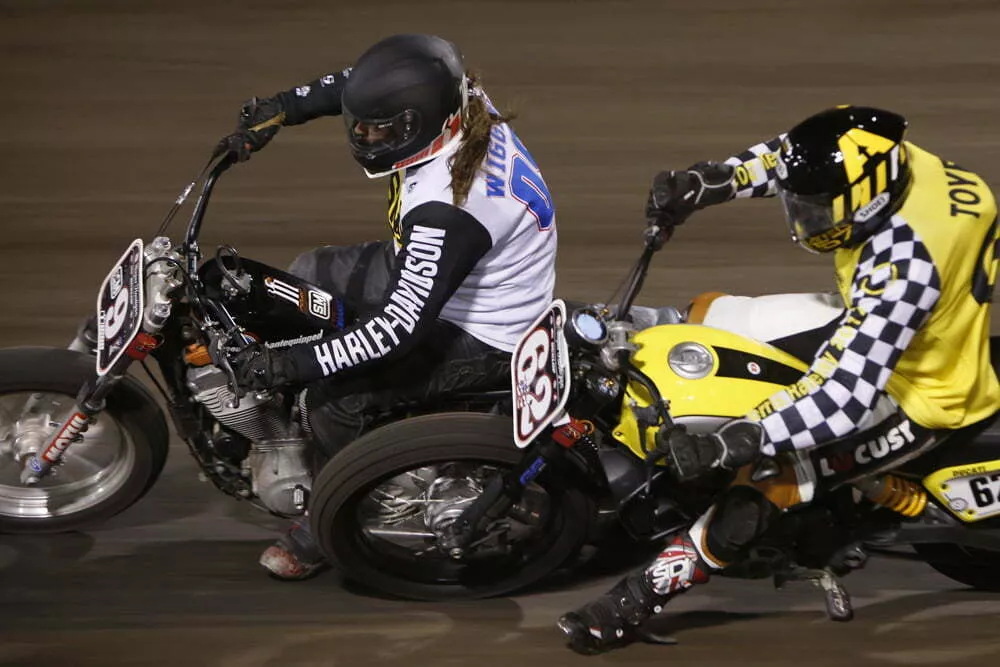 I have been on this same bike for all my Hooligan racing and she has been reliable and acquired some rust and dents along the way. "Trusty Rusty" is what I call her.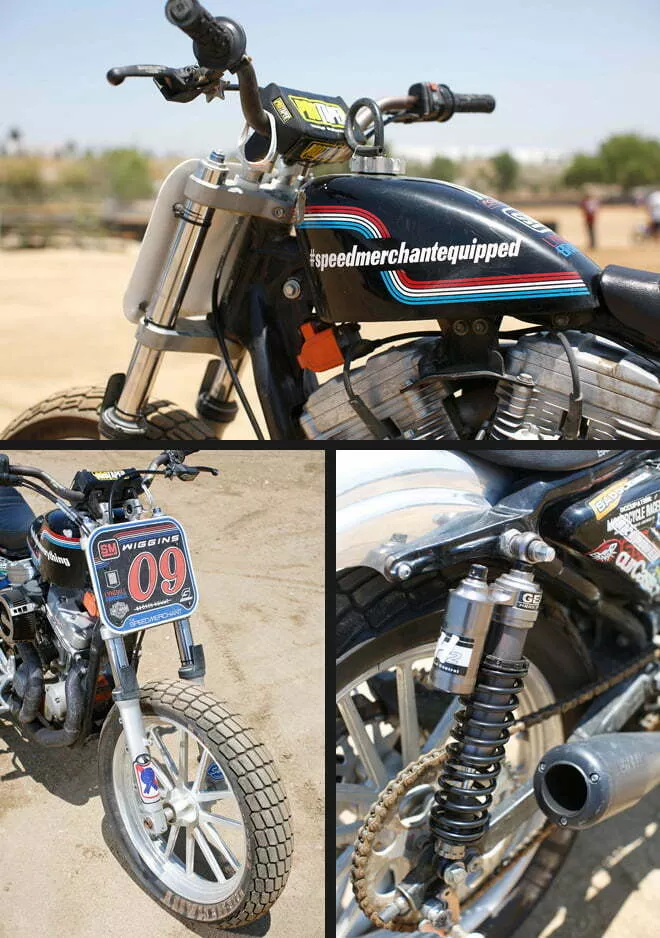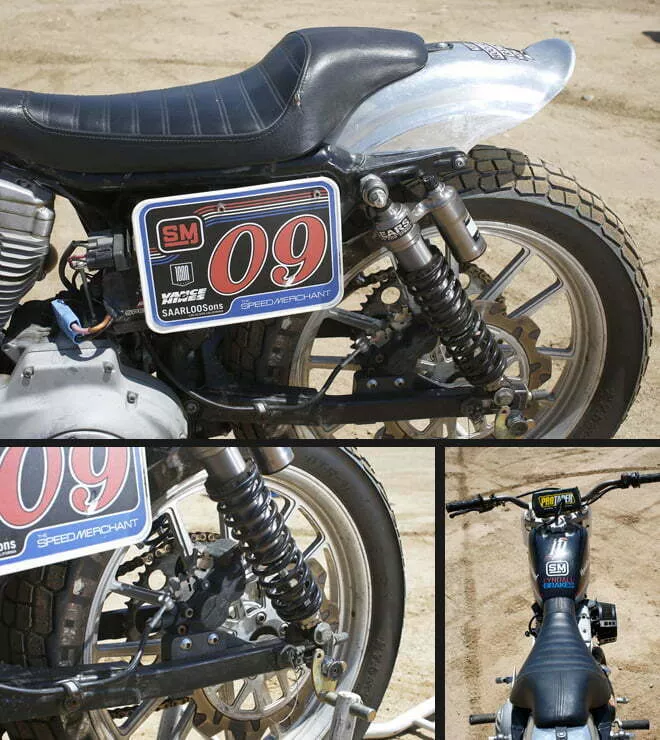 | Specifications | |
| --- | --- |
| General | |
| Owner | Chris Wiggins |
| Shop | Home/help from Brawny Built |
| Year/Make/Model | 1994/Harley Davidson/Sportster 1200 |
| Engine | H-D |
| Year/Type/Size | 1994/Sportster 1200 |
| Builder | My dad, Brawny Built |
| Cases | stock |
| Cylinders | stock |
| Heads | Mach modified |
| Rocker Boxes | stock |
| Cams | Andrew's N2 |
| Throttle | jetted stock CV |
| Air Cleaner | Vance & Hines Cage Fighter |
| Exhaust | Vance & Hines Up-sweep 2-into-1 |
| Transmission | stock |
| Clutch | stock |
| Suspension | |
| Front End | R6 forks w/ RIAT internals |
| Triple Trees | Speed Merchant wide trees for tire clearance and better handling |
| Swingarm | stock, modified to shorten wheelbase |
| Rear Shocks | Gears Racing |
| Wheels, Tires, and Brakes | |
| Front | |
| Builder/Size | Ryde Shop Racing Apex 19-inch wheel |
| Tire/Size | Maxxis 7.0 CD3 flat-track tire |
| Rear | |
| Builder/Size | Ryde Shop Racing Apex 19-inch wheel |
| Tire/Size | Maxxis 7.5 CD5 flat-track tire |
| Caliper | Brembo w/ Lyndall crown-cut rotor and Lyndall pads |
| Sprocket | PBI 520 front and rear |
| Finish/Paint | |
| Manufacturer | Adler Moto Designs paint |
| Colors | Black, red/white/blue stripes and polished rear fender |
| Paint/Graphics | Red/white/blue old AMF design |
| Plating/Polishing | I polished the rear fender |
| Powdercoating | mostly rattle can |
| Accessories | |
| Rear Fender | Lowbrow Customs Tsunami fender, polished |
| Gas Tank | 2.2-gal. Lowbrow Custom |
| Handlebars | ProTaper w/ ROX pull-back risers |
| Grips | ODI Rogue |
| Hand Controls | stock YZF450 throttle, Works clutch, and Barnett cables |
| Foot Controls | Speed Merchant sprocket cover |
| Seat | Saddlemen/Speed Merchant |