"We want anyone who is shunned by all the other motorcycle industry. Choppers in general are DIY, but there's a lot of dudes out there who get to a point and are stuck. You don't always have the time and resources to get your dream project on the road. If you've hit a dead end but still have ideas that you want to get done, I like taking those projects on." Jake says, laughing and looking at the Buell bodywork and fringe seat on his Panhead.
Walking through the gate into Highwayman Co., it's pretty clear you're coming into Jake Keough's backyard. A handful of bikes line up against the fence and two more occupy the lifts right outside the sliding glass door to what looks like it was once a laundry room. No signs outside the place, just that wooden gate. If you're lucky enough he'll hear your bike pull up and come outside to flag you down. It's really a one-man operation here and you can tell he attracts a specific type of customer.
"We kind of end up being the shop that all the weird stuff comes to. Either the stuff that nobody wants to touch, or the stuff that somebody has touched until they're over it. It just sorta ends up coming here… It's like the world of discarded toys," he says, staring at the lineup of bikes through a pair of knockoff Oakley Blades.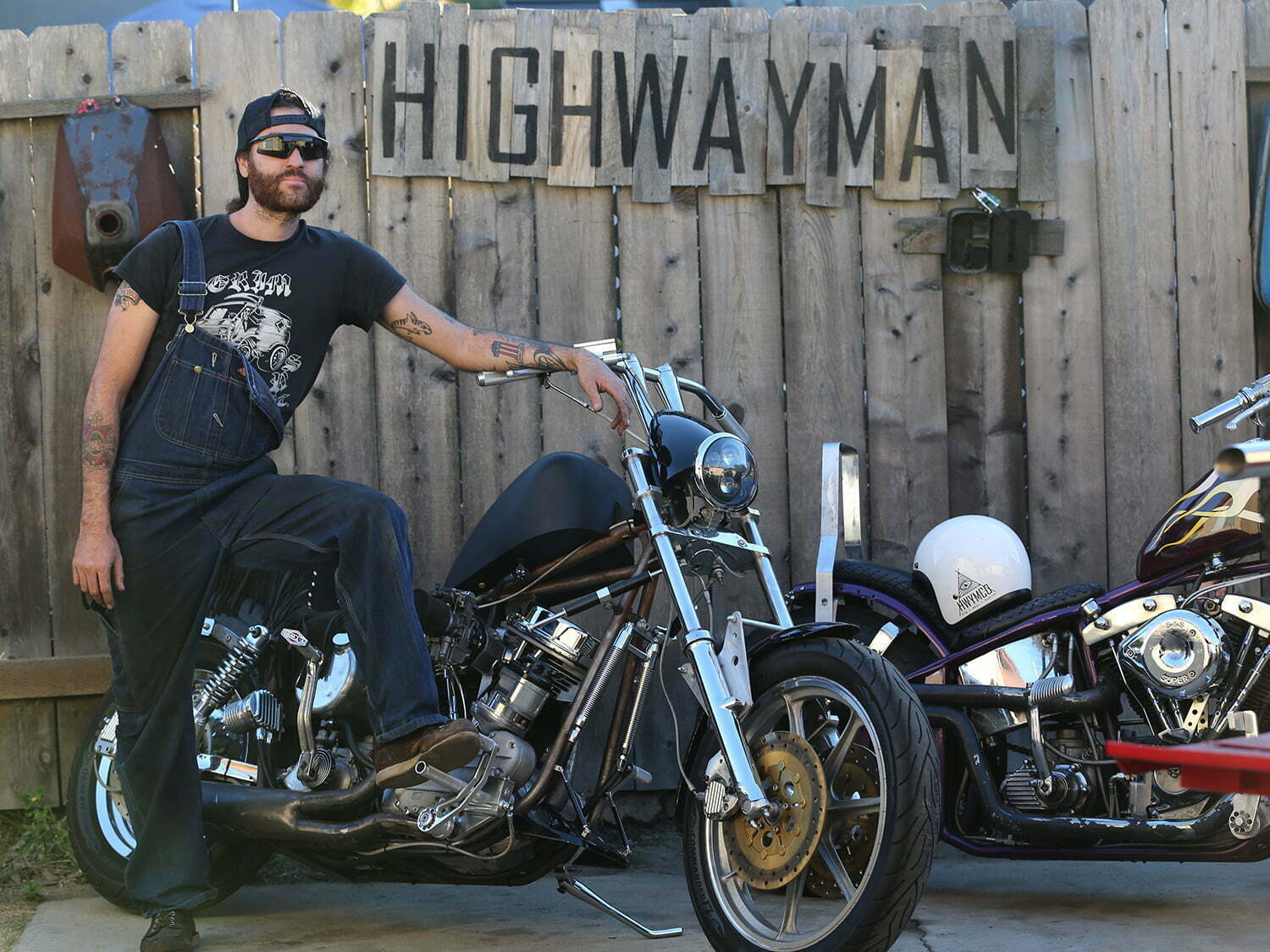 "My own personal project has been this Panhead. It's sort of a hodgepodge, it's all hot rod. It's got a generator delete with an alternator, sort of the bastard of what traditional guys would want to see. It's got 88ci, 9.5:1 compression; I'm actually in the process of putting an electric start on it."
Like most shops at the moment, he is pretty slammed getting customer bikes ready before the new year, but once he gets back to customs, he has some pretty rad things lined up. "When I get back after Christmas I'm gonna be working on Riley Hawk's Ironhead. He has a survivor show chrome frame and I sold him a fresh motor, he painted the tank, we're just gonna kind of do a real '60s-style show build."
---
Related: Checking In With Bennett's Performance
---
So if you're in the North County San Diego area and have a project that's been rusting up in your garage or you've lost track of, give Highwayman Co. a call at (774) 238-8517 and see if he can't help you get your dream project back on the road.