If you've been to any of the big flat-track races in the past couple of years, chances are you've seen at least one of the Guardado brothers throwing a bike around the ole dirt oval. But when Shaun and Aaron are not out racing or driving their demolition derby cars, you can find them in their shop in Signal Hill, California. The address isn't listed and there aren't any signs outside. They aren't campaigning for new customers—in fact, they barely even have customers as it is, and that's how they like it.
"We don't really have many customers…like none," Aaron says. "Which is really cool, gives us the time to spend on our own things. We're able to be creative on our projects and not be told what to do, and then when we do have customers it's really neat that we're able to work the way we want to and do what we like to do and have the trust of our customer to do so."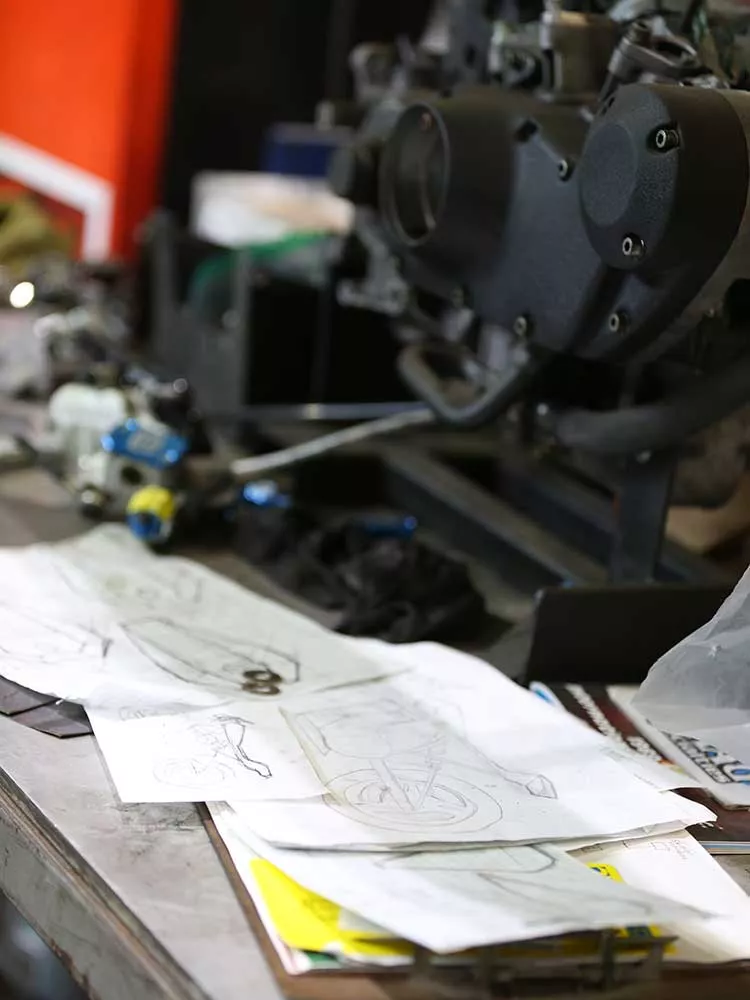 The season has wound down and now they've got some time away from their races and off of the road, so what's next on the docket for Suicide Machine Company?
"It's our off-season for racing so we have a little bit of maintenance on the racebikes, but what's taking precedent right now is this big-motor Sportster with an 89ci S&S stroker motor with a Baker six-speed and Öhlins suspension—you know, it's kind of a cool daily rider for Shaun," says Aaron, looking at the Sporty on the lift. "We have that Buell Blast single with a turbo in a CNJ chrome-moly frame and we'll build an aluminum monocoque body for that, maybe a little fairing—a couple things to keep that like a raw aluminum lightweight sorta racebike. And the Husqvarna 701 Supermoto that will be my daily rider."
So while the race season for 2018 is over, the guys are staying plenty busy. Luckily for them, it sounds like they're getting their personal projects all dialed for a little bit of off-the-clock fun. They are also working on some new clothing designs that should be available throughout Harley-Davidson dealerships in 2019.
"Just trying to just maintain the work and the fun at the same time. It seems to have gone really well this year and hopefully we can do a lot of that next year too."