Creating a Sturgis exhibition themed around the next generation of builders and bikes ensures an incredibly diverse offering, from cafes to street trackers to old school choppers and modern customs. Some builders, such as Matt Olsen, Matt Walksler, Zach Johnson and Zach Ness, grew up in their own family's motorcycle businesses, while others came into building when they were older, eventually starting their own commercial shops. Still others have day jobs and work on their bikes in home garages in what waking hours they have left. Forty builders under 36 years of age have accepted the challenge to build a custom masterpiece especially for this exhibit, each of which will be displayed atop elevated pedestals and lit with theater lights to better give guests an open view from every angle. The exhibition is free to the public and open in the Buffalo Chip's Event Center 10 a.m. to 8 p.m., Saturday, Aug. 5 through Friday, Aug. 11. More information can be found at MotorcyclesAsArt.com.
"The 40 builders and 14 two-dimensional artists will come together as 53 creatives to examine just what this generation is interested in, what they are capable of and what is coming around the bend," said exhibit curator Michael Lichter. "In addition to an age limit on the builder, each bike must be a new build completed within a few months of the show opening and many of the bikes will be 'unveiled' for the first time at the exhibition."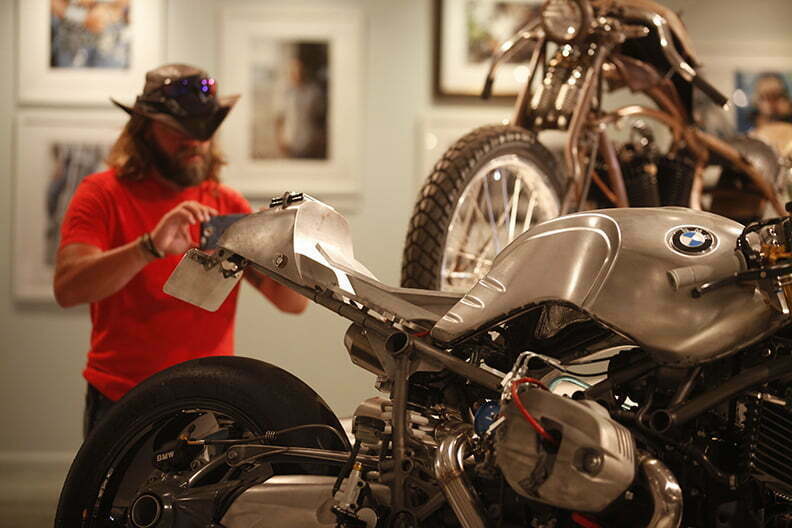 "Michael has again put together an exhibit that explores the changing landscape of the motorcycle culture in a way that only the world's leading motorcycle photographer could reveal," said Rod Woodruff, Sturgis Buffalo Chip President. "We are witnessing the birth of a new generation of talent, the up-and-coming masters of an art. This exhibit offers the chance to simultaneously see the wave of the future and the influence of the past, an opportunity no biker should miss."
The Builders
The 40 custom motorcycle builders and 14 two-dimensional artists under 36 scheduled to present their masterpieces at the 2017 "Motorcycles As Art" exhibit are:
AJ Harris – North Texas Tattoo Company & Royal Enfield. Fort Worth, TX / Royal Enfield B5 Bobber.
Brad Gregory – Glenwood, IA / Deraked H-D Evo Chopper
Chris Graves – Harley-Davidson. Milwaukee, WI / 1959 H-D Stroker Panhead Chopper
Christopher Milanowski – New Berlin, WI / 1942 H-D WLA Hotrod
Christian Newman – Buffalo, NY / Stainless 1940 H-D Knucklehead Chopper
Cristian Sosa, Sosa Metalwork. Las Vegas, NV / BMW R NineT LSR Inspired
Dalton Walker – Split Image Kustoms. Hanford, CA
Dan Riley – Gunn Design. Burnsville, MN / Soulfuel BMW NineT
Duran Morley – Roland Sands Design. Los Alamitos, CA / 1952 H-D K-model Scrambler
Dustin Maybin – Eastern Rod & Chopper. Hendersonville, NC / 127″ Evo All-Metal Bagger
Giuseppe Carucci – South Garage Motor Company. Milano, ITALY
J. Shia – Madhouse Motors, Boston, MA / 1971 BSA A65 Cafe Racer
Jake Cutler – Barnstorm Cycles. Spencer, MA / 93″ S&S Knucklehead
Jay Donovan, BareSteel Design, Victoria BC Canada / 1976 Yamaha XS-650
Jesse Srpan – Raw Iron Choppers. Chardon, OH / 2017 S&S 124" Evo Chopper
Jody Perewitz – Perewitz Cycle Fabrication. Bridgewater, MA / 1963 H-D Scat/Hummer Mini-Bagger
Joe Lingley – Live Free Cycle Sales. Epping, NH / 1937 H-D 80″ UH Flathead Chopper
Johnny Branch – Branch Engineering. Wildomar, CA / 1949 H-D Panhead chopper
Jordan Dickinson – Union Speed And Style. Monticello, MN / H-D Knucklehead Bobber
Justin McNeely – Hooked on Speed. Jackson, MO / H-D Shovelhead Chopper
Karlee Cobb – Klock Werks. Mitchell, SD / 2016 Indian Scout Chopper
Len Kodlin – Fred Kodlin Murdercycles. Borken, GERMANY / 2016 H-D 750 Street Custom
Matt Harris – 40 Cal Customs. Alcoa, TN / 1929 Harley-Davidson JD "Speedster"
Matt Olsen – Carl's Cycle. Aberdeen, SD / HD Knucklehead
Matt McManus – Carolina Classic Cycle. Indian Land, SC / 1942 H-D Knucklehead
Matt Walksler – Period Modified. Waynesville, NC / 1929 H-D JDH Cut Down Racer
Max Hazen – Hazan Motorworks. Venice, CA / 2005 Supercharged KTM Boardtracker
Nick Beaulieu – Forever Two Wheels. Windham, ME / Old School H-D Evo Chopper
Nick Pensabene – Mad Pen Cycles. Edgewater, FL / 1974 H-D Shovelhead Chopper
Nikki Martin, Roy's Toys Customs, Centennial, CO / 1999 H-D EVO Chopper
Paul Miller – PanicRev Customs. Calgary, CANADA / 1972 Yamaha XS650 Street Tracker
Peter and Michael Muller, Federal Moto. Chicago, IL / 1983 Honda CX650C Supermoto/Supermotard
Ryan Stephen – Freestyle Supermoto. Racine, WI / 2014 KTM 690 Duke Custom
Savannah Rose – Viola, WI / Rigid H-D Evo (S&S Top End) Sportster Chopper
Steve Dietzman – Studio Cycles. Milwaukee, WI / H-D Shovelhead Chopper
Taco Rodriguez – Taco Kustoms. Daytona Beach, FL / 1962 H-D Retro Panhead Chopper
Terence Musto – Fabbro Industries, LLC. Voorheesville, NY / 1966 H-D Chopper with Integrated Suspension
Zach and Jake Hindes – Prism Supply Co. Charlotte, NC. 1948 H-D Panhead Chopper.
Zach Johnson – Kendall Johnson Customs. Winston-Salem, NC / 1989 H-D FXR Custom
Zach Ness – Arlen Ness Enterprises. Dublin, CA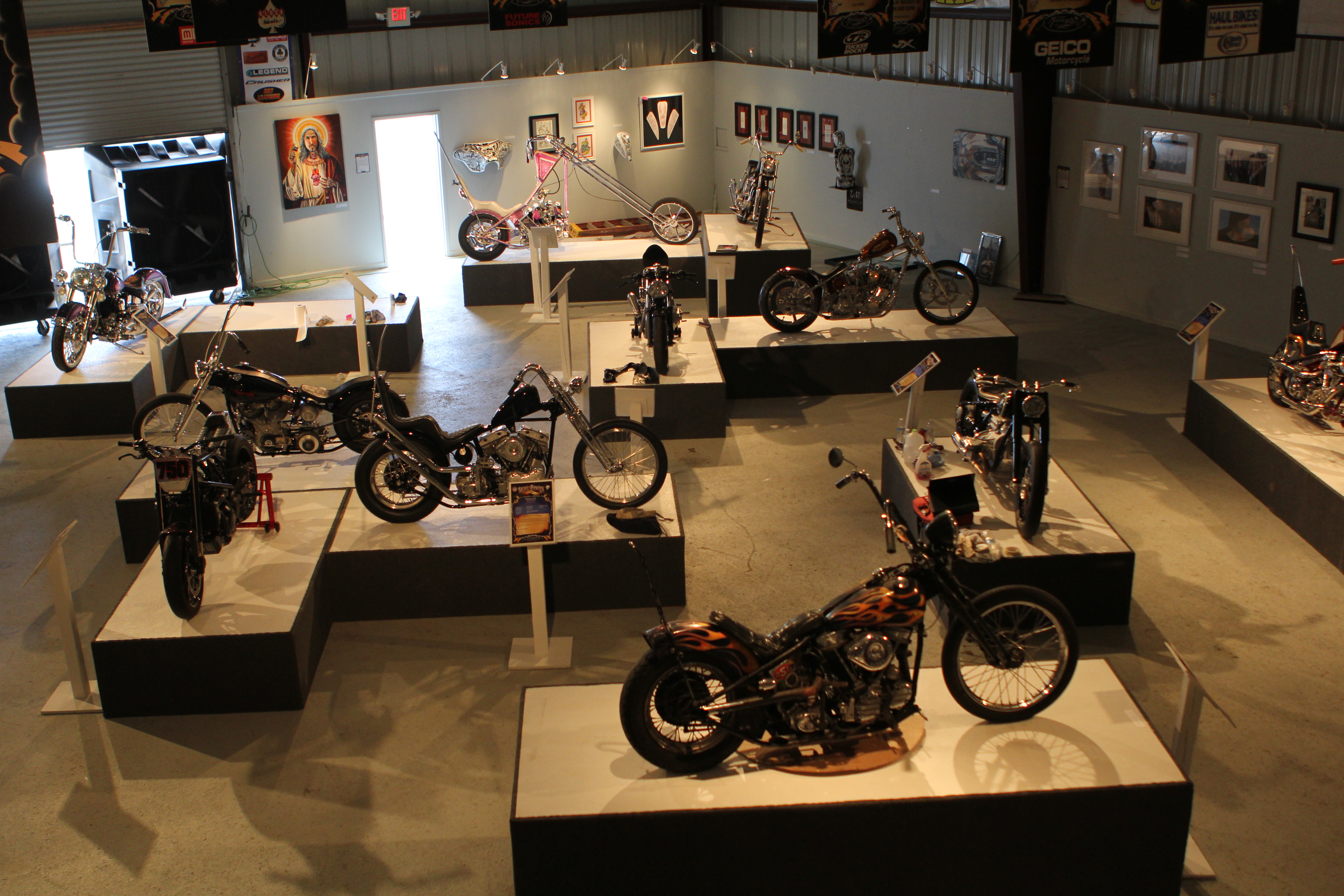 Artists presenting works in 2017 are:
Alex Hamilton – Prescott Valley, AZ / Biltwell Helmet Painting
Amy Hood – Hoodzpah Design. Newport, CA / Linocuts
Andy Cunningham – Portland, OR / Graphic Illustration and Biltwell Helmet Painting
Brenden Parsons – East Brookfield, MA / Biltwell Helmet Painting
Carter Asmann – Carlsbad, CA / Pencil illustration
Christina Platis – Ace of Hearts Tattoo, Long Beach, CA / Biltwell Helmet Painting
Cory Jarmin – San Francisco, CA / Ink on Paper
Narihiko "Heeko" Kumagae – Long Beach, CA / Photography
Jody Perewitz – Perewitz Cycle Fabrication. Bridgewater, MA / Biltwell Helmet Painting
Josh Kurpius – Milwaukee, WI / Photography
Kayla Koeune – Inferno Art Studio. Longmont, CO / Oil Paintings, Pen and Ink and Biltwell Helmet Painting
Mikey "Revolt" Arnold – Lowbrow Customs. Medina, OH / Photography
Samson Hatae – Thousand Oaks, CA / Photography
Taylor Schultz – Schultz Designz, Windsor, CA / Biltwell Helmet Painting
The show will also include a display of ten hand-painted helmets, each from a different artist, provided by Biltwell Helmets, an exhibition sponsor.
For more information about the Buffalo Chip's free-access MAA Exhibit or to learn about events that come free with a campground admission pass, visit BuffaloChip.com.
About Michael Lichter
Michael Lichter began photographing custom bikes and the biker-lifestyle in the 1970s. Working with Easyriders Magazine since 1979, he has produced over 800 stories for them. Michael is also a regular contributor to 16 other publications around the world, has 11 coffee table books to his credit and exhibits his photographic art in galleries and museums in the USA and abroad. As a curator, Michael first started creating themed exhibitions with custom motorcycles and art in 2001 at the Journey Museum in Rapid City. In 2009, the annual exhibition was moved to the purpose-built 7,000 square foot gallery at the Sturgis Buffalo Chip where it was given the name "Motorcycles as Art" and continues to this day. Michael has operated out of the same commercial photography studio in beautiful Boulder, Colorado for more than 35-years. Visit www.facebook.com/lichterphoto, Instagram (whistlingmike) and www.lichterphoto.com to see his images. Contact Michael at [email protected].
About Motorcycles as Art
Every year the Sturgis Buffalo Chip's indoor Motorcycles as Art exhibition presents a changing conceptual theme that brings together the most innovative collection of groundbreaking custom bikes from today's premier builders with artwork from the most famed moto-artists. The Sturgis Buffalo Chip and curator, famed photographer Michael Lichter, present an environment that must be seen to appreciate. Free to the public and open for just seven days each year, all are invited to take their time and walk through history in the making that is the Motorcycles as Art exhibit.
About The Sturgis Buffalo Chip
The Sturgis Buffalo Chip® is the Largest Music Festival in Motorcycling®. It is the world's first and leading entertainment destination for the motorcycle enthusiast and 2017 South Dakota Excellence in Tourism Innovation award winner. Since 1981, the venue's high-profile, nine-day festival, known as The Best Party Anywhere®, remains one of the world's most televised and longest running independent music festivals. Located three miles east of Sturgis, SD on 600 creek-fed acres, it offers eight stages of entertainment, a swimming hole, bars, mouth-watering food, showers, cabins, RVs, camping and more to visitors traveling from all corners of the world. The Chip's concerts are free with camping. More details are available at www.BuffaloChip.com.