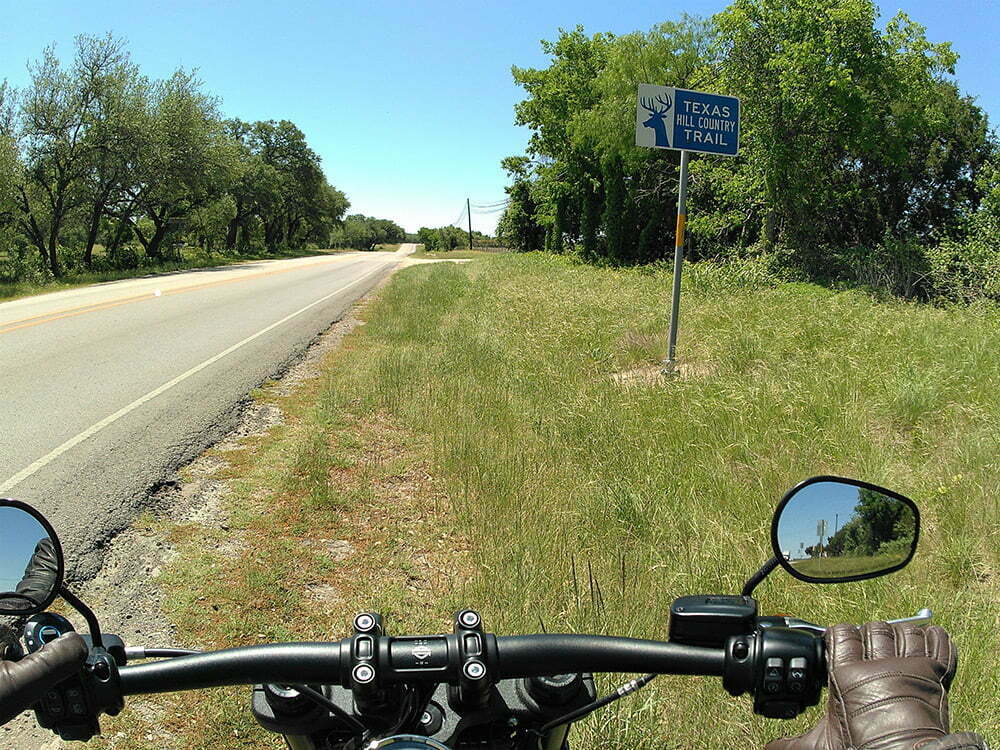 If the roads around Austin could talk, they'd tell the tale of an odd couple that used to roam these lanes. They'd speak of a red, white, and blue Ninja 600 and its partner in crime, a Kawasaki 454 LTD. They'd chatter about how the duo would race the sun to the Oasis to watch the day's last rays reflecting off Lake Travis. They'd reminisce about how the two would shoot pool at the Bank Shot and the seemingly countless concerts they took in together—the Supersuckers at Emo's, Soundgarden at City Coliseum, Rage Against the Machine at Liberty Lunch. Indeed, these streets could tell some tales.
The chance to once again romp around my old stomping grounds with longtime riding buddy "LTD" Tony left me eager as a kid on Christmas Eve. Fortunately, the fifth annual Handbuilt Motorcycle Show was just the impetus I needed to stage my return. While my Ninja 600 with the patriotic paint scheme rode off into the Texas sunset long ago, a 2018 Fat Bob was waiting for me at Cowboy Harley-Davidson of Austin just south of town. It might not be Ninja-like, but the new Fat Bob is a sporty ride in its own right, from the rush of power right off idle to the bite of its dual front discs. After three days of streetlight-to-streetlight sprints through town to cover the Handbuilt, I was eager to explore the twists and turns outside the city.
A lot has changed since I lived in Austin. Older buildings battle new high-rises for supremacy of the skyline. Neighborhoods you used to stay out of are now gentrified hubs, with hip bars and trendy restaurants in place of mean-streeted barrios. But there is a constant here—the fabulous roads of the Texas Hill Country.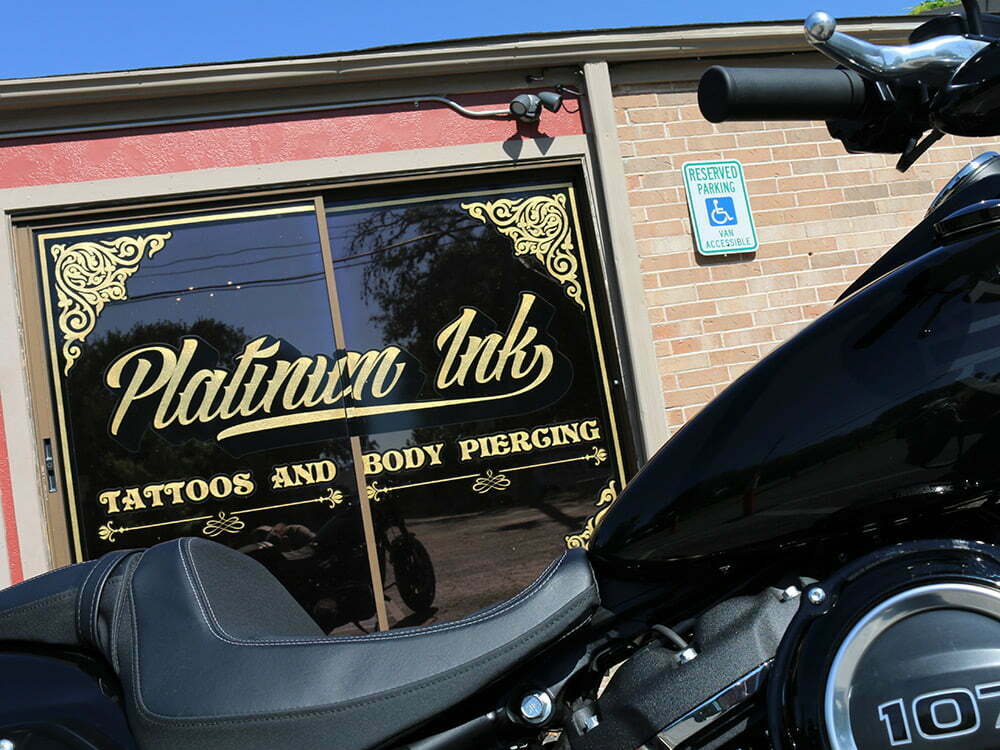 Before mobbing out of town Tony and I popped into Platinum Ink just off I-35, as Tony has been itchin' to add to his collection of dragon tattoos. Platinum's been "poking people pretty since 2002" so we checked out the flash on the walls and chatted with the artists. But the beckon of the open road was strong, so our stay was short-lived and we headed out of town in the heavy traffic. The Fat Bob darted in and out with minimal input at the bars, dispersing cars seemingly at will thanks to a bounty of midrange in fourth and fifth gears.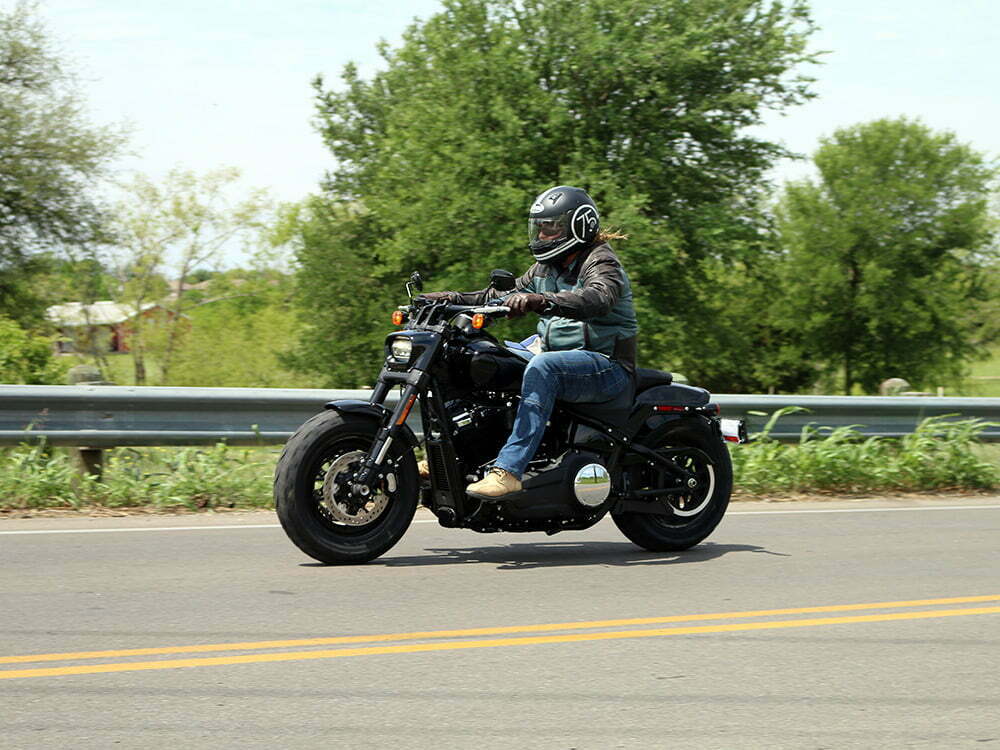 After jumping on Highway 290, navigating traffic continued to be a chess game, each car's move countered by lane changes and twists of the throttle. Eventually 290 split into a "Y" at state Route 71 and traffic finally began to ease. Turning onto Hamilton Pool Road, mesquite and madrone rose above carpets of green as trees began to once again outnumber houses. The road rolled and dipped through wide, sweeping turns, and the rural goodness I remember enjoying in the past returned. The Fat Bob flowed through uncongested countryside for the first time, and action on the front end was lighter than I expected with such a meaty front tire. With all the power the Milwaukee-Eight puts to the rear, the back end felt light even with my 225 pounds onboard. Thanks to the steadfast grip of its Dunlops, I didn't have to back off the throttle much in the broad turns as the speedometer hovered between the 80 to 85 mark.
The turn for Hamilton Pool snuck up way too fast, as I was just getting to that point where you're finally feeling comfortable with a new bike and its unique characteristics. Back in the day, Hamilton Pool was the place you'd posse up with your bros along with a stocked cooler in the back of a pickup truck, then unload and swim all day. It was always one of the funnest swimming holes around, a natural wonder with a 50-foot waterfall feeding the cool natural pool below, the pool itself shrouded by an earthen shelf. While it used to be privately owned, I soon discovered—to my chagrin—that it's now owned by the county and you need a reservation to get in. These days you've got to get on a dang list to do something that was once wild and free.
This just meant more seat time on the Fat Bob, which is something I'd been waiting for eagerly since I landed in Austin, so we backtracked to Ranch Road 12 and headed south. The first bluebonnets of spring blended with yellow wildflowers along the scenic stretch, the most deserted and curvy road we'd encountered yet. A truck would pass by going the other way every now and then, but otherwise we had the road to ourselves. Small towns along this strip had names that'd be perfect for Saturday afternoon spaghetti Westerns, with monikers like Dripping Springs and Driftwood. The weathered front of the old Driftwood Texaco station, complete with a vintage glass-paneled ethyl gas pump, oozed with Lone Star nostalgia.
As I cruised along at a good clip with my old riding buddy, the easy familiarity returned; that deep trust that sharing thousands of miles together brings, an ease wrought by knowing intimately how the other person rides, and grooving in the predictability of their lines. I was also becoming more sold on the Fat Bob's new Softail arrangement, with its greater clearance at lean angle and better overall stability.
But the day was growing long, and by this time, our gas tanks weren't the only things that needed filling. Fortunately, one of the most renowned barbecue joints around was just a short hop away. The Salt Lick has been dishing up savory meats roasted over an open fire pit since 1967, while its recipes have been based on family traditions more than a century old. To get the full Salt Lick experience, it's best to order family style, where they bring out heaping servings of slow-cooked meats and bowls of side dishes until you throw in the towel. The Salt Lick's been featured on many a cooking show, and one taste of its melt-in-your-mouth beef brisket will tell you exactly why.
Fresh air, blue skies, and more seat time were the perfect tonic for the full-belly blues. The pace back into town was leisurely, not only because of the weight of the gratifyingly good lunch, but because I don't think either Tony or I wanted the ride to end. Riding buddies you've had for 25 years are far and few between, so we milked the camaraderie on the road every second we could.
Parking the bikes for the night back at Tony's pad, we cleaned up and headed out to Radio Coffee & Beer in south Austin for a nightcap. Monday is bluegrass night and a gathering of local musicians was playing out back. The place was packed and the line for beverages remained a constant 10-people deep. The day's ride had left me worn out, but after a couple shots of Radio's espresso and listening to the fast-paced fiddle playing, guitar picking, and toe-tapping melodies, I could feel a second wind set in. I bought my bro a Pearl Snap Pilsner from Austin Beerworks and joined him for a cold one, basking in the contentment. Even though the face of Austin had changed, my friendship with Tony hadn't skipped a beat, and riding the familiar roads outside of town together had been priceless. Can't wait till the day rolls around when we get together again and write the next tale in the book of friendship.