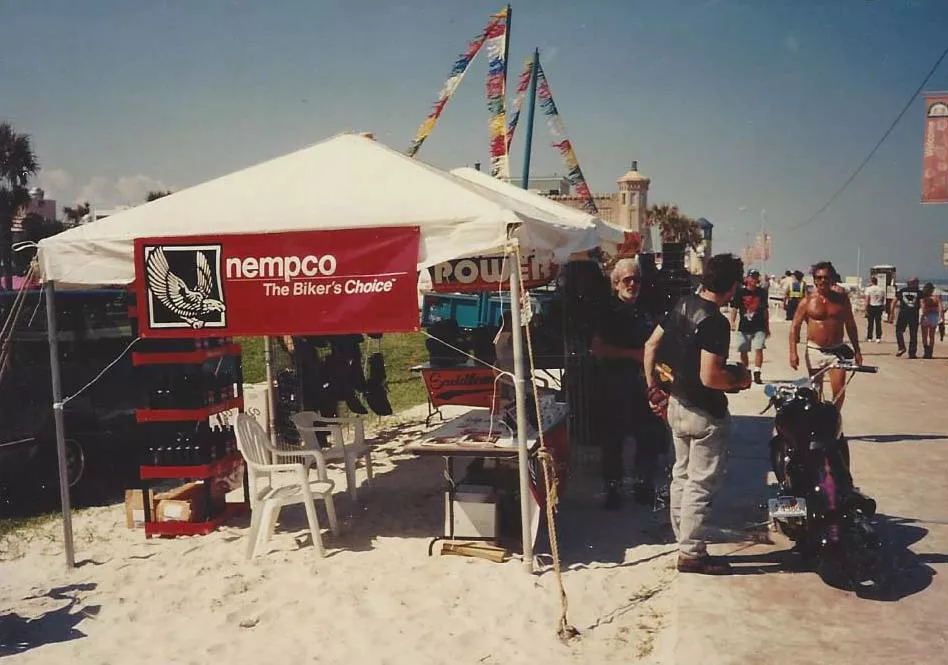 It has been said that the 1970s was the beginning of today's America. It brought new ideas, new inventions and new ways to look at the world. In 1971, a gallon of gas cost $0.40. The floppy disk was introduced by IBM. The first pocket calculator was released by Texas Instruments. The year also saw the launch of the company we now call Biker's Choice, the trusted V-Twin aftermarket parts and accessory superstar.
In 1971, Larry Cupola formed the New England Motor Parts Company (NEMPCO) after returning from the west coast and recognizing the need for a good Harley-Davidson® aftermarket parts distributor on the east coast. Working out of his basement in Dedham, Massachusetts, Larry built NEMPCO over the next five years before moving the company to its final location in Foxboro.
Larry followed a simple philosophy as he was building NEMPCO. He wanted Harley-Davidson techs, people with Harley parts experience and anyone who had been involved with Harley to come work for him. He would teach them how to sell and give Harley-Davidson riders an option when it came to the parts and accessories they needed to keep their rides running.
To start, he hired Charlie Hadayia, Sr. Known as "Charley Harley," Charlie was the head of the outside sales team from 1974 through 1985 and made a name for himself thanks to his somewhat "aggressive" sales approach. Charlie came from the industry. He had been riding as a hobby since the age of 9 and was very familiar with Harley-Davidson motorcycles. "I had my own small motorcycle shop for a while. When the opportunity with NEMPCO came, I closed up shop and started with them, traveling around the USA and Canada going door-to-door with a four-page, handmade catalog to build our clientele," Charlie states.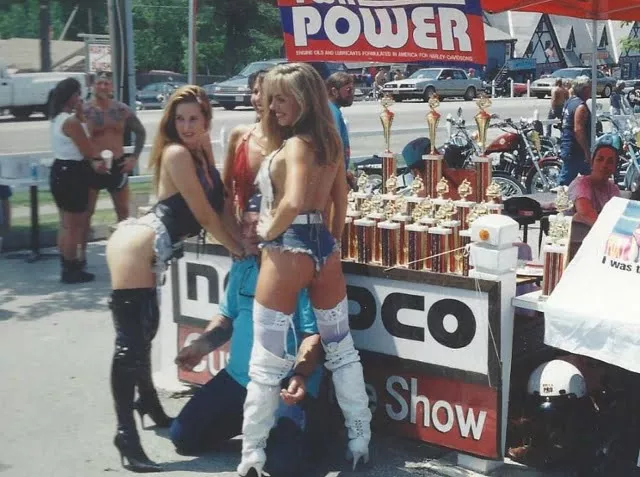 The company continued to grow and by 1982 it was ready to look at adding product to their existing product line. "We wanted to separate ourselves from others. We came up with Biker's Choice for the parts and Style Glide for the wheels," Charlie says.To help the continual growth of NEMPCO, Bob Kay came on board in 1982 as PLM. He started out as a customer while he was working with different motorcycle retail stores in Boston. "It was a tight knit community of motorcyclists," Bob says. "I had just received my business degree, and I was looking for something new. Charlie got ahold of me and told me to talk to Larry. So I did. I invested in the company about a year later, took a lead position in NEMPCO and set off to help get some new, innovative product into our line," he adds. "We were all into motorcycles and one of the best things about NEMPCO is that it was a very family-type business from the start."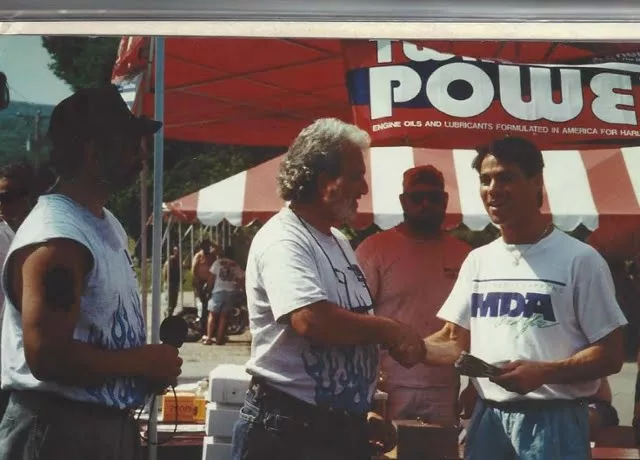 Bob is credited with developing some product lines that were "ahead of their time," including a line of accessories for Gold Wing and Harley-Davidson touring models. While those two lines didn't take off, there were plenty that did, including River Road, Skid Lids and Twin Power, all of which are still going strong today.
"The team and the sales people were very important to Charlie, Larry and I. We did everything together and without them, we couldn't build the company to what it became. We helped build the company's reputation of providing quality and dependable parts and accessories because everyone of us lived the life. We all rode in one way or another, whether as a passenger, a rider or in a sidecar," Bob says.
There were challenges in building NEMPCO into a thriving business during the ever-changing industry of the 1980s. NEMPCO focused on the quality of the product instead of the quantity of items they carried. The biggest challenge other than developing new product lines, meeting order accuracy and getting product to people on time was keeping NEMPCO in the forefront of customer minds.
One way they did this was through the annual Laconia, New Hampshire, motorcycle rally. This rally was a destination for everyone at NEMPCO and it started out at Bob Kay's Victorian house in Wrentham, Massachusetts. Employees, spouses and Bob's family would meet there for breakfast and discuss the trip, typically a two hour ride that was much longer because of "pit stops." Non-riding employees would drive the company van with the equipment for NEMPCO and Bob's father would ride in a sidecar with the cases of beer.
"Once we got to Laconia, we would set up the NEMPCO custom bike show at The Fun Spot, an arcade and amusement area down the street from the famous Weirs Beach. It took all of us to set up the bike show, which we all staffed, in order to register entrants, pick our judges and administer the whole thing," James Simonelli, Brand Manager for Twin Power, recalls. "Picking the right trophy girls was also required and meant late nights in questionable establishments. We did the show every year and made it a premier event of the rally. We had fun, handed out trophies for all the classes and donated the proceeds to charity."
NEMPCO continued to thrive under the leadership of Larry Cupola and Bob Kay. In 1985, Hadayia, Sr. departed the company for six years, returning to work on product research right before Tucker Rocky expressed interest in NEMPCO. Tucker Rocky was interested in breaking into the V-Twin market and turned to NEMPCO after a less than successful attempt on their own. They purchased NEMPCO in 1992, at which time Larry retired and Bob remained on as VP and general manager until 2002.
"Our name kept popping up thanks to the reputation we had established so Tucker Rocky opened a dialogue with us. We went from a small, tight knit group of motorcycle enthusiasts to part of a large corporation," Bob recalls. "We had some growing pains, like blending three different systems into one and staff training. Tucker Rocky really helped us grow and gave us the resources we needed."
While NEMPCO was a well-recognized and respected name, it was formally changed to Biker's Choice in 1998. "I went back into sales when Tucker Rocky bought NEMPCO. The changes that occurred from the buyout really gave the Biker's Choice name a breath of fresh air and the lift we needed to keep it going and recognized in the industry," says Charlie Sr.
Charlie retired when the company went computerized, but the love of Biker's Choice remained in the family. Charles Hadayia, Jr. joined Tucker Rocky as the Director of New Business Development in 2010 and now heads Merchandising for Tucker Rocky/Biker's Choice as a whole, with Aaron Whitney taking on the role of V-Twin Segment Manager. James Simonelli took on the role of Brand Manager for Twin Power in 2015.
With the release of the 2016 Biker's Choice catalog, an additional 3,600 SKUs was added to an already impressive portfolio of parts and accessories, including items for Indian motorcycles. "Charlie and I are both proud of the history and legacy of Biker's Choice," says Bob Kay. "45 years is an accomplishment in today's world, a world much different than it was when we started. We helped it grow and it's great to see it still going strong."
"Biker's Choice is still following the philosophy we started with: by bikers for bikers," says Charlie Hadayia, Sr. "That philosophy will keep the company going for at least another 45."