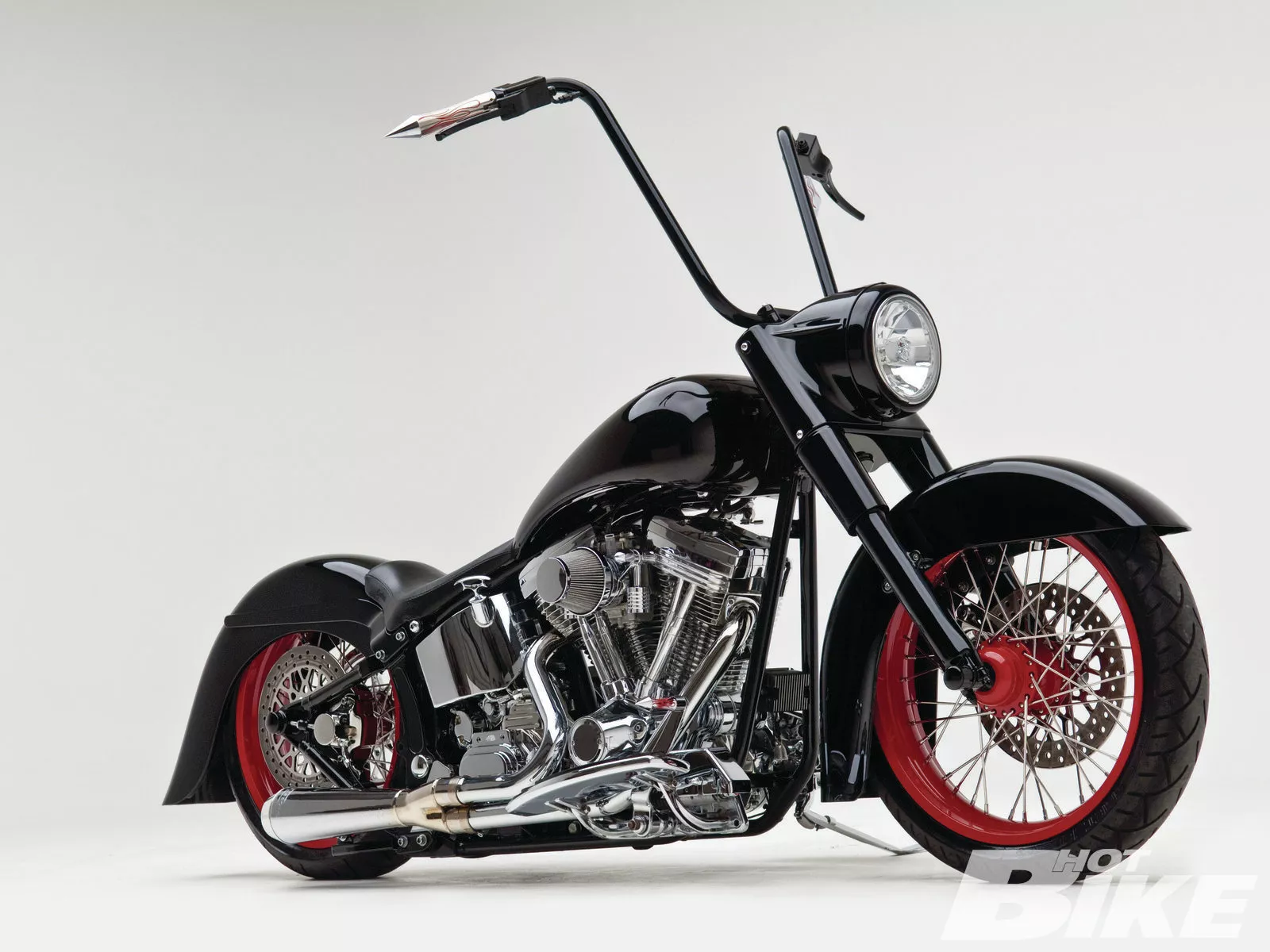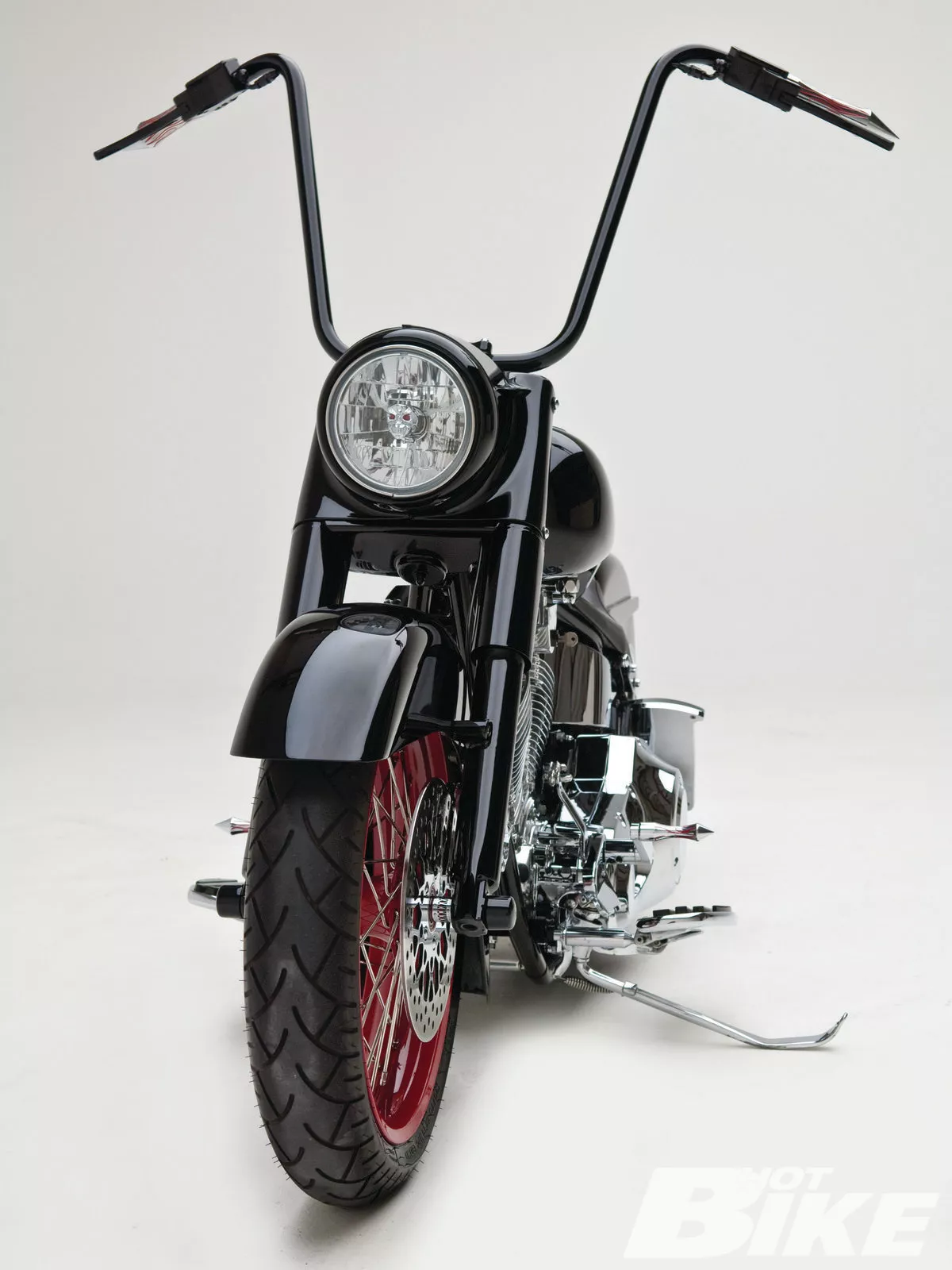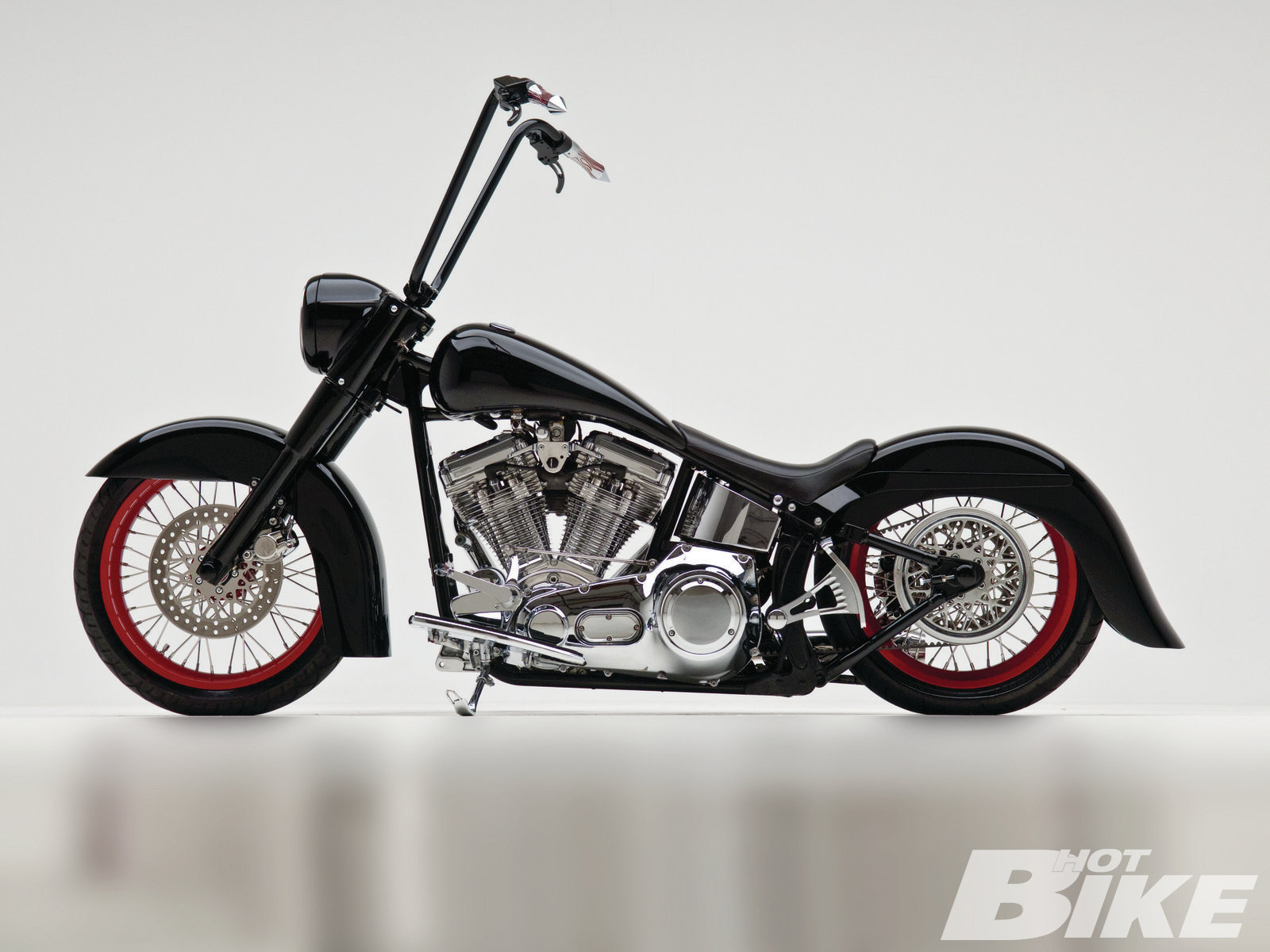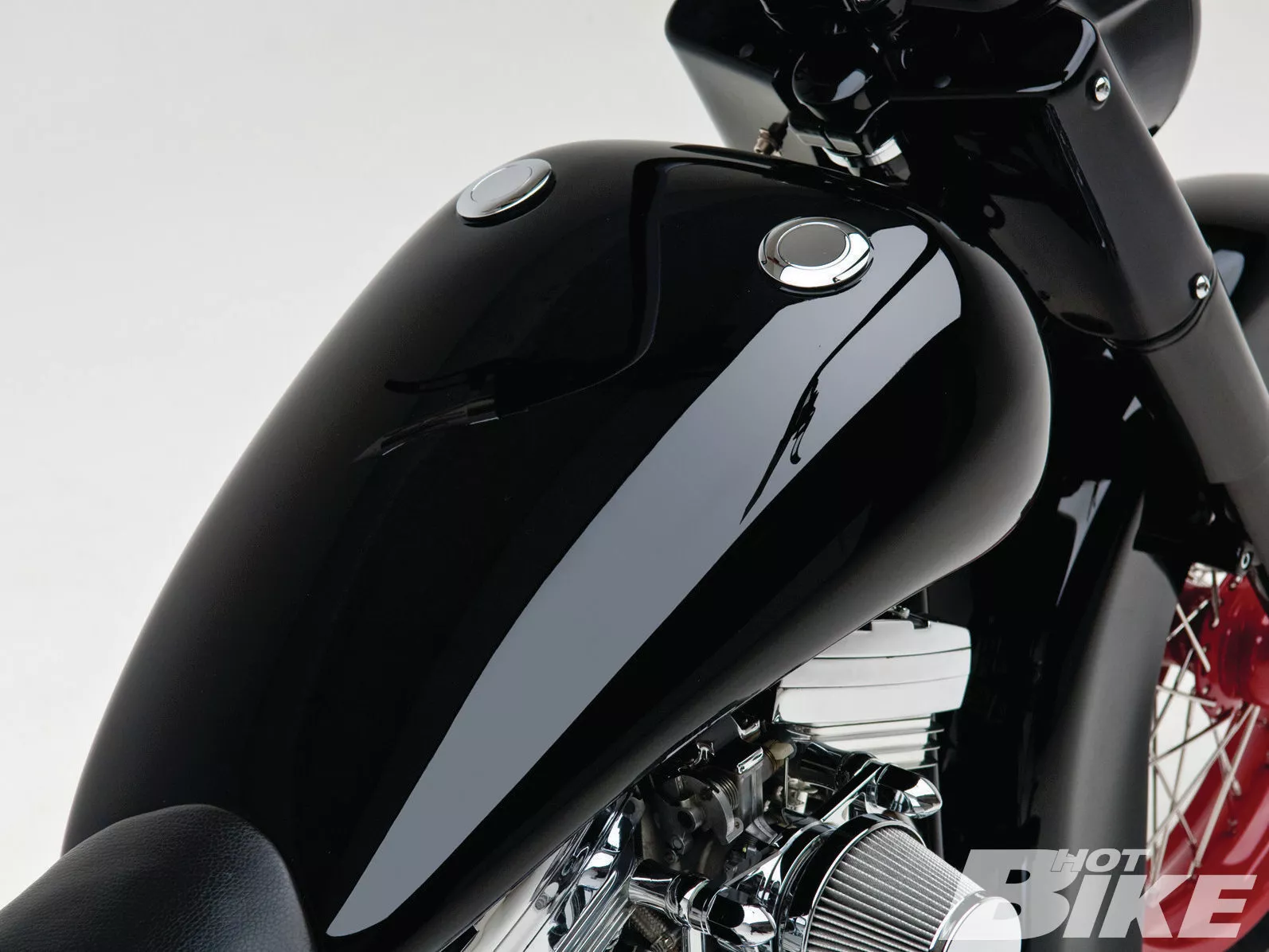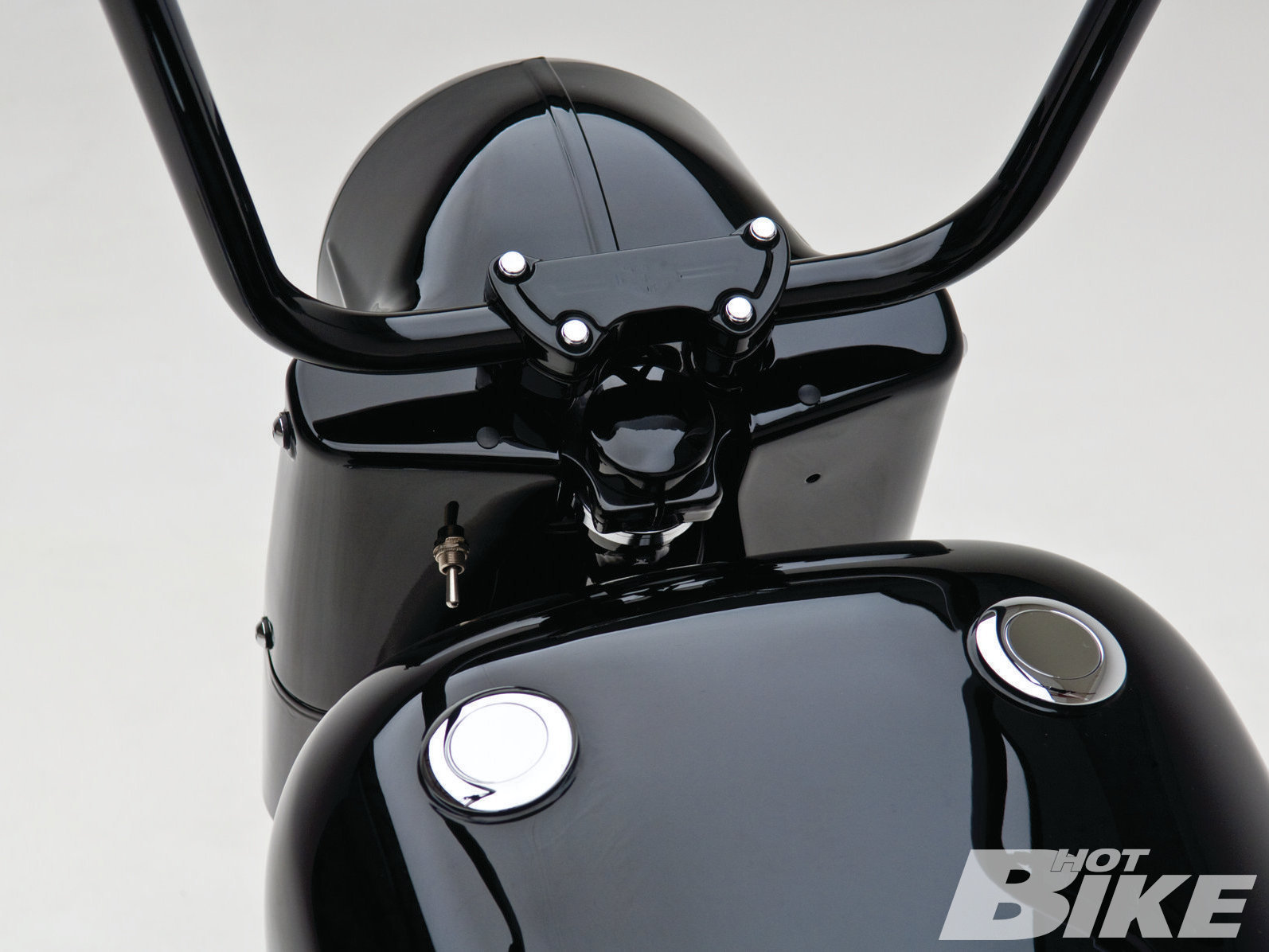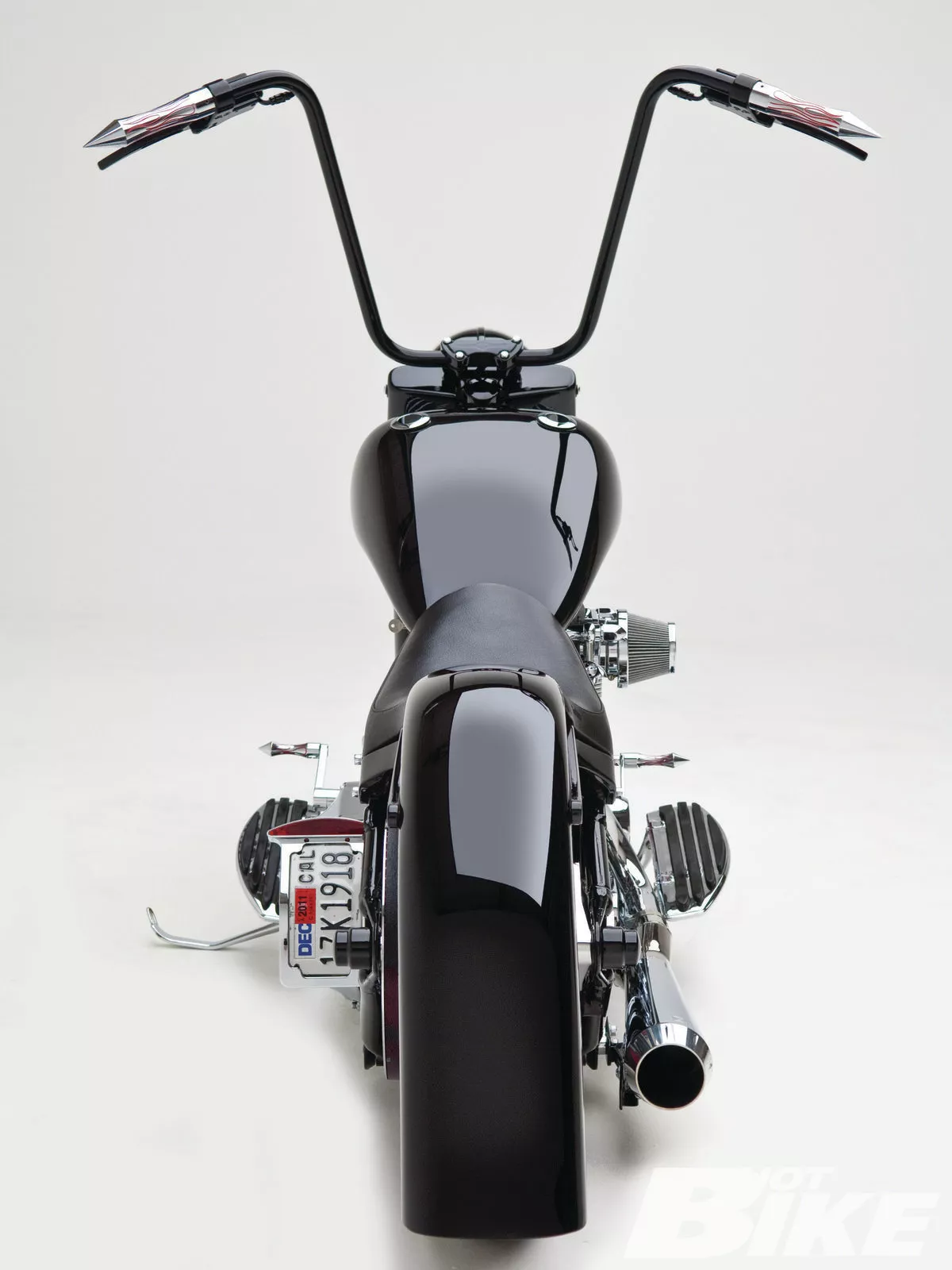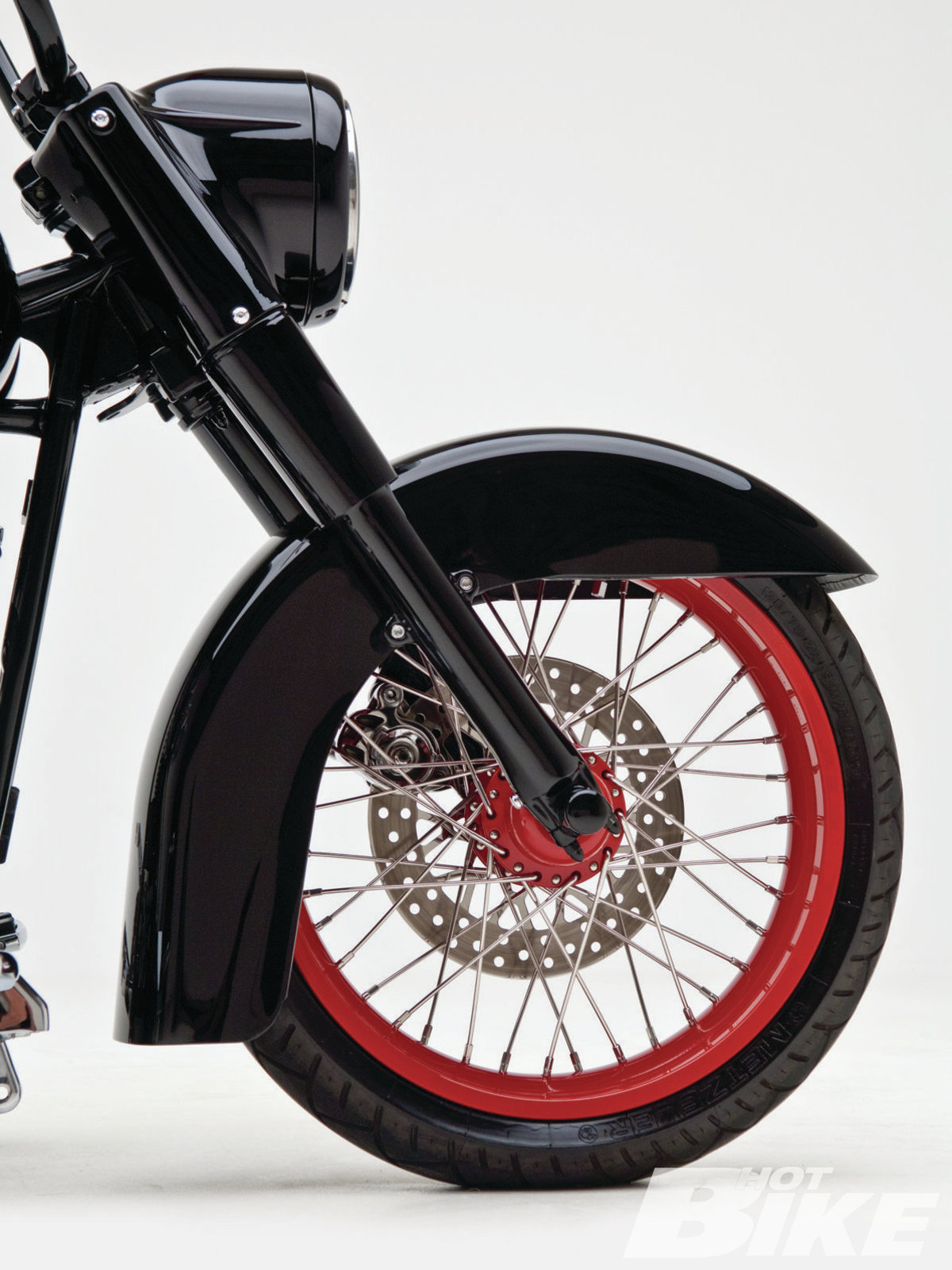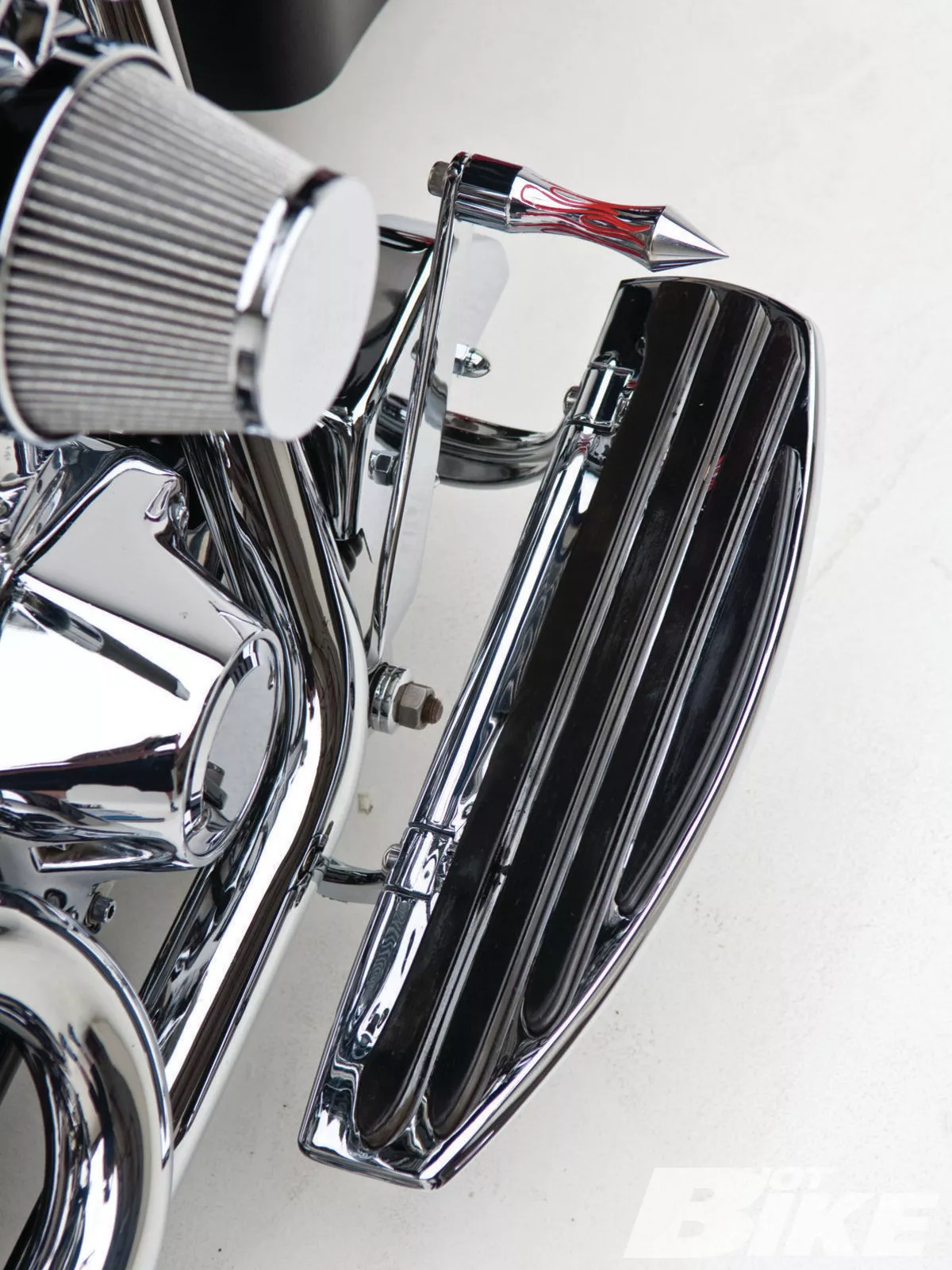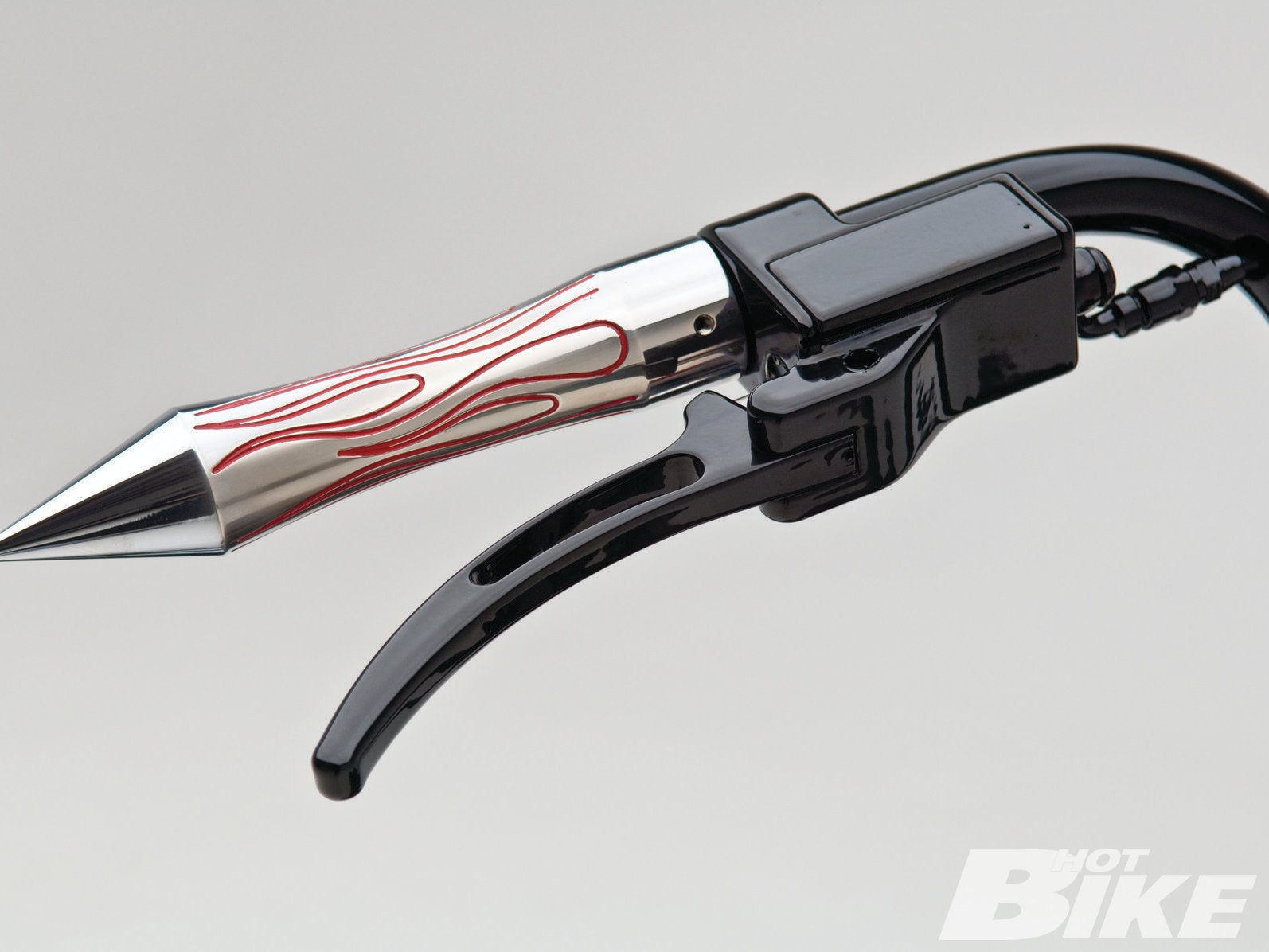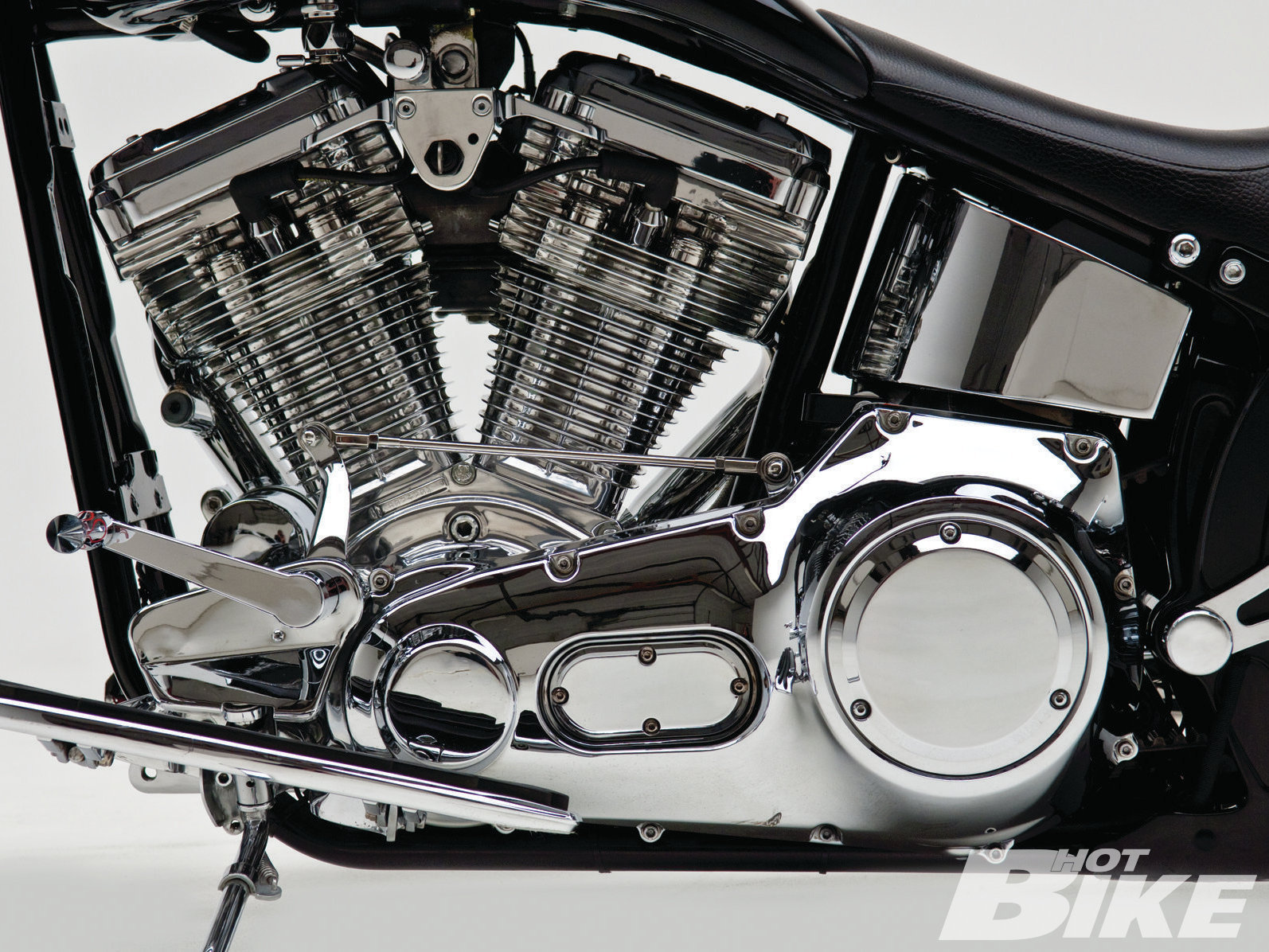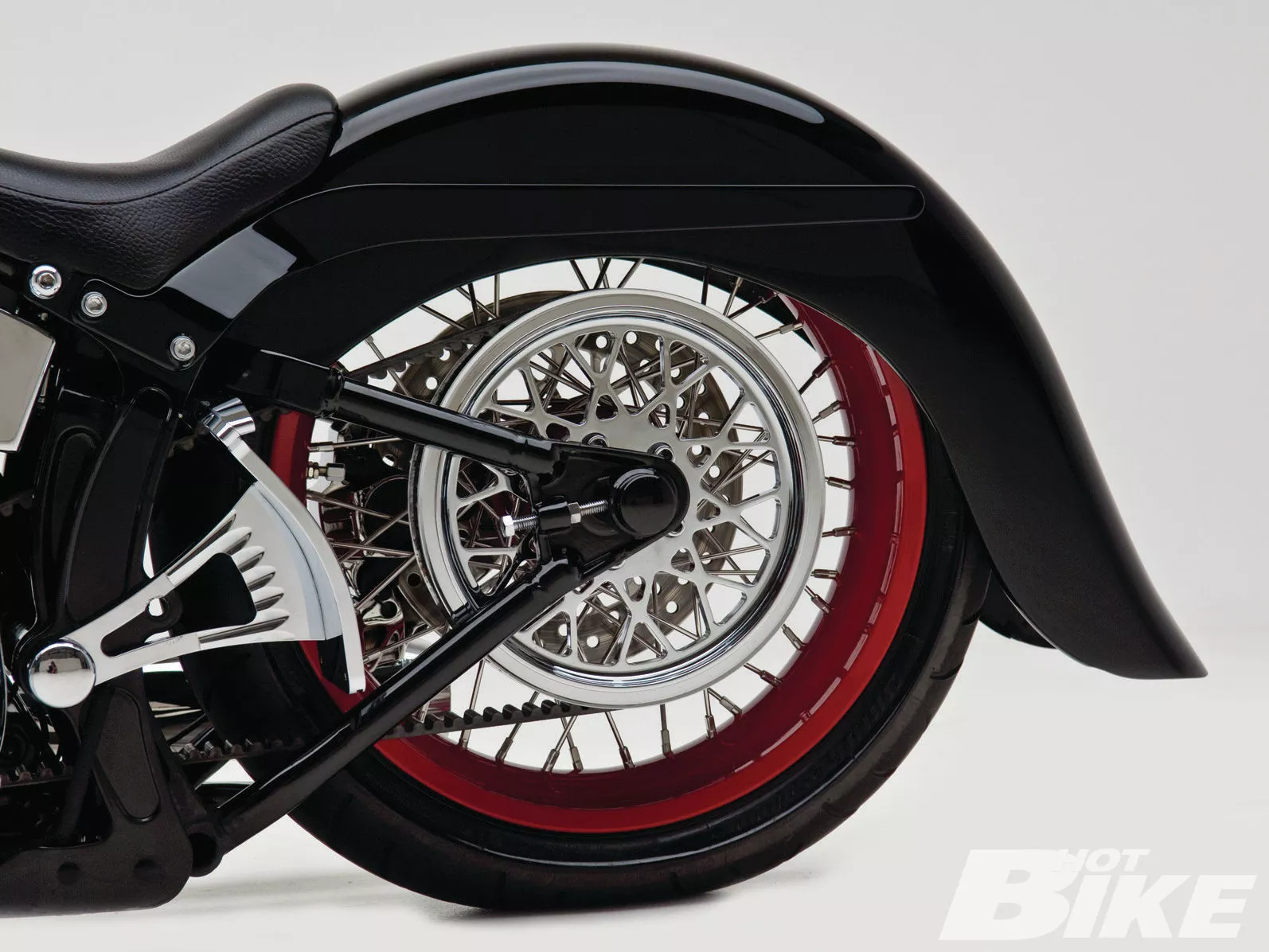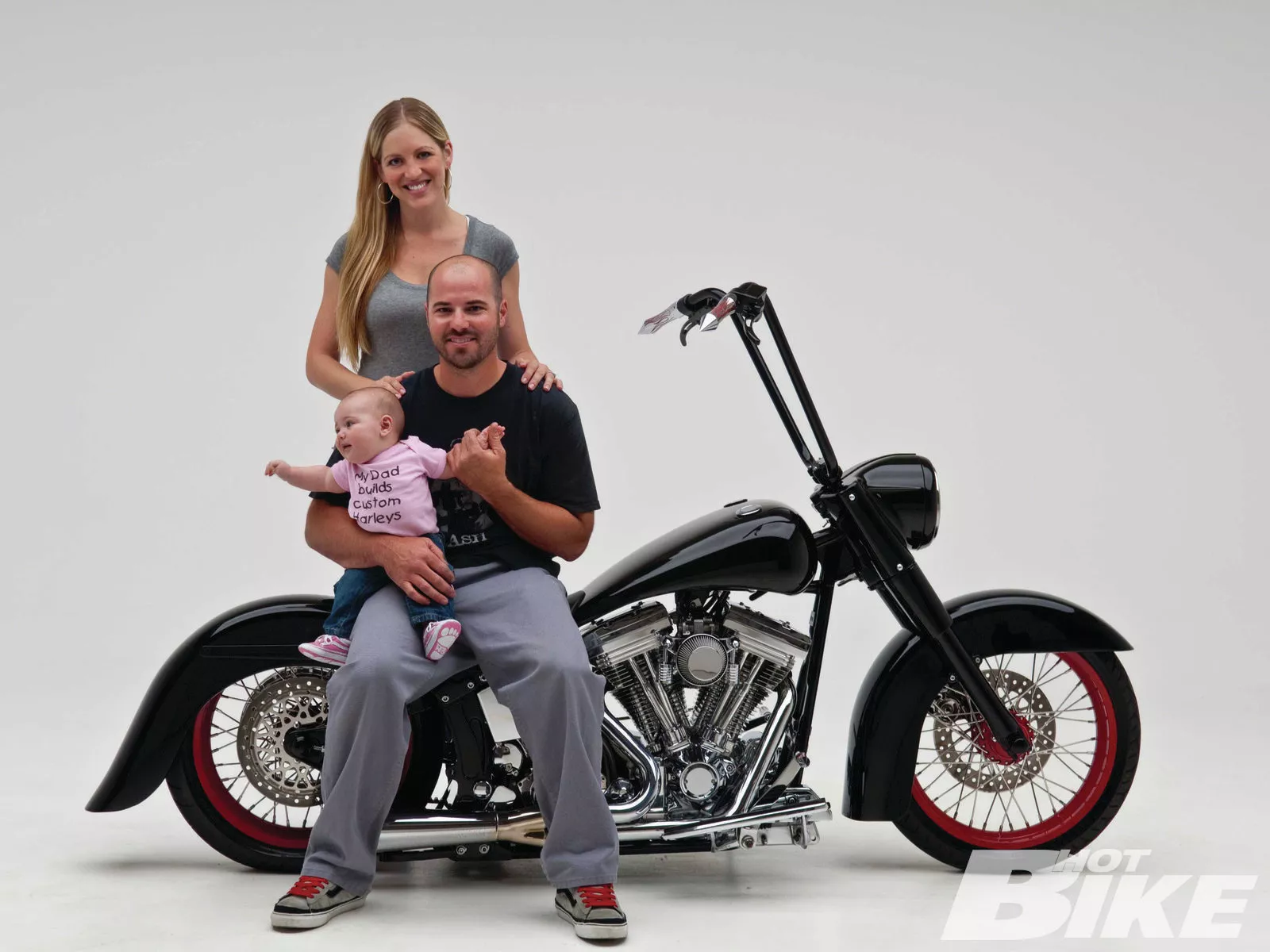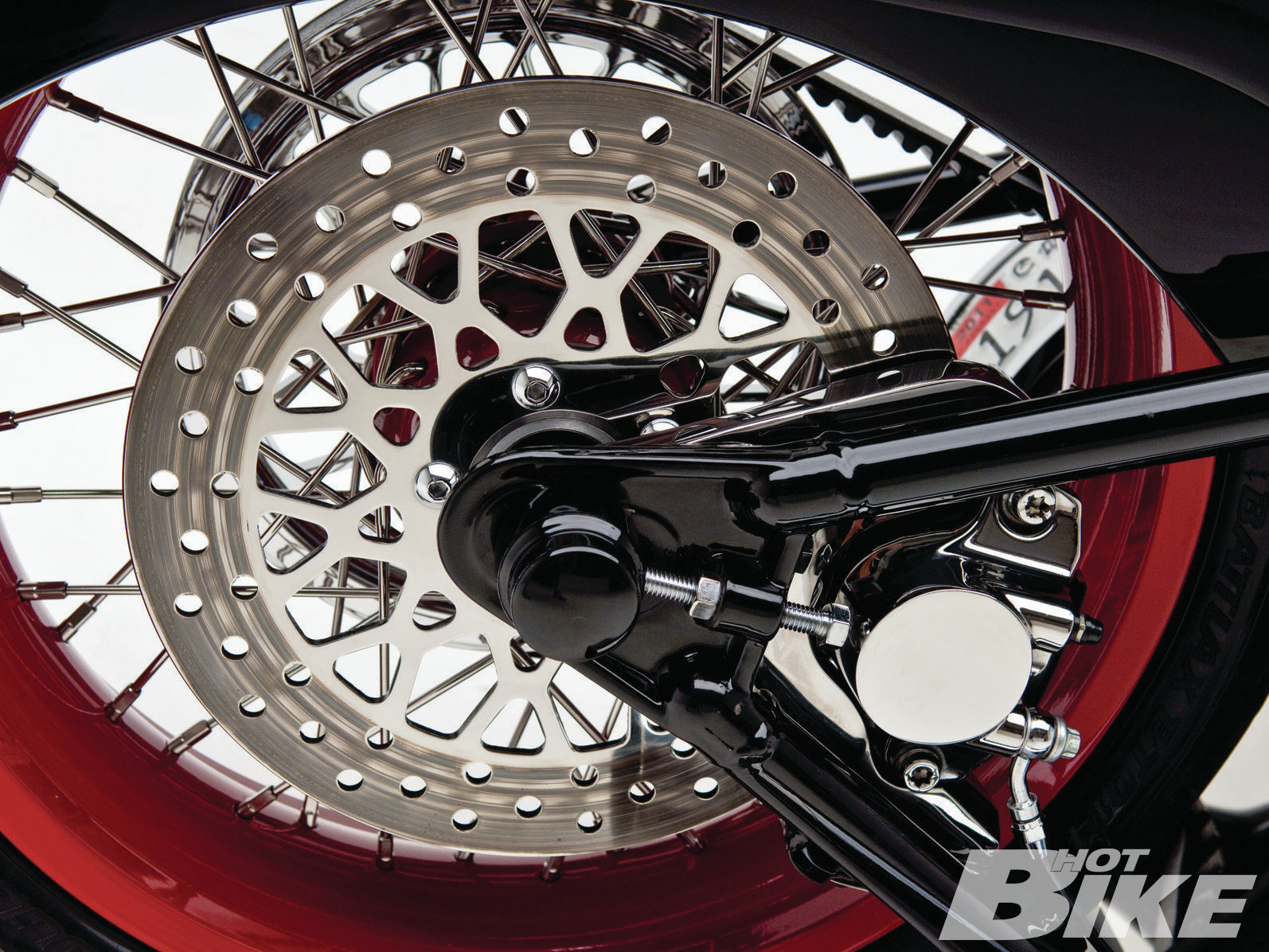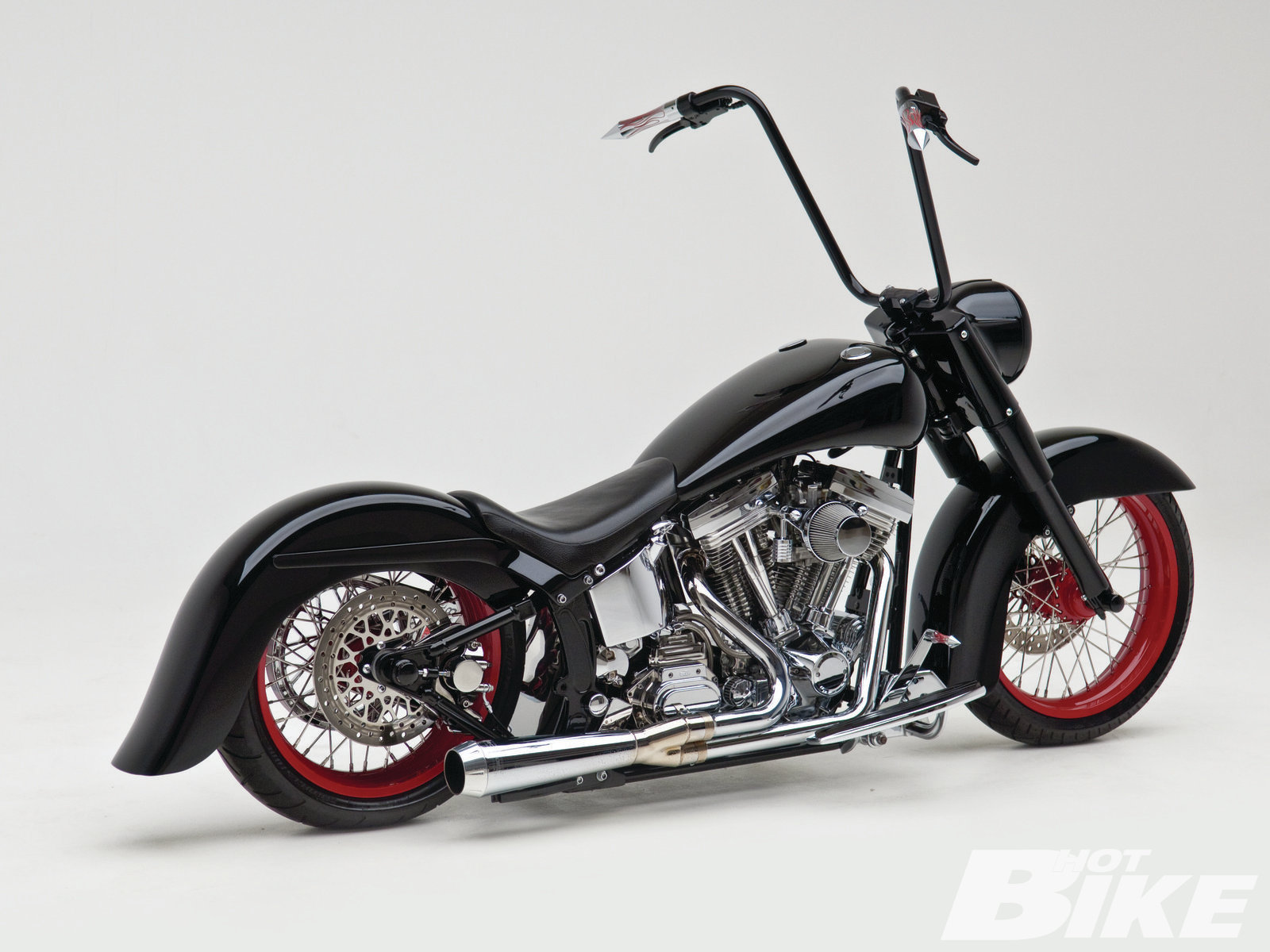 It's refreshing to see that even in these stressful economic times, people are still determined to start up a fresh business and try to make a living by following their passion. Joe Pereira of Hollister, California, is just one of those people. After years of "tinkering" around with cars, trucks, motorcycles, and just about anything else with wheels and a motor, it was this attention-getting, beautiful black Softail that inspired Joe to take his hobby to the next level.
"I have always been into bikes, trucks, and hotrods and enjoy building my own projects. From a 20-inch lifted pickup to an air-bagged pickup that lays on the frame; I couldn't stop there, so I had to lower my Peterbilt dump truck," Joe said.
It was the age-old tradition of the barter system that landed what could be considered a basket case of a project into Joe's skilful hands. "I do concrete work for a living and one day a friend of mine wanted some work done at his house and offered to trade me a '95 Heritage Softail for the work," Joe stated. It turns out Joe's friend was getting ready to rebuild the bike so it was completely torn down and stashed in an assortment of boxes. The engine had already been polished and rebuilt and the stock tins had a fresh coat of gloss black sprayed on them. Joe's friend offered to rebuild the bike and then give it to him for the concrete work, and while it sounded like a great trade, Joe knew he wouldn't be happy with it in the end. "I thought to myself, there is no way I want a stock Heritage Softail, so I know it's going to become another project (money pit). Do I really need another project? Yeah, why not?" Joe told his friend he'd accept the trade, but that he wanted to rebuild it himself.
<div class="st-block quote text-
Notice: Undefined index: st_text_align in C:laragonwwwhotbike-importblocksquote.php on line 1
">
The stock sheetmetal was either replaced or heavily modified with the front fender mounted low over a 40-spoke 19×3.5-inch Sun rim and Metzeler tire.
With the transaction complete, Joe took the frame and the rest of the parts back to his workshop and contemplated his new project. He started by drilling a few precisely planned out holes in the frame and welding a few new mounts, all in the name of making things disappear. The frame was then sent to Spray Technologies in Santa Clara, California, to get powdercoated black. When the frame came back, Joe planned out his wiring for the bike, which would be run inside the frame for a sanitary look. He also moved the location of the coil mount from the left side of the bike to up under the tank to keep it out of sight.
The stock sheetmetal was either replaced or heavily modified with the front fender mounted low over a 40-spoke 19×3.5-inch Sun rim and Metzeler tire. At the rear an 18-inch Sun spoked rim and 150mm Bridgestone Battleaxe tire were secured in place. Joe then smoothed out the fender struts, stretched the rear fender, relocated the mounting holes so it would hug the tire, then secured it in with hidden hardware. An aftermarket stretched gas tank was stretched just a tad more and the seat area smoothed out so that a custom Corbin seat would flow perfectly into the tail of the tank. The cross over line was relocated, as well as the tank mounts so it would all be out of sight. "I put 20-inch apes with all the cables and lines hidden inside," said Joe. "On the right side is an internal throttle and on the left side is a hydraulic clutch. Running the rear brake line and clutch line inside the frame was a pain, but if you are careful and do it right it really makes a difference to the overall appearance."
As we wrapped up with Joe he informed us that since building this Softail he's had lots of friends ask him to work on their bikes as well. Joe said he's been doing everything from raking baggers to lowering and/or stretching saddlebags and fenders. Now he's working on a frame-up 180-200mm bobber build. And with the amount of work that has continued to come his way from this bike, he's decided to turn his hobby into a career. Joe said he recently started up a shop called Street Bandit Kustoms, and he looks forward to seeing where it will take him.** HB**
Specifications
| | |
| --- | --- |
| **Bike Owner | Joe Pereira** |
| Shop Name | Street Bandit Kustoms |
| Shop Phone | (408) 781-2925 |
| Shop website | streetbanditkustoms.com |
| Year/Make/Model | '05/H-D/Heritage Softail |
| Fabrication | Street Bandit Kustoms |
| ASSEMBLY | Street Bandit Kustoms |
| Build Time | Nine months |
| | |
| Engine | |
| Year Manufacturer | '95/H-D |
| Type/size | Evo/80ci |
| Builder | H-D |
| Cases | H-D |
| Cylinders | H-D |
| Heads | H-D |
| Rocker Boxes | H-D |
| Carb | H-D |
| Air Cleaner | Wimmer Machine |
| Exhaust | Bassani |
| | |
| Transmission | |
| Year/Manufacturer/Type | '95/H-D/Five-speed |
| Case | H-D |
| Clutch | Barnett |
| Primary Drive | H-D |
| | |
| Frame | |
| Year/Manufacturer | '95/H-D |
| Rake | Stock |
| Stretch | Stock |
| | |
| --- | --- |
| Suspension | |
| Manufacturer Front | H-D |
| Length | Stock |
| Triple Trees | H-D |
| Manufacturer Rear | Legend Air Ride |
| Swingarm | H-D |
| | |
| Wheels, Tires, and Brakes | |
| Manufacturer Front/Type | Sun/40-spoke |
| Size-Height/Width | 19×3.5 |
| Tire/Size | Metzeler/120/70-19 |
| Caliper | H-D |
| Rotor | DNA |
| Manufacturer Rear/Type | Sun/40-spoke |
| Size-Height/Width | 18×4.25 |
| Tire/Size | 150×60-18 |
| Caliper | H-D |
| Rotor | DNA |
| | |
| Finish/Paint | |
| Color | Black |
| Painter | Supreme Customs |
| | |
| Accessories | |
| Front Fender | H-D/modified |
| Rear Fender | H-D/modified |
| Fender Struts | H-D/modified |
| Gas Tank & Cap | Aftermarket/Modified |
| Oil Tank | H-D |
| Handlebars | Fehling |
| Hand Controls | BDL |
| Foot Controls | H-D |
| Footpegs | Küryakyn |
| Headlight | Adjure |
| Taillight | Milwaukee Twins |
| License Mount | Milwaukee Twins |
| Seat | Corbin |