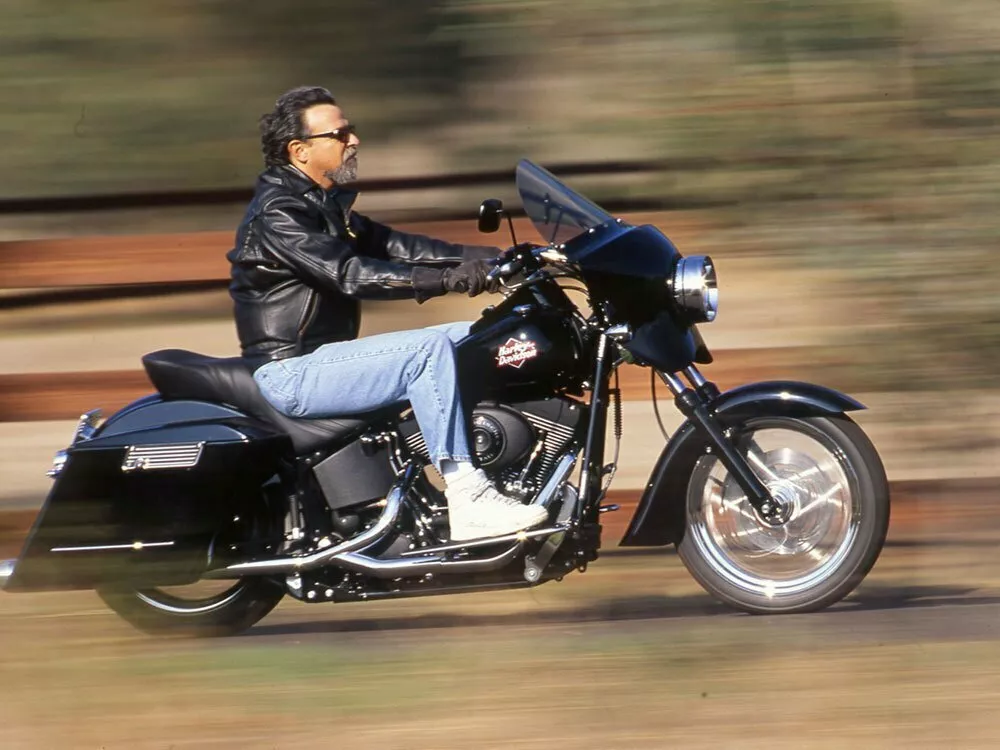 This article was originally published in Cycle World's Big Twin April-May 2000 issue.
"You know," says veteran bike builder Barry Cooney, "I've never particularly liked baggers. I've always thought they served humanity better as boat anchors than as motorcycles. I swore that I'd never ride one of those damned things until I was 70 years old. Besides that," he continues, warming to his rant, "I've always considered Harley Softails to be junk. They rattle and shake themselves until all the brackets are broken and everything has fallen off."
Cooney then looks upon his newest creation, a beautiful Softail bagger, and his annoyance quickly abates and his voice lowers. "But," he says quietly, "after 30 years of riding, I'm beginning to see the value of windshields. And boy, this new Softail is really nice."
Such is the power of the new counterbalanced Softails to convert even the most hardcore bikers and builders. Cooney's black bagger is testimony to the transformation taking place among seasoned bike builders. As little as ten years ago, Cooney's motorcycle, with its blacked-out motor, flat drag bars, kicked-out fork and all-black paint, would have been considered fairly radical. But by today's standards, most of this bike is still bone-stock.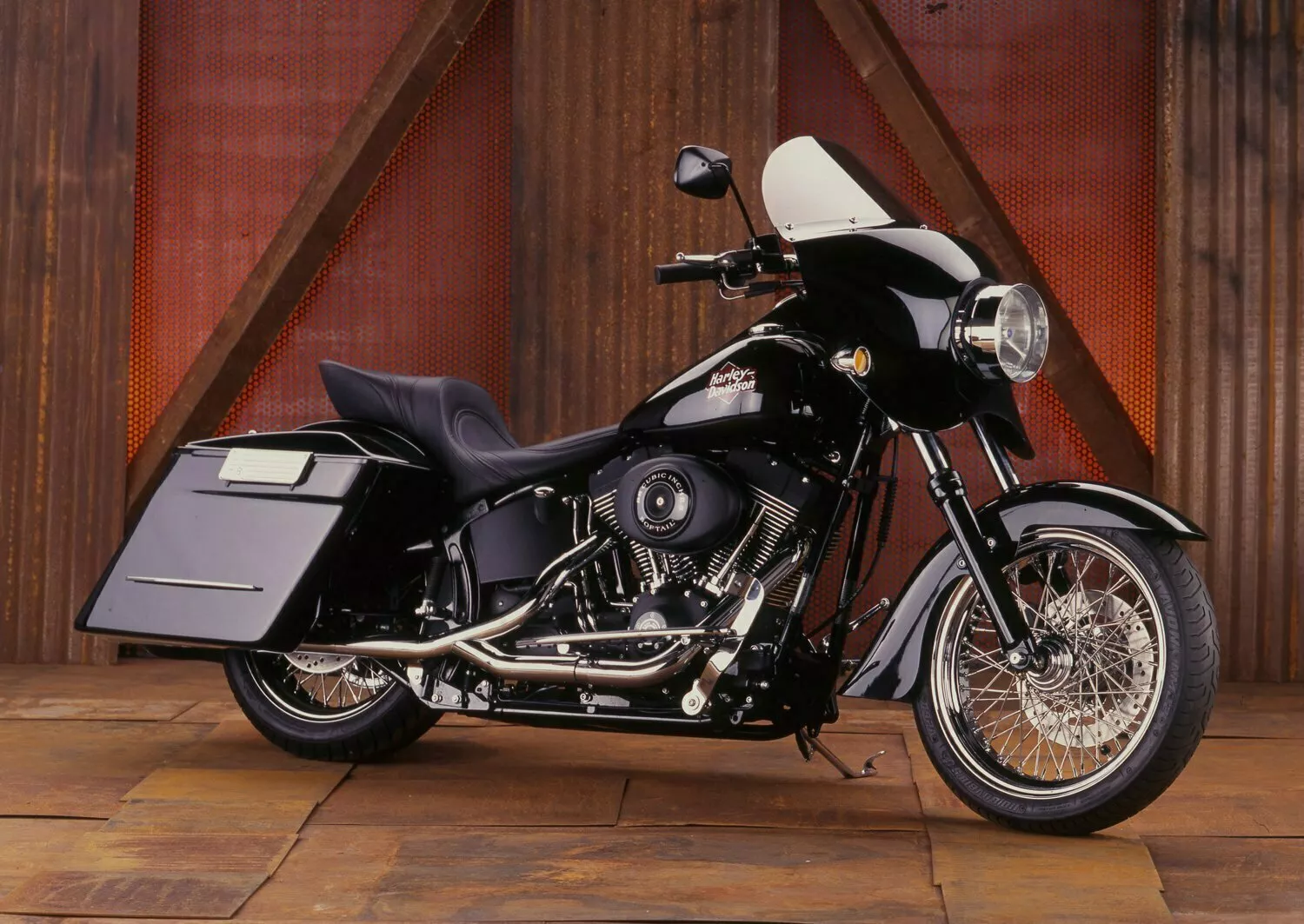 It almost didn't come to pass. Cooney, a big fan of rubber-mounted motors, had ordered a new FXDX and was waiting for it to arrive. "I was all set to customize the FXDX," he recalls, "but I'd been hearing lots of good things about the new Softails. Everyone who had ridden one just raved about it. Still, I wasn't convinced; I needed to ride one for myself before making up my mind. Well, I just happened to be down at San Diego Harley-Davidson one day, and they had a 2000 Night Train sitting there. I looked at it and said, 'Wow, that's a pretty cool bike for a stocker.' And I have to tell you, I'm not a big fan of stock bikes.
"The owner there, New York Myke, let me a ride on it, and I was absolutely floored. I couldn't believe how smooth the thing was. So, I bought a Night Train, too, and conducted my own personal shootout between the FXDX and the Night Train. Whichever bike I liked to ride the best, that's the one I would customize, and I'd sell the other." Hello Night Train, bye-bye FXDX.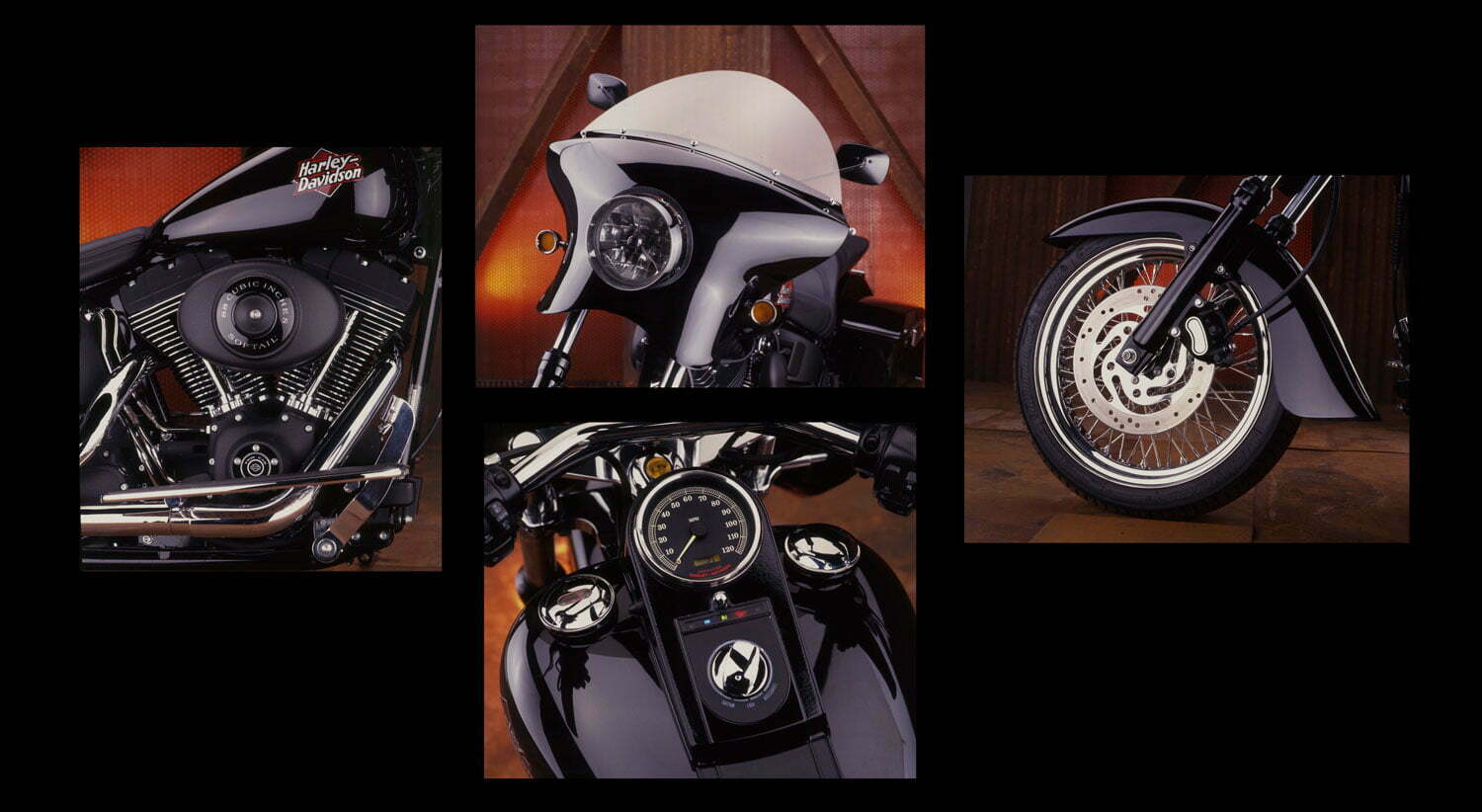 "Usually, I build bikes that are full customs from the ground up," says Cooney. "But although I changed quite a few things on this bike, I kept the stock frame, engine and gas tank." His desire to make the bike a regular rider motivated him to keep the engine almost entirely stock, and the Night Train's 34-degree steering-head angle permitted him to retain the original frame.
The only significant changes to the frame were made in the rear section so that Cooney could hang a set of Ness saddlebags on the Softail's rear quarters. "I had to build an en­tire new subframe off the rear frame horns," he says, "to carry the rear fender as­sembly and the saddlebags." He's also particularly proud of the clever quick-detach method he devised for removing and reinstalling bags. "You can take them off in 10 seconds," he says.
As custom as a stock Night Train looks, though, it still sits relatively high compared to most customs. So, to give his bagger the requisite ground-hugging profile, Cooney used a White Bros. lowering kit to drop the front 2 inches; he had to fabricate his own 2-inch lowering pieces for the rear, however, because there wasn't any kind of kit yet available in the aftermarket.
To further enhance the bagger theme, Cooney wanted floorboards instead of footpegs, so he fabricated some mounting brackets for a set of Ness billet boards, retaining the stock forward controls. He then mounted a Ness fairing and front fender, both of which were pretty easy to install.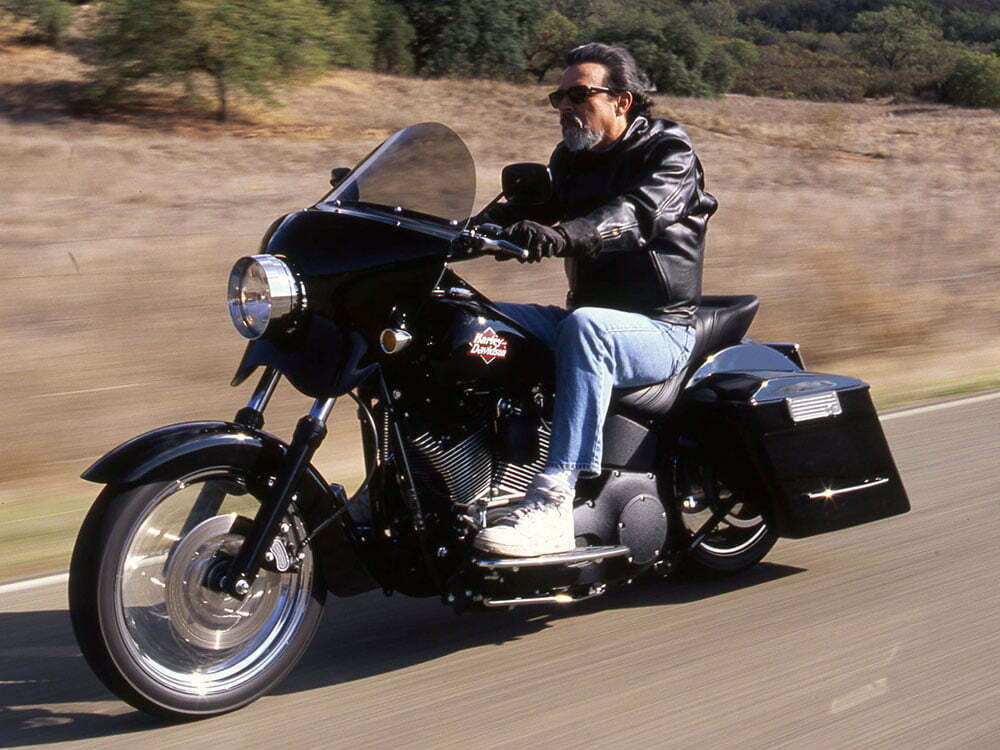 "Making the saddlebags fit was the biggest challenge," says Cooney. "I used a Ness fender shell, which is just a little half-fender that goes over the stock fender on the back end of baggers. But to put it on this Softail, we had to build sides on it, skirt it, and make it longer in the front. Plus, I wanted to run a 2-into-1 exhaust system, but the Ness bags and rear fender are set up for dual exhausts with one pipe on each side. So, we had to fill in all the holes and cutaways where the left exhaust pipe would have been. That was quite a bit of work."
So, how does this late convert to baggers like his new "boat-anchor" bagger? "It's a helluva runner," says Cooney. "This will be my road bike that I'll ride to Sturgis this year. Yep, I'll keep this one—unless someone makes me an offer I can't refuse."
As gorgeous as this anchor is, we think that'll happen very soon.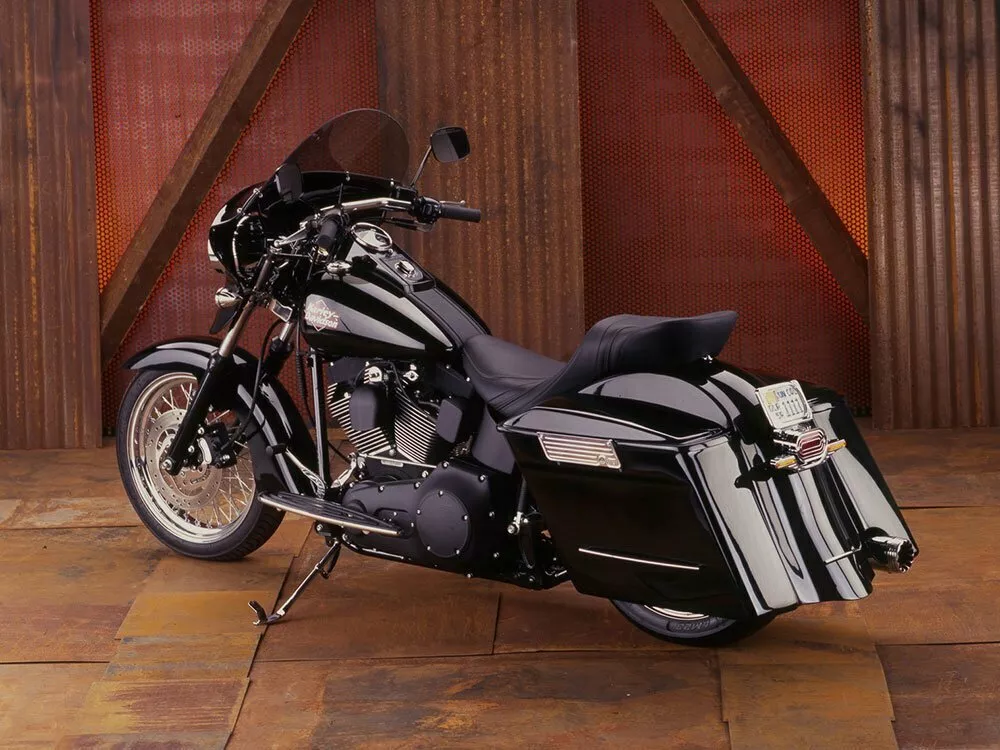 | Specifications | |
| --- | --- |
| Bike: | Night Train Touring Special |
| Base Machine: | 2000 FXSTB Night Train |
| Owner/Designer/Builder: | Barry Cooney 812 Hamilton Lane Escondido, CA 92029 760/745-9442 |
| Paint and Polishing | |
| Painter: | Kevin Norton |
| Molding: | None |
| Graphics: | None |
| Chroming: | North County Plating |
| Polishing: | North County Plating |
| Engine | |
| Year: | 2000 |
| Model: | Twin Cam 88 Beta |
| Builder: | H-D |
| Displacement: | 88 cu. in. |
| Cases: | H-D |
| Lower end: | H-D |
| Rods: | H-D |
| Pistons: | H-D |
| Heads: | H-D |
| Cylinders: | H-D |
| Valves: | H-D |
| Cam: | H-D |
| Pushrods: | H-D |
| Lifters: | H-D |
| Ignition: | H-D |
| Carb: | Keihin CV |
| Air cleaner: | H-D |
| Pipes: | Bob Monroe |
| Mufflers: | Ness |
| Transmission | |
| Make: | H-D |
| Year: | 2000 |
| Type: | Softail |
| Primary Drive: | H-D |
| Clutch: | H-D |
| Frame | |
| Make: | H-D |
| Year: | 2000 |
| Type: | Softail |
| Modifications: | Subframe for rear fender & saddlebags |
| Front Fork | |
| Make: | H-D |
| Year: | 2000 |
| Type: | 41mm Wide Glide |
| Modifications: | Lowered 2", black powdercoat |
| Rear Suspension | |
| Make: | H-D |
| Year: | 2000 |
| Type: | Softail |
| Modifications: | Lowered 2" |
| Front Wheel/Tire | |
| Wheel: | Road Wings 60-spoke |
| Tire: | Avon |
| Tire Size: | 110/80-18 |
| Rim: | width 3" |
| Brake: | H-D |
| Rear Wheel/Tire | |
| Wheel: | Road Wings 60-spoke |
| Tire: | Avon |
| Tire Size: | 150/70-18 |
| Rim: | width 4.5" |
| Brake: | H-D |
| Accessories | |
| Handlebar: | Ness |
| Riders: | None |
| Grips: | H-D |
| Mirrors: | H-D |
| Gas tanks: | H-D |
| Oil tank: | H-D |
| Front fender: | Ness |
| Rear fender: | Ness |
| Headlight: | 7" Ness Billet |
| Taillight: | Ness Billet |
| Turnsignals: | Ness Billet |
| Speedo: | H-D |
| Gauges: | H-D |
| Seat: | Danny Gray |
| Foot controls: | H-D |
| Rider pegs: | Ness Billet Running Boards |
| Pass. pegs: | H-D |