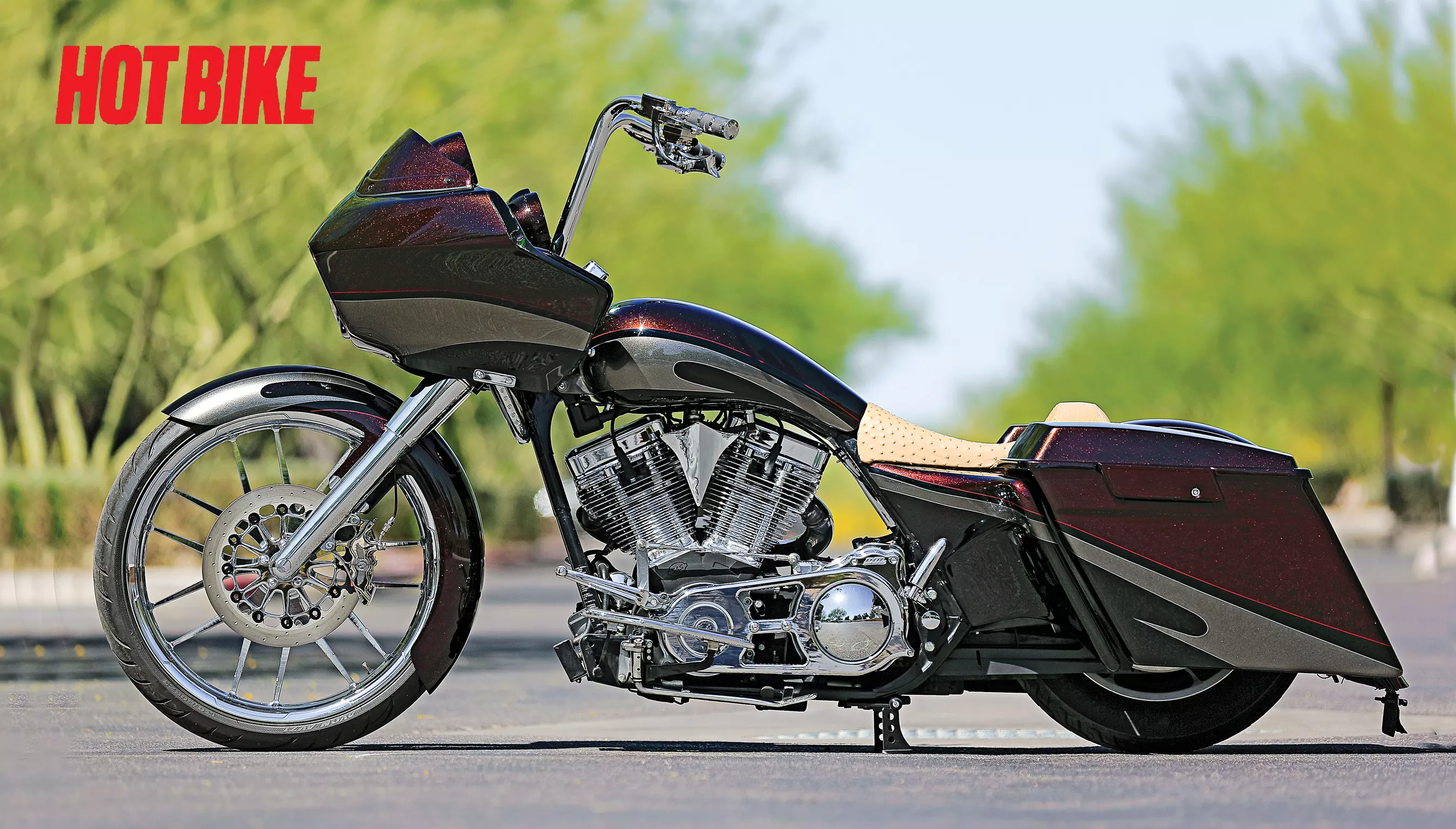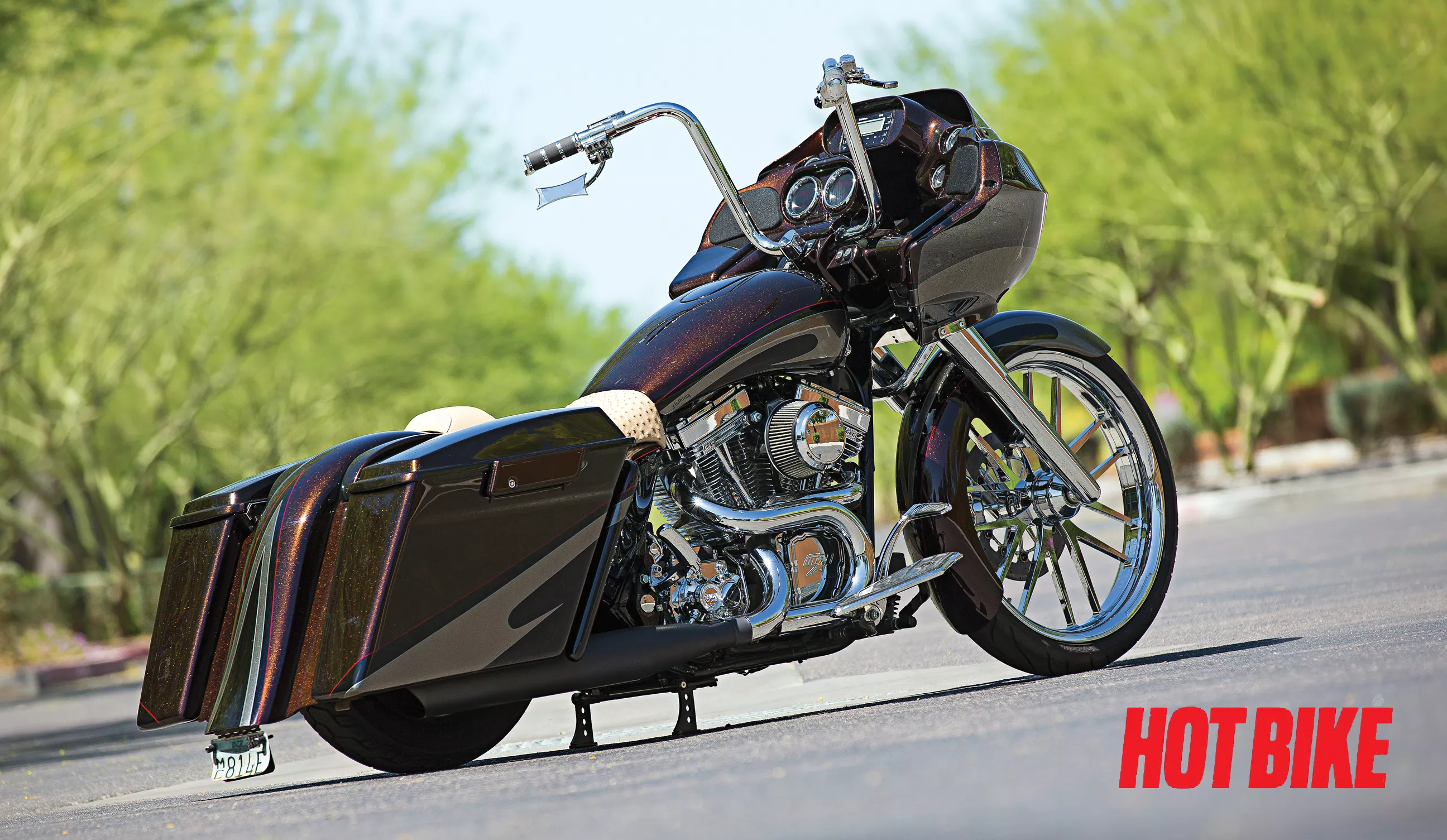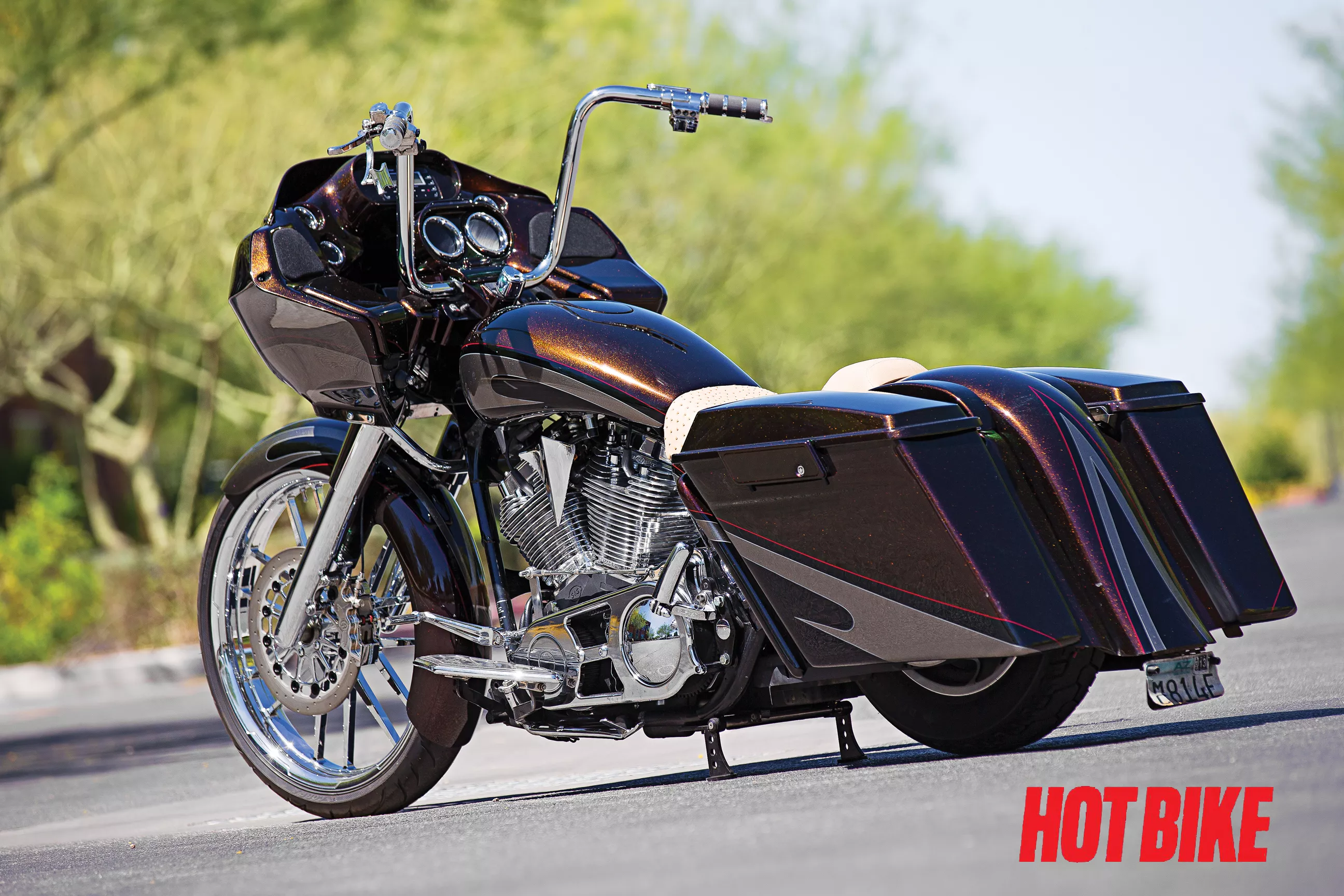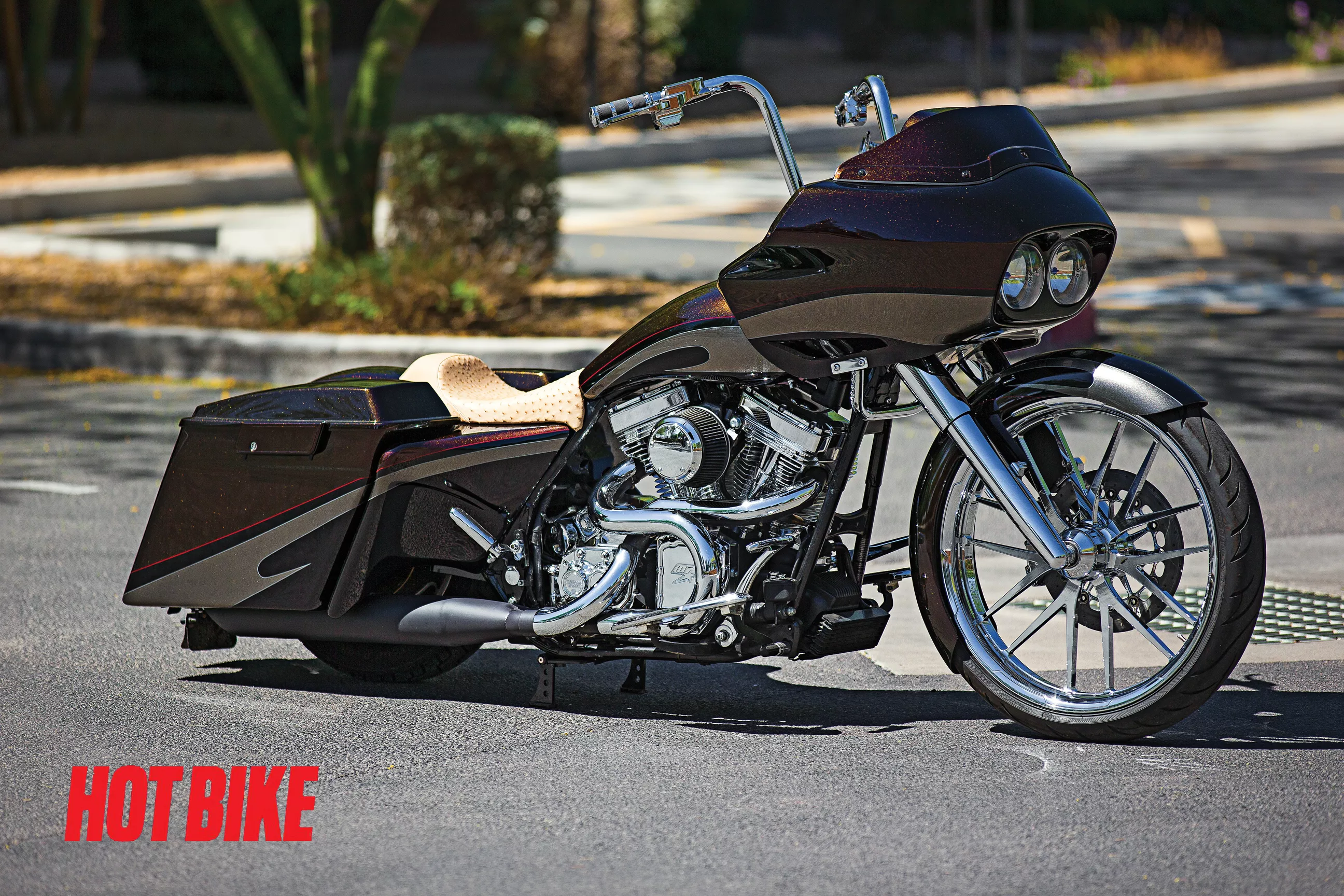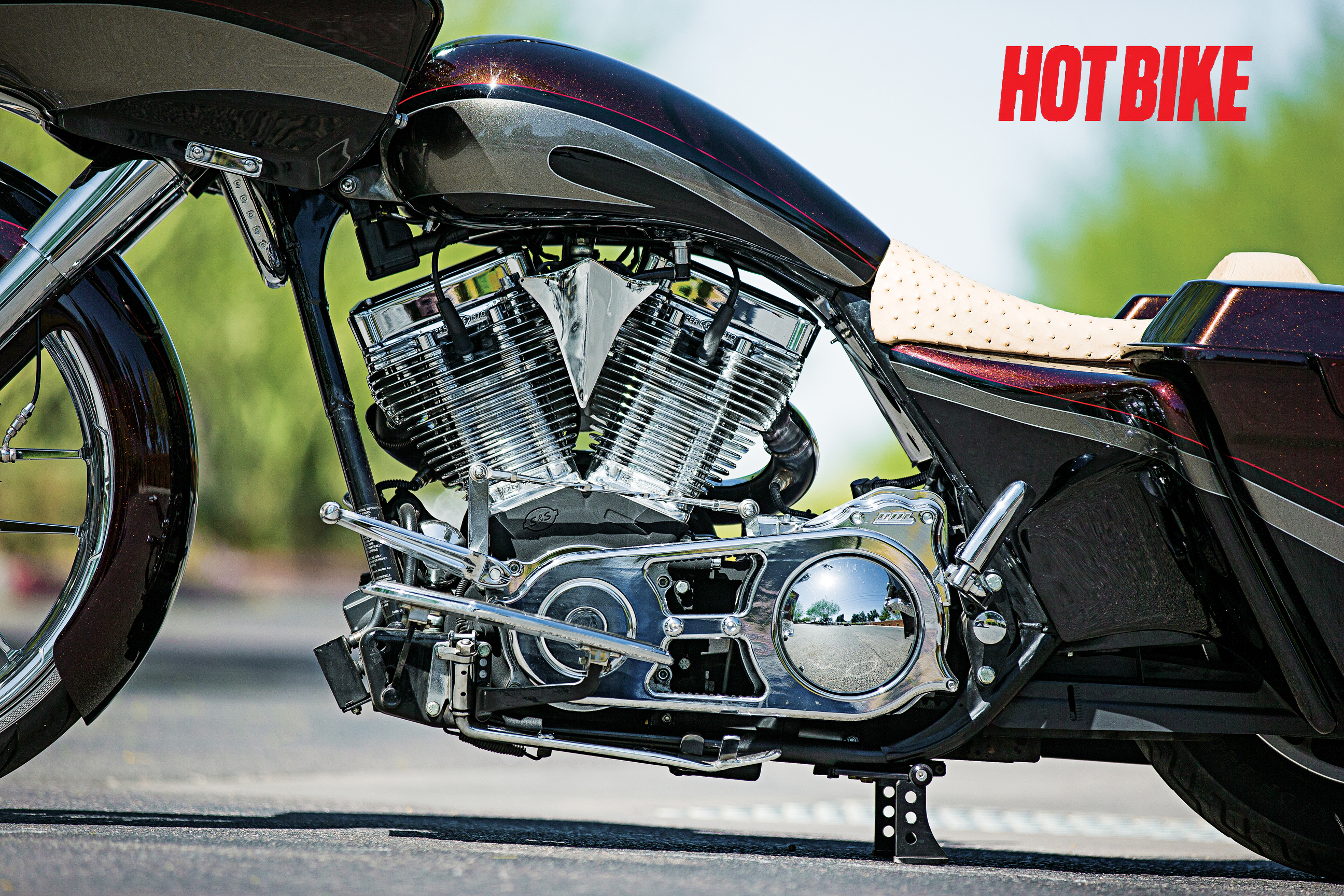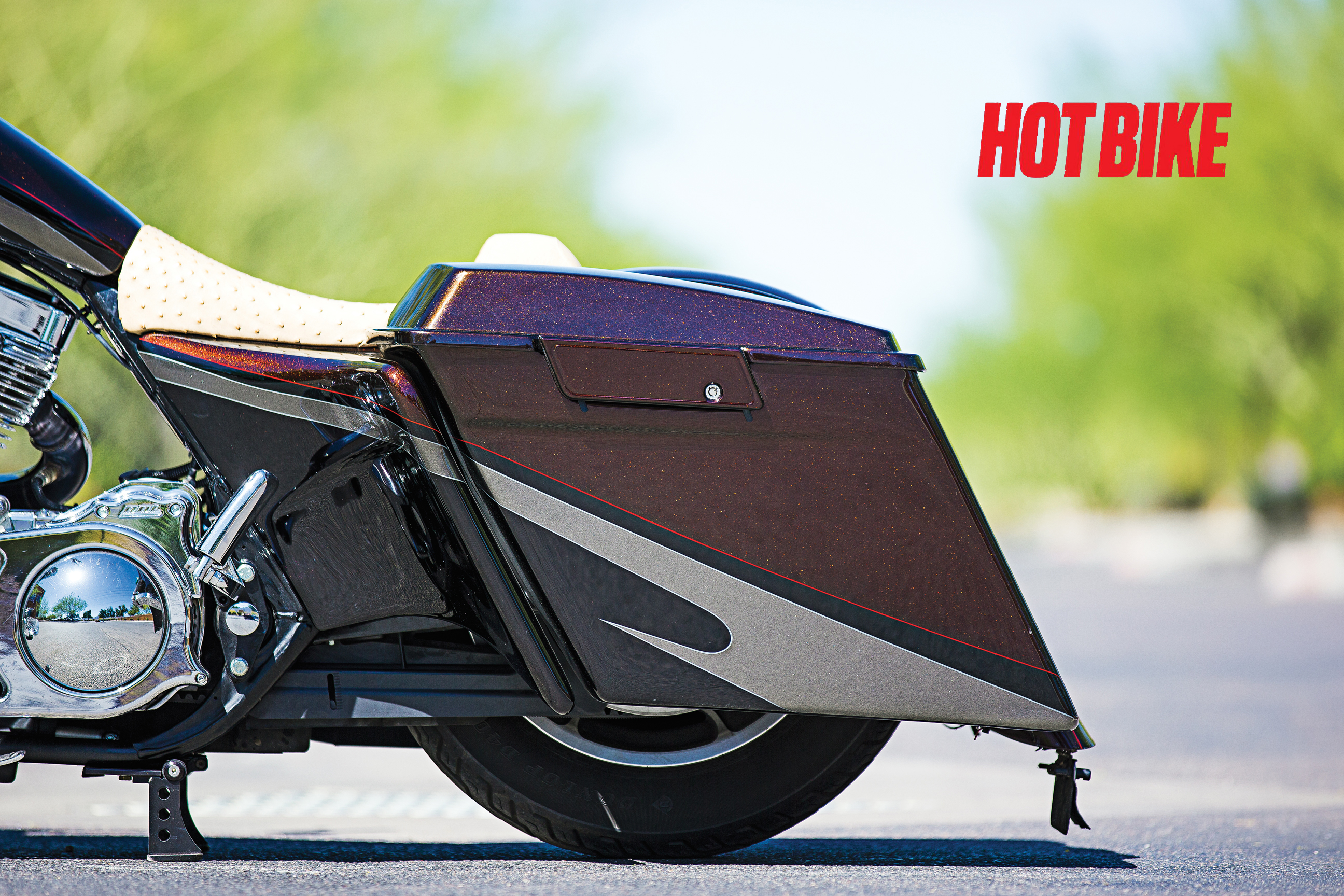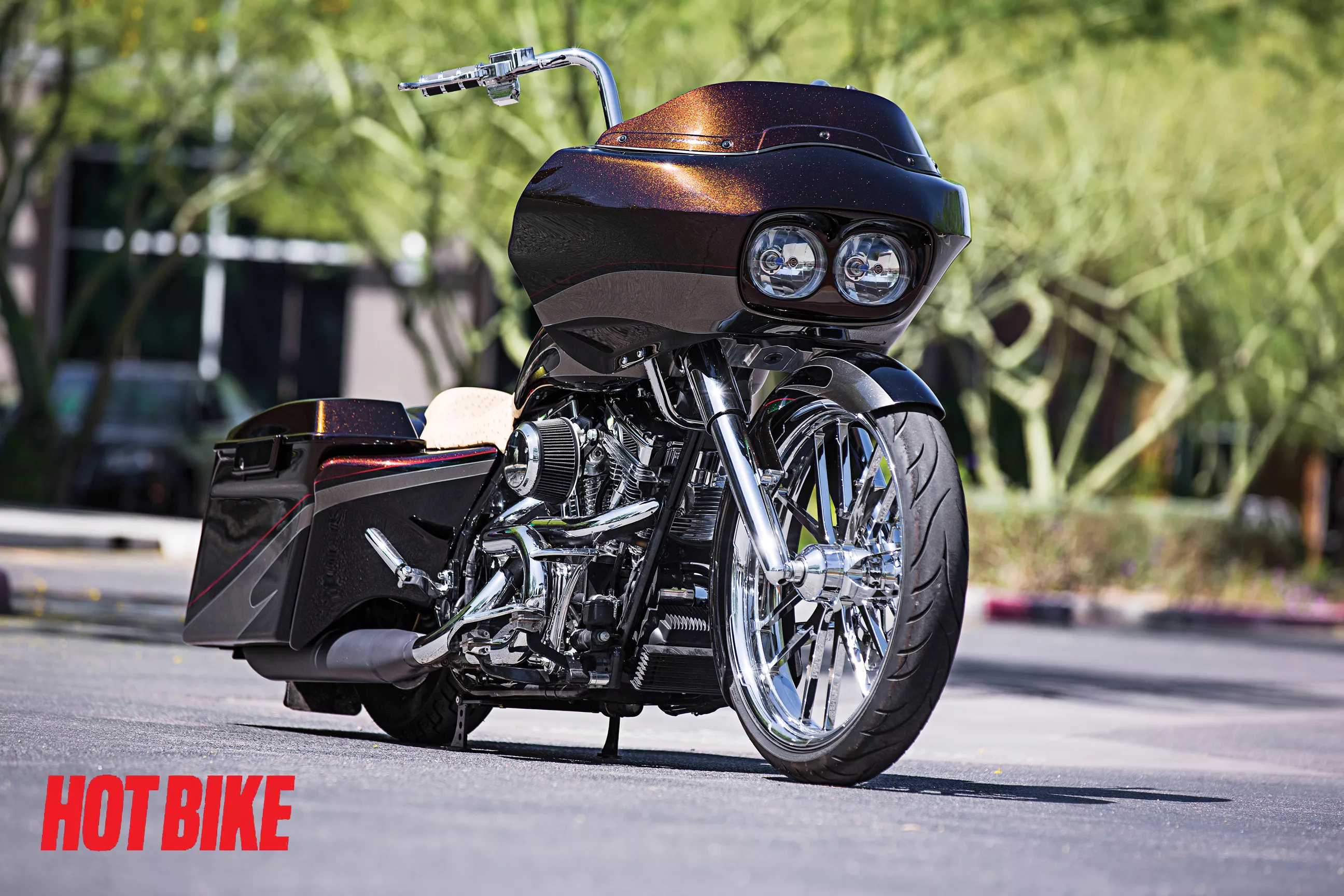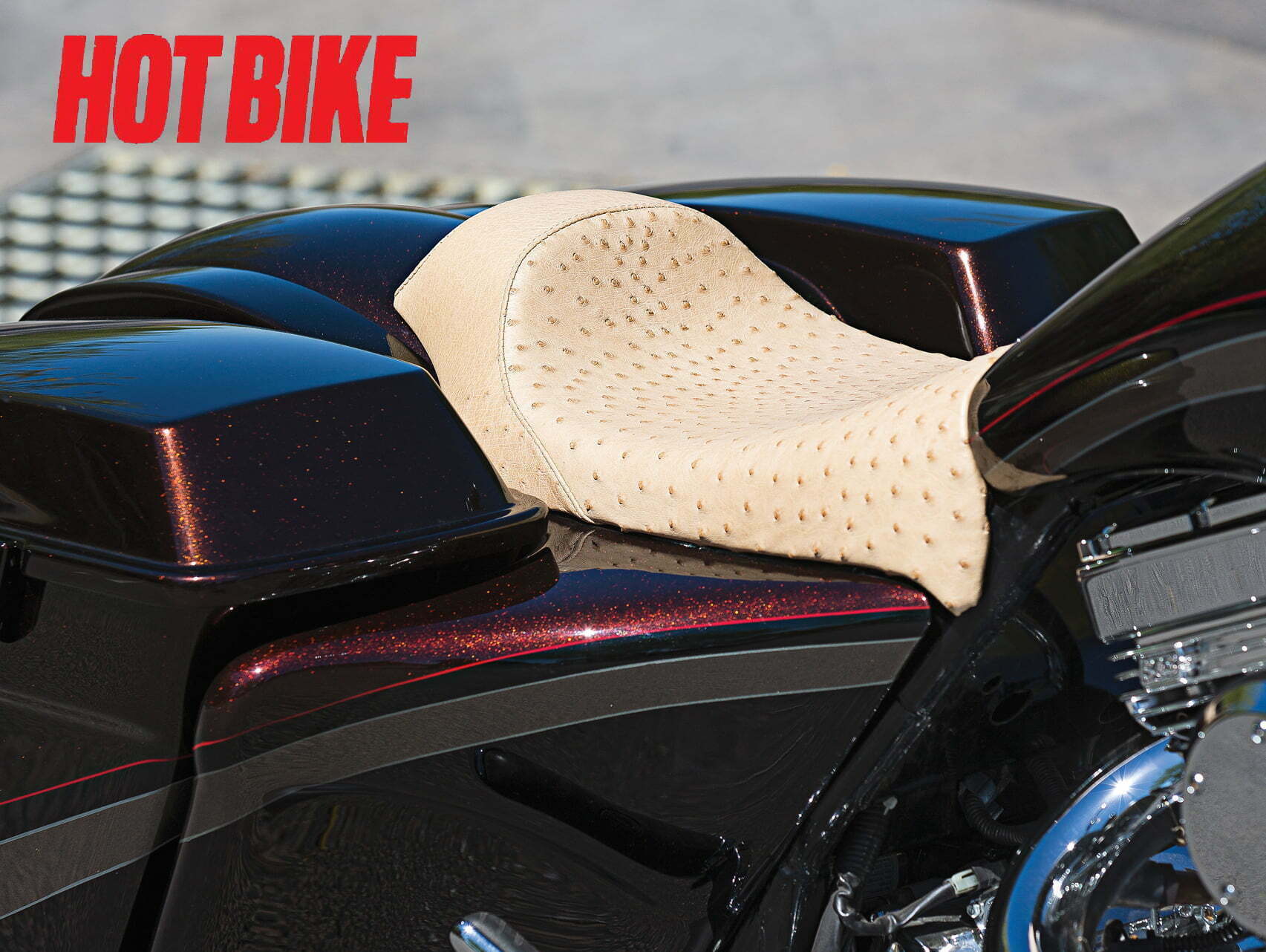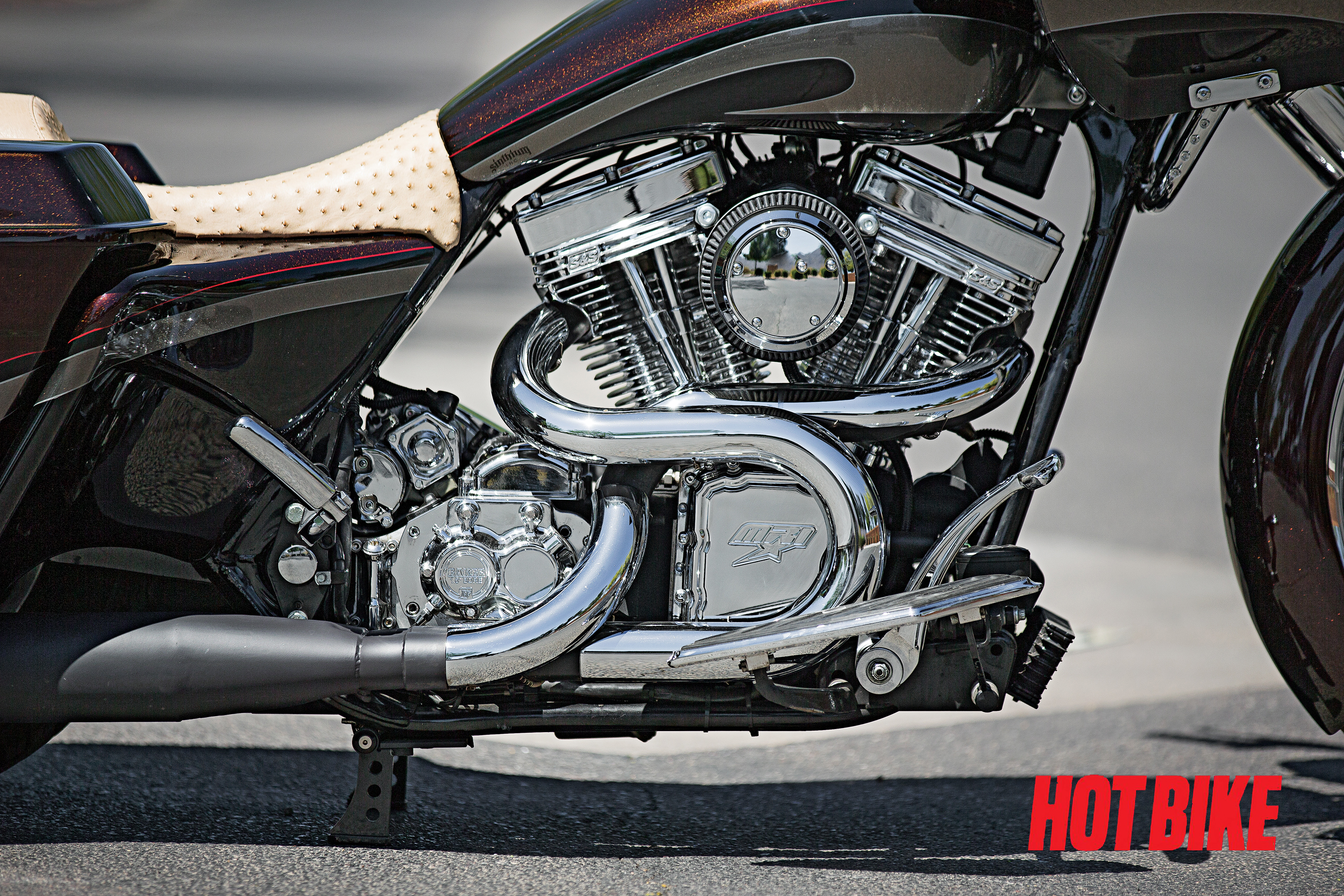 Like any good root beer float, this awesome custom bagger is a full-package deal. Instead of the happy union of great ice cream and premium root beer, it took a lot more work to make this sweet thing happen.
It also changes colors like a schizophrenic chameleon.
That's part of what makes this former Road Glide such a jewel. Its PPG Ruby Slippers and Galaxy Grey color scheme layers pearl paint flawlessly, and depending on what kind of light is hitting this Glide (and from what angle), it can be anything from green to copper to root beer in color. Builder Matt Risley of Matt Risley Innovation planned it that way: "It's just a really cool color. It's got a lot of colors in it. The bike goes green like you wouldn't believe, and it also goes root beer or copper. Painters can embed these pearls to look a certain way, and that's what does it. I can offer a customer a bike that looks seven different ways with one paint job. I've even had guys at shows ask, 'Where'd this bike come from? It wasn't here yesterday.' And it actually was the same bike from yesterday."
That sort of complexity is part of his builder's fingerprint. His shop, MRI, has been in business for eight years, but Matt's been around bikes most of his life. When he was in his 20s, he became the youngest certified Harley Master Mechanic on record. The customs he builds don't have any one focal point. As he puts it, "I'm more into the whole bike being viewed in its entirety versus part by part. I concentrate on making the metal look good, and the rest is easy. If a bike just looks like you could wrinkle coat it and ride it, you've done good. I go for a longer, flowing look. That's what's with the flat-bottomed tank on this bike. Now I've got a new tank that holds over 7 gallons that holds all of the fuel-injection parts inside, so it's way clean. It doesn't even have a door. Just a gas cap."
Gas tanks tend to be the hardest part of Matt's projects, too. Most MRI gas cans consist of at least 30 pieces, all of which have to be cut, formed, and welded by hand. Matt says MRI tanks are the only fuel-injector tanks on the aftermarket without a dash: "All of your factory guts go inside the tank. If you've ever looked inside an EFI tank, there are like 15 pieces at least inside."
Unlike fabricating the tank, finding inspiration for the project was extremely easy. Road Glides are Matt Risley's favorite to build. In his opinion, they typically handle the best and look the most radical/custom when they are completed. The goal was to build an awesome shop bike that could be taken to shows and display MRI's custom parts and craftsmanship. When he found the platform for this project, it was a stock '06 Road Glide in fair shape. Its condition wasn't all that important. Matt knew going in the only stock parts he was keeping were the chassis, swingarm, transmission case, oil bag, and wiring harness. Everything else MRI either made, tweaked, or sculpted to flow together seamlessly. Matt says, "All of our in-house parts are handmade. There are no high-end tools at the shop. With every pipe that's on our bikes, they're made for power with 4-inch baffles and a three- or four-step header, although this bike has two-step header."
You'd think that after all of the sweat equity Matt invested in this root beer float you'd have been hard-pressed to keep him from enjoying it the fullest. Steve Sell and fate had other plans. "I play golf with the dude," Matt told us. "He wanted one of my bikes, but I had a year's backlog, but I'd finished this one two weeks before he hit me up. He came down, rode it, and wrote the check for it. That was the first time we'd played golf. It was a charity tournament."
I can't really blame Matt for selling this custom beauty, though. I don't care how good your root beer float is; if someone coughed up $60,000 to $70,000 for one of my floats, not only could they have it, I'd probably let them keep the glass too.