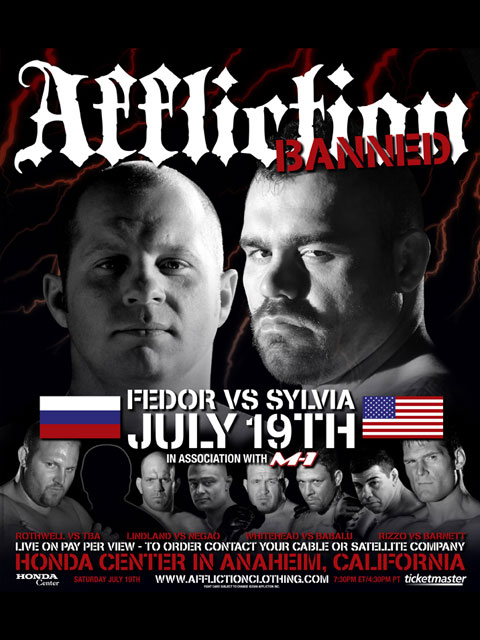 ANAHEIM, California (May 14, 2008) – Affliction, the premier fashion label for men who love hard rock and fast living, will make history presenting its own Mixed-Martial-Arts pay-per-view event in association with M-1 and Roy Englebrecht Events, appropriately named "Affliction Banned," featuring the much-anticipated return of Russian heavyweight superstar Fedor "The Last Emperor" Emelianenko, supported by an All-World caliber undercard, July 19th at the Honda Center in Anaheim, California.
"Affliction Banned" will be distributed on Pay-Per-View and air live (9 PM/ET, 6 PM/PT) on cable and satellite viewing in the USA and Canada via iN Demand, TVN, Shaw Communications, Viewer's Choice Canada, DirecTV, DISH Network, Bell ExpressVue and Star Choice for a suggested retail price of $39.95. The telecast will be available in both standard and high definition television.
Fedor (27-1), the former undisputed PRIDE heavyweight champion and Russian M-1 legend, has been universally recognized the past five years as the most dominating heavyweight in the world. He will face former 2-time UFC heavyweight title-holder Tim "The Maine-iac" Sylvia (24-4), fighting out of Iowa by way of his native Maine.
The exciting four-fight undercard is loaded with Josh "The Baby Faced Assassin" Barnett (21-5), of Seattle, facing-off stateside for the first time in two years in a grudge match against the only opponent to ever knock him out, Brazilian strongman Pedro "The Rock" Rizzo (16-7).
Three-time All-America wrestler Mike Whitehead (20-5), of Salt Lake City, will battle Brazilian sensation Renato "Babalu" Sobral (29-7), of Costa Mesa, California. 2000 Olympic wrestling silver medalist Matt "The Law" Lindland (20-5), of Oregon City, faces Brazilian favorite Fabio "Negao" Nascimento (8-3). Former IFL titlist "Big" Ben Rothwell (29-5), of Kenosha, Wisconsin, is scheduled to fight an opponent to be determined in this groundbreaking event.
Tickets are scheduled to go on sale May 20th at the Honda Center box office and through Ticketmaster.