As you know we at Hot Bike are not really into the box-stock bike test and review game, but when Indian approached me for an exclusive first ride test for the magazine I thought to myself "what could it hurt?" Even though it was water cooled and didn't really have any sort of classic lines of the Scouts of old, I didn't hate the previous model first released in 2015. But I did have my fair share of issues with it.
See, I am not your typical magazine editor when it comes to dealing with testing and reviewing factory-fresh motorcycles. When I first look at any stock bike I really cant help to pick it apart with my eyes and fight the urge to start pulling, hacking, and cutting most of the OEM parts off it until I get something that can be customized to it's full potential. Once I throw a leg over the same box-stock machine I immediately start critiquing the ergonomics and cursing the engineers and designers for doing whatever they did they did to urk me. And that is usually a lot of things.
Then I kick the bike into first gear and really let the games begin.
And so begins my test of the 2018 Indian Scout Bobber…
The Scout Bobber is powered by a 69 cu in (1133cc) Liquid-Cooled fuel-injected V-Twin and delivers 100 hp and 72 ft-lbs at 6000 rpm. The Scout Bobber breaths in with a healthy 60-mm throttle body and exits those spent gasses easily thanks to a blacked-out and louvered dual exhaust, which also has a built-in crossover to even everything out. I can say that this motor is very lively in it's stock form and after three years of looking at it in the other Scout Its looks have really grown on me.
The bike rolls on a set of blacked-out aluminum "mag" 16×3.5 wheels wrapped in vintage-style knobby 130/90-16 73H front and 150/80-16 71H rear tires. For those of you wanting a more classic look there is a spoked wheel upgrade available through Indian's parts and accessories line available through its ever-growing dealership network.
Braking is done by a single 298 mm Rotor with a 2-piston caliper up front and a single-piston caliper with the same size rotor in the rear. There is also an ABS option for $1000 more.
"The bike handles extremely well in stop and go traffic as well as fast speeds on the open road."
Suspension is handled by a 4.7″ (120 mm) travel cartridge-type telescopic front fork and a set of dual 2.0-inch travel progressively wound coil-over shocks out back. The low-slung shocks faired pretty well over the famously rough Los Angeles freeways. Even on the infamous pothole-ridden 710 Long Beach freeway and expansions of the Vincent Thomas Bridge the combination of puffy tires and factory-tuned suspension did far better than I imagined.
Ergonomically the bike sits comfortably low for my 5-foot 10-inch height with a 25.6-inch Seat Height and with its 29-degree rake, 4.7-inches of trail the bike handles extremely well in stop and go traffic as well as fast speeds on the open road. With its 29-degree lean angle it carves canyons very well and with its 61.5-inch wheelbase the Scout Bobber whips in and out of traffic and handles dicey lanesplitting like a wheeled rocket. The Scout bobber has a multi-piece modular frame using both aluminum and steel. The Scout Bobber weighs in at 550-Pounds with it's 3.3-gallon Gas Tank topped off. This is a very agreeable weight for a bike in this category and I am sure the low weight also helped greatly in how spryly this machine handled the various tarmac tests I put it though.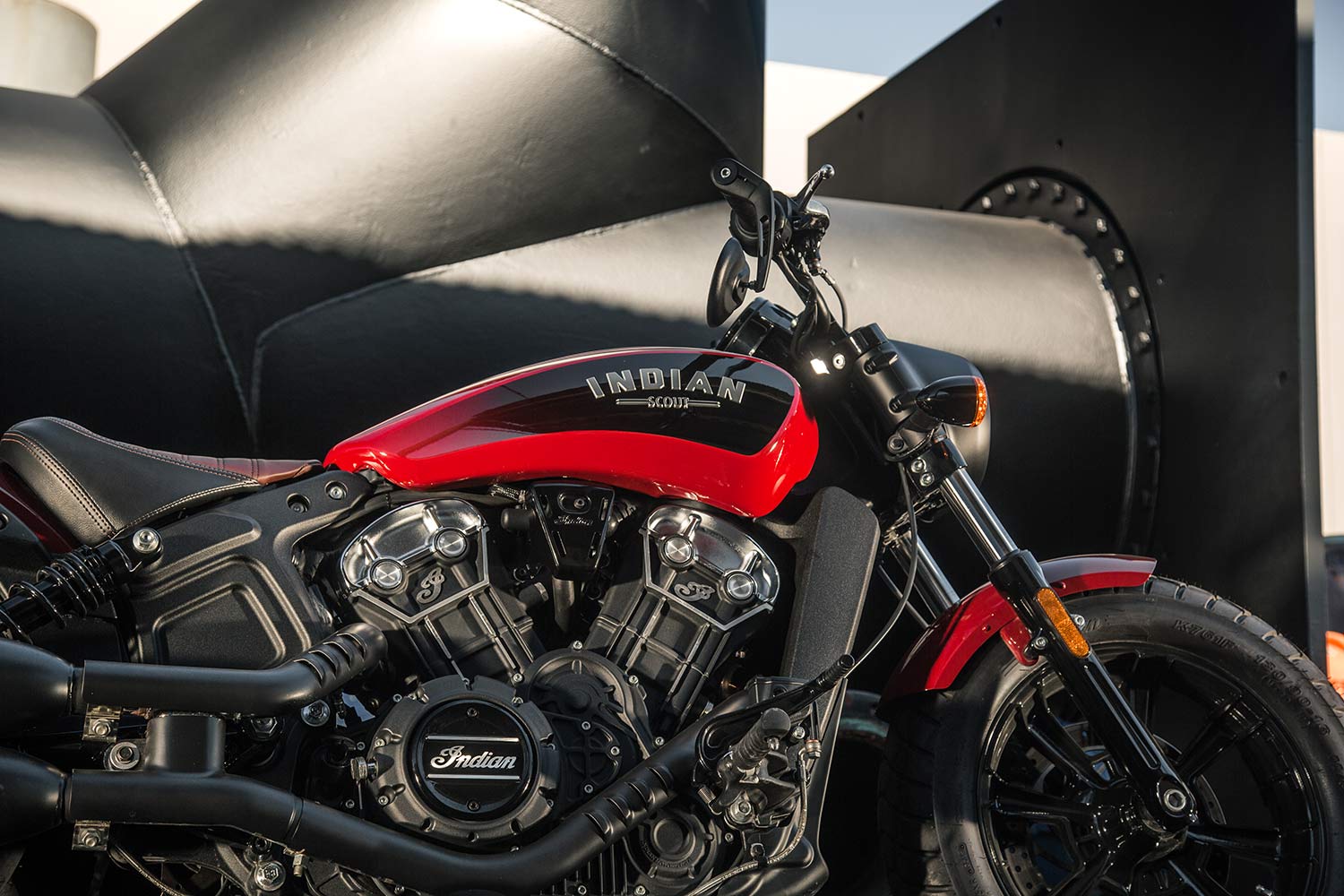 Some of the other simple standouts of the bike were a set of handlebars that didn't at all feel like most of the horrible bends and rises we see on factory bikes and a small, yet ample seat.
What didn't I like about the bike you ask? Though I do like the 7/8-inch controls, I am not a big fan of how they are styled. I think the levers are too long and the switches look too "metric."
Those of us in many states out west have experienced getting pulled over for the license plate being on the left side of the bike. This plate placement is totally legal in all 50-states, but getting stopped still happens due to many police and highway patrol officers not knowing the correct DOT laws regarding doing so.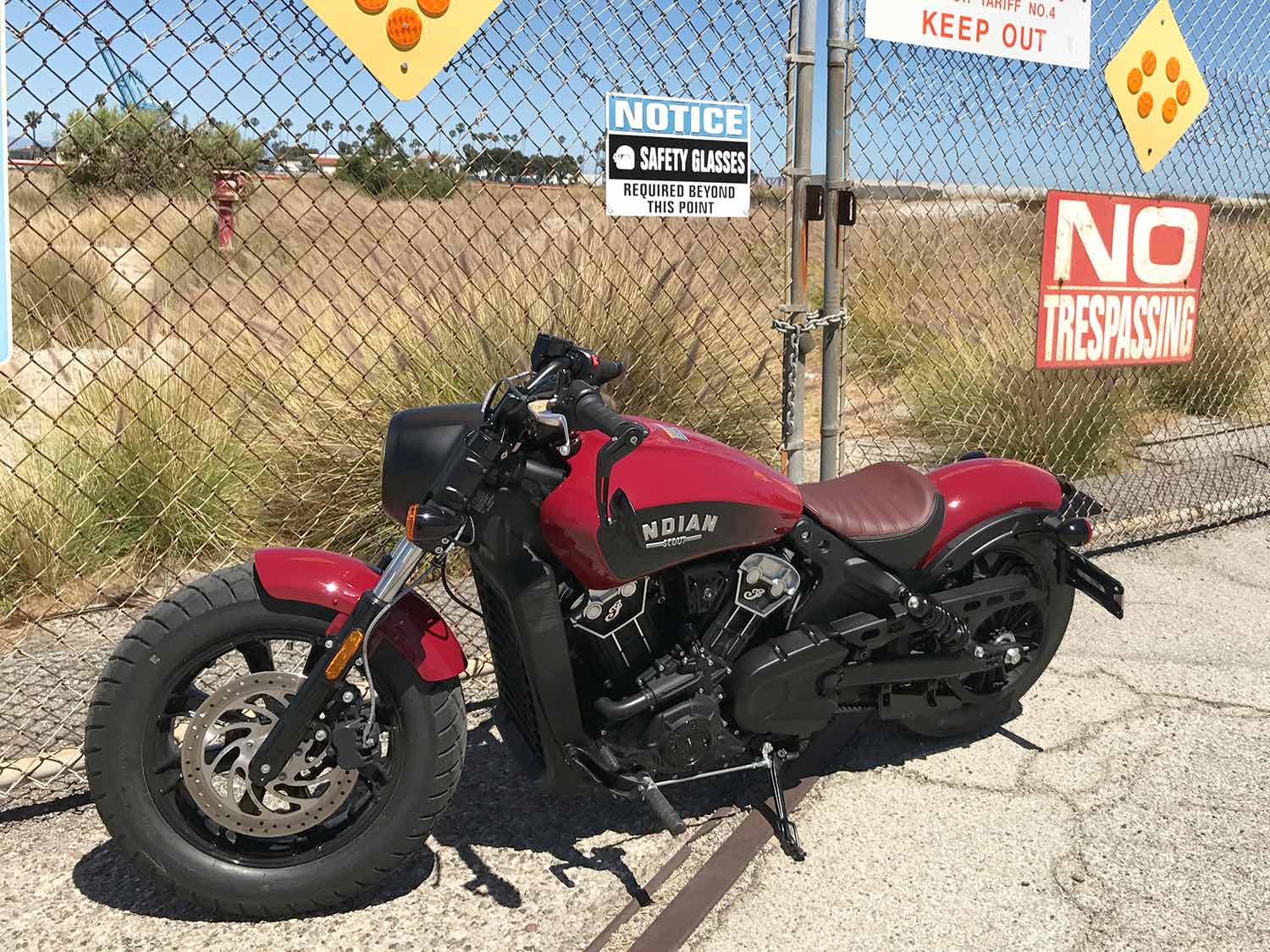 And then there's the Scout's foot control placement. When I rode the first Scout back in 2015 the forward controls just didn't fit style the bike or my style of riding. I do understand that more folks relate V-Twin bikes of any size with stretched out seating and leg placement, but to have such a great handling bike with forwards just detracts from the full potential of this bike. It's a good thing that the Scout Bobber has decreased-length forward controls that work well and that there are a few aftermarket mid-control options available for folks wanting them.
When I was told this bike was going to be called the Bobber I immediately felt my brow wrinkle and could feel my blood pressure rise. These actions happened due to the fact that I feel that this very term "Bobber" is probably the most misunderstood and misused moniker in the history of American-made motorcycles. It used to be a designation for a type of bike that defined post-war custom motorcycles and the folks who rode them. Now it is just a designation to sell a bike to a certain cross section of consumers. And for some reason I still take offense to that after all these years.
With that said is this variation of the Indian Scout a "Bobber" in any sense? No. Is it a great bike that looks pretty damn custom from the factory and rides far better than any other V-twin at it's price? I would have to say yes. And really what's in a name anyway?
| SPECS | |
| --- | --- |
| 2018 INDIAN Scout Bobber | |
| Engine: | Liquid Cooled V-Twin |
| Displacement: | 69 cu in |
| Electronic Fuel Injection System | 60 mm bore |
| Primary Drive: | Gear Drive |
| Clutch: | Wet Clutch |
| Final Drive: | 2.357:1 |
| Horsepower: | 100 hp |
| Peak Torque: | 72 ft-lbs |
| Tires And Wheels | |
| Front: | Cast 16×3.5 |
| Rear: | Cast 16×3.5 |
| Front Tire: | 130/90-16 |
| Rear Tire: | 150/80-16 |
| Suspension | |
| Front: | Telescopic Fork 4.7-inches of travel |
| Rear: | Dual Shocks 2.0-inches of travel |
| Chassis | |
| Front Brakes: | Single 298mm Rotor w/2 piston caliper |
| Rear Brakes: | Single 298mm Rotor w/1 Piston Caliper |
| Wheelbase: | 61.5 inches |
| Seat Height | 25.6 inches |
| Ground Clearance: | 4.8 inches |
| Overall Height: | 45.4 inches |
| Overall Length: | 87.8 inches |
| Overall Width: | 36.5 inches |
| Fuel Capacity: | 3.3 gallons |
| Weight: | Dry: 533 lbs Wet: 554 lbs |
| Color and MSRP | |
| Thunder Black | $11,499.00 |
| Star Silver Smoke $ | $11,999.00 |
| Bronze Smoke | $11,999.00 |
| Indian Motorcycle Red | $11,999.00 |
| Thunder Black Smoke (ABS) | $12,499.00 |
| www.indianmotorcycle.com | |