The Hot Bike Tour turns 6 years old this year, but unlike other kids this age it's not starting first grade. If you've followed its growth over the years, you've probably seen Josh Rundlett's cool creations in the Invited Builder competition that's the main event for the whole shindig.
| | |
| --- | --- |
| Name: | Josh Rundlett |
| Shop: | Performance & Machine |
| Website: | N/A |
| Social Media Handles: | Facebook (@rpmcustombikes), Instagram (@rpmmoto) |
| Location: | Cherry Valley, California |
Describe yourself in three words.
I. Don't. Know.
What are you currently building?
This year it's a 2015 Street Glide-style bike.
What was your first bike?
My first Harley-Davidson was a 2001 Night Train, but my first dirt bike was a Honda XL125.   
What is your all-time favorite bike?
The one I like most is my Hot Bike Tour bike from last year, the Road Glide. It's an amazing motorcycle to ride that does everything you want it to do; the bike is just unbelievably fun to ride. It makes you giddy to ride it. When you get off of it, you're even more giddy. For me, riding it is something you really look forward to.
---
Related Video
---
Why did you choose to work in the motorcycle industry?
Twenty some years ago, I was sitting in a tattoo shop getting my first and felt worthless because I was a poor kid. I knew that whatever I did in school, I had to stick with it because I wouldn't have the luxury of "finding myself" and trying something else. That's when I saw ad in Easyrider for MMI. Later, I'm at a Harley-Davidson dealership in Iowa when this old-timer who worked there comes around the corner, having a great time. He'd been working with them forever. That's when I knew for sure that I wanted into the industry. MMI presents it as easy and you'll get all the chicks and so forth, but then you get into the real world and realize they lied to you. It's a real job (laughs). But you also don't have to conform to society if you don't want to.
What do you think the future of the motorcycle industry is?
It does raise a lot of questions on things. That's very tough to tell, to be quite honest. With a new age bracket of new riders that's coming up, you don't know how it's going to shift. A lot of them who've been around older people have a similar mentality though. Honestly, I think that's a question everyone is asking themselves but I don't think anyone has a solid answer, and anyone who says they do, I'd question them.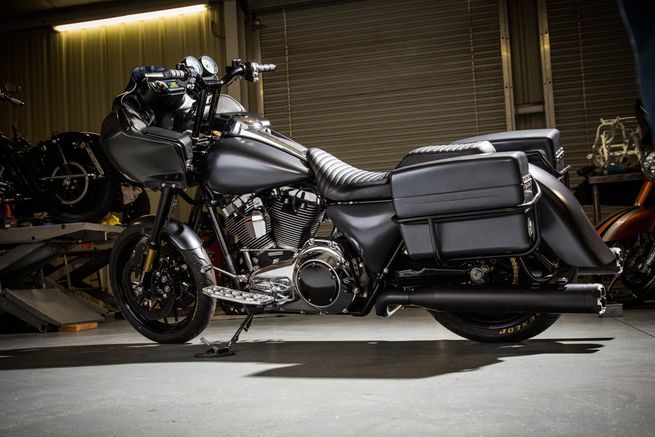 What inspires you?
Whatever excites me for the moment. I'm inspired by a lot of different things. I don't really know 100 percent of the time but frequently coming up with the plan, once you have it, you just know and go. Working with Hot Dog and Doug from Starbucks Design, who are very artistic, is inspiring. I've gotten to the point where customers trust me enough to do whatever I want based on their basic plan. That's the most inspirational thing: their reaction. Money is a by-product to that response. It's like Christmas for them.