What gives? How will this all shake out? Who knows—but it sure is fun to watch.
Take Spady's Speed Shop. The Boston-area custom shop opened about 15 years ago as Spadafora Choppers, building high-end custom motorcycles. About seven years ago, its proprietor, Ray Willis, decided to give a local kid a part-time job. His goal was just to help the kid out; he ended up with a partner who's introducing Spady's to that next generation of custom-motorcycle enthusiasts.
At 16, Matt Centore started out sweeping floors, taking out the trash, and basically being Ray's shop rat. "He didn't even know what a ratchet was," Ray says.
The kid was sharp, though, and it wasn't long before he was holding the droplight, handing Ray tools, that sort of thing. From there, he started changing tires and plugs, and assisting on more involved projects.
After high school, Matt left Spadafora to study engineering at one of Boston's storied institutions of higher learning. But by then, it was too late. He'd caught the cycle bug bad, and after a semester of cutting class to go work at the shop—"I wanted to build bikes, not spreadsheets!"—Matt was told to either drop the course or get flunked. The choice was easy.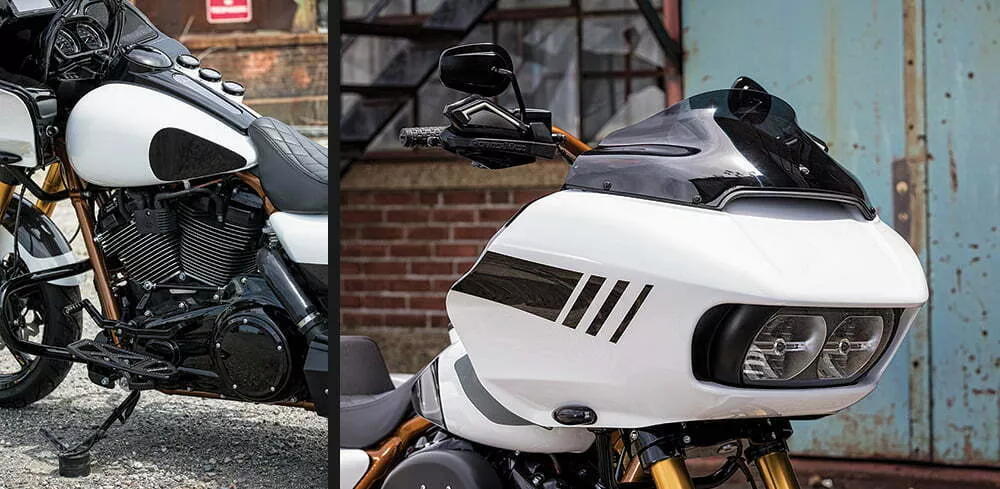 Today, Spadafora Choppers is also known as Spady's Speed Shop, and Matt, now 23, is designing and building performance baggers for one of New England's hottest custom shops. Matt has helmed several projects already. But this white 2018 Road Glide Special is his baby, and perfectly exemplifies the direction in which Spady's is headed.
Knowing he wanted to use Öhlins forks, Matt first took the FLTRXS down to the frame and had it powdercoated gold. Then, he shaved off 140 pounds, utilizing carbon-fiber bodywork, fenders, saddlebags, and wheels. Combine all that saved weight with a turbocharged Milwaukee-Eight 108, and this monster bagger makes a knuckle-popping 150 hp.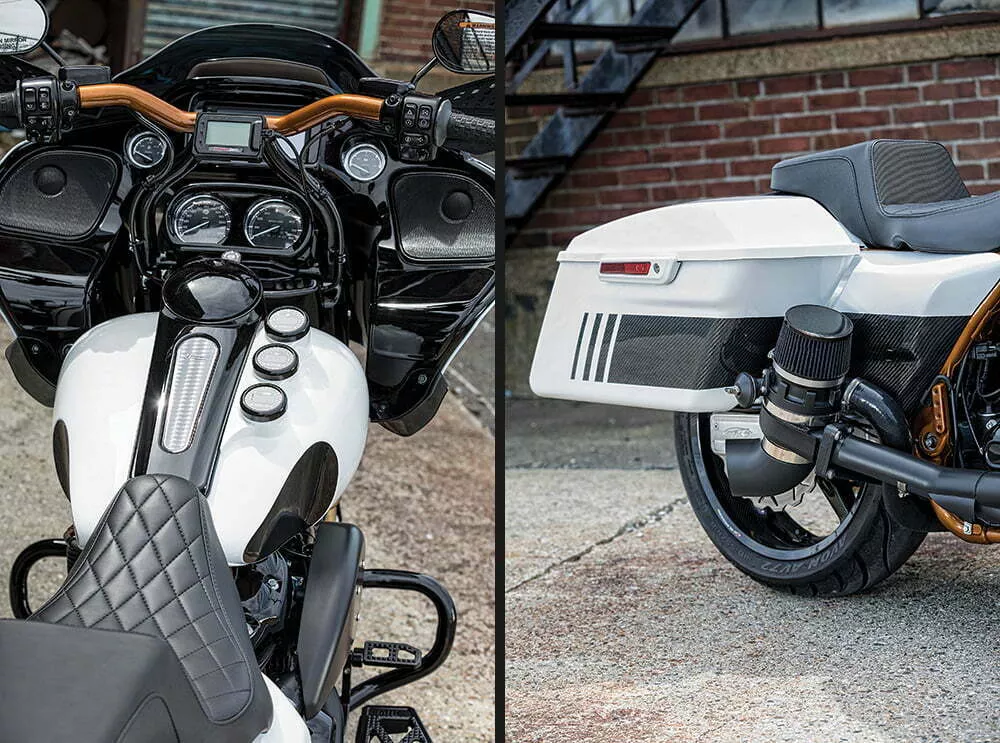 Matt then went to work on the fuel tank, carving knee cutouts for comfort and installing three vertical gauges on the right side. He put still more gauging in the fairing to complement the factory dials, then hooked up Spady's POV Twisted Tee-Bars, plus a digital gauge on top to monitor the turbocharger. To protect the hand controls, Matt then cleverly doctored a set of PowerMadd ATV hand guards to house built-in LED turn signals.
So what's up with all those gauges? Matt laughs: "My dad was a commercial airline pilot, and as a kid, I remember being just fascinated by the cockpit, all those dials and gauges. That stuck with me." Clearly. "But I guarantee you, from the seat, every gauge is right there," he says. "And if something starts acting up, I can see what it is almost instantly."
To accentuate the bike's carbon-fiber accouterments, Matt had the painters mask off the material and blast over the tape. When the masking was removed, the intricate fiber detail was revealed, and the effect adds depth to the black-and-white graphic scheme. The overall look defines the performance-bagger aesthetic.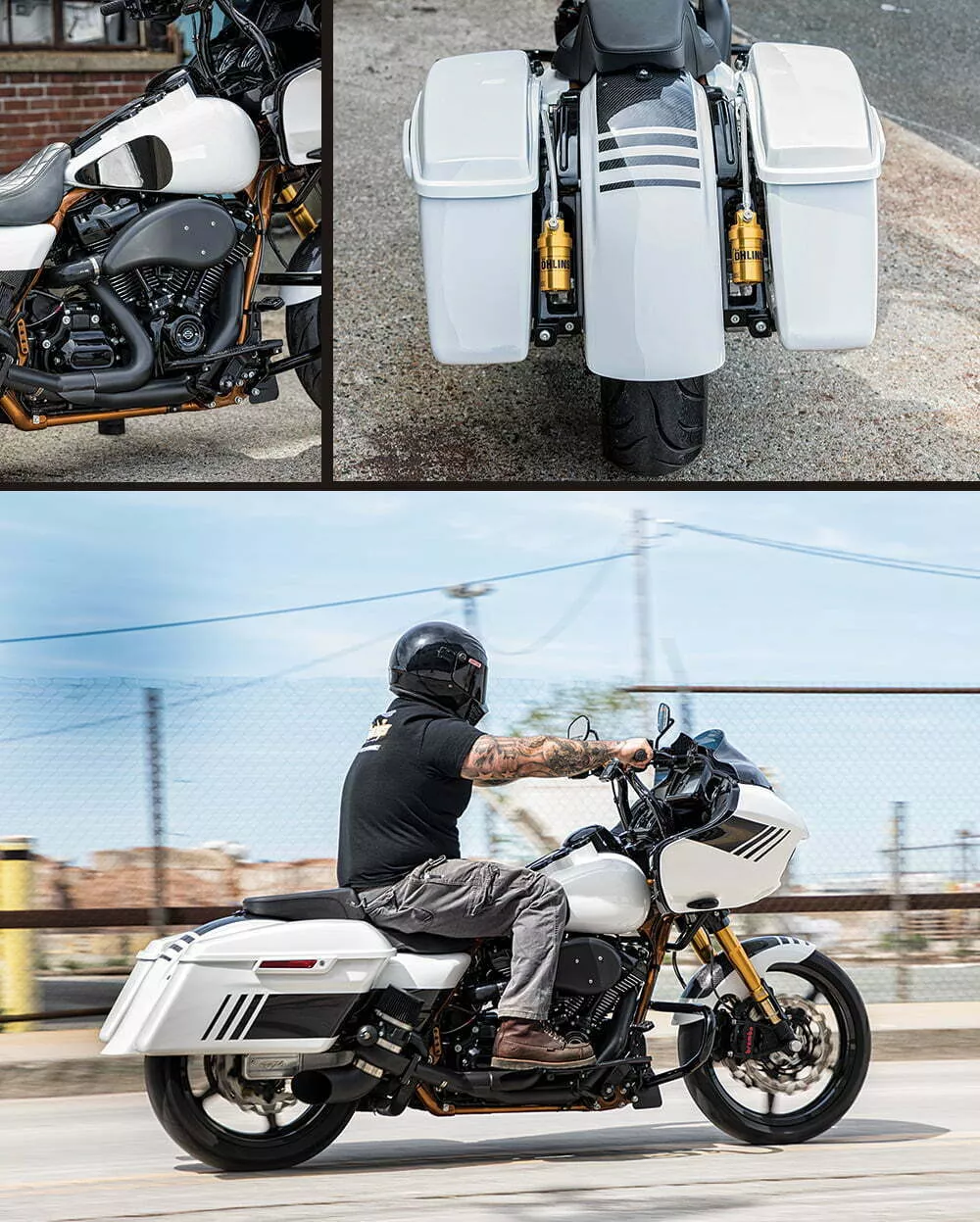 As for the future of Spadafora/Spady's, Ray is psyched. "When I first opened, the whole industry was all about outdoing the next guy," Ray remembers. "Everyone thought they were better than everyone else. Now, it's like a big family. Everyone's helping each other instead of trying to beat each other."
And he acknowledges he's learned a lot from the kid. "Matt really turned me on to the idea of focusing on what we do best and not being afraid of using other people's components," Ray admits. "When our bikes get the best of the best, it's better for us, it's better for the other shops, and it's better for the customer."
So while OEMs are still trying to figure out how to make affordable bikes and '90s bands are playing for geezers on the rally circuit, rest assured the next generation of custom-bike builders is alive and well and thriving in the 21st century. And it's the young guys like Matt Centore who are leading the charge.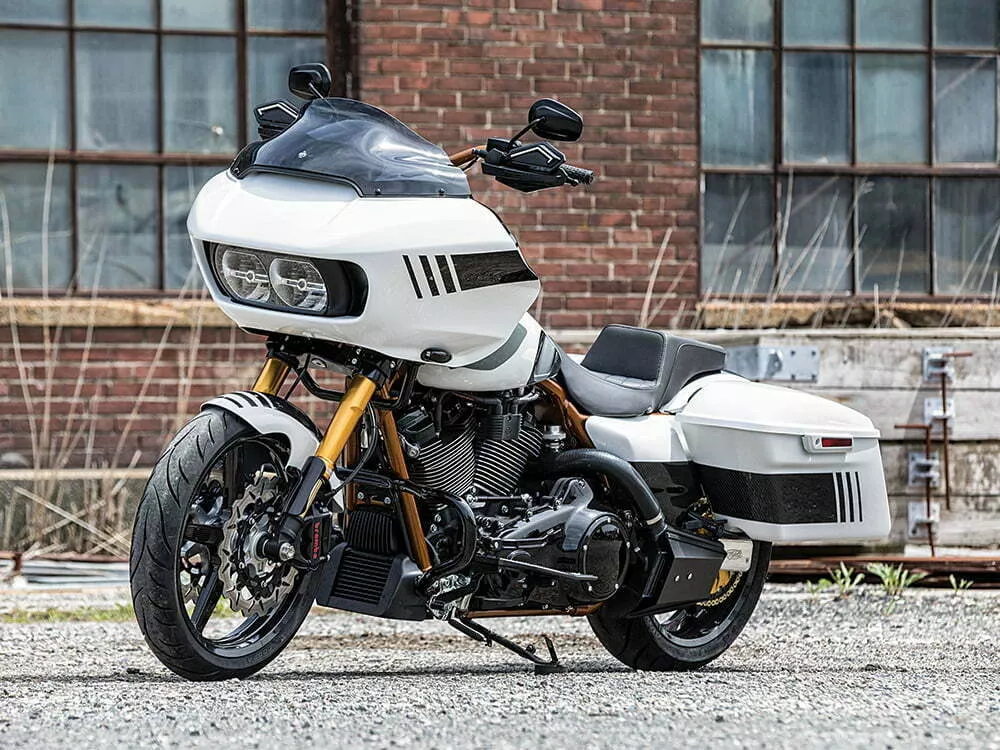 Specifications
| | |
| --- | --- |
| General | |
| Owner | Matthew Centore |
| Shop | Spadafora Choppers |
| Website | spadaforachoppers.com |
| Year/Make/Model | 2018/Harley-Davidson/Road Glide (FLTRXS) |
| Fabrication | Spadafora Choppers |
| Build Time | Three months |
| Engine | |
| Year/Type/Size | 2018/turbocharged Milwaukee-Eight/107 in. |
| Builder | Spadafora Choppers |
| Cases | H-D |
| Cylinders | H-D |
| Heads | H-D |
| Rocker Boxes | H-D |
| Cams | H-D |
| Throttle Body | H-D |
| Air Cleaner | Aerocharger |
| EFI Controller | Dynojet Power Commander V w/auto-tune |
| Exhaust | Aerocharger Turbo systems |
| Transmission | |
| Year/Type | 2018/H-D six-speed |
| Gears | H-D |
| Clutch | AIM lockup clutch |
| Primary Drive | H-D |
| Frame | |
| Year/Type | 2018/FLTRXS |
| Rake/Stretch | Stock |
| Suspension | |
| Front end | Öhlins FGRT 203/Big Bear Choppers |
| Length | 740 mm |
| Triple trees | Big Bear Choppers |
| Swingarm | Trac Dynamics |
| Rear shocks | Öhlins HD044 |
| Wheels, Tires, and Brakes | |
| Front | |
| Builder/size | BST carbon fiber/19-inch |
| Tire/size | Avon Cobra /120/70ZR-19 |
| Calipers | Radial-mount Brembo monoblock |
| Rotors | Galfer/Spadafora Choppers |
| Rear | |
| Builder/size | BST carbon fiber/18-inch |
| Tire/size | Avon Cobra/180/55ZR-18 |
| Caliper | H-D Brembo |
| Rotor | Galfer |
| Pulley | MJK Performance chain drive |
| Finish/Paint | |
| Front Fender | PPG |
| Colors | PPG Ultra White |
| Paint/graphics | Mike's Auto Body Malden/Sign Art Boston |
| Plating/polishing | F.M. Callahan Anodizing |
| Powdercoating | GoodHues Custom Powder Coating |
| Accessories | |
| Front Fender | Hofmann Designs carbon fiber |
| Rear Fender | Hofmann Designs carbon fiber |
| Gas tank | Spadafora Choppers |
| Dash | H-D |
| Gauges | H-D/Innovate Motorsports |
| Handlebars | Spadafora Choppers |
| Grips | ProTaper Pillow Top |
| Mirrors | H-D |
| Hand Controls | H-D/PSR adjustable levers |
| Foot Controls | MJK Performance |
| Floorboards | MJK Performance |
| Headlight | H-D |
| Taillight | Custom Dynamics |
| Turn Signals | PowerMadd turn signals in hand guards |
| License Mount | Alloy Art |