Good things happen when great people get together for a reason. That was evident at the second annual Flying Piston Builders Breakfast held at the Buffalo Chip CrossRoads on August 7th. As the 76th Sturgis Rally got underway, invited custom motorcycle builders whose bikes were featured in the Chip's Motorcycles As Art exhibit gathered with industry notables and regular riders to raise funds for technical education scholarships.
Among those attending were Buffalo Chip owner Rod "Woody" Woodruff, photographer Michael Lichter and Moonshiner Josh Owens. Emcee Bob Kay of AIMExpo interviewed the builders and offered a forum for sponsors to showcase their products. Top sponsors were Jekill & Hyde Exhaust and Yelvington USA, joined by Kuryakyn, Mustang Seats, Misfit Industries and Securecaps.
"We are grateful to all of our sponsors for their participation as well as the builders for taking time out of a busy week to join us," said organizer Marilyn Stemp. "Vital input from diverse partners makes for results far greater than the sum of the parts."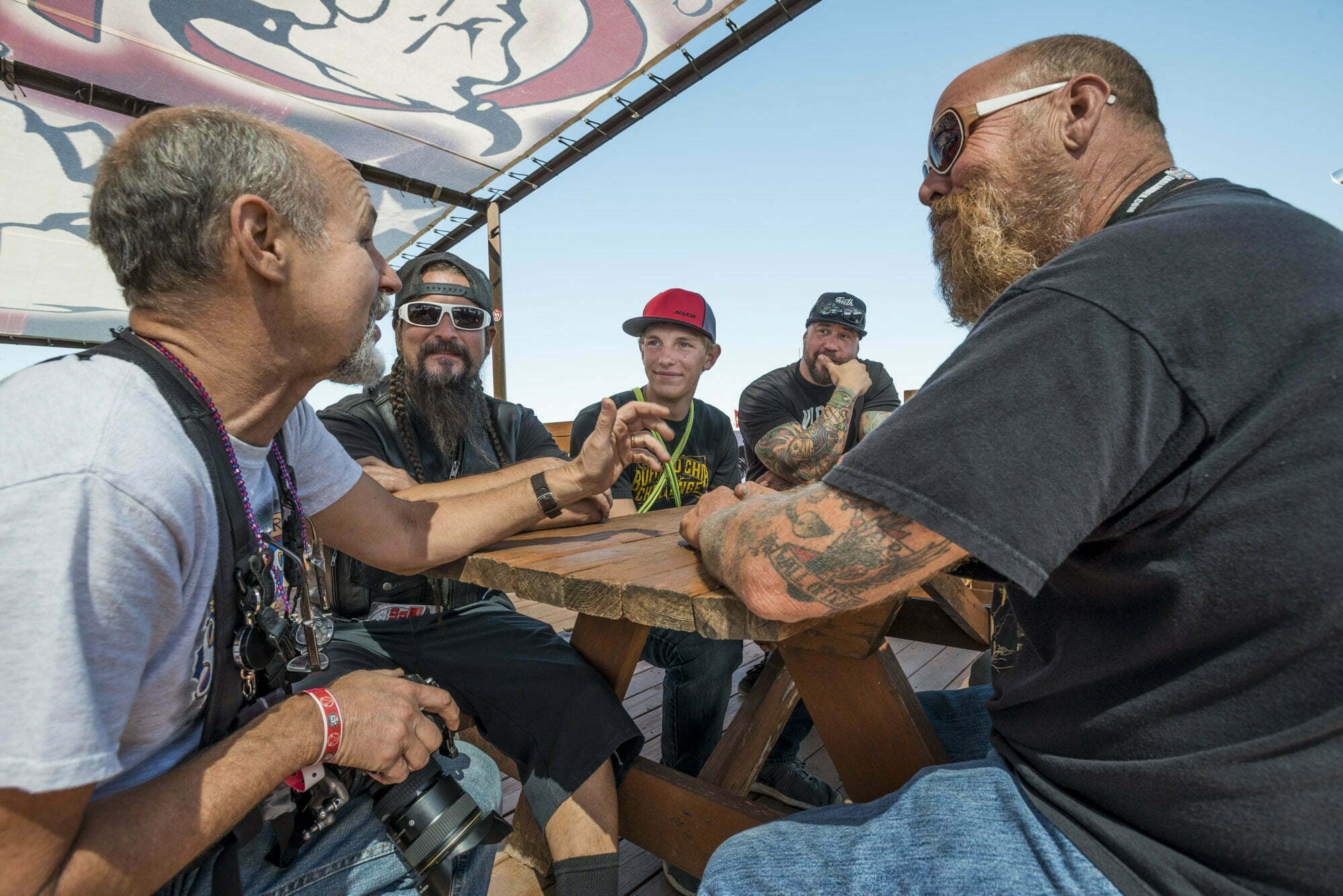 Media Sponsor Cycle Source magazine promoted attendance and covered the event. Auction items were kindly provided by: Harley-Davidson Footwear, Mustang Seats, Sara Liberte, Artist Atomic Bob, Kicker Audio, Kuryakyn, Corbin Seats, Garage Leathers, Republic of Texas Rally, New-Line Engraving, Howard Knight, and Chris Callen of Cycle Source.
Working with the Buffalo Chip Challenge Program, which supports tech ed for Black Hills area high school students and veterans returning to civilian life, the Flying Piston expects to award three scholarships resulting from the Builders Breakfast proceeds.
"Following last year's 75th, this was a slower year for the Sturgis Rally. Yet our breakfast raised twice as much as last year," said Stemp. "Better still we've created a place for builders to network with parts manufacturers and fans. I am optimistic that we can grow this event while maintaining its intimate atmosphere."
For information or to participate in the next event: Jeff Najar, [email protected] or 919-450-5060; or Marilyn Stemp, 828-205-8482, [email protected].
About The Sturgis Buffalo Chip:
The Sturgis Buffalo Chip is the Largest Music Festival in Motorcycling™ and the leading entertainment destination during the Sturgis Rally. Established in 1981, the venue's high-profile, nine-day festival, known as The Best Party Anywhere™, remains one of the world's most televised and longest running independent music festivals. Buffalo Chip guests have the freedom to party and play while experiencing world-class concerts, outrageous events, moving freedom celebrations, adrenaline-fueled racing and more. The Chip's concerts are free with camping.
About Motorcycles as Art:
Every year the Sturgis Buffalo Chip's indoor Motorcycles as Art exhibition presents a changing conceptual theme showcasing the most innovative custom motorcycles from today's premier builders with artwork from known and emerging moto-artists. Curated by photographer Michael Lichter, the exhibit is free to the public and open for just 7 days during the Sturgis Rally.
About The Flying Piston:
The Flying Piston produces charitable events to assist in raising awareness and funds for non-profits and individuals in the biker community. Contact: Marilyn Stemp, 828-205-8482, marilyn[email protected] or Jeff Najar, 919-450-5060, [email protected].
The GEICO Hot Bike Tour starts in less than 10 days. Are you ready?