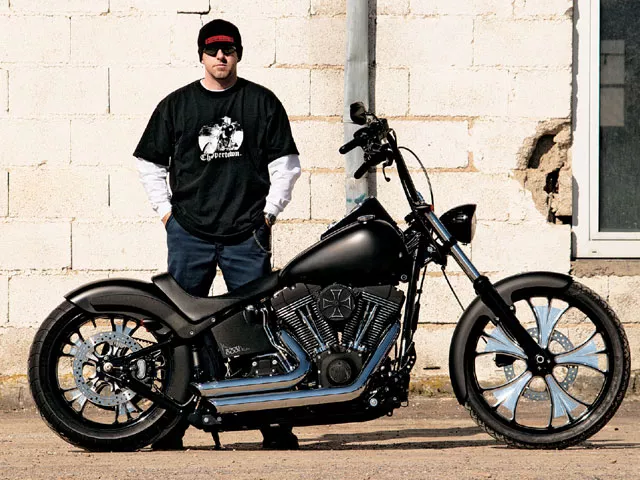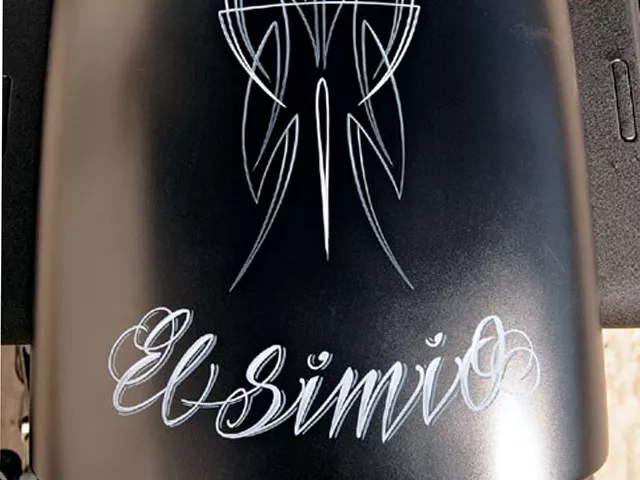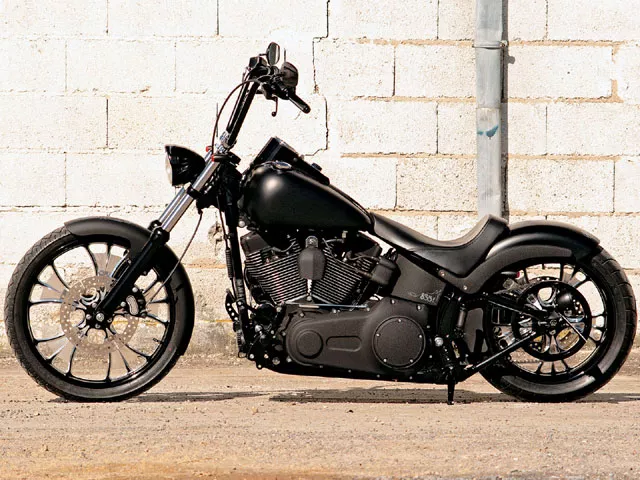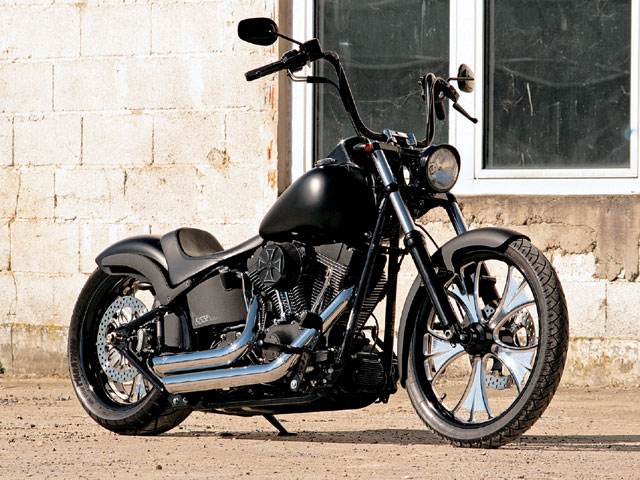 Here at HOT BIKE, we get a lot of rides-Harleys, hogs, whatever you want to call them-submitted by our readers. Pick of the Pen is an opportunity to dedicate a few pages to our favorite reader-submitted bike each month. This month's Pick of the Pen comes to us from Tim Robinson.
I'm not like most motorcycle enthusiasts; I got into motorcycles kinda late in life. I bought my first bike, an '03 Honda Shadow Spirit, in April of 2003. I learned a lot about my bike and about the "brothership" that comes along with riding motorcycles. Like most, I caught the modding bug and spent the next three years working on it and making it my own.
Well, I got the news that I was going to deploy to Afghanistan for a year, and that was about the time that I started to think about graduating to a bigger bike. I decided that I didn't want to go with a custom bike…making a stock bike your own was a lot more fun to me. The H-D Night Train jumped out at me. The more I looked at it, the more I realized that the bike had a lot of potential to be made into whatever I wanted. Soon after, I found a great website, HD Forums (www.hdforums.com), and came across a picture of a Night Train that was awesome. Seeing this bike was pretty much the decision for me. Thanks, Nick!
With the help of my friends at Chopperdogs (www.chopperdogs.com), I realized that what I really liked the most was the West Coast and old school look. While at home in Germany on my R&R;, I ordered an '07 Harley-Davidson Night Train. I took delivery with a pocket full of money that I saved specifically to spend on the bike.
I've always loved the look of the short rear fenders and a long front fender, so I knew I wanted to go with Heartland E-Z 200 kit for the rear and a West Coast Choppers fender for the front. Heartland's conversion kit has a great way to add a passenger seat, which is always a plus when the wife wants to join you. The next thing on the list was, of course, pipes. Being stationed over here in Germany, I had to be careful not to get pipes that were too loud. I decided to go with Vance & Hines' Short Shots combined with a Power Commander III and an SE Stage 1 A/C kit. It definitely sounded a hell of a lot better!
The next thing in order was the handlebars. I knew I wanted to go with some mini-apes…the stock drag bars just weren't doing it for me. My best friend here in Germany, Sean, introduced me to Roland Karle of the Biker Service Store and he helped me decide to go with 12-inch mini-apes, a new headlight, and blinkers. He also hooked me up with the powdercoating of many parts, such as the lowers, the triple tree, kickstand, and controls.
I went with a Simplified Air Suspension and Legend Air Ride System switches for the rear suspension, and replaced the front springs with springs from Progressive Suspension.
At this point, the bike really started to come together, but something was missing-wheels. So I took the plunge on the wheels that I had been eyeing for a couple of months. I went with Performance Machine's Gasser Contrast Cut wheels along with the pulley and rotors to match. Finally, it was looking like what I had envisioned while I was in Afghanistan.
I got really lucky when I got the chance to have the bike pinstriped by one of Germany's top pinstripers, Maze, at the annual open house of Walz Hardcore Cycles. I've known Marcus Walz for a couple of years, so when I found out that he was going to have Maze there at the open house, I asked if I could have the bike pinstriped and he said, "No problem, Tim." The pinstriping came out great! It was definitely the icing on the cake. On the rear fender it says El Simio, which is Spanish for The Ape. The 833! on the oil tank is a numerical representation of HCC, which is Heidelberg County Choppers (www.heidelbergcountychoppers.com). It's a riding club that two of my German brothers and I founded in 2004.
That is about it. I'd like to give special thanks to two people that were instrumental in helping me achieve my goal on this bike: Roland Karle of Biker Service Store here in Germany, and Ronnie Lewis of Lewis Custom Cycles. I pretty much ordered everything through Ronnie. Thanks guys, I couldn't have done it without you. I'd also like to send out a special thank you to Chris Heim (HCC Founder) for taking the time to shoot these great pictures.
| | |
| --- | --- |
| SPEC SHEET | |
| Owner | Tim Robinson |
| Hometown | Stationed in Heidelberg, Germany |
| Year/Model | 2007 Harley-Davidson Night Train |
| Builder/Assembly | Roland Karle of Biker Service Store, |
| | Germersheim, Germany |
| Engine Size | H-D 96ci with an SE Stage 1 A/C and PCIII |
| Pipes | Vance & Hines Short Shorts |
| Transmission | H-D |
| Gas Tank | H-D |
| Front Fender | West Coast Choppers El {{{Diablo}}} |
| Rear Fender | Heartland USA (with Ride, |
| | Rack & Rest Passenger Seat) |
| Front Suspension | Arlen Ness and Progressive |
| Rear Suspension | Simplified Air Suspension (SAS) |
| Wheels | Performance Machine's Gasser Contrast Cut |
| Tires | Metzeler 880s |
| Handlebars | 12 inch mini-apes from Custom Chrome |
| Seat | Heartland USA |