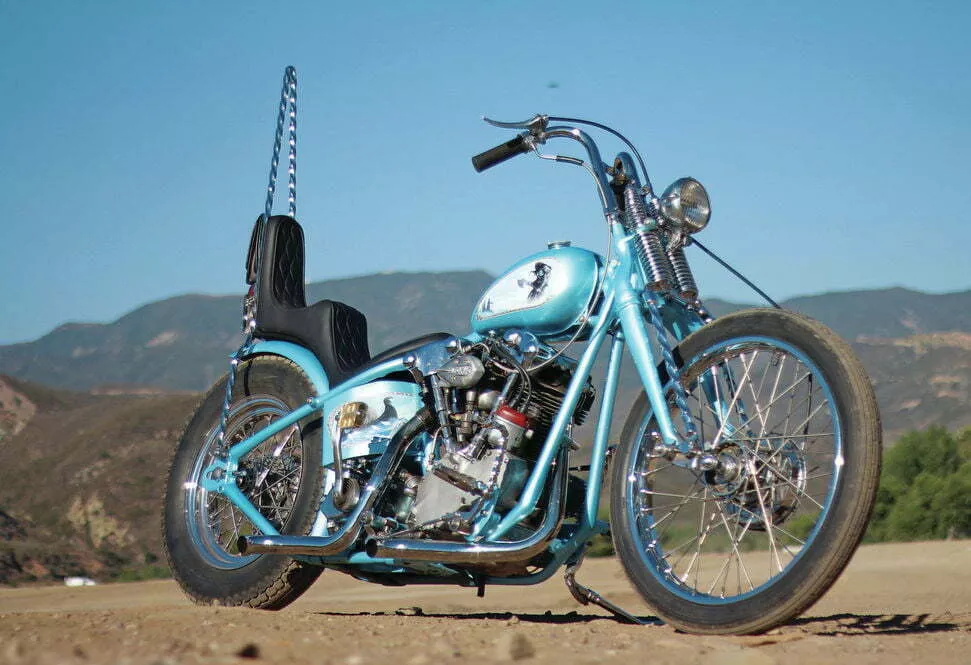 The Frost Lord formed in my head several years ago after picking up the 1946 Knucklehead motor back home in Montana. It sat again in my shop for years, then after a conversation with Mitch Cotie about the awesome artwork that was to become the Frost Lord, the pieces started to come together.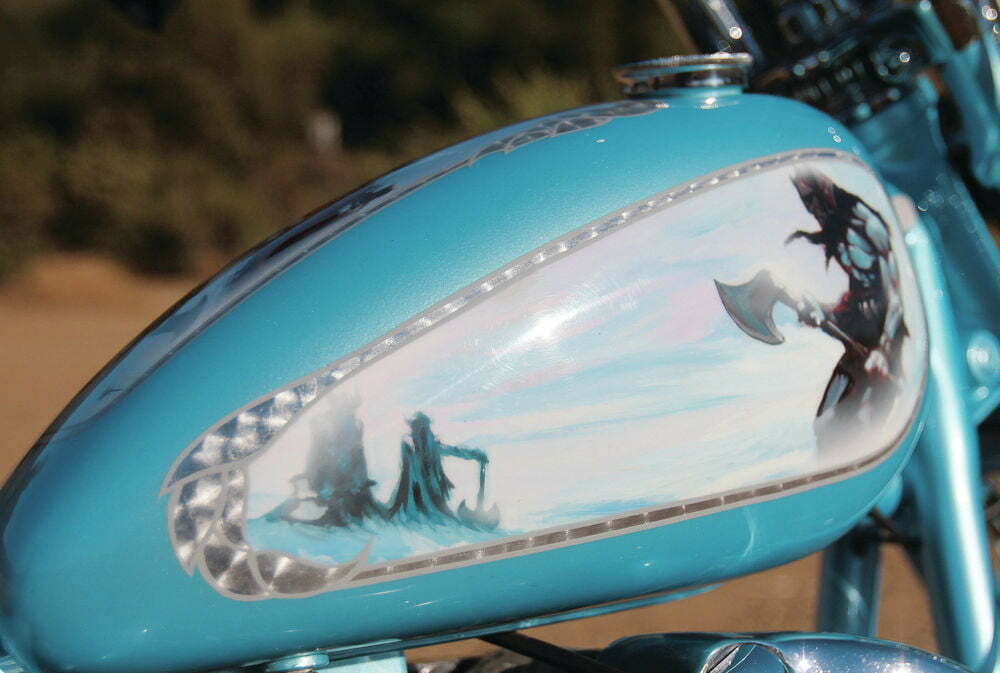 I found the 1957 H-D frame on my local Craigslist, it was rough, but it had never had the neck cut, which we all know is like finding a hot chick with a wooden leg. A few days of clean up and repair and I had the frame looking cherry. The frontend was an old long chopper job that was a little tweaked, it had some decent chrome on it. I shortened it back to stock length and made the twisted front leg to add a little sexiness. I knew I wanted a comfortable seat that would provide support for the long rides, so I built the pan to fit me like a glove. Xian Leather then wrapped it in top grain leather exactly to my liking. He also whipped up some awesome saddlebags and neat little sissy bar bag, so its like a matching set of dirtbag-esque Coach luggage for my bike.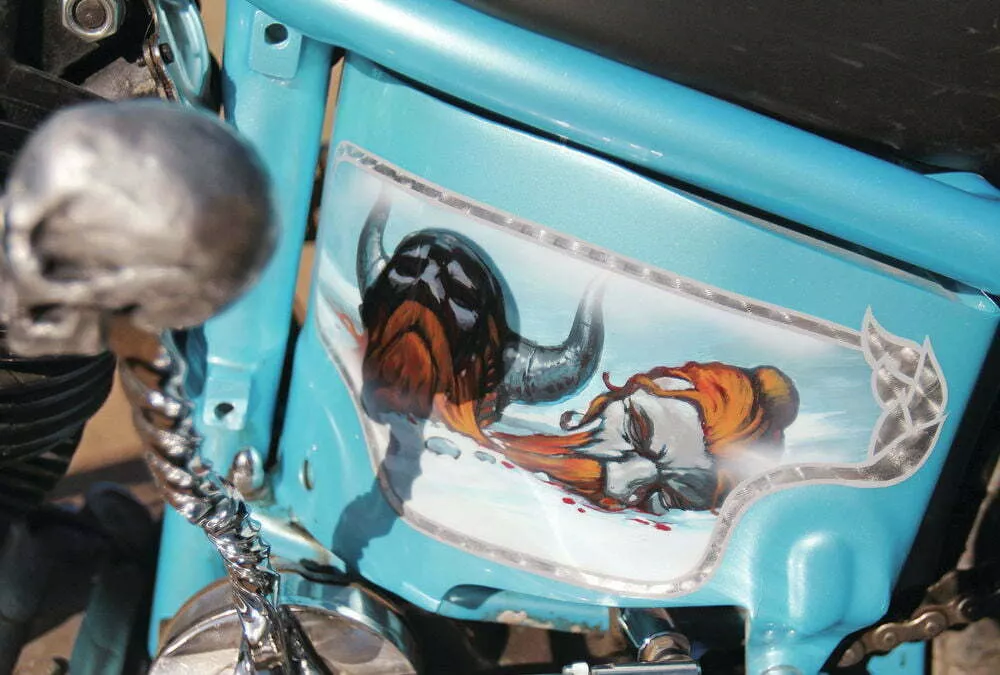 The custom bars I built in the rabbit bar genre, but they were made to fit, just like everything else on this bike. Sure they look pretty cool, but they were made with function being first and form being second. I have always felt that there is no point to a beautiful part even it it's dripping with twisted steel and chrome if it doesn't work. Speaking of making metallic waves, I also twisted up the rest of the blingin parts with balance in mind. I added just enough wavy stuff to make you say "wow" but not too much. I know it's a trippy looking machine, but as far as the ergonomics of the bike, you sit in the Frost Lord, not on it. It almost seems to just wrap around you while riding it.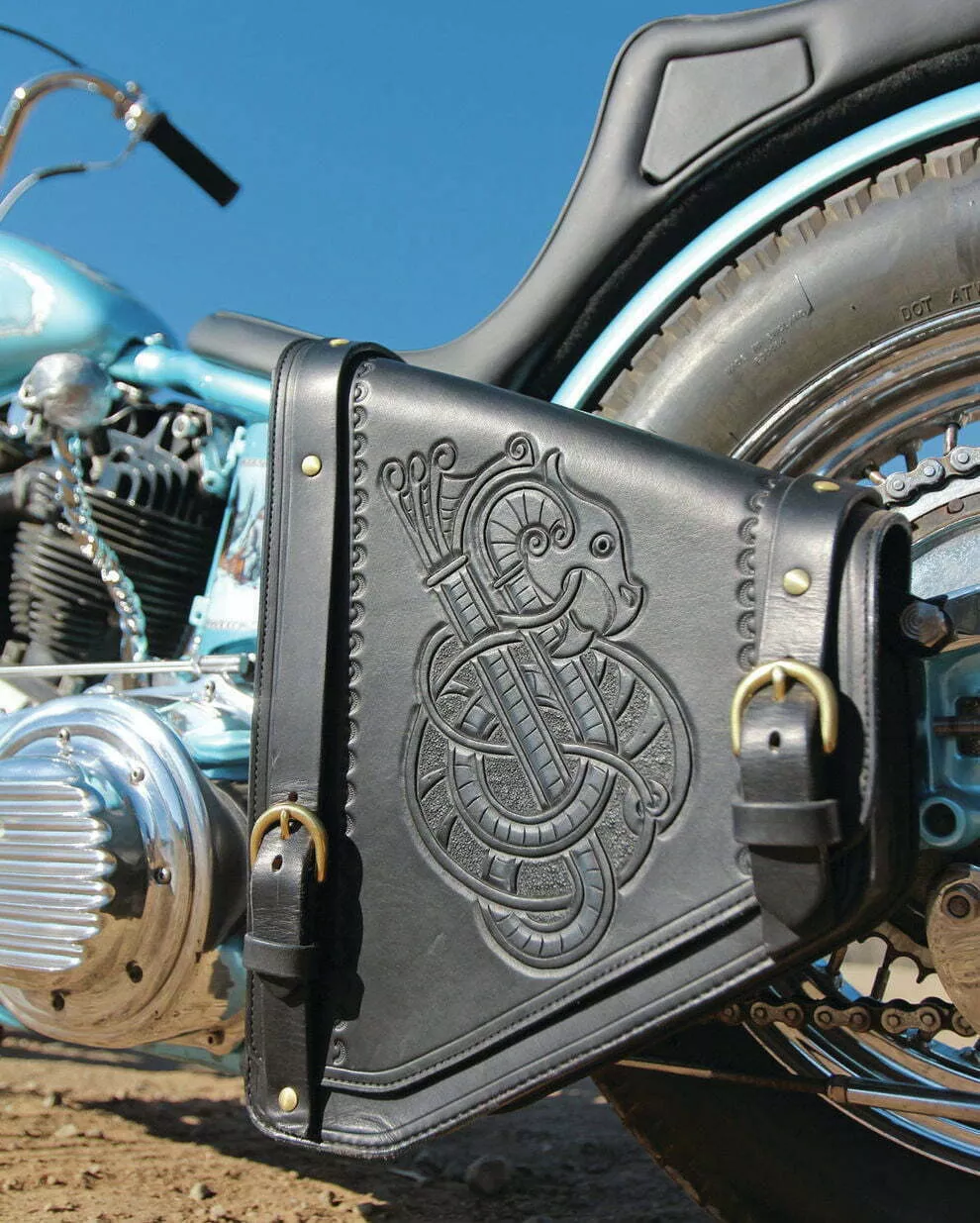 The 80ci motor was built using all new S&S; guts with Keith Black pistons and it runs like a champ thanks to Mark McPherson. Cruising 80 mph all day with knees in the New Mexican breeze is no problem with this sweet but dependable engine. The shifting on this bike is through a stock 1946 four-speed H-D transmission that I went through and added some super secret mojo to. A Primo beltdrive with a finned primary cover ties it all together and gets that power to the rear wheel. I made the pipes to blend into the bike and be functional and not in the way. I also did not want to distract from the overall shape and appearance of this bike and too many times big crazy pipes do just that.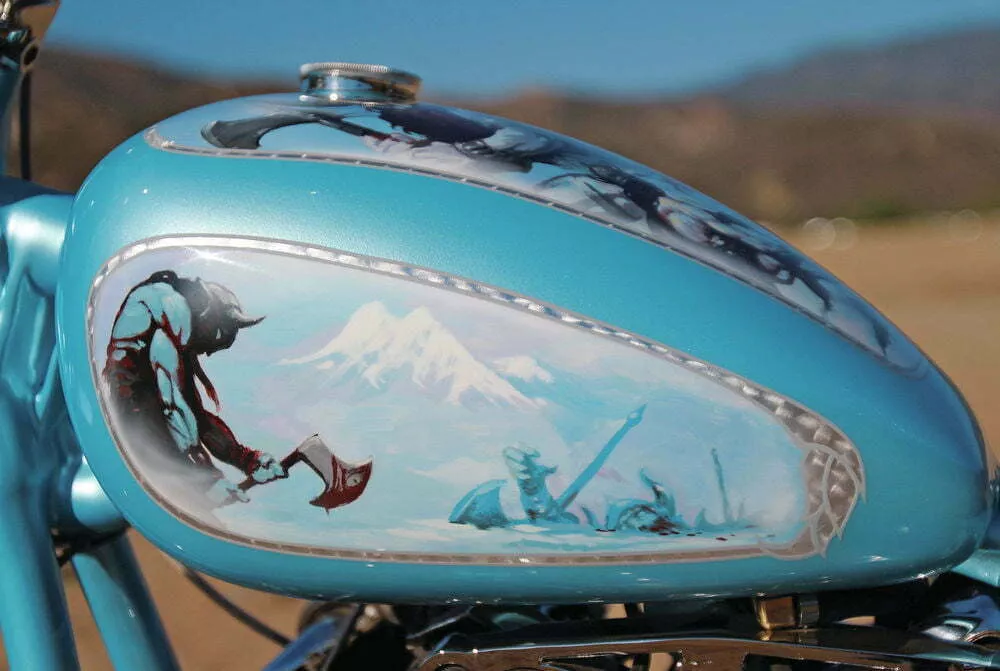 To finish the bike off, John Stromberg mixed the custom ice blue and did all the molding, while Mitch Cotie laid out the story of the Frost Lord with amazing craftsmanship. Pictures simply do not do the murals and paint justice. This bike is truly a work of art.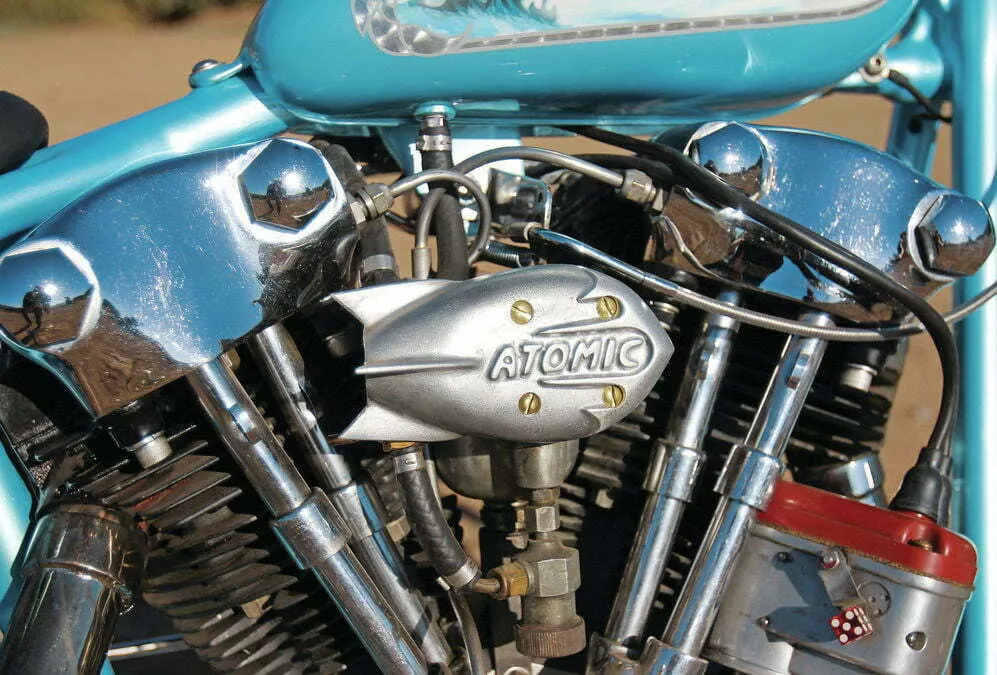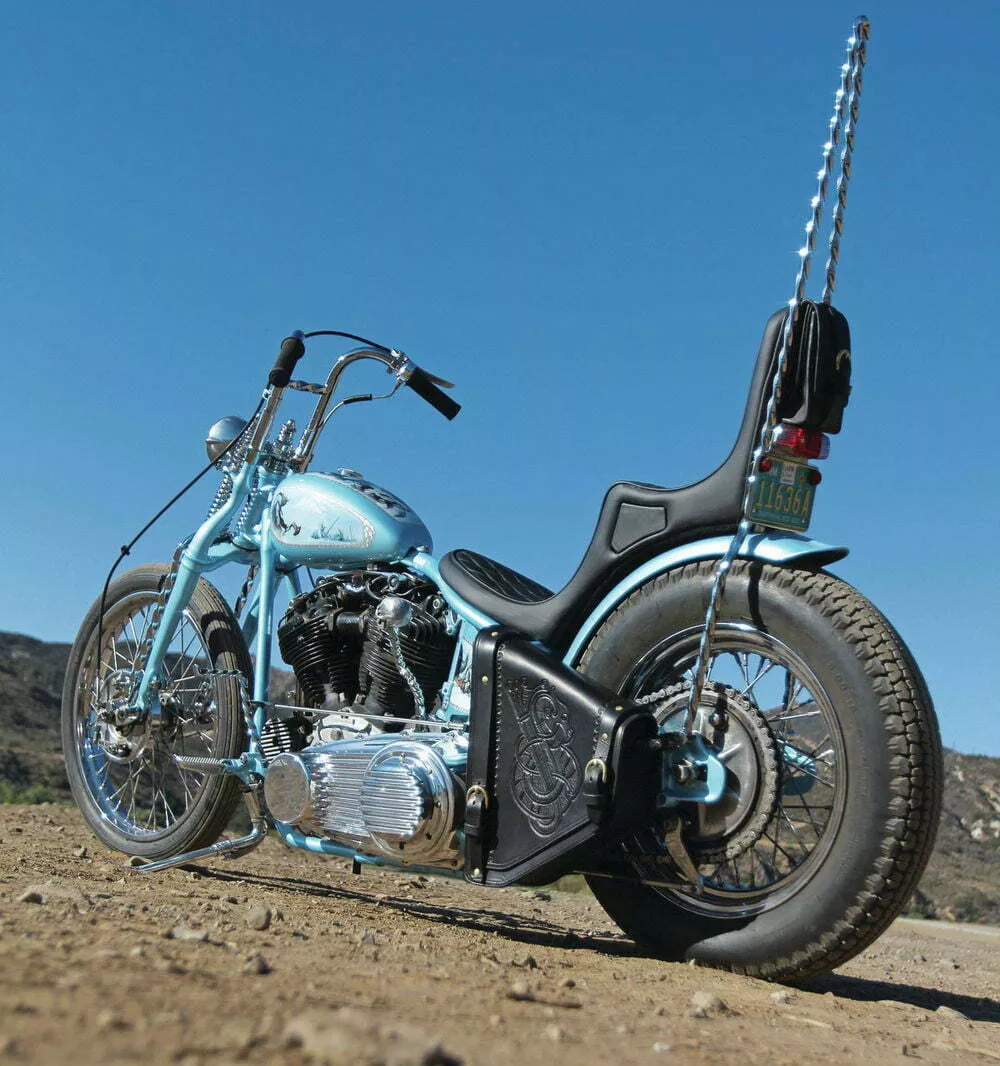 The Frost Lord was a labor of love from start to finish and I am delighted of how this machine turned out. I have built a bunch of bikes I am proud of, but the Frost Lord will always hold a special place in my heart.