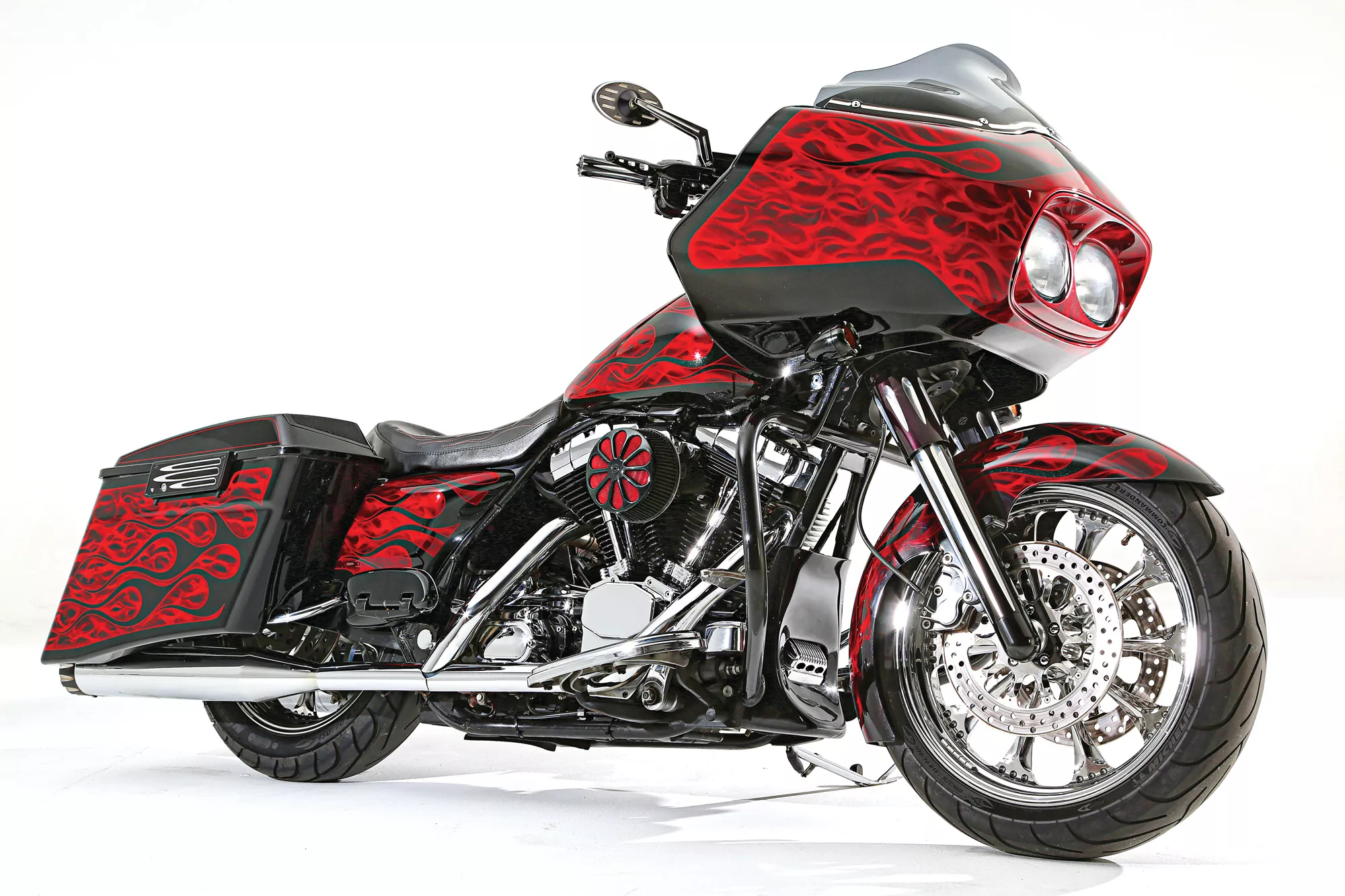 I had been in the business since 1998 when all of a sudden I looked in the mirror and saw a young man in a suit who was unrecognizable. So I quit my good-paying job—thanks to my great wife who wanted me to pursue my dream—and I went to work as an apprentice at a friend's aftermarket shop with no pay for more than a year. Even though I was working for free, it was my way of getting involved in business I had a passion for.
The owner of the shop, Dave, was involved in the AHDRA (All Harley Drag Racing Association) on a Pro Gas team. It was the best time in my life. Traveling was great, and the parties were even better! At this point I knew I made the right decision but still struggled financially for some time.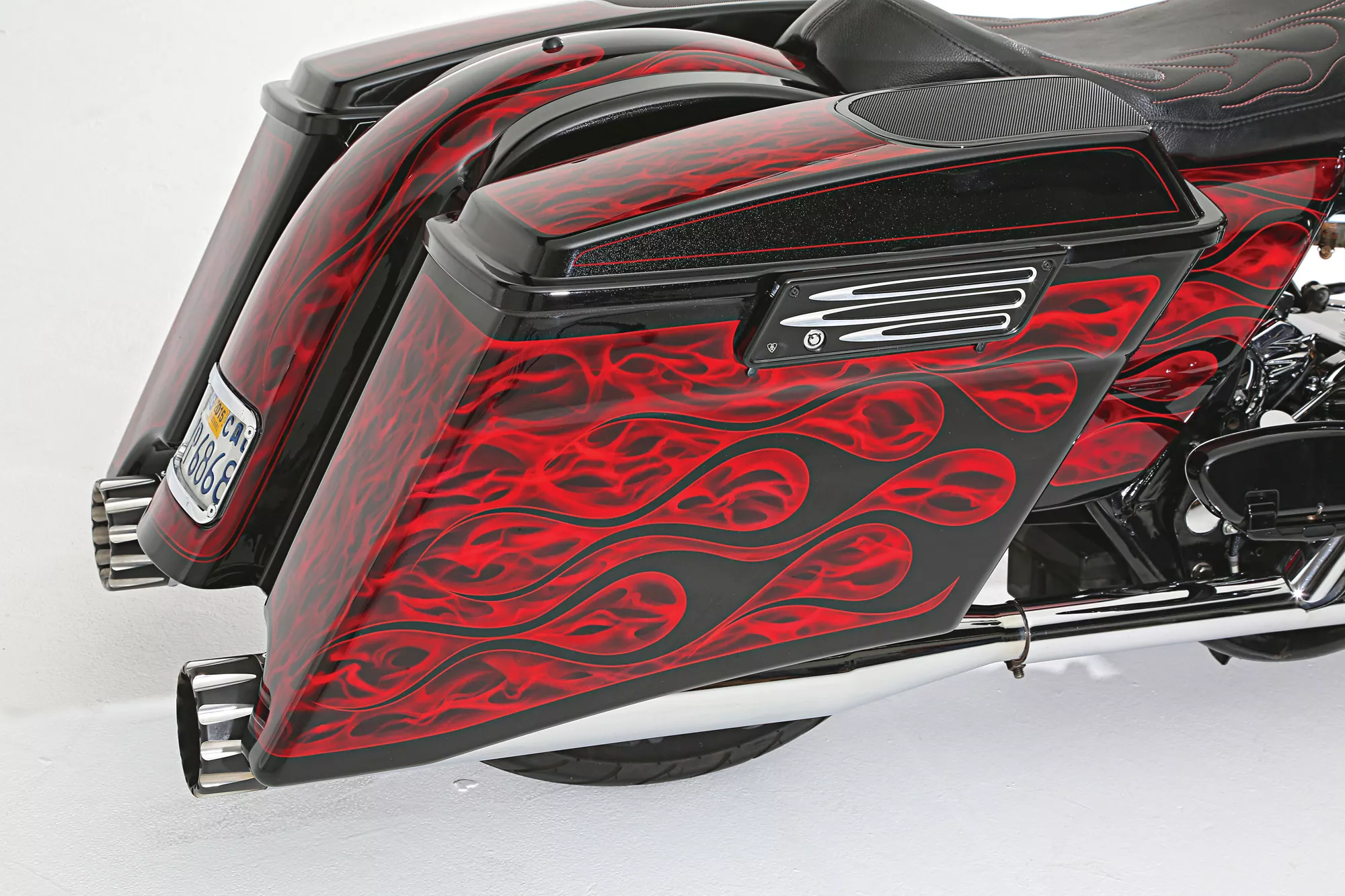 Eventually I went to work at a dealership and started my career working for Harley-Davidson dealers. In time I moved up to my current position as the service manager at Huntington Beach Harley-Davidson.
This bike is a collaboration with lots of help from people in the industry and friends. Right out of the Harley truck it was disassembled and broken down. The motor was modified to a 95-inch kit with cams and lots of black powdercoating—before it was popular and before H-D started to get involved in powdercoating components. People thought I was crazy for not even taking it on the street before it got torn down. I rode the bike semi-custom like that for some years, taking trips all over the States, including Sturgis, in the rain, snow, hail, and every type of weather imaginable. As time went by the bike began to look worn out and needed some love.
At the time I meet Seth from Aggressive Design, and he offered to paint the bike. That started the process with what you see today. When I got the paint back and got it assembled (thanks, Dave) I had to upgrade almost everything. I rode it around adding different components along the way while still using it my daily rider. After it was completed, I was eating lunch and it got backed into and knocked over. When I went to look at it, the car that hit it was practically on top of it. It took all the patience I had to not kill the man who did this. Round two and this time around I added the stretched bags and a sound system. Brian Klock showed up one day at the shop and offered me a new front fender, so it got the ball rolling again. The motor was then taken apart and sent out along with the transmission to have it powdercoated gloss black. When it was taken apart it had 105,000 miles on it, and the cylinders still had a good cross pattern to them! The flywheels were in great shape, but since it was apart it was a good time to put in a stroker kit and convert to a 103.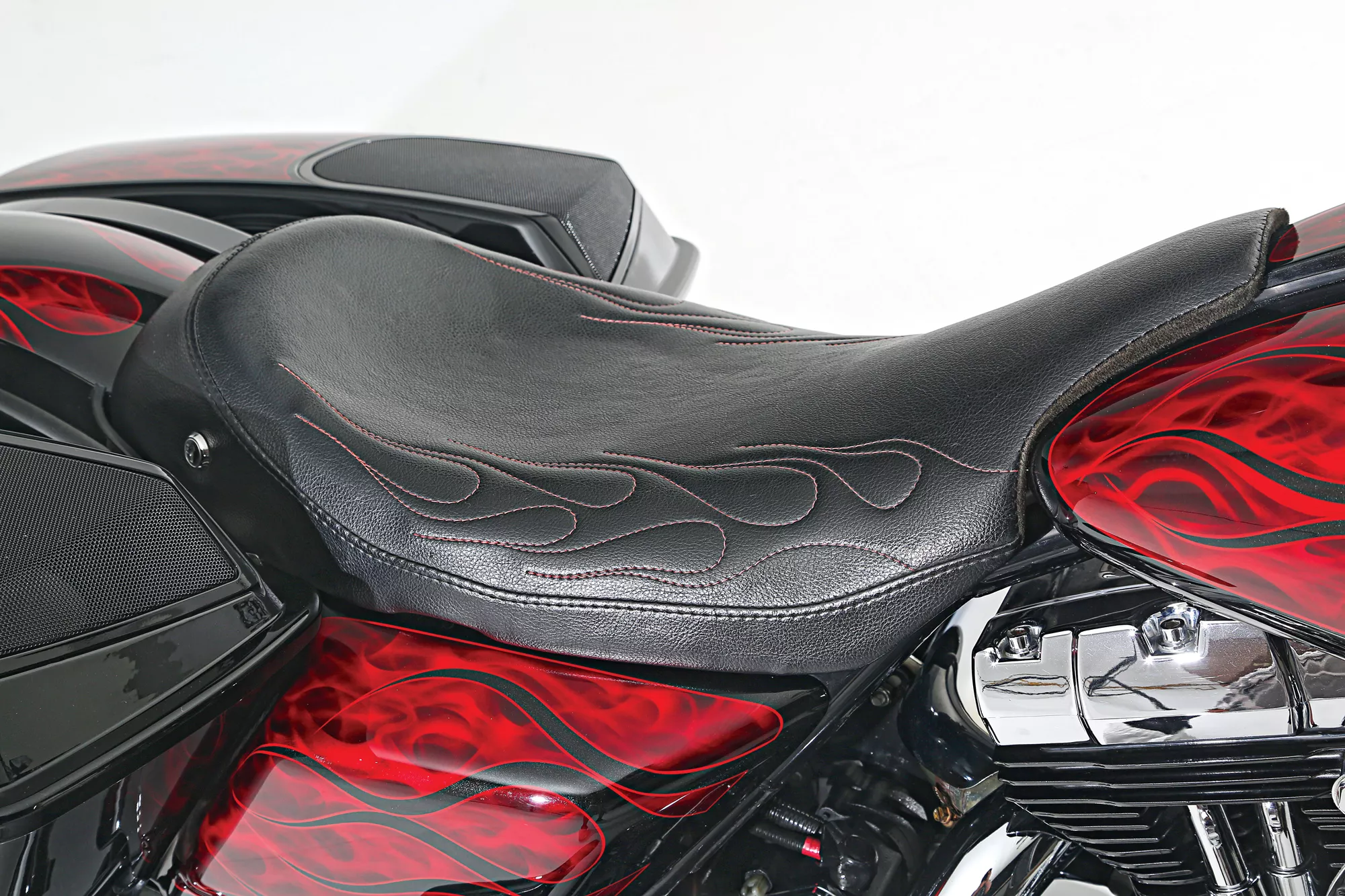 This bike was built on a budget, as I have three kids, two dogs, and a wife, and it could not have happened if not for the help from manufacturers and friends. Being involved in the business has allowed me to meet lots of industry folks who where very generous and helped me in gathering parts needed for the rebuild. I follow my heart and don't follow trends, as I feel the bike has a look that will last and not fade away. I wanted the bike to flow when someone looks at it and not get stuck on one component. I can appreciate the big-wheel baggers and think they look great and know it's a lot of work to make them look like that, but it's not for me. I think the bike has a hot-rod feel to it.
Finally back together, it currently has 122,500 miles on it and still going strong, I use it every day, rain or sun, as I don't have a car and people think I'm nuts for riding it in the rain. My thing is not to worry about rock chips or wear, as it was designed to be ridden and ridden hard!
I would like to thank the following people: first and foremost Bill Cavalier, also Dave Boss, Kevin Fox, Seth from Aggressive Design, Bill at Arlen Ness, Brian and Alan at Klock Werks, and last but not least my beautiful wife, Doryne, for putting up with my shenanigans and letting me achieve my dream of getting into this great industry.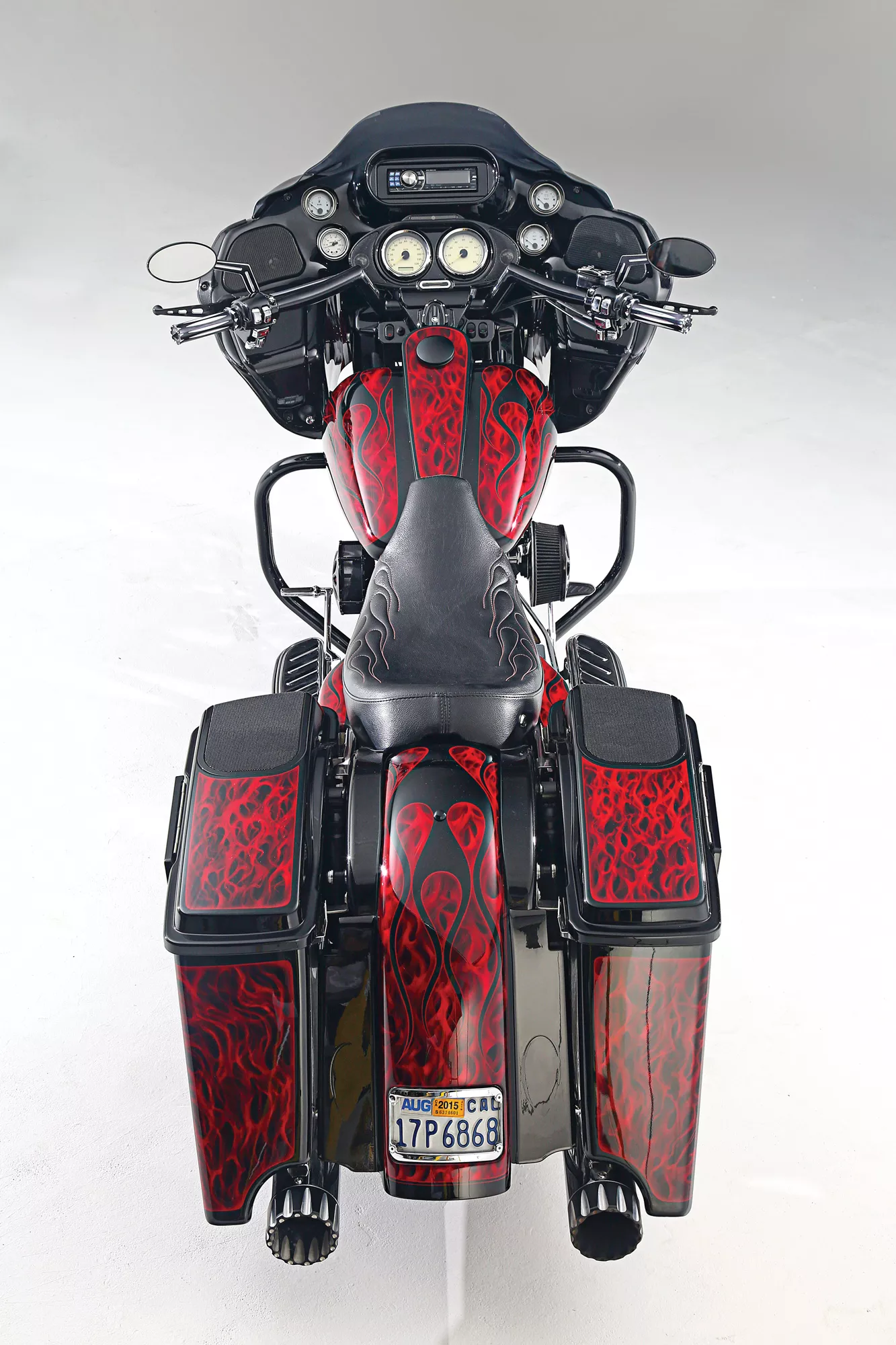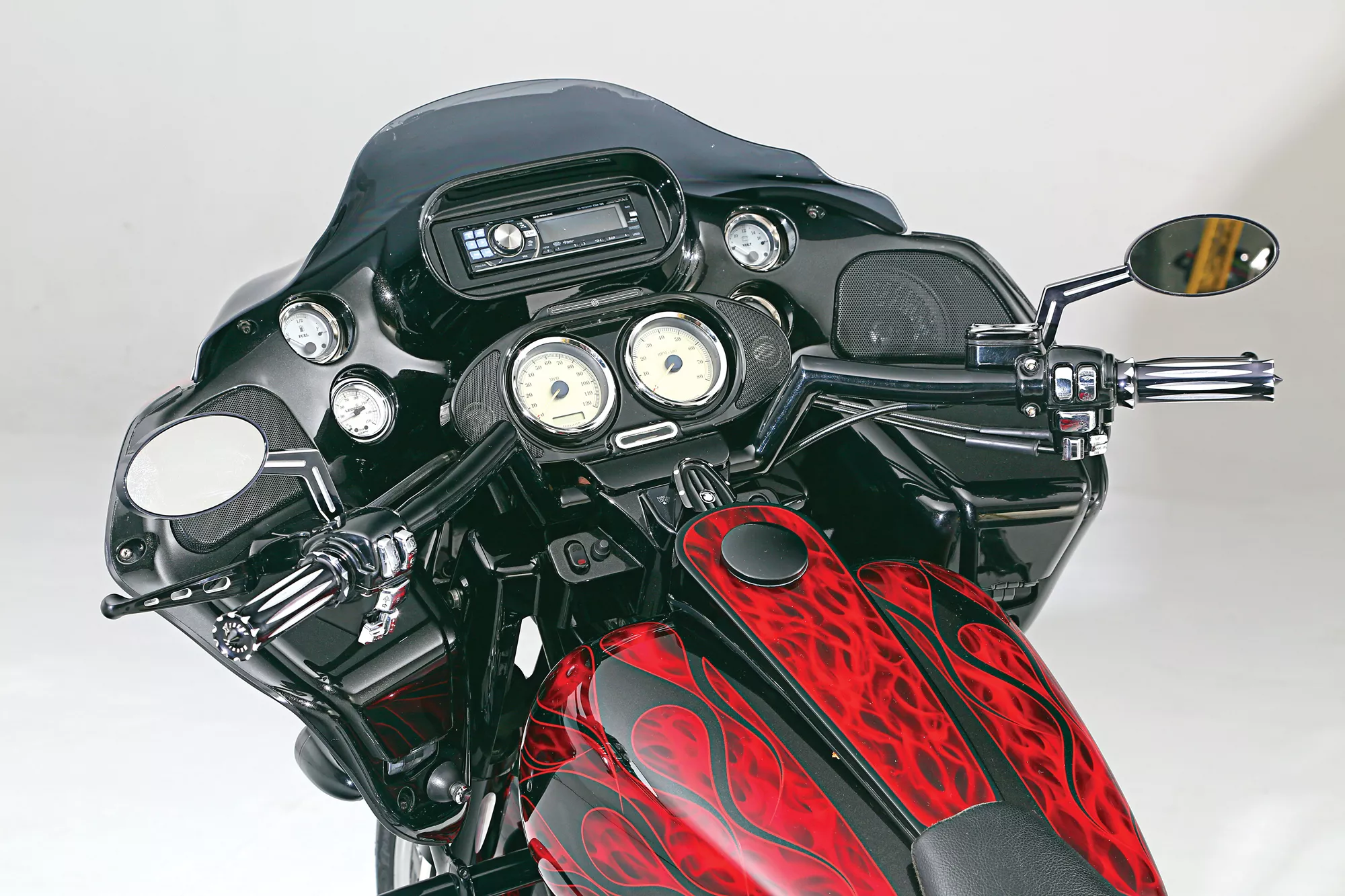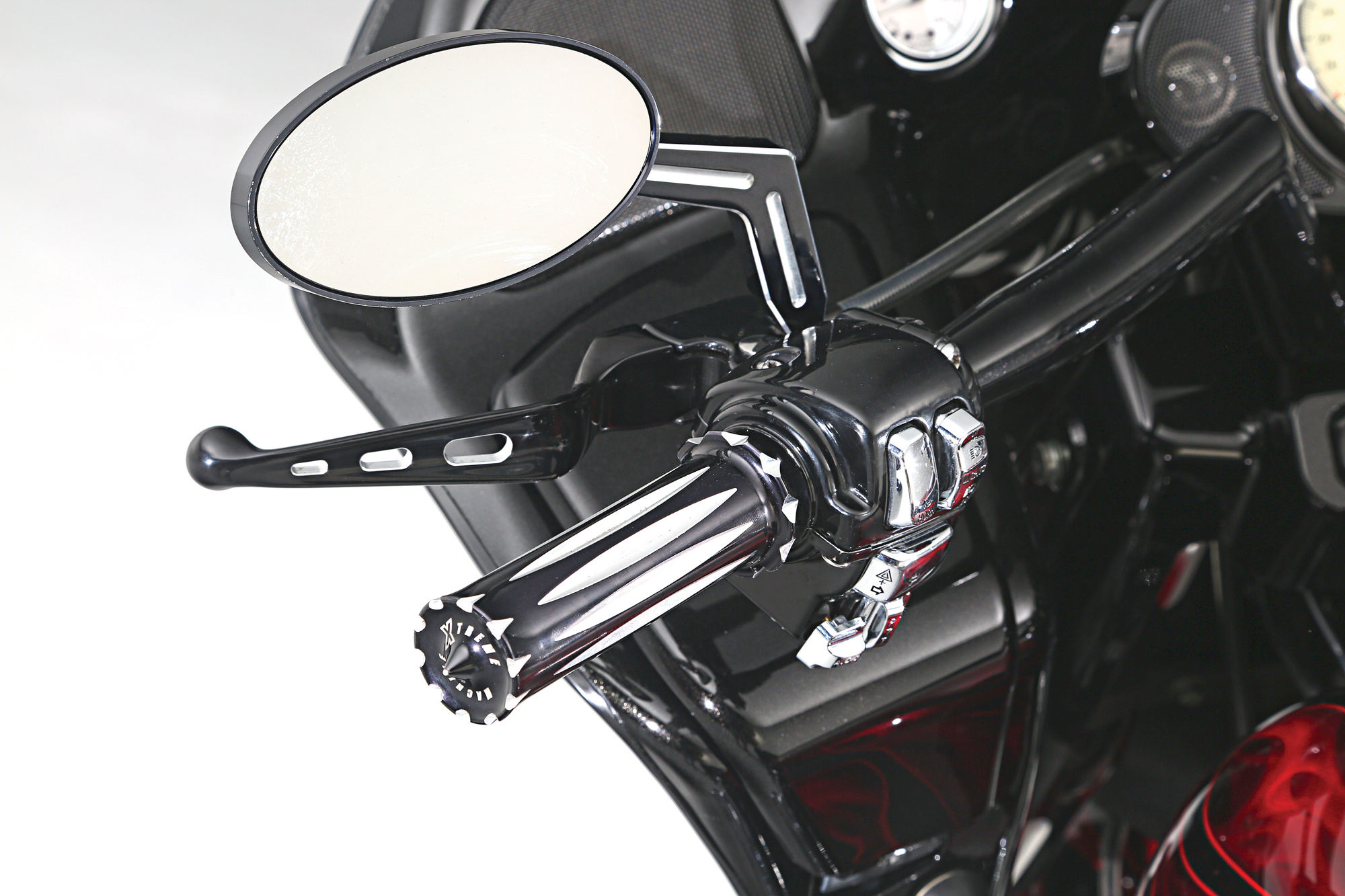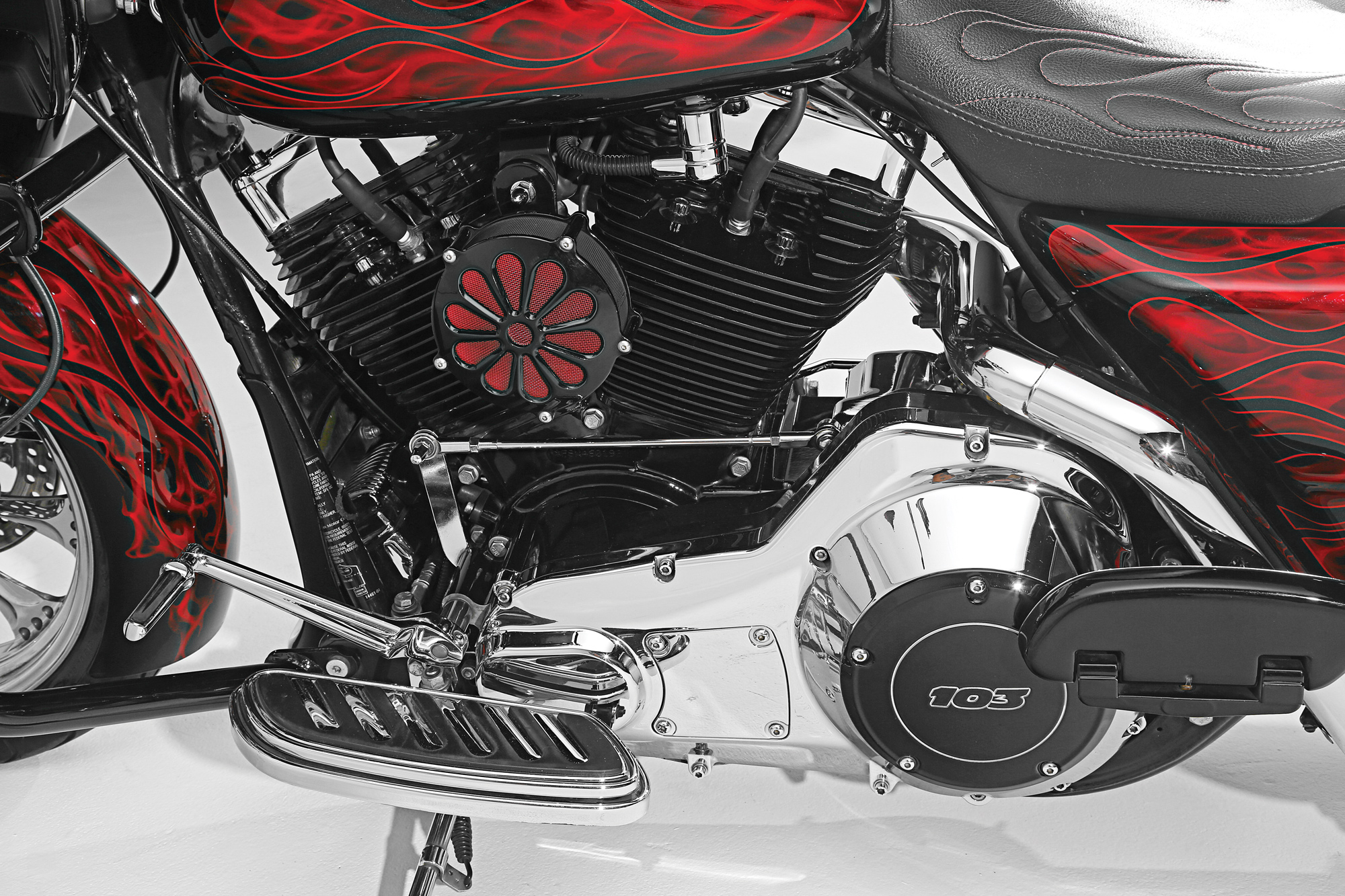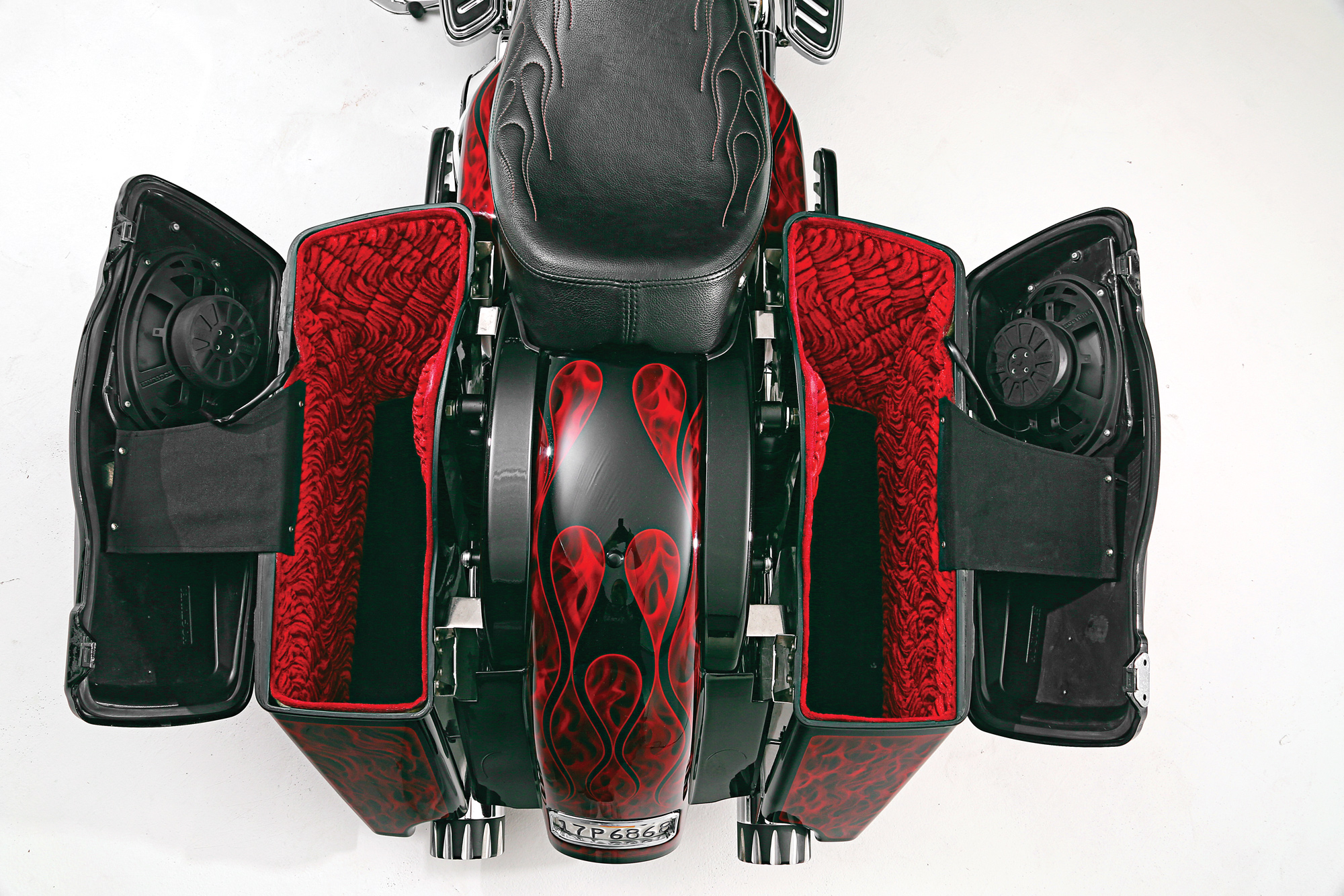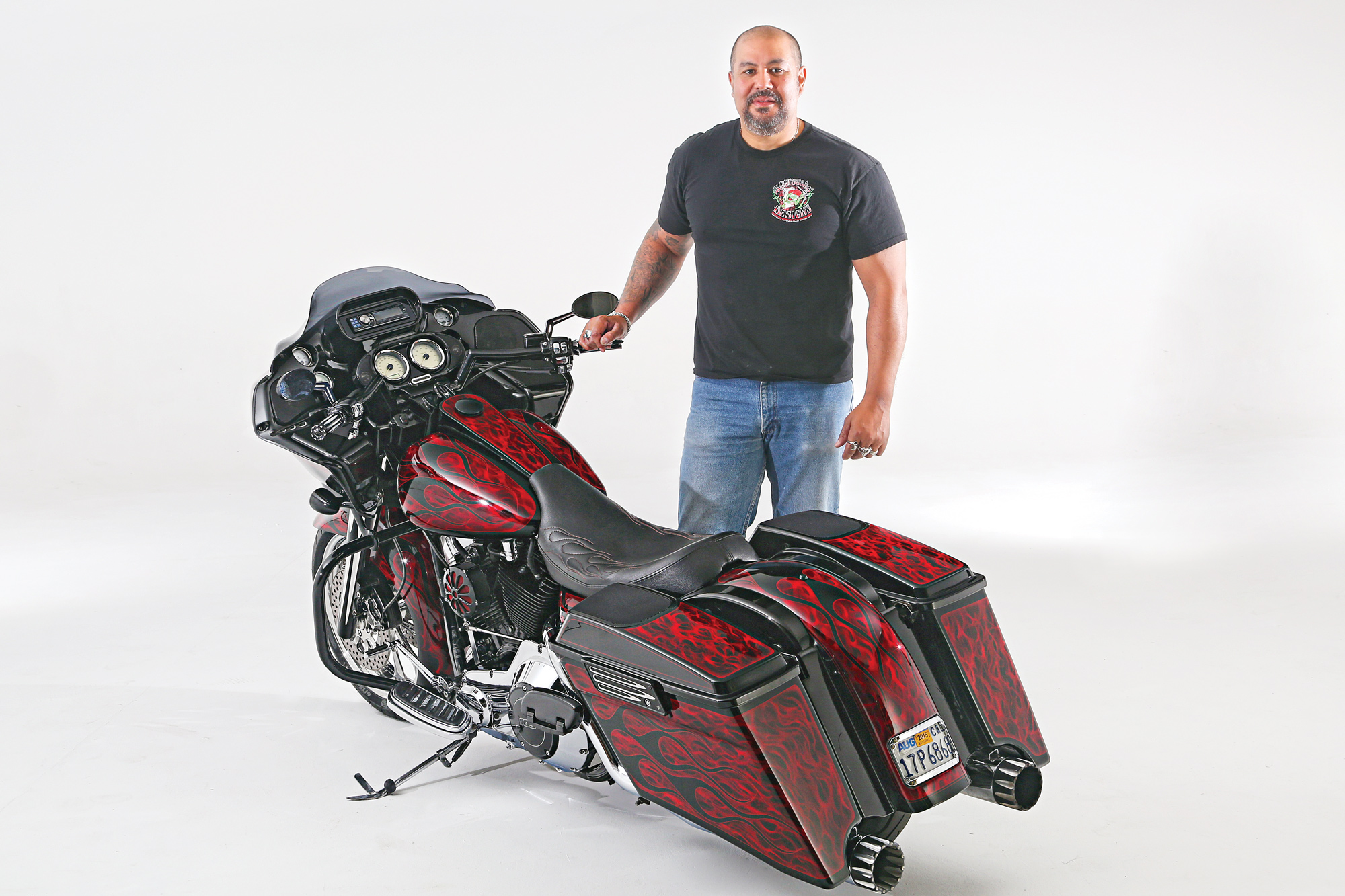 | Specefications | |
| --- | --- |
| General | |
| Owner | Tom Castro |
| Year/Make/Model | 2004/Harley-Davidson/Road Glide |
| Fabrication | Tom Castro and friends |
| Build Time | Years off and on |
| Engine | |
| Year/Type/Size | '04/H-D/103 |
| Builder | Tom Castro and Bill Cavalier |
| Cases | H-D |
| Cylinders | H-D |
| Heads | H-D |
| Rocker Boxes | H-D |
| Cams | 211 H-D w/ Joker Machine Cover |
| Throttle Body | H-D |
| Air Cleaner | H-D/HDW Cover |
| EFI Controller | Screamin' Eagle Super Tuner |
| Exhaust | H-D Headers, RC Component Mufflers |
| Transmission | |
| Year/Type | '04/H-D |
| Gears | 5-speed |
| Clutch | Screamin' Eagle |
| Primary Drive | H-D |
| Frame | |
| Year/Type | H-D/Stock |
| Rake/Stretch | None |
| Suspension | |
| Front End | Arlen Ness Lowers, Works Suspension |
| Length | Stock |
| Triple Trees | H-D |
| Swingarm | H-D |
| Rear Shocks | Fine Line Air Ride |
| Wheels, Tires, and Brakes | |
| Front | |
| Builder/Size | Performance Machine Hooligan/18 in. |
| Tire/Size | Michelin Commander Twos/18 x 130 |
| Calipers | Arlen Ness |
| Rotors | Performance Machine Hooligan |
| Rear | |
| Builder/Size | Performance Machine Hooligan/18 in. |
| Tire/Size | 18 x 140 |
| Caliper | H-D |
| Rotor | Performance Machine |
| Pulley | Performance Machine Hooligan |
| Finish/Paint | |
| Manufacturer | Aggressive Design |
| Colors | Black Pear/Candy Red |
| Paint/Graphics | Real Flame w/ traditional flames |
| Powdercoating | Black Bike |
| Accessories | |
| Front Fender | Klock Werks |
| Rear Fender | Modified Klock Werks |
| Gas Tank | H-D |
| Dash | Klock Werks |
| Gauges | H-D |
| Handlebars | Dirty Bird Cruiser Bars |
| Grips | Xtreme Machine |
| Mirrors | Pro-One |
| Hand Controls | Powdercoated H-D |
| Foot Controls | Performance Machine |
| Floorboards | Stream Line H-D |
| Headlight | H-D |
| Taillight | Custom Frenched LED |
| Turn Signals | Custom Frenched LED |
| License Mount | Klock Werks |
| Seat | Modified Corbin |
| Stereo | Alpine |
| Amplifier | Alpine |
| Speakers | Alpine and Hogtunes Rear Lid Kit |
| | |
---
Get the all the latest issue of Hot Bike magazine! Subscribe directly from us.